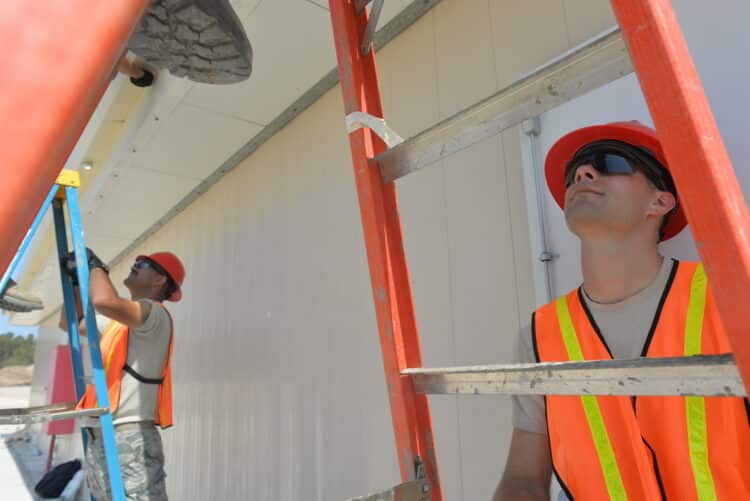 What are gutter guards? Everything you need to know about this handy roof helper
What are gutter guards? And why do you need them? If you are a responsible homeowner, you will want to know the answers and all other information concerning them.
If you want to know about gutter guards, then you have to know about direct flow gutters first.
Gutters are an inherent component of the roof of a house and are essential in preserving its longevity and structural soundness. When harsh rains occur, water is accumulated in the gutters and channel water away.
Some creepy-crawlies might even build nests in the gutters and keep them from properly functioning.
If you want to keep your gutters from damage, you will need gutter guards, which will hinder and debris from obstructing the downspouts or rain gutters.
Debris like twigs, foliage, pine cones, or pebbles are the usual suspects that might end up in the gutters and causing disturbances and interfere with the water current from flowing smoothly.
Roofs with built-in gutters will need functional gutter guards, and you have a lot you can choose from that will fit your particular roofing system.
What are gutter guards?
What exactly are they and their relation to your home? Here is what it means in layman's term: They are a type of covering or gimmick that fasten themselves to your house's gutter and storm drain system. Their main role is to strain out and obstruct any falling debris or small animals from coming inside, thus inducing damage.
The chief role of rain gutters is to draw water away from the roof where it has the potential to cause damage. Along with water, some debris might flow along.
So the gutter guards will catch that debris from going inside the openings. Some gutter guards have a screen of netting to prevent blockage and some are particularly shaped so that debris would not pass and only water will flow along.
What do you need when it comes to gutter guards?
When choosing the right gutter guards for your home, your priority should be something that will allow water to flow freely from your roof.
And next thing to look for is the type of material it is made from. It depends on the kind of debris that will likely fall on your roof.
Gutter guards made with a plastic screen are the most prevalent in the market today. They block whatever comes in and have holes to let liquid through.
There is also the wire mesh kind that functions the same as with plastic.
The cheapest gutter guards are made of foam. However, these do not last long and disintegrate rapidly.
Another good thing about gutter guards is that it induces ventilation because it stops anything that might cause foul odors from entering.
Installing the whole contraption is also very easy, and you would not need to hire a professional to set it up. You would not even need tools because some gutter guards already have fasteners included in the purchase.
Different kinds of gutter guards
To get the best one that fits your home, you should know the many types. It will help you avoid any confusion in the future when comparing which product to buy.
Reverse curve or surface tension
These types are a bit difficult for regular people to set up on the roof. So professionals are hired because they would need to get below the roof shingles to put it.
The design of these gutter guards impels all the accumulated debris to automatically fall off to the ground and not even reach the gutters.
Brush
These types are outfitted with bristles within the gutter system. They are not difficult to set up on the roof and halts debris from entering the gutters.
Yet, it is not effective for larger debris and might even cause blockage to the gutters.
Foam
It is the cheapest kind available in the market. These long foam pieces that you conform to inside the gutter.
These are not ideal and might even cause a bigger mess because it forces moisture to accumulate and creates a livable environment for bacteria.
Screens
These types are easy to set up on the roof and are low-priced. Yet, their opening is not small enough to entrap smaller debris.
Micro mesh
These are better variations of screen gutter guards. Their main features are tiny holes that you hardly see. These are the most effective kind but are more costly than the others.
Advantages and disadvantages
Different homeowners have different needs. One might need gutter guards and one does not. However, in the long run, homeowners that think they would not need them will eventually get them when their gutters clog.
To know the best ones you will need, you have to know how they are beneficial to you and your home:
Pros
To stop insects are rats from entering- When your storm gutters don't have a guarding mechanism, this is appealing to them in many ways.
When debris begins to accumulate like leaves, sticks, pine conifers, and cones, these are the materials for an ideal rat's nest. If nothing is barricading the gutters from them, then creepy-crawlies will begin to make themselves home.
Besides, when debris accumulates with nowhere to go, standing water will collect and will serve as an ideal place for mosquitos and other pests to breed.
Luxury gutters guards hinder all these issues from happening, stopping water pools from occurring and pests from prevailing.
Keeping debris from coming inside- This is the chief purpose of all gutter guards. It is to keep all sorts of stuff that might drop on the roof and fall towards the gutters. Common things like leaves, sticks, gravel, pine cones, and needles, etc.
When they amass by themselves, they form like a barrier, which hinders rainwater flowing down in the downspouts and towards the ground.
When the gutters are chocked off, they will crack and sometimes break apart. It will lead to the creation of water pooling near the foundation of the house.
Standing water will then find a way inside the foundation and cause further damage.
Storm gutters that overflow can leak into the roof and inside the home and will be a difficult problem to fix.
It can protect the house from fire- You might be bewildered how can gutter guards prevent fire, but it does. It will work if you live in an area where there are strong winds and lots of dried-out brushwood.
When it is especially scalding outside, the leaves, sticks, and other materials on top of your roof within the gutters will dry out. It will make a good source of ignition from flying coals coming from a barbeque or any lighter material.
When this occurs, your house will be toast. To stop this from happening, a fire gutter guard will restrict this from occurring. It will stop any dry material in your room to accumulate in bunches. It is also great in windy locations because anything that has the potential to clog on a roof will only be blown away.
Less maintenance- When you have installed gutter guards, falling debris does not clump up in the gutters anymore, so your gutter maintenance tasks are cut short to maybe nonexistent.
Sometimes, the same clump of debris would not form in the gutters anymore but somewhere else. However, this would not cause any damage to your home.
Some of the gutter guard brands mentioned below will include in their slogans that gutter maintenance is lowered more than fifty percent, which is probably correct. Yet you as a responsible homeowner will still need to clean your gutters on certain occasions only, but not always.
It prevents ice and snow from accumulating- When guards are not installed on gutters and debris is amassed, it creates a blockade. It obstructs any liquid from flowing properly, thus making pools of water.
When the weather becomes cold, the pooled water freezes and becomes larger as snow or rain collects continuously. It then becomes weightier and becomes a burden to the gutters, which proceeds to damage it to the breaking point.
Too much weight can also dislocate it from the roof's fascia. The built-in gutters can hinder the creation of ice blockage and let water flow freely.
Once gutter guards are installed, a small amount of ice particles may still accumulate. But since water can flow freely now without hindrance, it would not grow to be too large to cause damage.
Furthermore, a gutter ice guard on your roof can be a strengthening measure in the storm gutters. It will enable it to support whatever heavy things, which can fall, like ice and debris, without any fear of destruction.
No corrosive elements will form- When the rains come, your first worry when it comes to your roof gutters is the falling debris. Another worrying aspect is the creation of rusty and moldy elements, which then causes damage.
A time goes by, mold and corrosion develop on its surface, which changes its coloring and makes them look grimy. When it becomes too rusty and moldy, it will be difficult to clean it.
Then it will cause the gutters to decay then fissures and holes will form, thus creating an opportunity for water leakage.
Functioning gutter guards can do away with corrosive and moldy elements and let your gutters be safe from harm.
Cons
When you install it- Some gutter guards available in the market today are not too difficult to set up. With some, you only have to put it into the gutters, and that is all. It will take just a few hours in the afternoon because it is easy to do.
A few of them need a professional to set up, and along with that, incur an installation fee. However, for bigger houses with massive roofs, setting them up will be more difficult and complicated.
You will only have to accept that along with buying it. There are additional costs for installation. Then you will spend a lot of time setting it up, and a lot of energy will be spent on it.
You only ask yourself before buying if this is all worth it for you.
Maintaining it- Many homeowners make the false assumption that once you install weather-tight gutter guards, you would not need to clean or maintain it anymore. You should not do that to your roof or any part of your home.
As a responsible homeowner, you will have to observe every component of your house like a hawk. Once you think that some fixture or portion is about to be damaged, then you do something about it quickly.
Same thing with your gutter guards. Even though once installed, it necessitates less maintenance and cleaning. You still have to do them at least two times a year.
However, it depends on how much debris falls on your roof. If you live in an area that is almost barren of trees, then you would not need to clean them often.
But if you live in a neighborhood that has lots of foliage, has rain and wind all the time, so you have to clean them often.
Also, if you want your gutter guards to last as long as your house, you will need to remove them often and thoroughly clean them. This ordeal will cost you a lot of time and effort, more than the average maintenance.
Yet, despite all of these necessary roof upkeep, it will indeed help you in the long run because it will make your gutters last longer.
Its costing- Of course, you would need to spend money on buying gutter guards and spend more for setting it up on your roof. Yet, some brands only cost one dollar per foot, which means you can only buy what you need for the exact length of your roof.
Also, top-quality guards are pricier than lower-quality ones. However, there so many types, styles, and brands available in the market that you can choose something that fits you and your roof gutters.
Being able to replace it and its durability- Nothing is ever permanent like everything in life, including your luxury gutters and guards. Eventually, it is going to be replaced.
So this means you will need to buy a new one. Yet if you have purchased a better quality guard and took great care of it, it could have lasted decades and even more. It could even have the potential to last your entire lifetime.
Also, you should know some of its manufacturers make available lifetime warranties for them, which will guarantee that you will never need to replace them anymore.
Best available brands
FlexxPoint
This particular brand comes with an array of different sizes and colors that you can select. It can successfully obstruct any type of debris and can make sure your gutter system does not clog at all.
The good thing about this brand is that it is easier to set up and includes stainless steel fasteners to make sure they are secure on the roof. It is made of aluminum that is very durable and very light to carry.
It has a particular three-pointed pattern that halts any liquid to flow over and cause any harm to the foundation. It also comes with a thirty-year warranty, which is like a guarantee for its durability that it will still do its job for many years to come.
One disadvantage is that it is not suitable for areas that are cold all the time.
Customers' feedback: Very positive, and most of them love the product. They said that debris used to collect on their roof, gutters, and drainpipes, but now it does not anymore.
They can easily set it up on the roof because of the fasteners that readily click onto place.
Raptor
This particular brand is made from stainless steel micro-mesh that makes it very durable. It is specially designed for heavy work and can resist any type of harsh weather conditions.
It has very strong and tiny meshwork that is adept in keeping any debris, rodents, and small insects from coming inside its premises.
Once you buy it, there are accessories already included that make for easier installation: things like anti-corrosive screws that can link up to a magnetic driver.
The accessories make this type very easy to put into the gutters but might take longer. It also has a warranty for twenty-five years.
Customers' feedback: Most of the customers are impressed with the durable quality of this product and love the rigid sections.
Amerimax snap-in
This product is constructed from PVC (polyvinyl chloride), which is a top-quality polymer. It makes this particular gutter guard durable from the outside elements.
It also has a meshwork pattern which makes it particularly handy in catching small debris-types and warding off bigger ones. You can easily install it by snapping it on the roof gutters.
This product is very adept in mild weather conditions only and not suitable for harsh climates. So if you live in an area where there is a moderate climate, this will especially work for you.
However, compared to the others on this list, it is not as tough. That is why it only works well in moderate weather.
Customers' feedback: They have particularly expressed approval to the easiness of the installation process, and how it stops smaller debris like seeds from coming inside the gutters.
They praised its durability and are comfortable with the pricing and how it suits their task of warding falling debris.
Amerimax Lock-in
This is the same brand as the previous one but has a few differences. One, instead of snapping on, can lock itself in the roof gutters, making it more secure.
Another is very durable nature, which makes an almost perfect acquisition. It is made from tough powder-coated stainless steel with a meshwork design.
This product is highly adaptable to many gutter-types in the roofs of homeowners. And installation is made to be easy by a locking mechanism.
This type is resistant to all kinds of weather conditions like harsh monsoon rains and heavy snowfall. It has a warranty of ten years, which makes it worth the purchase.
Customers' feedback: They love how fantastic the guards are and how they do not have to spend a lot of money on them. They like the ease of setting it up and how it immediately works correctly without adjustments.
Some customers say that the mesh holes are too big, and some smaller debris can still come in.
GutterStuff EZ
This particular product has a high customer rating, which means many love it. It does the task of blocking any leaves from coming into the gutters and allows water to flow freely.
It is made from foam, which measures five inches thick. The whole package comes with eight pieces with a length of four feet each.
It is constructed this way so that it can snugly fit half-moon-shaped gutters and can hold itself firmly while water passes through. It works well in barricading from pests that will look for passage inside the gutters. It also has a warranty for three years.
One disadvantage for this product is, since it is made from foam, it would not last long from the exposure from the outside.
Customers' feedback: They love how easy it is to set up on the roof. They like how it blocks any debris from potentially clogging and is works well in freezing weather.
GutterBrush
This product is made from bristles shaped like cylinders comes in different sizes. It can fit any gutter snuggly and stop any debris from accumulated and let water flow properly.
It is easy to set up, and you do not need any tools or any fasteners for it. All you have to do is steadily slip it on the gutters, and that is it.
It is made from polypropylene material, which makes it work well in all types of climates, from cold to hot weather.
Customers' feedback: They like how easy it can catch falling leaves and twigs and loves how easy is the installation process.