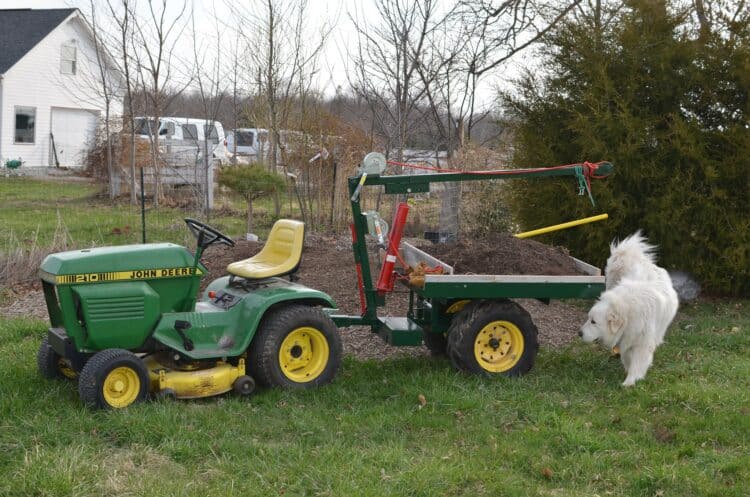 If you spend a good deal of your time on yard maintenance, you would know that every bit of help counts. For efficient and quick operations, all homeowners should invest in durable and convenient equipment such as a lawn mower trailer.
For homeowners interested in landscaping and gardening, having a quality lawn mower trailer in tow can significantly relieve your workload. It'll give you much more time and energy for more important yard duties other than lifting heavy equipment and debris.
It can be complicated to find the best lawn mower trailer for your yard maintenance needs. There are various sizes, types, and loading capacities to think about! A quick search on the internet will give you countless options, so which one really is the best?
Researching and evaluating effective home maintenance projects can be difficult and tiresome. We've compiled some of the best riding lawn mower trailers in the market this 2022. We'll also guide you through the necessary shopping considerations for yard maintenance.
6 Best Lawn Mowers Trailers in 2022
Agri-Fab 45-0101
Homeowners looking for equipment that can deal with heavy equipment and machinery, this robust lawn trailer from the renowned agricultural manufacturing brand Agri-Fab. Agri-Fab has a loyal following for their excellent variety of outdoor gear, especially for landscaping and yard maintenance.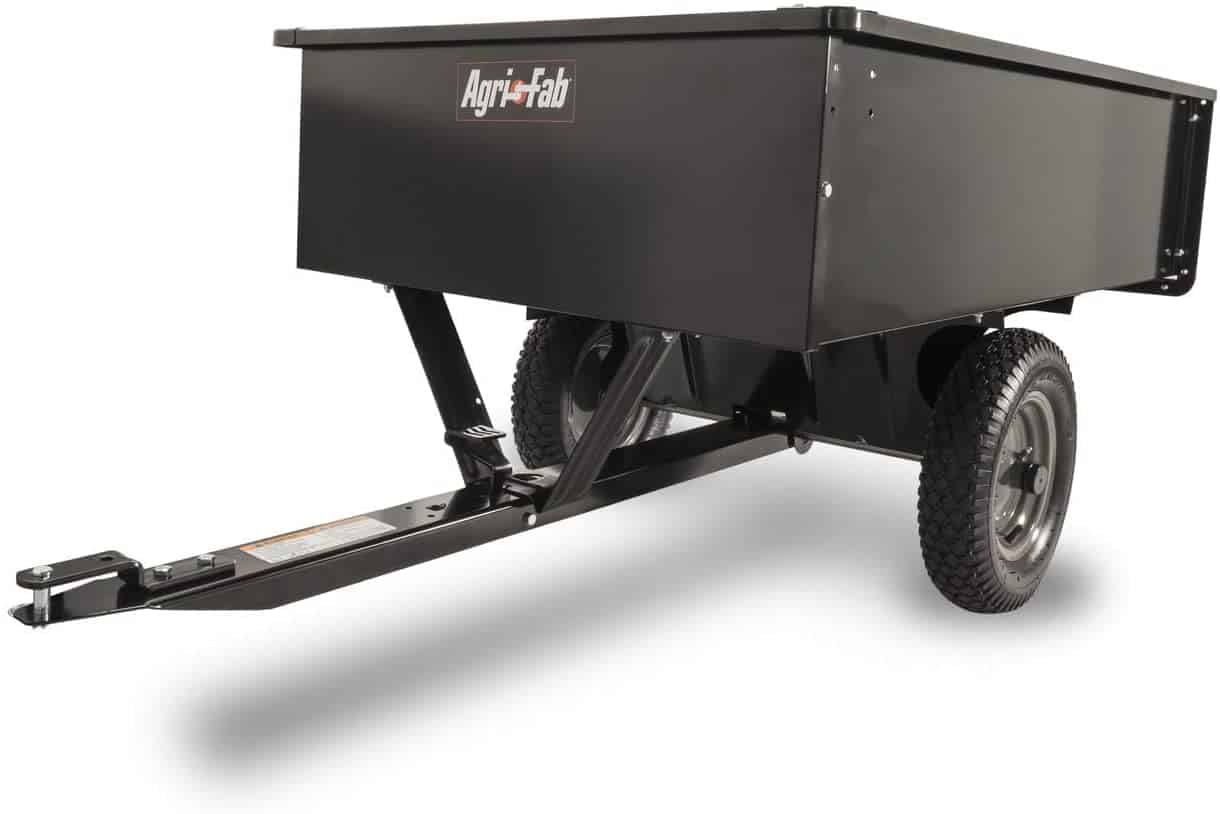 Specs
Maximum load of 750lbs
Heavy duty steel bucket and frame
12-cubic feet capacity
16-inch large wheels
Robust construction
This lawn mower trailer is the ultimate companion for heavy-duty yard maintenance. This trailer is made from sturdy steel that guarantees a structure that won't break or bend. This solid steel frame is also accompanied by a premium steel tub that makes carrying heavy loads easy and convenient.
Users can rest assured that this trailer from Agri-Fab can last you a lifetime!
Ready for heavy-duty work
With this lawn mower trailer, Homeowners with extremely heavy equipment can rest easy knowing that this product can easily carry large loads across long distances. In fact, this Agri-Fab trailer was engineered explicitly for this purpose.
Although the design and structure may be old-fashioned, it's one of the most efficient yard equipment you can find. It can haul up maintenance equipment, manure, wood, gravel, and other debris weighing up to 750 pounds without fear of content leaks.
Pros
Robust and durable construction
Steel bucket ensures no content leakage
Ideal for heavy loads and long-distances
Affordable trailer for its capabilities
Cons
Heavy construction
Limited swiveling capabilities
Ohio Steel Dump Cart 4048P-HYB Pro Grade
This dump cart from Ohio Steel is your best bet for quality accompanied by versatile applications. The Ohio Steel Dump Cart was specially engineered with the most durable materials and superior features that make it effective in various situations.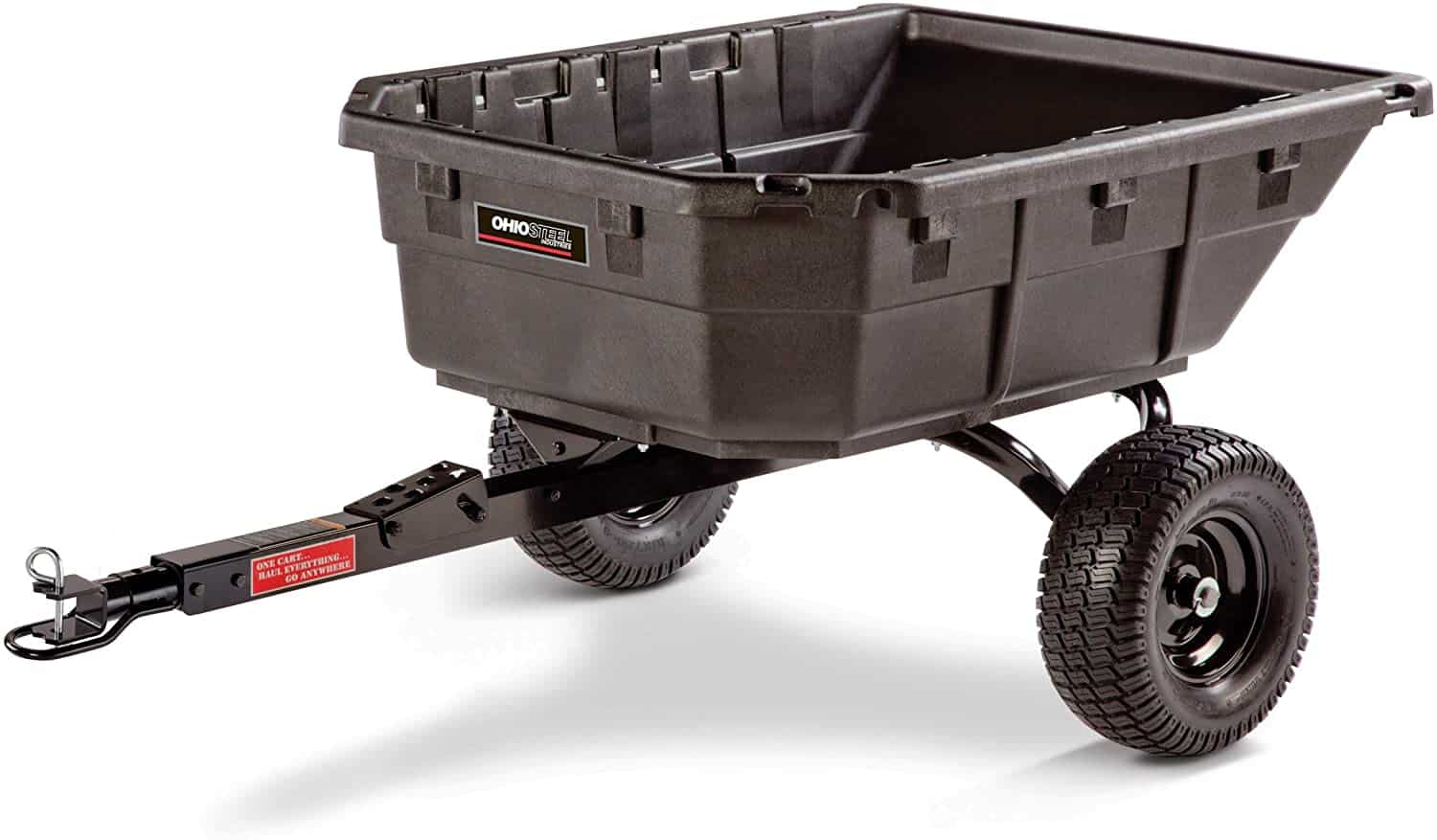 Specs
Large maximum load capacity of 1250lbs
Premium-grade polyethylene tub
12.5 cubic feet capacity
Swiveling capabilities
16-inch wheels
Superior specifications
This lawn trailer features a polyethylene-based material that is ideal for its robust quality. This high-grade material is meant to last you a lifetime which makes it great value for your money.
The Ohio Steel cart is also easy to assemble, which makes it appealing to amateur and professional arborists and gardeners. This user-friendly design also extends to the dump cart's multiple features that make it compatible with zero-turn mowers, lawn tractors, and ATVs. Users can also opt to easily switch between a pin and ball hitch.
This convenient dump cart also has an ergonomically placed foot pedal that can easily control the swivel, making all your yard maintenance work extremely efficient.
Great for heavy loads
This lawn trailer features a generous capacity of 12.5 cubic feet and a load capacity of a whopping 1,250 pounds. The sturdy polyethylene structure, along with its wide berth and load capacity, makes the Ohio Steel Dump Cart the Ideal companion for heavy-duty yard operations.
Pros
Large maximum load capacity
Easy-to-control swivel
Easy to clean and rust-resistant
Great for uneven terrain and heavy loads
Cons
Expensive than most trailers
MotoAlliance Impact Implements ATV/UTV Utility Cart
Here's a riding lawn mower that you can rely on for multipurpose applications and versatility. Each feature of this lawn trailer was carefully chosen to withstand wear and tear from various yard maintenance tasks so you can enjoy its value in the years to come.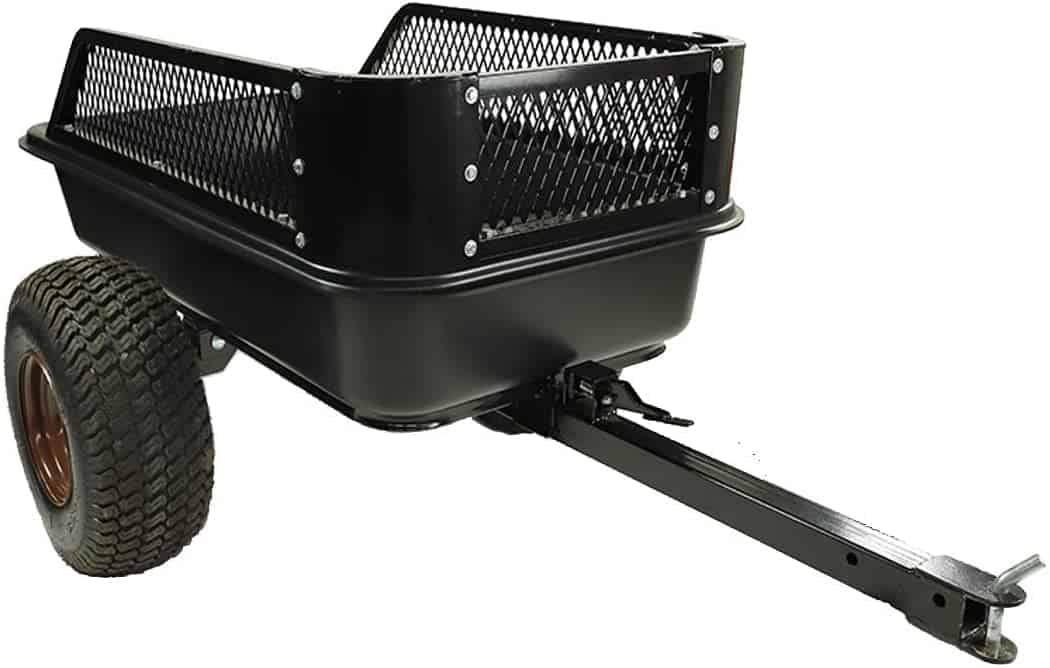 Specs
1500lb load capacity
15-cubic feet load size
Removable steel mesh side rails
18-inch wheels
Impact-resistant technology
Versatile
The MotoAlliance Impact cart was designed to be multipurpose. Its unique design and removable gate feature are perfect for tasks that require a large number of equipment and debris to be piled-up. The trailer also features a quick-release lever that allows users to easily dump unwanted disposable waste. These features are incredibly convenient for yard maintenance work requiring heavy loads, especially in larger gardens and lawns.
The cart itself is quite heavy at 117lbs, but the robust structure allows the product to carry heavy loads up to 1500lbs, perfect for homeowners with medium to large-sized farms.
Stable and reliable
The MotoAlliance Impact is an excellent choice for users who plan to work on extremely rough and uneven terrain. This mower trailer was engineered to improve stability and balance as heavy loads are carried onto its cart.
Thanks to the cart's 18-inch wheels, the cart is extremely easy to balance on uneven trails. The large wheels encourage a great center of gravity for large loads. A swivel switch makes it easy to attach the cart to the ATV dump, improving its mobility.
Pros
Great for off-road trails
High load capacity
Convenient release latch
Can withstand high-impact and rust
Straightforward assembly
Cons
More expensiv than most lawn trailers
LiftMate Heavy Duty Garden Trailer with Folding Sides
The LiftMate Heavy Duty Garden Trailer with Folding Sides is a great option for homeowners looking for a convenient and easy-to-manage trailer. The wagon can easily be folded for quick storage, and the components are easy to maintain and clean.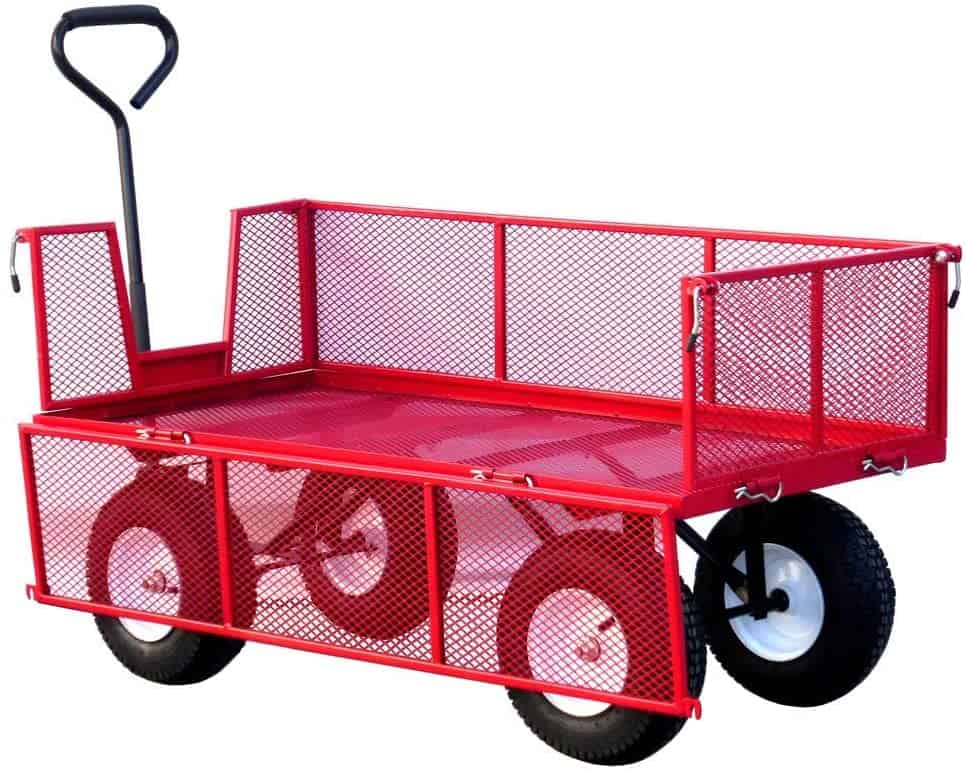 Specs
Heavy-duty construction
Sides and tailgate can be fold down or removed
Single Ackerman steering
Ideal for agricultural and industrial use
330mm wheels
350kg load capacity
1.5 to 4.5 inch adjustable cutting height
330mm pneumatic wheels
Convenient and Versatile
This incredible trailer from Liftmade has easily foldable side gates, which can also be removed, providing users with ultimate convenience and versatility for different applications. Users can be guaranteed that this lightweight and easy to maneuver cart product can carry loads up to 770lbs.
The cart is also straightforward to assemble, providing a convenient option for busy homeowners and inexperienced DIYers.
Control and maneuverability
Users who have tried the Liftmate Garden Trailer rave about the product's easy maneuverability and user-friendly features. Its large pneumatic wheels make it ideal for any type of terrain, so this trolley is great for different environments and purposes, be it a garden, agricultural, or industrial. According to reviews, the large wheels can go over large obstructions like shingles, rocks, and cobble.
Pros
Convenient foldable side railings
Great through rough terrain
Lightweight and easy maneuverability
Powerful enough to mow 3 acres of land
Easy to assemble
Cons
Gorilla Carts Heavy-Duty Poly Yard Dump Cart
This dump cart by Gorilla Carts is more than its sleek design. This versatile and robust trailer is a great option for heavy-duty yard maintenance. Easily use the cart for your towing, lugging, and hauling duties.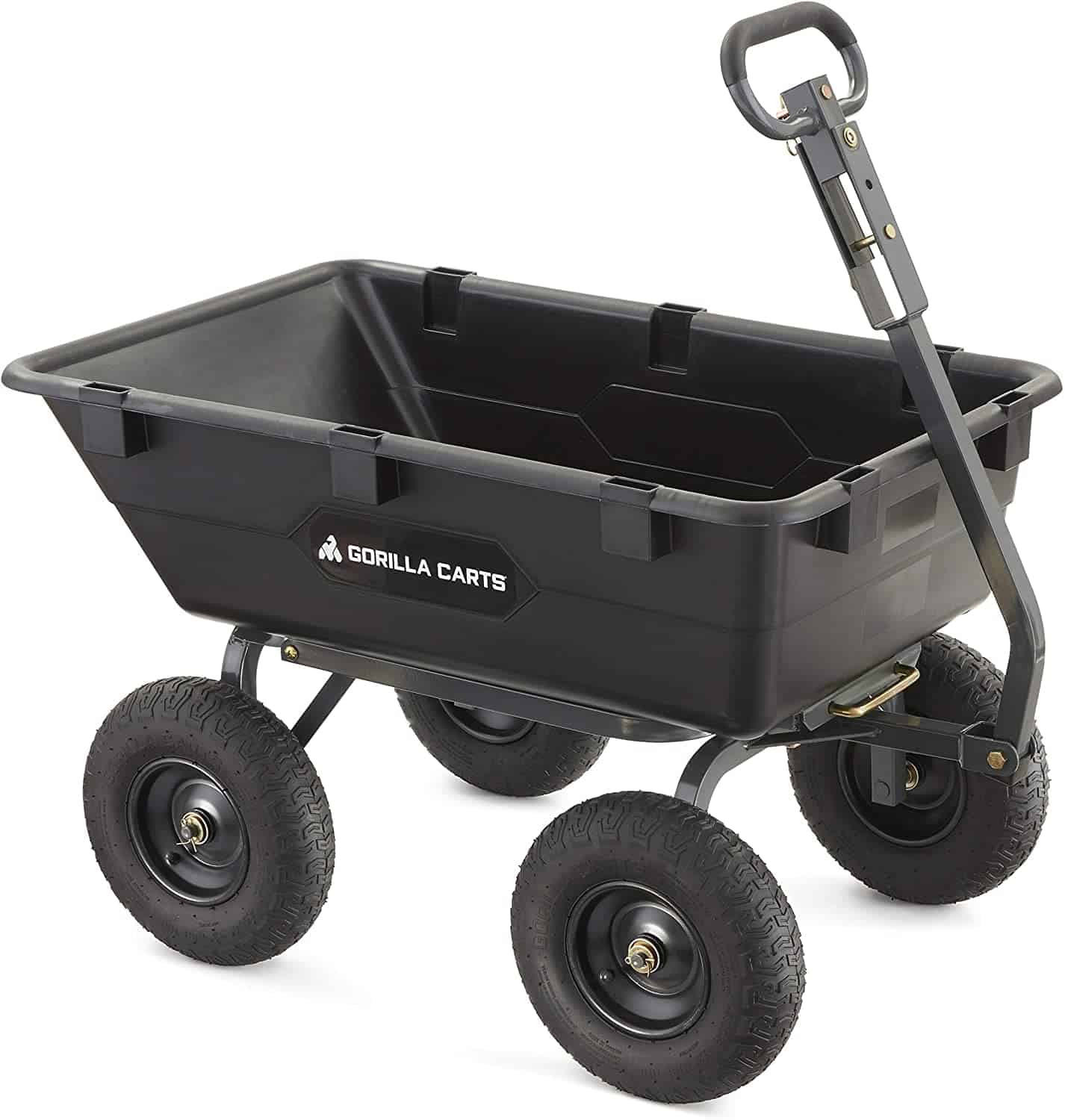 Specs
Vertial dump
Easy to assemble
High load capacity
D-shaped tow hitch
Quick release dump feature
Efficient and reliable
Gorilla Carts has been a trailblazer in the production and development of lawn maintenance equipment. This brand has actually been working on dump carts for the past two decades, which isn't surprising why their models come out extremely efficient and robust.
This trailer has a premium polyethylene tub, making it one of the most ideal choices for heavy-duty work. It is supported by a steel frame that is coated with a powder, ensuring resistance to breakage and rust for product longevity. This Gorilla cart can load an astonishing 1200lbs though the design is compact, making it easy to maneuver and lug around.
This model is further supported by its heavy-duty all-terrain pneumatic wheels, which distribute the weight evenly on rough terrain.
Convenient features
This lawn trailer also features a unique quick-release dump feature, a convenient option for dropping extremely heavy and hard-to-lift loads. The trailer's bed shifts completely to a vertical position, allowing for efficient dumping of unwanted debris and material.
The trailer is also equipped with a D-shaped tow hitch, allowing operators to easily attach the cart to a lawnmower or ATV. This is an extremely convenient feature for homeowners who live on a large property – easily move firewood, equipment, and water through your yard with the help of this cart.
Pros
Smooth performance on rough terrain
Superior balance and stability
Convenient dump feature
Durable materials and components
Large load capacity
Cons
more expensive than most lawn mowers
Polar Trailer LG10 Utility Cart
The Polar Trailer is a great option for homeowners planning to do some yard and garden work. The product is versatile enough for your average farm and landscaping activities which involve off-road and heavy-duty use.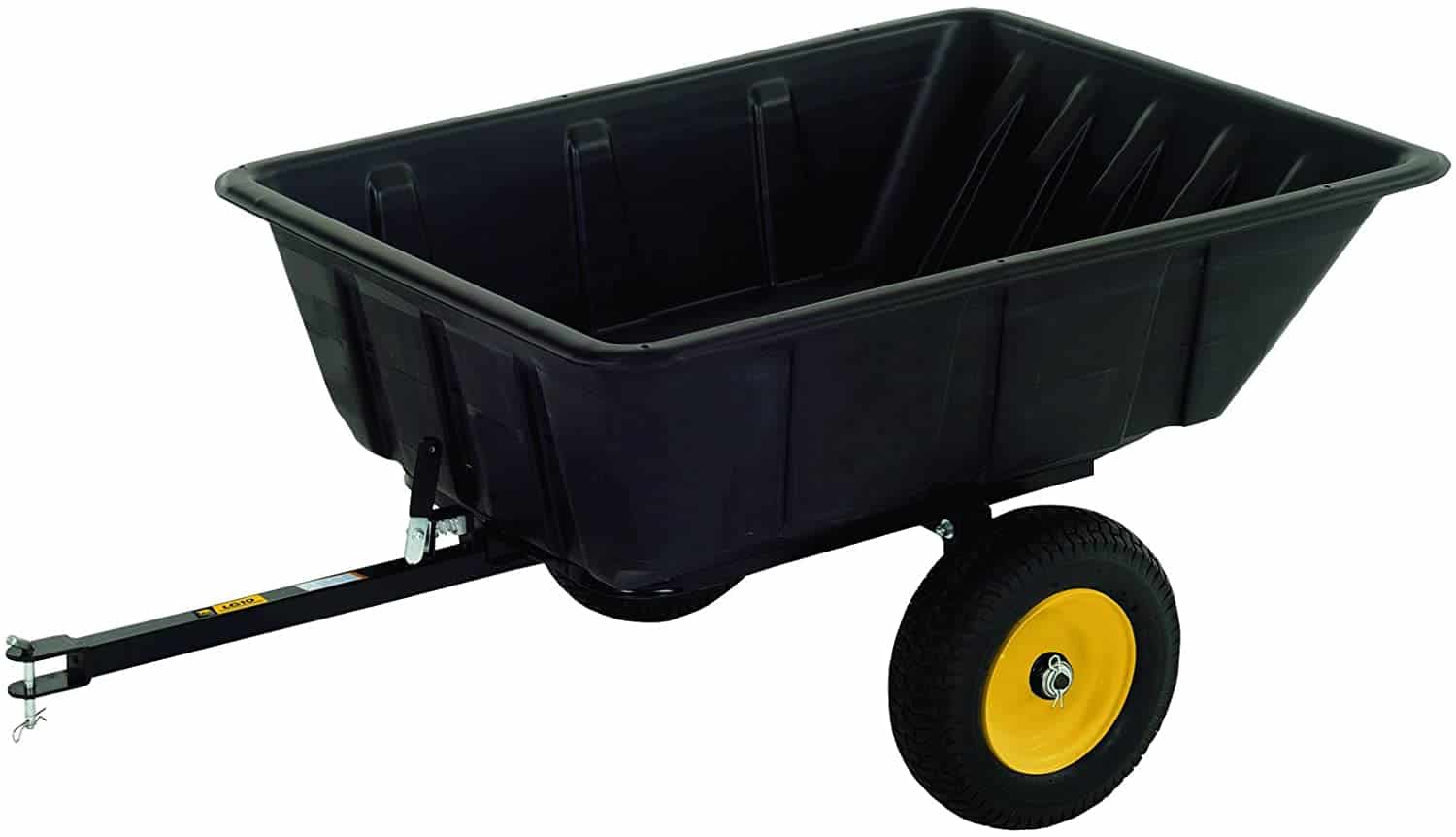 Specs
Ideal for yard, farm, or landscape work
900lb load capacity
10 cubic feet load size
Heavy-duty polyethylene tub and steel frame with powder coat finish
Quick release tipper latch
Durable materials
This robust utility cart from Polar Trailer features superior materials such as a polyethylene tub and a steel frame with a powder coat finish. These are features that guarantee protection from breakage, fracture, rust, and damage from chemicals. Polar Trailer has certified the durability and strength of this product's material through rigorous testing.
Convenient and reliable
This medium-sized cart from Polar Trailer can load up to 900 pounds and has a load size of 10 cubic feet. Users can easily stack firewood, equipment, tools with the convenient design of this trailer.
It is also equipped with a quick-release tipper that allows users to quickly dump heavy loads. This will save you from tiring and labor-intensive heaving and carrying. The quick-release levers and swivel dumping features are easy to control and operate.
Pros
Ideal for multiple uses
Heavy-duty material
Features and components guarantee a smooth and comfortable ride
Cons
more expensive than most mowers
[table "lt17gt" not found /]
Shopping guide for lawn mower trailers
Yard maintenance requires labor-intensive and strenuous physical work. To make your activities easier and more efficient, choosing the right cart for you is essential.
To guide you through this important decision, read up on the key factors you need to consider when choosing the best lawn mower trailer for efficient yard maintenance.
Factors to consider
Before we get started on the key features to look for in a good lawn mower trailer, homeowners should know about the different types and capacities of basic dump carts.
Types of Carts
Since there is a wide variety of trailers to choose from, it's necessary to familiarize yourself with the different methods of classifying lawn mower trailers. These models are usually classified according to:
Capacity
Trailers are often classified according to their capacity. This can refer to either the weight/load capacity or the cubic foot capacity.In terms of the load capacity, there are two basic load ratings for dump carts: 800 pounds or less and 1000 to 1200 pounds. Most smaller load capacity trailers use a ¾ inch axle, while trailers with 1000-pound load capacity will have a one-inch axle.

Most axles are made from high-grade steel, and the load capacity will tell how much weight that axle can carry before it starts to bend. We will get into the other factors that affect load rating in the next sections.

Cubic foot capacity refers to the size of the trailer's tub. This will determine the volume of load you can safely pile onto the trailer's body.

Tub Material
Another factor that drives up cart prices is the tub material. While it's tempting to get a cheap trailer, these will usually have weak material that won't be able to withstand the weight of heavy-duty equipment and work.The cheapest option available to homeowners is plastic tub carts. These tubs are made of thin material that will likely crack and tear in a year or two. Don't rely on these carts for heavy-duty work. Your cart will be fine with light activities such as transporting leaves, a few bags of mulch, and some firewood.

Most people opt for a Polyethylene tub, a type of plastic resistant to cracking and weather damage. The material is also watertight, making it a great option for homeowners looking for a cart that won't leak undesirable debris all over their property. Another great thing about Polyethylene tubs is that they can easily be cleaned and maintained.

Another option is to get a structural foam or low-density polymer tub. These are made with extremely robust material, which is usually molded with side pockets so homeowners can easily add extensions. While thicker polyethylene tubs might be more scratch-resistant, structural foam tubs are a great option that is meant to last.

The more expensive tubs are made of commercial-grade steel. Most of these steel dump tow carts have a removable tailgate which is convenient for cleanly dumping loads. More expensive models will have very thick sides and bottoms. A disadvantage of steel trailers is that they have a tendency to rust, so homeowners should take special care in maintaining the surface with paint.

Tires
Most tow-behind carts will have three types of tires. Wheelbarrow tires are usually found on the cheaper range of trailers. They are thin and are likely to go flat after a few uses. If you have one of these cheaper trailers at less than 200USD, make sure to protect its wheels with a tire sealant.Another wheel type is your standard garden and lawn tires that are similar to those you have on your lawn tractor. These are much thicker than wheelbarrow tires but are likely to go flat as well if your lawn is covered with a lot of debris. These types of wheels should be protected with a tire sealant as well.

The most expensive and robust wheels are of the same quality as commercial mowers with tire sealants. These tires can handle very heavy loads and can withstand some impact from a puncture.
Key Features of a Lawn Mower Trailer
Once you've researched the ideal material, wheel type, and load capacity for your lawn mower trailer, the next step is to look at its efficiency and durability in terms of its features and price point.
When reviewing dump carts, make sure to consider these key factors:
Mobility and maneuverability
This feature is dependent on the type of wheel you choose for your trailer. Make sure to choose a wheel type and wheel size that will allow for stability so that there is no restriction of movement.Tires that are rigid and pneumatic can withstand tough and uneven terrain. Evaluate your property's terrain, then make a decision on wheel size and type based on your observations
Patent dump technology
If you're investing in a quality trailer, make sure to choose a cart that has patent dump technology. This feature will make it extremely easy for you to get heavy lifting and unloading done within a short amount of time.This is an essential feature that will improve yard maintenance efficiency significantly. There are many models which offer convenient vertical shifting for clean unloading of heavy loads.
Handle
Most dump carts will have padded straight handles. While these aren't a bad option, a two-in-one convertible handle improves steadiness and balance during your yard maintenance tasks.
Grease fittings
While most dump carts have sealed ball bearings, the best choice is to go with grease-fitted bearings that are durable and protect from wear and tear. This feature will play a critical role in determining the efficiency and longevity of your trailer.
Conclusion
Investing in a high-quality lawn mower trailer guarantees efficient and convenient yard maintenance operations. Make sure to buy a cart that is suitable for your specific needs, terrain, and budget.