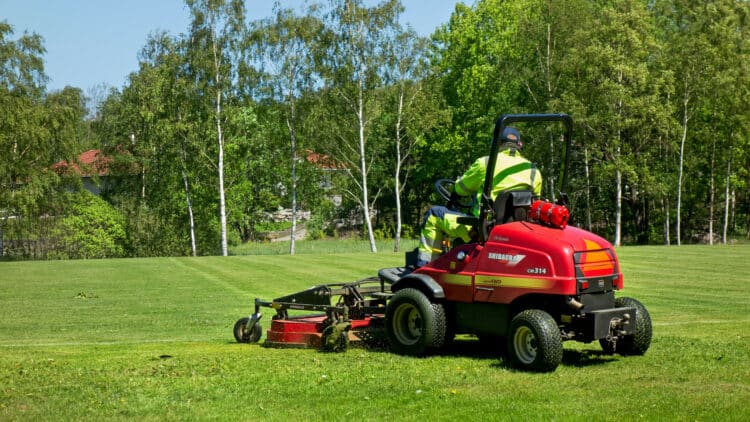 Homeowners who have been dreading yard maintenance can finally sit back and relax with helpful new equipment available in the market. One of the most tiring household chores is mowing the lawn, and especially if you have acres of land to maintain, that's more physical effort and time than most people are willing to give up!
Believe it when we say that push lawn mowers are now a thing of the past! New innovations in riding lawn mowers that feature powerful engines and wide mowing decks have made maintaining yards extremely efficient. Riding lawn mowers are surely an expensive investment. With the wide assortment of choices to choose from, it can get tricky to find the right type of riding lawn mower for your home maintenance needs.
Choosing the best lawn mower will depend on several factors. Homeowners need to assess engine power, deck size, ease of use, and overall performance. Since lawn mowing can become tiring work, it's also important to find mowers that feature convenient and more comfortable operations.
Researching and evaluating effective home maintenance projects can be difficult. We've compiled some of the best riding lawn mowers in the market this 2021. We'll also guide you through the necessary shopping considerations for yard maintenance.
Top 6 Riding Lawn Mowers in 2021
Troy-Bilt 540cc Briggs & Stratton Intek Automatic 46-Inch Riding lawn mower
If power is your priority, we can assure you that this power tool from Briggs & Stratton is the hero of mowers. Its engine is powered for optimal results. The model is also versatile and comfortable for any homeowner looking for a smooth performance. Though this mower provides power, comfort, and versatility, it's available at a reasonable price, so most homeowners can benefit from this efficient product.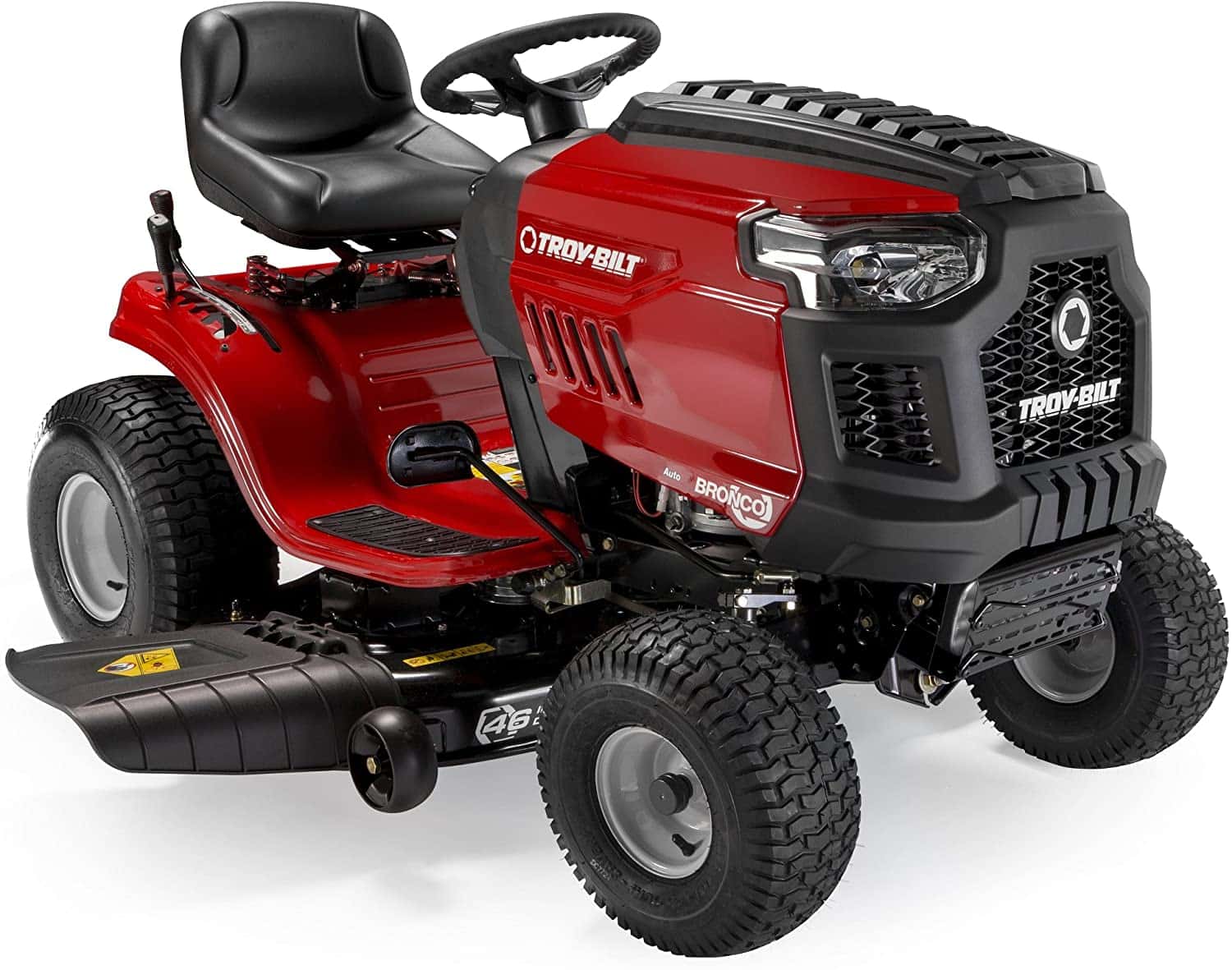 Specs
19HP/540cc powerful engine
Foot-pedal automatic transmission
Ergonomic design for superior operator comfort
46-inch side discharge mowing deck
Mow in reverse capability
2 year warranty
Power and versatility
This riding lawn mower stands out for its powerful OHV engine, which fuels its unparalleled performance. Users will also find that this product offers straightforward and smooth operations due to its favorable hydrostatic transmission drive.
This mower's smooth performance is made even better by its superior maneuverability. Operators can evade obstacles and obstructions easily on smooth and uneven lawns without a need to constantly shift gears. The mower also comes with a rear-wheel-drive making it extremely easy to mow in reverse. The Troy-Bilt also comes with handy headlights, which make riding through rough terrain on a gloomy day safe and hassle-free.
Ultimate comfort
Who knew that mowing lawns could be considered a luxurious and relaxing activity? With this riding lawn mower, homeowners will start looking forward to their routine yard maintenance. The Troy-Bilt riding mower comes with comfortable and luxurious seating that can easily be adjusted to your heart's content.
Another bonus is the handy cup holder beside the steering wheel. Enjoy a steaming cup of joe on cold mornings or a refreshing glass of lemonade on a hot afternoon of yard work! You'll never find mowing as much fun as when you take out this riding mower for a spin.
Pros
Powerful engine
Versatile and comfortable design
Reliable and can be used on rough terrain and dim visibility
Superior ease-of-use even in reverse gear
Cons
Tends to choke upon powering of engine
Can be noisy
Best for heavy-duty work – Husqvarna 960450057 GTH52XLS
If you're looking for a chainsaw chain that can get through heavy-duty work, the Husqvarna 960450057 GTH52XLS is the perfect match for you. This riding mower only promises the best performance, even for the most demanding projects! Husqvarna also went all the way with this machine in terms of ergonomics and comfort.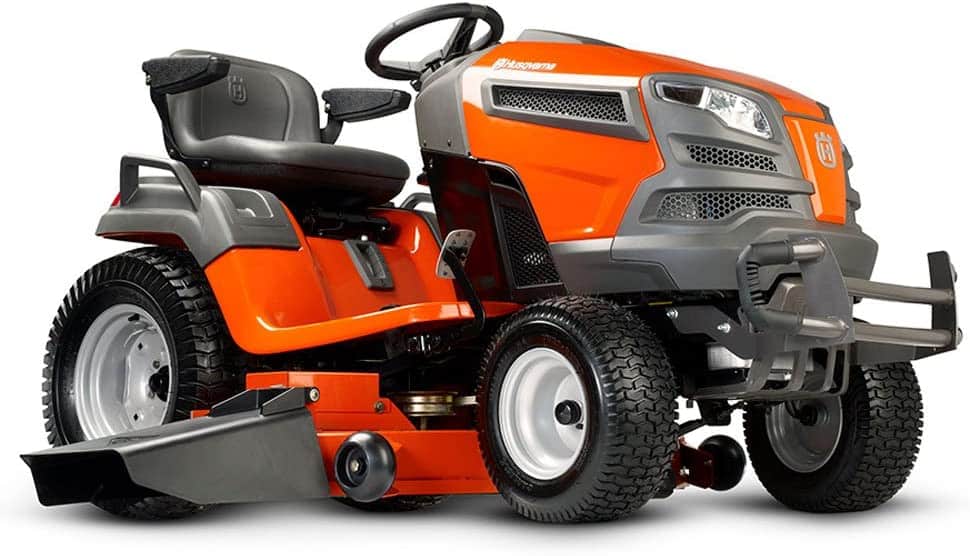 Specs
high-performance and low-vibration chain
square-corner "chisel" cutter
84 drive link chain with ⅜ in. pitch and 0.50-in. gauge
24-inch length
compatible with 24-inch Husqvarna chainsaws
Smooth and efficient performance
This solid mower is the perfect solution to heavy-duty yard work that requires tough terrain and steep hills. The engine is powerful enough to efficiently cut grass while powering through hills, all thanks to its high-quality parts and motor. Operators will also find accessories such as mulch kits, baggers, and other attachments incredibly useful for these heavy-duty projects.
This mower is also incredibly easy to customize, allowing users to achieve the yard of their dreams. Users will enjoy its maintenance-free operation due to its fast auto transmission feature. Adjusting the cutting height and controlling speed and direction is also made easy. It's also convenient to adjust the deck lever, and users can also make cutting blades electrically charged.
Ergonomic design
This riding mower was specially designed with comfort and ergonomics in mind. Its luxurious seat features an adjustable high back with an armrest. Users will also love its steering wheel that's soft to the touch.
The mower's design offers convenient and easy-to-navigate features through the tough and uneven terrain without compromising comfort and efficiency. The product is also sturdy and durable, so users can rest easy knowing that the product.
All driving components and features were carefully applied, making this riding lawn mower one of the best options on the market.
Pros
Ergonomic design and easily adjustable components
Electrically-controlled cutting blades
Specially designed with comfort and durability in mind
Cons
Most Durable – Poulan Pro P46ZX
Here's a riding lawn mower that you can rely on for its durability and robust construction. Each component of the Poulan Pro was constructed to withstand wear and tear so that users can benefit from this product in the years to come.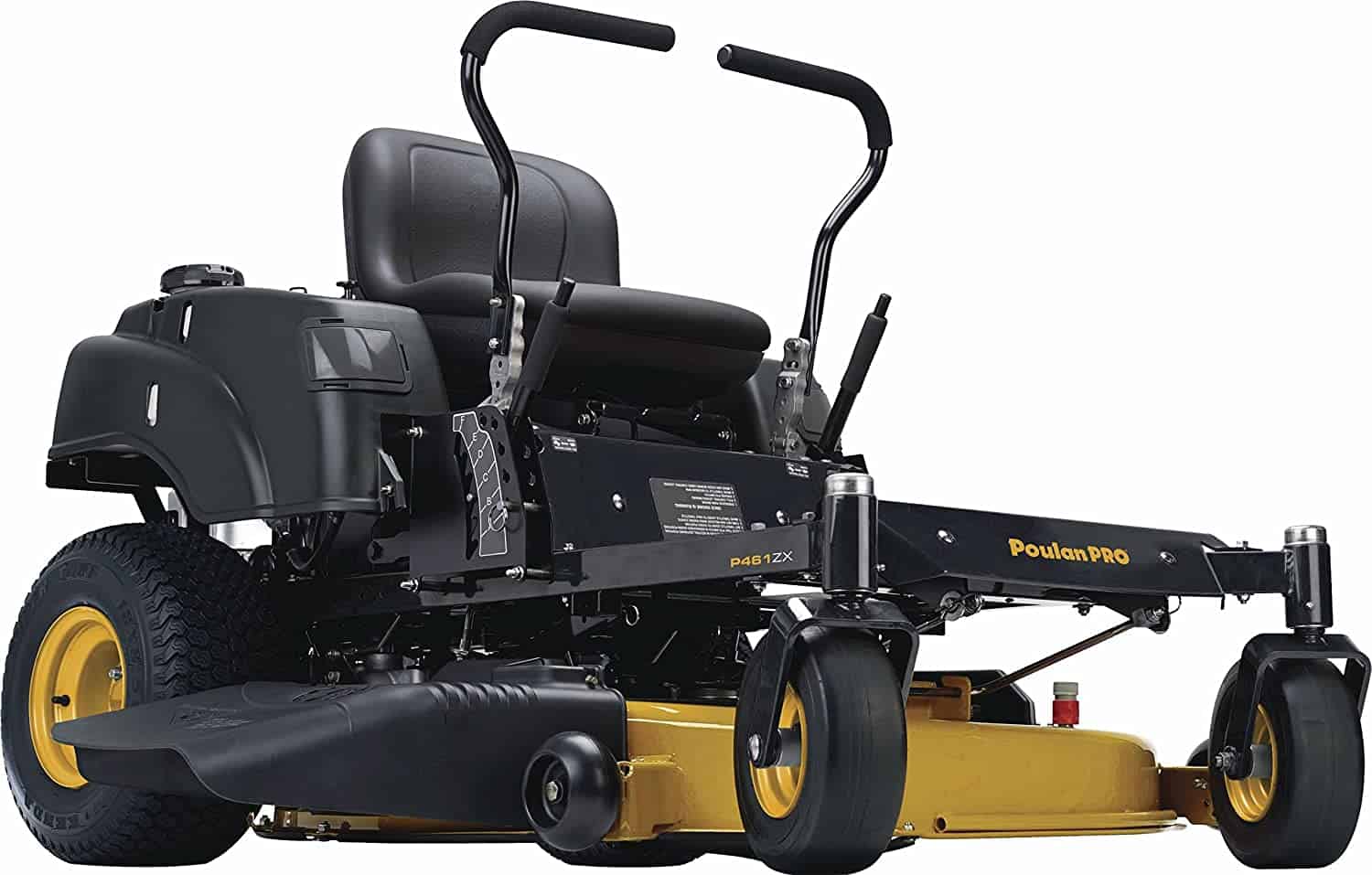 Specs
46-inch reinforced deck with 10 year warranty
V-Twin engine
Electric clutch
3.5-gallon gas tank
Durability
The Poulan Pro has all the robust components you could ask for: a welded frame, durable wheels, a reinforced deck, and a powerful engine. This mower is efficient enough to get any job in no time, so users won't have to strain the motorless wear and tear means a healthier machine that can last a lifetime.
This riding lawn mower is also backed by a 10-year warranty, a generous offer for homeowners who would like to benefit from this powerful and durable machine.
User-friendly
This mower was designed for ultimate user-friendly support. The Poulan Pro features a dual-wheel hydro EZT transmission – a feature that allows users to control each wheel separately for superior maneuverability. Simply move your arms back and forth, and you'll find it easy to shift directions.
The Poulan Pro offers next-level user convenience with its user-friendly panel, electric clutch, and generous fuel tank of 3.5 gallons. It's also a zero-turn mower that allows users to navigate and avoid obstacles.
Users will also enjoy its ergonomic seat, which provides luxurious comfort for your routine yard maintenance.
Pros
Generous warranty
Powerful engine and durable components
Easy maneuverability
User-friendly panel
Comfortable seating
Cons
Instruction manual isn't complete
Most convenient – RYOBI RY48ZTR100
The RYOBI might be the lawn mower of every homeowner's dreams. It's a high-end riding lawn mower that features a powerful electric-engine, yet it's also easy to maintain. Homeowners who are concerned about their carbon footprint will love this eco-friendly option.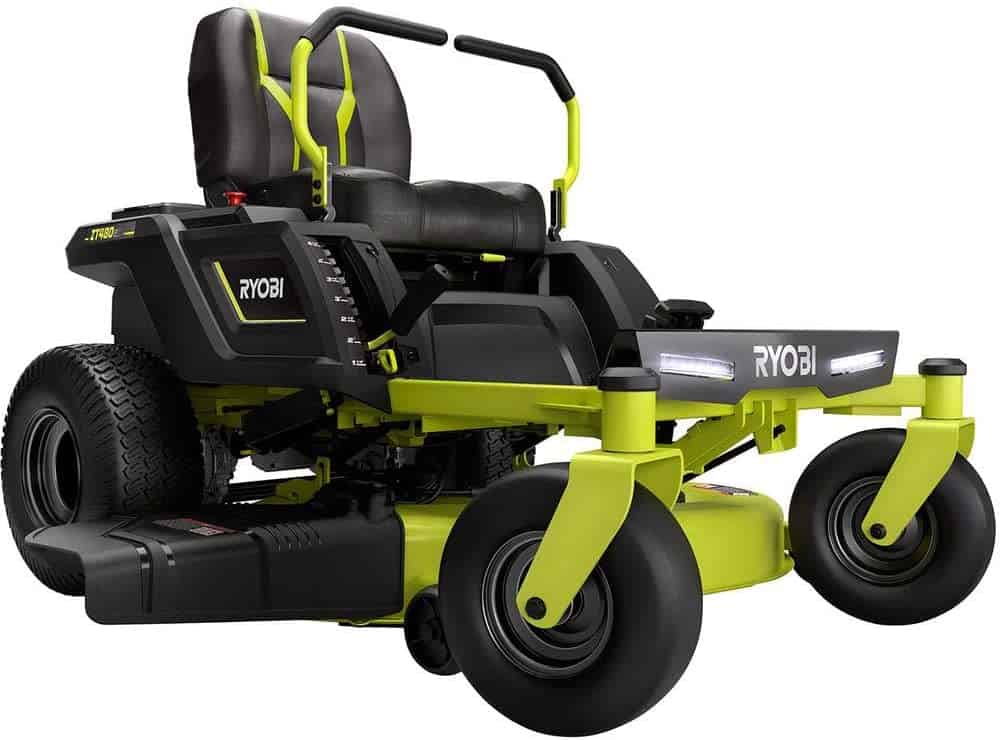 Specs
4 high-powered brushless motors
75Ah or 100Ah batteries
charged via 120V outlet
42-inch steel deck
12-position single-lever deck adjustment
Two precision-cutting blades
1.5 to 4.5 inch adjustable cutting height
Additional features for towing, mulching, bagging, side discharge
Includes LED headlights, USB charging port, battery indicator
Endless possibilities
Users will be surprised by all this RYOBI riding mower has to offer. With a choice of either 75Ah or 100Ah batteries, homeowners can already mow up to 3 acres of land on a single charge! This powerful mower also has a user-friendly 12-Position Manual Deck Adjustment for its two precision-cutting blades as well as zero-turn technology. Cutting height can also be adjusted between 1.5 to 4.5 inches.
Users can also opt for convenient yard maintenance capabilities, including mulching, side discharge, and bagging. Homeowners can even use the RYOBI lawn mower for towing. The model comes with complete tow assembly hardware and towing hitch.
Next-level convenience
The RYOBI riding lawn mower offers the user complete control and versatility. The powerful engine can easily be charged via your standard 120V outlet. This zero-turn mower is also equipped with convenient features like LED headlights, a USB charging port, and an easy-to-read battery level indicator.
Your neighbors will thank you for the RYOBI's subtle service – it operates on a quiet engine that doesn't spew out harmful carbon emissions!
Pros
No carbon emissions
Cost-efficient power source
Quiet engine
Powerful enough to mow 3 acres of land
Convenient features
Cons
Not ideal for commercial use and rough terrain
Best for Large Yards – TOROMowers Toro TimeCutter MX4250
For homeowners looking for the best companion for maintaining a large yard, this riding mower by Toro is a powerful tool that also prioritizes comfort and smooth performance.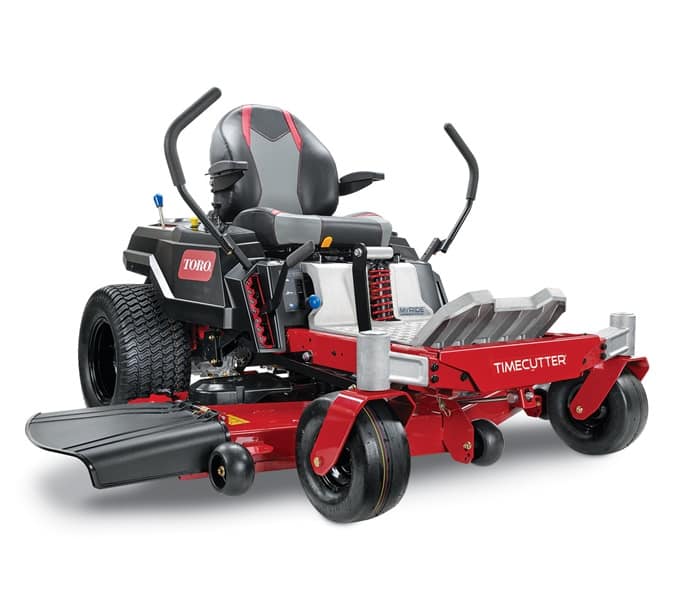 Specs
24.5 HP Toro Commercial V-Twin engine
Hydrostatic zero-turn tractor
2-bladed mowing system
7 cutting positions between 1.5 to 4.5 inches
Smart Speed control system
18-inch thickly padded seat with armrests and cup-holder
Electric PTO and automatic parking brake
MyRIDE Suspension System
Power and speed
You can expect that this riding mower from Toro can keep up with your mowing needs. In fact, its 24.5-HP engine is powerful enough to help you maintain several acres of yard space! Thanks to zero-turn steering, this model is one of the most efficient in the market.
Users will appreciate this riding mower for its incredible speed, up to 7mph for your mowing needs, and 5pmh for towing. The mower also features a large 54-inch deck, quickly cutting large paths on each pass. You'll be surprised how efficient this model's engine and design are – cut back on your mowing time by half with this riding mower.
Smooth performance
This riding mower is the ultimate companion for labor-intensive yard maintenance. Aside from power and speed, the Toro Time-Cutter also promises users superior comfort and smooth performance.
The Toro Time-Cutter features the brand's MyRide suspension system, which guarantees users smooth and enjoyable operations. This mower is also equipped with a comfortable high-back seat with full armrests and a built-in cup holder. Instead of dreading your routine mowing sessions, homeowners will look forward to the comfort and luxury this riding mower has to offer.
Pros
Smooth performance
Ideal for large lawns and rough terrain
Comfortable and luxurious seating
Cuts back mowing time by 50%
Durable deck
Cons
more expensive than most lawn mowers
Cub Cadet Ultima ZT1
This riding mower from Cub Cadet offers the best zero-turning technology money can buy. The Cub Cadet Ultima allows users to power through the toughest and most uneven terrain imaginable.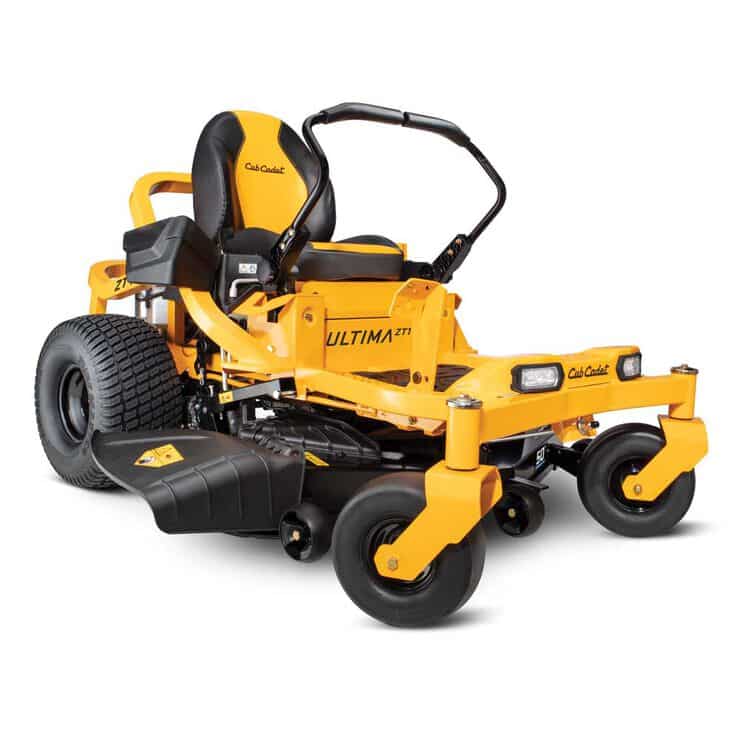 Specs
23 HP Kawasaki FR691V
Twin-cylinder OHV Zero-Turn
18 in. high-back seat with polymer seat suspension
AeroForce cutting system
Ideal for rolling hills and several obstacles
Adjustable lap bar controlled dual-hydro transmissions
Tubular steel frame
Power and efficiency
This riding mower from Cub Cadet guarantees users superior performance even through the roughest terrain. With its 23 HP twin-cylinder engine, this mower is intended for intensive commercial-level projects. What's more, this riding mower can go up to a speed of 7.5mph thanks to its dual hydrostatic rear-wheel transmission.
Superior performance
This riding mower from Cub Cadet offers superior performance along with its powerful engine and motor. The mower comes with a 50-inch triple-blade deck with reinforced leading edges, which ensures better performance by creating finer clippings and fewer clumps and encouraging surface evenness.
Users can also easily adjust deck height with a foot-operated deck lift and dial knob. The mower's wheels are perfect for a comfortable ride on rough terrain – it features smooth tread wheels and 20-inch premium rear tires that guarantee traction and a safe ride.
This mower also offers convenient features such as dual-LED headlights, an adjustable ergonomic lap bar, and electronic blade adjustment.
Pros
Powerful commercial-grade engine
User-friendly controls
Features and components guarantee a smooth and comfortable ride
Cons
more expensive than most mowers
| Riding Lawn Mower | Engine | Mowing deck | Transmission | Warranty | Amazon Link |
| --- | --- | --- | --- | --- | --- |
| Troy-Bilt 540cc Briggs & Stratton Intek Automatic 46-Inch Riding Lawnmower | 19 HP/540cc | 46-inch | Hydro Dual HG EZT | 2-year | |
| Husqvarna 960450057 GTH52XLS | EHD hydrostatic | 52-inch | Auto-transmission | 5-year for frame and front axle Consumer Warranty, 3-year Limited Homeowner | |
| Poulan Pro P46ZX | 22 HP Briggs v-twin pro engine | 46-inch | Hydro gear EZT | 10-year for deck, 3-year Limited | |
| RYOBI RY48ZTR100 | 75Ah/100Ah Battery and 4 High-Powered Brushless Motors | 42-inch | Hydrostatic | 1-year Limited for Battery, 3-year Limited | |
| TOROMowers Toro TimeCutter MX4250 | 24.5 HP s Toro Commercial V-Twin engine | 42-inch | Dual Hydrostatic | 3-year Unlimited | |
| Cub Cadet ULTIMA Series ZT1 | 23 HP Kawasaki FR691V | 60-inch | Twin-cylinder OHV Zero-Turn | Contact dealer for details | |
Shopping guide for chainsaw chains
To guide you through this important decision, read up on the key factors you need to consider when buying a riding lawn mower for efficient yard maintenance.
Factors to consider
The first thing to consider before getting a riding mower is your yard size. For small lawns that are less than an acre, invest in a rear-engine mower that will allow for easy maneuverability and navigation. Lawn tractors and zero-turn motors work best for larger yards.
Choosing between a lawn tractor and a zero-turn motor will depend on your terrain type. A zero-turn motor will work best with lawns that have several obstacles. It will be convenient to invest in a mower with high horsepower to power through hilly or sloping lawns in both cases.
Key Features of Riding Mower
An important decision to make is whether you'll buy a gas-powered or an electric-powered riding lawn mower. With gas mowers, you'll have the advantage of a more powerful engine. On the other hand, they're noisy to operate, require more maintenance, and also emit harmful carbon emissions.
With electric mowers, you'll get a less powerful motor and less operation time. You'll have the perks of a user-friendly, easy-to-maintain, and eco-friendly tool with an electric motor.
The mower's horsepower (HP) refers to the engine's power output. The higher the HP, the greater work output a machine can offer. This means that mowers with a high horsepower can accomplish tasks faster, and they can even power through rough terrain.
Go for a model that offers options on how to handle grass-clippings. Most riding lawn mowers will feature additional features for bagging, mulching, and side discharge. The best option is simply the one which you'll be using more.
Deck size and cutting width
Deck size is another important feature for operators who want to prioritize efficiency and speed. The deck size will determine how wide a path the mower can cut through. Most homeowners will benefit from a mower with a deck size between 30 to 60 inches.
Get a mower with a deck size of 30 to 40 inches for lawns that are less than an acre. For yards that are about half an acre to two acres, a 42 to 46-inch deck size should be enough. With large yards spanning about three acres, homeowners should invest in a mower with at least a 50-inch deck size.
Wider decks are best for large yards with few obstacles, while smaller decks easily maneuver in a crowded lawn.
Fuel tank capacity and Battery Life
As mentioned before, gas-powered mowers will usually have a longer lifespan than battery-operated ones. The average fuel tank capacity of a gas mower is about two gallons. In comparison, a larger mower can carry up to three or four gallons of gas.
With recent innovations in battery technology, electric mowers now have an increased life span that can last for several hours on one charge. While battery longevity will depend on the job's terrain and intensity, a 100Ah battery can last up to three hours.
Rear-engine and lawn tractors will most likely be equipped with a steering wheel for control, while a zero-turn mower will use two push/pull levers to control speed and direction.
Most rear-engine mowers feature a gear system to manage speed similar to a manual transmission car. In these cases, changing gears can result in jerky performance. Lawn tractors are usually equipped with hydrostatic transmission, which makes speed changes much smoother.
Riding mowers also have easily adjustable controls for cutting height, modes, and other additional model features.
Conclusion
Investing in a high-quality riding mower guarantees a powerful and smooth performance garnering optimal results. Make sure to buy a riding mower that is suitable for your yard size and terrain. Operator safety and comfort should also be a top priority for labor-intensive yard maintenance.