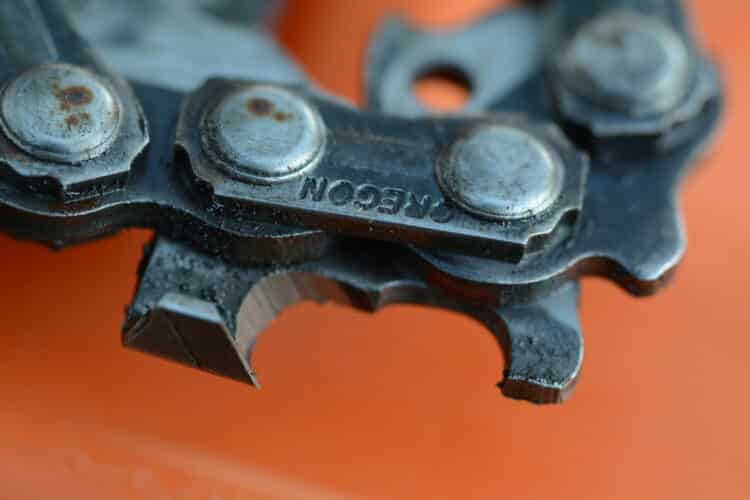 When it comes to heavy-duty home improvement projects, DIYers and professional woodworkers rely on a powerful chainsaw to get the job done. From felling trees to simply pruning branches, all the components that make up your chainsaw should be in the best shape to ensure a successful and accident-free project.
Regular chainsaw use will result in the wear of chainsaw components over time. This is especially true for chainsaws that are used in heavy-duty and high volume work. All responsible chainsaw operators should know that equipment maintenance is critical to ensuring your power tools give their best service in the years to come.
Failure to keep routine chainsaw maintenance will result in inefficient work and an increased risk of accidents. One of the most important components to keep in check is your chainsaw chain. Imagine all the wear and tear it goes each time you cut through thick chunks of wood!
With the wide variety of chains in the market, it can be difficult to find the best one that can effectively keep up with your labor-intensive DIY plans! We'll guide you through some of the best chains in the market this 2021.
Top 6 Chainsaw chains in 2021
Oregon 8-inch Micro Lite Pole Saw Chain
Both newbie and professional chainsaw operators will appreciate this high-quality chain from Oregon. According to people in the woodworking industry, the Oregon R34 8″ Micro Lite Pole Saw Chain is one of the best in the business – offering top quality and performance.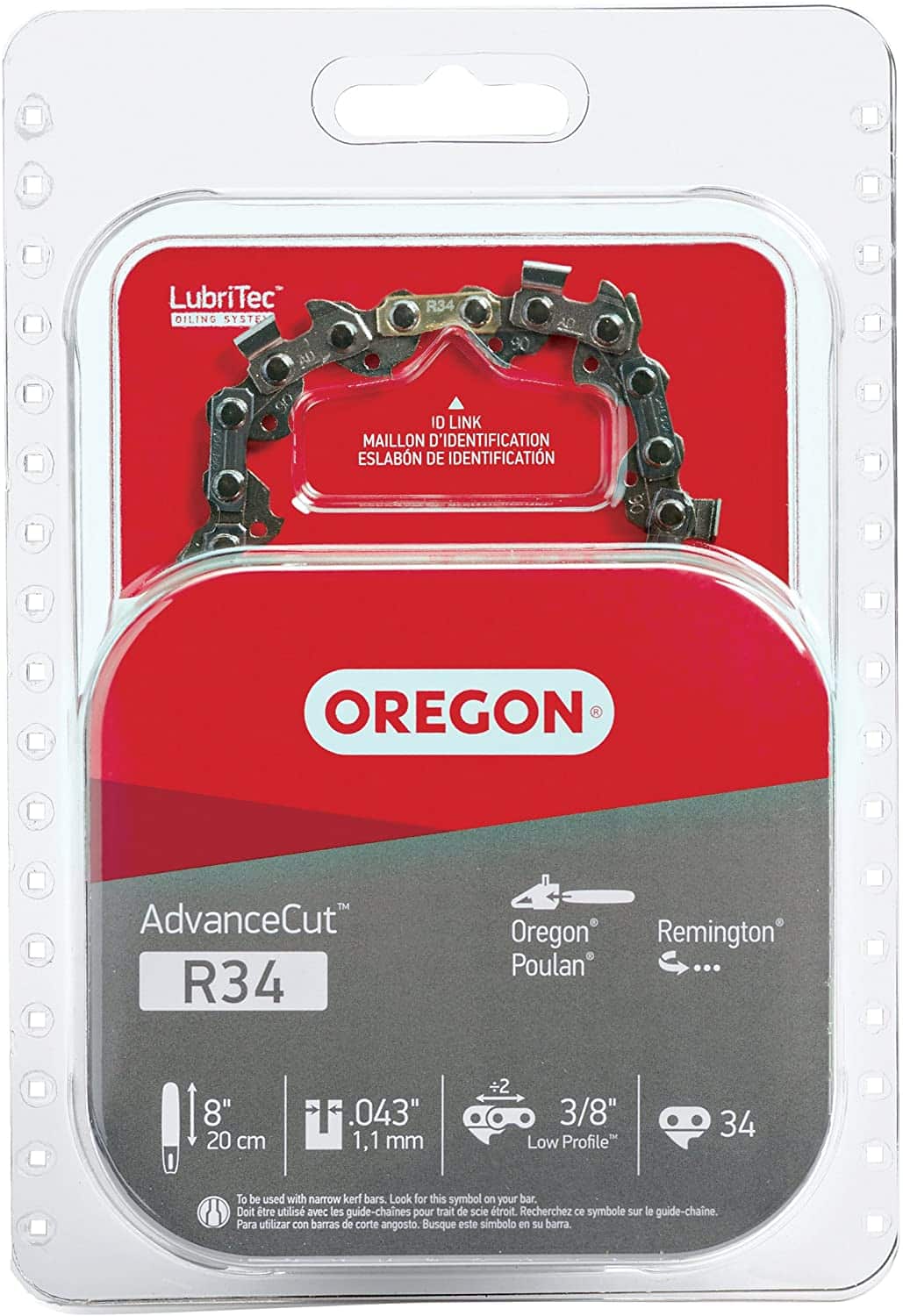 Specs
8-inch chain
0.43-inch kerf guage
designed to have minimal vibration and low kickback
compatible with most Oregon, Poulan, Remington

No-fuss performance

This powerful tool brings in optimal results without the fuss. The 8-inch tool is convenient and lightweight with a narrow kerf 0.43-inch gauge. This chain was designed to give the smoothest performance – chainsaw teeth retain a stable grip while operating with low vibration and minimal kickback.

Users will be surprised at this tool's efficiency and reliability compared to other options on the market. Due to this chain's efficient design, operators can expect less saw power consumption, less wood fiber debris.

Convenient and time-efficient

Oregon guarantees that this chain was specially designed to retain its cutting edge. The R34 can make efficient and smooth cuts through hard and softwood while retaining its sharp teeth for hours on end without needing any maintenance. Users won't have to constantly worry about chain binding and frequent sharpening, allowing operators more time for woodwork than routine maintenance.

The Oregon R34 is also compatible with most of the industry's top chainsaw brands like Oregon, Remington, and Poulan. If you've already invested in high-performance chainsaws, this chain from Oregon is a reliable tool to add to your arsenal.

Pros

minimal noise, vibration, and kickback
retains sharp edge to cut-down on maintenance time
less saw power consumption
narrow kerf

Cons

compatibility limited to Oregon, Poulan, Remington

Best for heavy-duty work – The Husqvarna 24-Inch Saw Chain

If you're looking for a chainsaw chain that can get through the most difficult project, the Husqvarna H4684 24-Inch Saw Chain is the perfect match for you. This chain only promises the best performance, even for the most demanding projects!

Specs

high-performance and low-vibration chain
square-corner "chisel" cutter
84 drive link chain with ⅜ in. pitch and 0.50-in. gauge
24-inch length
compatible with 24-inch Husqvarna chainsaws

Smooth and efficient performance

You can only expect the best performance from a brand like Husqvarna. Though their items are on the expensive side, rest assured that you'll reap the benefit from every penny you spend.

This 24-inch cutting tool was specially designed for optimum efficiency and smooth performance. The chain is ideal for large chainsaws, offering a ⅜-inch pitch alongside a 0.050-inch gauge. We doubt that other options on the market can rival the fast performance of this chain with 84 drive links.

This chain's smooth performance guarantees minimal production of wood chips and debris as you work. The chain also ensures that operators experience minimal vibration and kickback, ensuring operator comfort and safety.

Long-term solution

This expensive yet highly durable chain is one of the best investments a newbie and professional 24-inch Husqvarna chainsaw user can make! This chain is compatible with all the high-quality 24-inch chainsaws by the ever-reliable brand. Rest assured that this durable chain will sit well with your trusty saws.

The chain's robust teeth retain their cutting edge even after cutting the hardest wood you can find, which means significantly less maintenance time! While there are much cheaper options on the market, this option for Husqvarna will ensure quality results even after multiple heavy-duty jobs. It can save users valuable money, time, and effort in the long run.

Pros

Quick and accurate results
Compact design and built-in light allows for versatile work environments
User-friendly interface
anti-machine overloading technology is ideal for beginners

Cons

Limited compatibility with 24-inch Husqvarna saws
More expensive than most chains

Best Value for Money – Tallox Chainsaw Chains

Top chainsaw brands should watch out for this lesser-known company – Tallox. While lesser known in the industry, DIY-ers and professional trades workers shouldn't be too quick to shrug off this brand. Tallox is slowly rising to the ranks of popular power tool brands with its wide array of powerful tools, accessories, and replacement parts.

Specs

16-inch chain length
0.050-inch gauge
Compatible with most brands
56 drive link chains

Versatility and reliability

This 16-inch chain from Tallox is everything you could ever ask for! The chain is compatible with most chainsaw brands: the likes of Remington. Poulan, Husqvarna, and Craftsman are supported by this Tallox chain.

You'll find that its 16-inch length is accompanied by other agreeable features that can be found in most chainsaw models. The 56 drive link chain has a pitch rating of ⅜ inches and a gauge rating of 0.050 inches.

Powerful performance

This 16-inch chain from Tallox will ensure users of efficient and powerful performance. Users will find that chain teeth are large, robust, and amenable for fast and efficient cuts.

Users will find that the chain offers quicker cutting due to its large teeth, reducing machine and operator strain. According to users, they are impressed with this chain's cutting edge longevity even when cutting very hard wood. Some reviewers claim that this chain from Tallox may even outperform the likes of bigger power tool brands.

Pros

Powerful and fast cuts
Retains cutting edge
Compatible with most chainsaw brands and models

Cons

Anti-vibration and kickback can be improved

Most reliable – Black & Deck Chainsaw chain

If you're looking for a power tool manufacturer that has stood the test of time, Black & Decker is here to answer all your maintenance and replacement needs! Black & Deck is a renowned power tool brand trusted by professional tradesmen and craftsmen – rest assured that all their products promise reliable performance.

Specs

8-inch chain length
34 drive links
⅜-inch pitch
low-kickback and vibration technology
Built-in overhead light
self-centering chain

Unparalleled performance

This chain from Black & Deck is ready to deliver to all your cutting and logging needs. You'll be happy to hear that this chain is one of the sharpest chainsaw chains you can find on the market, and its cutting speed and smooth performance aren't one to be ignored as well!

The Black & Decker 8-inch chain guarantees easy and hassle-free performance on thick and hardwood, with the help of its ⅜-inch pitch and 34 drive links. Users will find that this chain can cut through thick material like butter, thanks to its technology that minimizes vibration and kickback.

Durable and robust

You can only expect durable and strong chains from a renowned brand like Black and Decker. If you're looking for a device that can keep up with your labor-intensive projects, this tool is the one for you.

This 8-inch chain is ideal for handling yard projects like cutting firewood and pruning. This product is also lightweight and compact, so users won't have difficulty with storage and replacement.

Pros

smooth performance and minimal vibration/kickbacks
sharp teeth retains cutting edge
lightweight and compact
ideal for a wide variety of yard work

Cons

limited compatibility with Black and Decker NPP2018 and CS818

Buezue Saw Chain of Chainsaws 18-inch

For craftsmen and woodworkers taking on high volume and heavy-duty projects, this chain from Buezue should be your new best friend. The chain is one of the most robust chainsaw components you'll find on the market.

Specs

18-inch chain length
3/8-inch pitch
.050-inch gauge
62 drive links
made from high grade steel with anti-fracture properties
ANSI-certified safety

High-grade and tough material

Inevitably, chainsaws will eventually wear down due to the constant stress it's exposed to. Especially if you do heavy-duty work, it's best that you start investing in high-grade components if you want your power tools to last. One such product is the Buezue 18-inch chain made from high-quality materials that are made to last.

This high-grade chain is made of tough anti-fracture high-grade steel that is resilient to wear and tear. This Beuzeu chain also has a non-stick coating that will significantly cut down on necessary maintenance.

This chain has a .050 inch gauge and ⅜-inch pitch that is meant to be compatible with a wide variety of chainsaw brands in the market. With its 62 drive links, a significant number of chainsaw operators can benefit from this durable and efficient chainsaw component.

Safety guaranteed

If you're a regular chainsaw operator who does routine heavy-duty woodwork, it's high time that you start investing in products that are meant to ensure your safety. Labor-intensive woodwork with low-grade power tools increases operator vulnerability due to longer work hours and difficulty with maintenance.

This chainsaw chain from Buezue is certified safe and has met all the standards for ANSI on low kickback chain technology. Users can rest assured that this chain has gone through the most rigorous manufacturing process that ensures its strength, durability, and overall quality. Beginners can rest assured that this product ensures operator safety to avoid any form of accident.

Pros

Compatible with most chainsaw brands
ANSI-certified low-kickback chain
made from high grade steel that is guaranteed durable and sturdy

Cons

more expensive than most chains

Most durable – ZENTOP 18-Inch Chainsaw Chain

ZENTOP also came up with a chainsaw chain that prioritizes operator safety and the highest standard of durability. This 18-inch chainsaw chain was specially designed to ensure the highest quality performance on high-volume professional chainsaw operations.

Specs

18-inch chain length
⅜-inch pitch
.050-inch gauge
62 drive links
Chrome-plated cutters and hardened rivets
Anti-vibration technology
Made from industrial hard steel

Advanced design and robust material

For professional craftsmen and woodworkers, this chain from Zentop should definitely be a part of your tool kit. The Zentop 18-inch chain features comprehensive technology that ensures user safety and optimal performance.

The chain cutters are electroplated with industrial hard chrome, which ensures the longevity of the product's durable and wear-resistant surface. Chromed cutters will also enhance product performance for faster and smoother chainsaw operations that do not risk operator safety.

This Zentop chain also features hardened rivets that will guarantee long hours of operation with minimal wear and stretch, reducing the need for regular chain tension adjustments.

User safety and comfort

If you work on labor-intensive projects that require heavy-duty and large-volume chainsaw operations, you can rely on the Zentop chain to get the work done without any issues in performance, safety, and quality.

The product features an advanced design that reduces vibration levels, allowing for much more consistent cuts and greater operator comfort. This chain by Zentop features a small space between the guide bar and the saw chain, which acts as an effective shock absorber. In fact, this chain guarantees 20% less vibration than most chain brands on the market.

Pros

chrome-plated cutters and hardened rivets ensure efficeint and smooth performance
advanced design ensures user safety and comfort

Cons

more expensive than most chains

| Chainsaw chain | Guide bar length | Gauge | Pitch | Drive links | Compatibility | Amazon Link |
| --- | --- | --- | --- | --- | --- | --- |
| Oregon R34 Advance Cut 8-Inch Micro Lite Chainsaw Chain | 8-inch | 0.043-inch | 3/8-inch | 33 | Oregon, Remington, Poulan pole saw | https://www.amazon.com/Oregon-R34-AdvanceCut-Chainsaw-Remington/dp/B000BOAG0O |
| Husqvarna Chainsaw Chain 24-Inch | 24-inch | 0.050-inch | 3/8-inch | 84 | Husqvarna 24-inch saws | https://www.amazon.com/Husqvarna-Chainsaw-Kickback-Low-Vibration-591119484/dp/B081QXGT15/ |
| Tallox 16-inch Chainsaw chain | 16-inch | 0.050-inch | 3/8-inch | 56 | Compatible with wide variety of most 16-inch Oregon, Makita, Remington, Sun Joe, Husqvarna models | https://www.amazon.com/tallox-Chainsaw-Craftsman-Homelite-Remington/dp/B07GPPKDGJ |
| Black & Deck 8-inch Chainsaw chain | 8-inch | 0.050-inch | 3/8-inch | 34 | Black and Decker NPP2018 and CS818 | https://www.amazon.com/BLACK-DECKER-RC800-8-Inch-NPP2018 |
| Buezeu Saw Chain of Chainsaws | 18-inch | 0.050-inch | 3/8-inch | 62 | Compatible with most chainsaws brands | https://www.amazon.com/dp/B08MJQCNS1/ |
| ZENTOP 18-Inch Chainsaw chain | 18-inch | 0.050-inch | 3/8-inch | 62 | Compatible with most chainsaws brands | https://www.amazon.com/ZENTOP-18-Inch-Pack-Chainsaw-Chain/dp/B088YMY8GH/ |

Shopping guide for chainsaw chains

To guide you through this important decision, read up on the key factors you need to consider when buying chainsaw maintenance and repair tools.

When do you need to replace your chain?

Let's begin by understanding when the perfect time is to replace your chainsaw chain. Replacing your chain too soon will only cost you money while doing it too late will result in poor workmanship and damage to your saw.

The first sign to watch out for is broken teeth on the chain. Even though chains are made of hard material, a few teeth will inevitably chip away after constant wear and tear. This also applies to chain teeth and cutters that have gotten too small. While it's recommended to routinely sharpen chains, you'll notice that chains won't be too useful once their cutting components have been ground down.

Most importantly, you need to immediately change your chain when you start noticing loosened tension between the bar and the chain. Problems with tension can cause chains to break and lead to serious injury. You may also notice fine sawdust, smoke, and unusual rattling noises from the chain. These are all signs that your chain is bound for a replacement.

Key Features of Chainsaw chain

Now that you know when it's the right time to let go of your trusty chainsaw chain, let's get into the basics of the fundamental factors in choosing the best chain for you:

Type of Chain

The chain tooth type will greatly influence the capabilities and performance of your saw. The three basic types are: full chisel, semi-chisel, chipper, and skip/semi-skip chains. Make sure to choose a chain type that can deal with the type of project you have in mind.

Chain length

It's crucial that you find a chain that is compatible with your chainsaw. You can easily find the right chain length in inches by measuring your chainsaw bar. This can also be found on the packaging label or seller website. To get your chainsaw bar length, round up the measurement to the nearest even number.

Chain pitch

Chain pitch refers to how close drive links are on your chain. If you're unsure about your chain pitch, easily find this by measuring the distance between three rivets and dividing this by two.

The most common pitch sizes are: ¼, ⅜, and .404 inches. The most common for DIY-ers and occasional chainsaw users is the ⅜ inch pitch that also features a narrow kerf that reduces saw power. Most professionals will prefer the .404 pitch.

Drive links

When choosing the right chain, remember to check the drive links – the part of the chain that fits into the guide bar. The number of driver links will give users an accurate measurement to find a proper fitting replacement chain.

Drive link thickness will also determine performance, where thicker links are ideal for heavy-duty work. These can range between 1.1 to 2mm.

Chain gauge

This feature describes the thickness of the drive links. To reduce vibration and kickback, choose a chain that perfectly matches your guide bar's gauge. The available chain gauge sizes are 0.043 and 0.050 to 0.060, where 0.050 is the most widely used gauge. The chain gauge is typically printed on a chainsaw's guide bar.

Safety

Other important factors when it comes to all power tools are safety and comfort features. Choosing the right chain for your chainsaw and specific project needs is critical in avoiding dangerous chain binding and kickbacks. Find a chainsaw that has reliable anti-vibration and anti-kickback features.

Durability and Maintenance

Remember that power tools are used for heavy-duty projects, so make sure to choose a durable and robust product. Users can refer to the product built quality, warranty, and user reviews to get an idea of product reliability.

Additionally, make sure to invest in a chain that can easily be maintained with a chainsaw sharpener and a quality lubrication system. Invest in a chain that retains a cutting edge for more efficient chainsaw operations.

Conclusion

Investing in a high-quality chain guarantees smooth chainsaw performance and optimal results. Make sure to buy a chain that is suitable for your needs. Guarantee operator safety and comfort should also be a top priority.