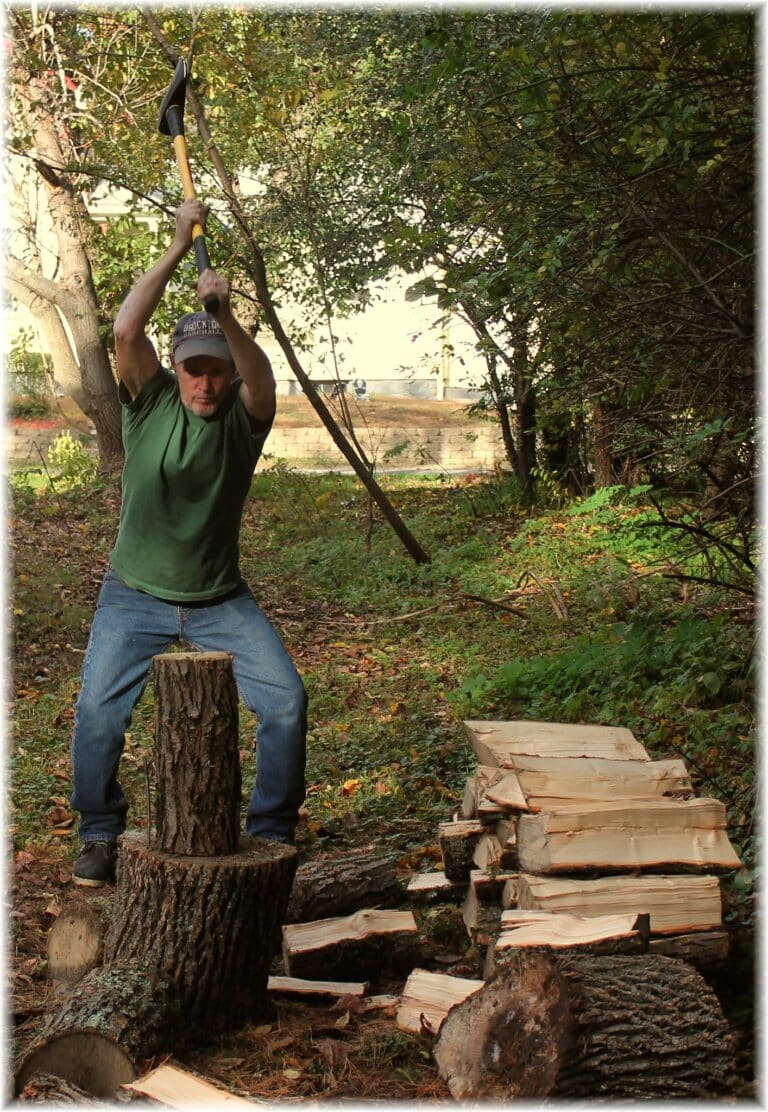 Axes are out of date.
And you use a lot of effort to chop your logs. But, log splitters are excellent for this tedious task.
If you are wondering how these tools work, you are not the only one. They work through directing plenty of pressure contrary to a small surface area of the log.
You can measure the pressure in tonnage. Different tonnage can split particular logs.
But how do you pick the perfect log splitter tonnage? Here are a couple of factors that you should consider when picking the tonnage.
The size of the log measured across
Living trees have fiber-like and long cells running down the trunk and branches. You know it as wood grain.
When using a log splitter, you cut the firewood down the grain rather than across. That way, you do not break the grain short like a chain saw would.
If you have a wide wood on your hands, then the more wood you need to chop apart. It implies that you will need more tonnage.
For instance, if you have a 6″ tree trunk, then you will need at least a 4-ton splitter. But if you have a 12″ tree trunk, then you will need a 7-ton splitter for the task.
Is your wood-aged or unseasoned?
It is easier to chop an old or cured log than it is a fresh one. That is due to the former being more brittle than the latter.
You will recognize fresh cut wood from its color. It is either yellow or green.
These logs have more moisture like that of a growing tree. But, the wetness will vaporize with time making it splintery.
If you let your wood dry before chopping, it would appear brownish when well-aged. And you need a fewer tonnage tool to finish the job.
Let's say you have a 24″ green tree trunk and a 24″ seasoned or cured tree trunk. You need a thirty-ton log splitter for the fresh ones and only a twenty-tonnage tool for the cured one.
That is why professionals recommend you wait for your firewood to cure before cutting it. You will need less effort and work than working with a green log.
How dense is your log?
Although the above tips can assist you in picking an excellent log splitter tonnage, it is not enough. You can go ahead and also determine the rigidity of your wood before picking a tool for the task ahead.
All trees have fiber-like long cells alike. Still, some have more spacing in the middle of these cells than others.
That is what determines the denseness of the log. Dense woods such as hardwoods have little gaps in the middle of fibrous cells like oaks.
Whereas lighter woods like softwoods have a lot more gaps. How do you know which are softwoods?
Well, cone-bearing trees like pine produce softwoods. If your tree does not fall in either category, you can check the rigidity value of your kind of wood on sites like Janka.
The kind of wood can assist you in selecting the excellent log splitter tonnage for the job.
The Final Word
Now that you know what to consider, picking a log splitter tonnage won't be problematic. And everything else is now more straightforward.
Once you figure that part out, it will be straightforward to choose the style of the tool with the tonnage you need. With the perfect tool, log splitting won't be a heinous task that no one wants to do.
Chopping will be effortless and a lot of fun.