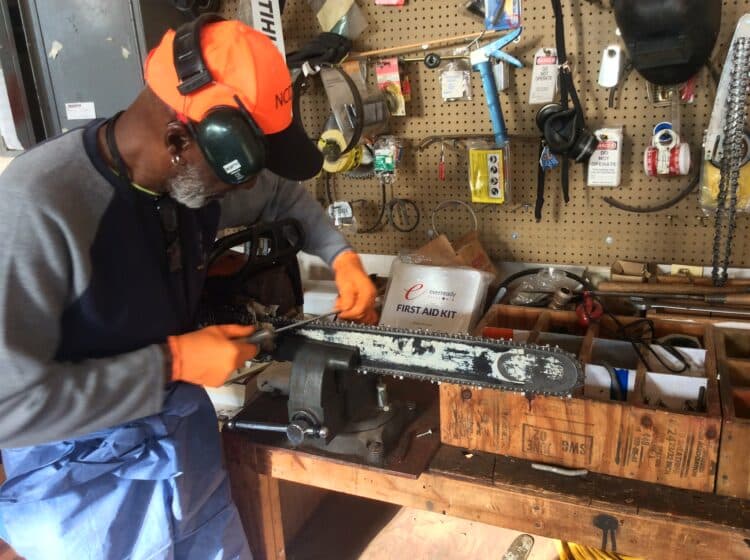 Do you have a new DIY project lined up, but your trusty chainsaw isn't cooperating like it used to? Imagine all the stress and wear your chainsaw goes through each time you fell a tree or make some firewood – the chain spins at an incredible speed while its sharp teeth steadily become duller! If there's one way to keep your chainsaw whirring for years, you need to pay special attention to chainsaw maintenance and care.
The ultimate tool to keeping your chainsaw in tip-top shape for years is a chainsaw sharpener. A quality chainsaw sharpener can make even your rusty old saw look brand new. If you're a veteran at using the chainsaw, it's likely that you already have a favorite sharpener in your tool kit. You might not realize it, but your trusty chain sharpener might need to retire as other brands can give you the better service for your needs.
With the wide variety of chain sharpeners in the market, it can be difficult to find the best one that can effectively keep up with your intensive DIY plans! We'll guide you through some of the best chainsaw sharpeners on the market this 2021
Best Chainsaw sharpeners 2021
Sealey SMS2003 Saw Blade Sharpener with Bench Mounting 110 Watt 240V
The Sealey Bench-mounting Sharpener is a reliable option for chainsaw users hoping for an easy-to-use and effective option. This tool's features were designed for optimal and precise results.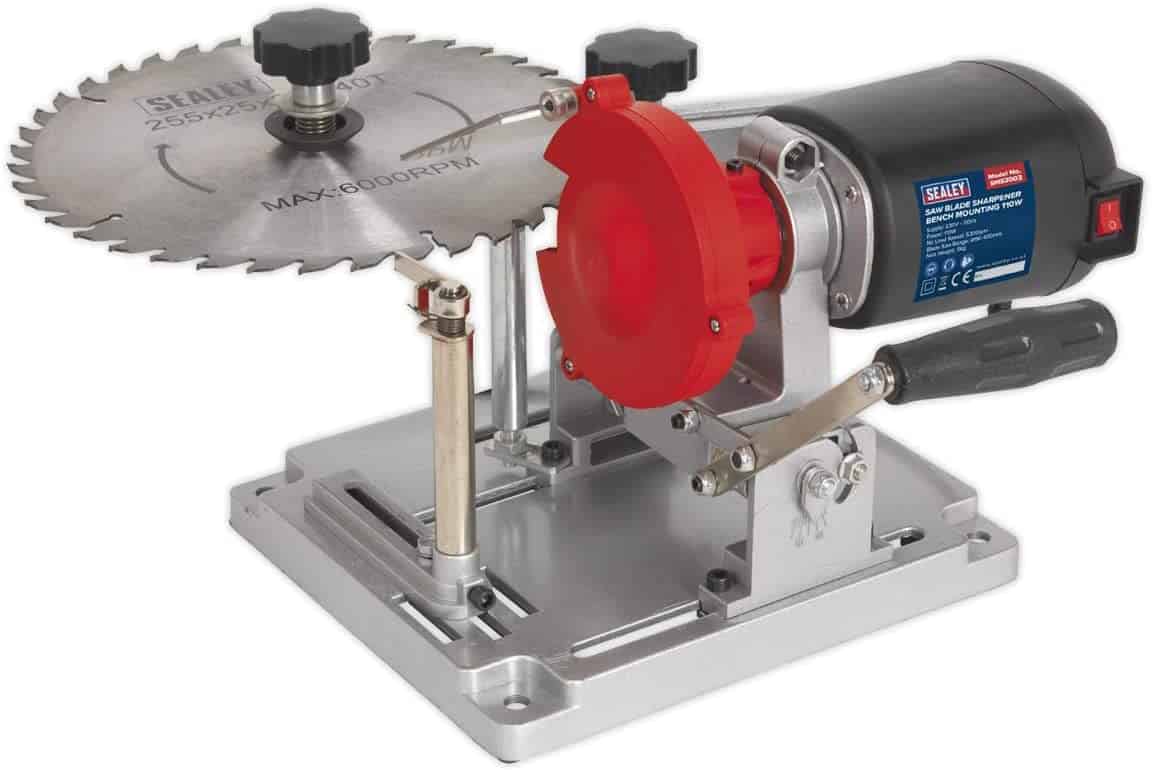 Specs
5300
sharpen TCT and non-TCT blades
Precision 0-25° angle adjustment
fitted with 100mm diamond coated grinding disc
Optimal performance
This bench-mountable chainsaw sharpener from Sealey is one of the most powerful tools you can buy on the market. It includes two robust blades that can sharpen TCT blades ranging from 90 to 400m. It's also fitted with a 100mm diamond-coated grinding disc that is meant to improve TCT saw blade performance. The model also works well for non-TCT blades. Users are also guaranteed uniform results because of its easy-to-adjust angles ranging from 0 to 25-degrees.
Convenient and easy to use
According to reviews, this chainsaw sharpener from Sealey is incredibly easy to use. While some users had some difficulty assembling and setting-up, once the device is set-up, even beginners to chainsaw maintenance can get great results! This chain sharpener from Sealey is easy-to-use while guaranteeing the best results.
Once this system is set up, users can rest easy because it's one of the few products on the market that require little replacement of blades.
Pros
easy to adjust
et accurate and precise results with precision angle adjustment
strong diamond coating can optimize performance
Cons
may be difficult to set-up
Best for versatile applications - The Timber Tuff CS-BWM Benchtop Chainsaw Sharpener
If you're looking for a chainsaw sharpener that can get through any type of project, the Timber Tuff CS-BWM Benchtop Chainsaw Sharpener is the best choice for you. Whether you're working in a cramped work studio or an onsite location, this powerful tool can be your reliable buddy.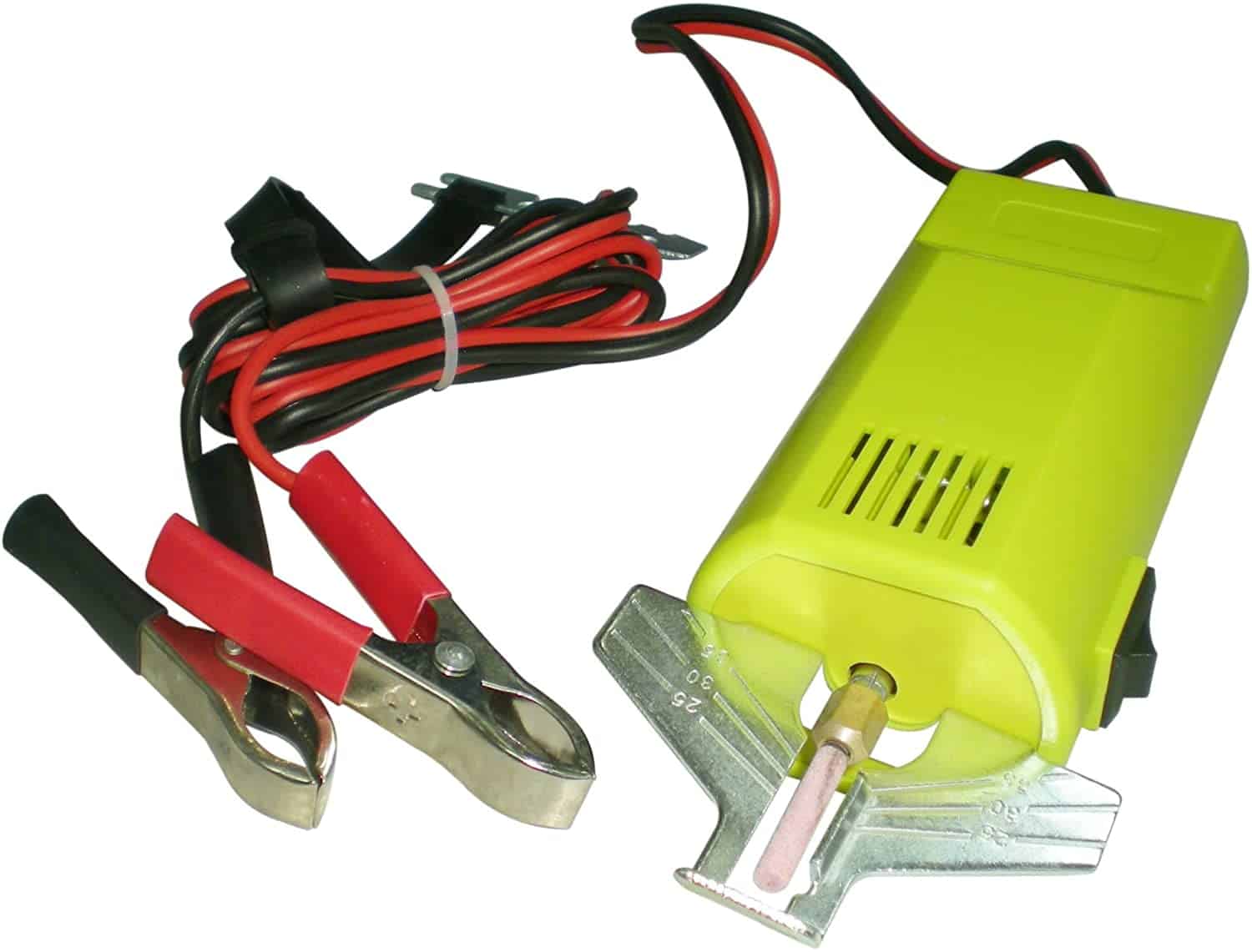 Specs
120V motor
Includes thermo-overload protection technology
Built-in overhead light
Can work on three chain sizes
Anti-aging and anti-impact material
Compact and efficient design
This chain sharpener has an excellent compact design that can work in almost any location without hampering your construction duties – garages, small studios, and workshops. You'll find that this tool will fit like a glove in almost any location.
The Timber Tuff was also designed with efficiency in mind. This chain sharpener runs on electricity with a 110V motor that makes maintenance quick, accurate, and clean. The Timber Tuff can reach an incredible speed of 3,600RPM – saving you ample time on time on maintenance tasks. The tool is also backed by a thermo-overload protection technology that protects you and your chain while you work.
Efficiency is also about giving users the most friendly and intuitive experience. The Timber Tuff was designed with ease-of-use in mind. The adjustment guides are perfectly understandable, so even beginners can achieve the perfect results without worrying too much.
Flexible solutions
The Timber Tuff is the perfect tool for DIYers who intend to work with different saws and chains. This model can work effectively on up to three different chain sizes: 5/32 in., 7/32 in., and 3/16 in., saving chainsaw users a lot of money and time from switching to different sharpening tools.
This model also comes with a built-in light. If you happen to work in a dim workspace, or if your team finds itself pulling a late-night shift onsite, the Timber Tuff will allow you to work safely and efficiently in these conditions.
Pros
Quick and accurate results
Compact design and built-in light allows for versatile work environments
User-friendly interface
anti-machine overloading technology is ideal for beginners
Cons
Best Investment – Sportsman Earth Series MINICSS Mini Electric Portable Chain Saw Sharpener
This Sportsman Earth Series electric chain sharpener is one of the best choices for a beginner or a veteran chainsaw user on-the-go. The tool was specially designed for portability and convenience.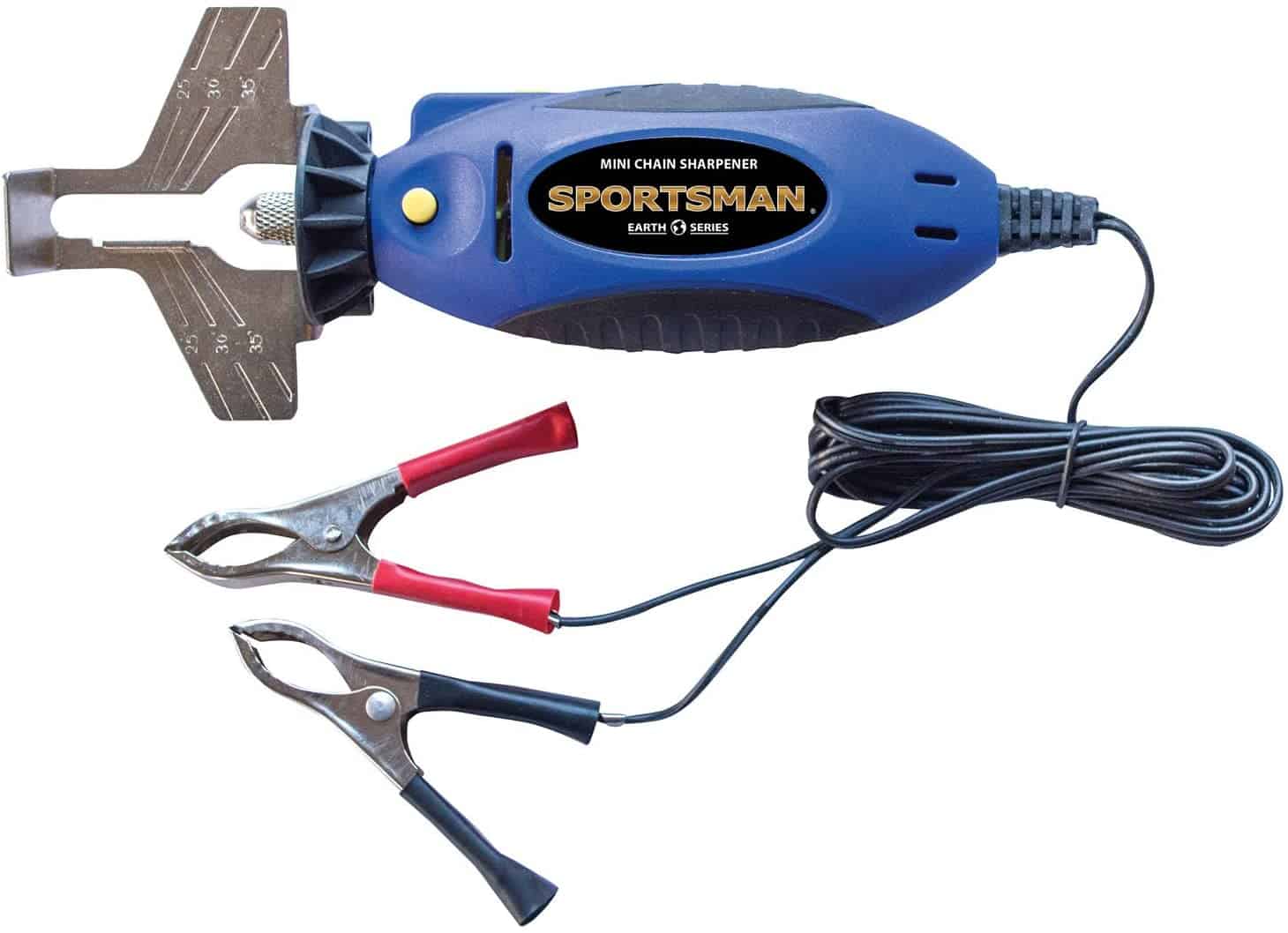 Specs
Electrical-powered machine, 12V
handheld and portable
25, 30, 25-degree angle guide, template aid, and depth gauge to aid in accuracy and precision
Three grinding stones
Portability and convenience
The Sportsman Earth Series was specifically designed for the DIYer or the professional on-the-go. Busy tradesmen can easily fit this portable chain sharpener in their tool kit without any problems! While this device might be small, don't underestimate the difference it can make to your projects.
This tool is perfect for perfecting and honing your saw maintenance duties. The Sportsman Earth Series Mini comes with three grinding stones at 5/32, 3/16, 7/32 inches each.
This model also boasts durable and top-quality grinding wheels that will only provide users with accurate results.
Versatile and convenient
For users looking to work in different locations, the Sportsman's excellent design and innovative features make it convenient and easy-to-use in various environments. The model also comes equipped with an angling guide, template aid, and depth gauge so that users can achieve the most precise and accurate results. The model is also fully equipped with user-friendly maintenance and replacement guides and tools.
Users who are out looking for a tool that can work with a variety of chain sizes and types can opt for this model. DIYers and professionals alike can rest assured that this model by Sportsman Earth Series promises pristine results that can save you a lot of money, effort, and time!
Pros
compact and portable design is great for trade work on-the-go
precision and accuracy made easy with multiple guide features
easy to use and maintain
Cons
Oregon 520-120 Bench Saw Chain Grinder
Individuals who regularly use their chainsaws should invest in the most reliable machines on the market. One such machine is the Oregon 520-120 Bench Saw Chain Grinder. This tool will ensure that you get any job done with the highest of standards.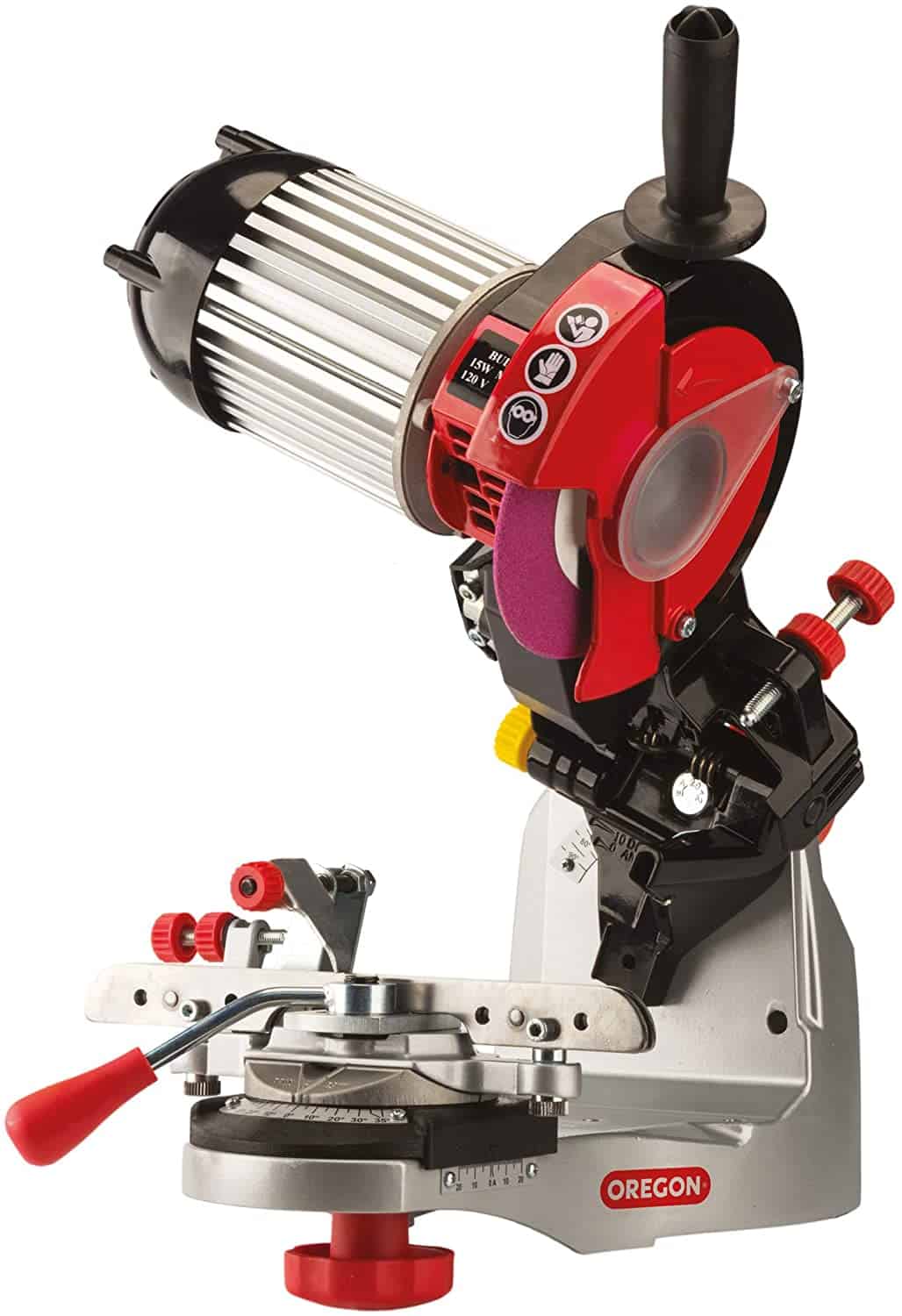 Specs
120V
3,400RPM
three grinding wheels (two wheels for sharpening, one wheel for the depth gauge, quick template, dressing brick)
sharpen 3/8 and 1/4 inch low profile, 0.325-inch full profile, and .404 inch pitch chains
Built-in overhead light
self-centering chain
The Oregon 520-120 Bench Saw Chain Grinder is the best solution to almost any of your project needs. You can use this tool on a wide selection of chains, and you'll be able to get the job done in no time as this model works on improving the efficiency of all sorts of projects. This model can work on a quarter-inch to a 3/8 inch low profile chain, a 0.404 pitch chai, and a .325 inch full profile chain. The device can easily manage with three sets of robust grinding wheels.
What's more, The Oregon 520-120 has a built-in light that makes it possible for workers to finish their projects efficiently and accurately.
Improved accuracy
This user-friendly tool makes it easy to improve all chainsaw-users accuracy levels when it comes to maintaining their valuable chainsaw. You'll find that this device includes a self-centering chain vise technology that allows for significant improvements in product accuracy.
Durable and robust
Oregon's chain sharpener is one of the most durable saw maintenance tools you'll find on the market. If you're looking for a device that can keep up with your labor-intensive projects, this tool is the one for you.
The Oregon 520-120 Bench Saw Chain Grinder is intended for high-volume and frequent chai sharpening. It's ideal for professional tradesmen with intense chainsaw work, like arborists and loggers.
Pros
for high-volume and frequent use
multiple features to improve accuracy and performance
Cons
fmore expensive than most chain sharpeners
Wide variety of applications – Granberg Bar-Mount Chainsaw Sharpener
For chainsaw users hoping to go a little more old-school, this manual saw sharpener from Granberg is a classic you won't go wrong with. This model from Granberg is extremely efficient, and it can definitely keep up with all the features and benefits of using an electric sharpener.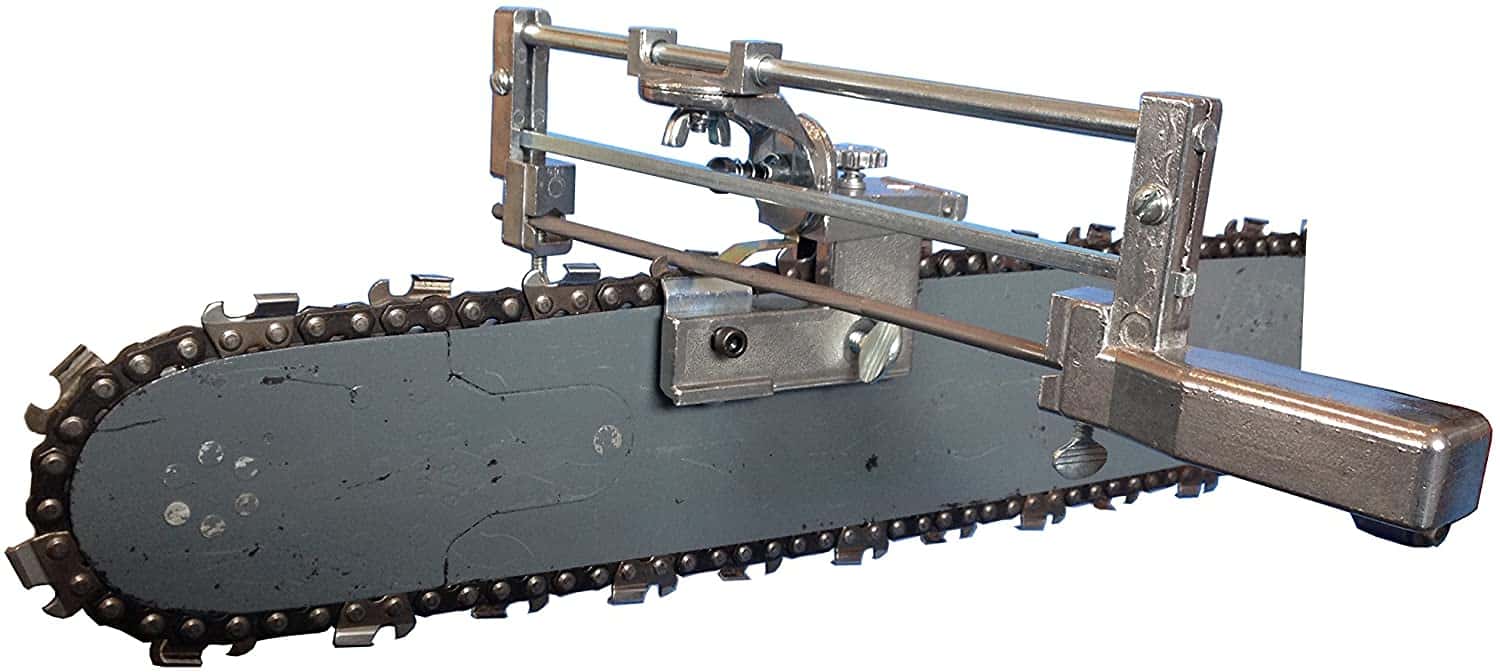 Specs
Compatible with different file sizes
universal saw sharpener that is compatible to almost any file size
made with cast aluminum and zinc-plated steel
Robust and reliable
The Granberg chainsaw sharpener has one of the most durable makes in the market. Users can be guaranteed product strength because this model is constructed with cast aluminum and zinc-plated steel. Granberg backs up their product with a one-year warranty to ensure their customers are ready to serve without any issues.
Ease-of-use
This chainsaw sharpener from Granberg is a simple and straightforward tool that is ideal for beginners. Anyone new to chainsaw maintenance can rest assured that this product is easy to use and that they'll get fast, accurate, and great results. Beginners can also rest easy knowing that this product was specially designed with safety in mind to avoid user accidents.
Convenient and adjustable
Since the Granberg chainsaw sharpener doesn't come with its file, it makes the product extremely versatile and useful as a universal chainsaw. Granberg's strong and reliable built makes it the perfect foundation for any of your chainsaw maintenance needs. Users can easily adjust these models according to their specific needs. You can rest assured of detailed and accurate adjustments due to the bar's precise design that maximizes control.
The Granberg bar-mount was designed with efficiency in mind – the unique mount-type design ensures users of ease-of-use and versatility. It's one of the few manual saw sharpeners with an adjustable pitch – that's one way to prove that this product is really special! Users can easily adjust tooth length and file height according to their needs. This manual model is also portable and compact, making it ideal for trade workers that are on-the-go and who work in sites without an electrical source.
Pros
a strong foundation for different file sizes
a safe option for beginners and field operations
portable and easy-to-use
Cons
30-degree angle only
additional costs needed for files and other components
Oregon Professional 230 Volt Bench/Wall Grinder 620-230
This chainsaw sharpener from OREGON is a chainsaw professional's dream. The Oregon Professional 230 Volt Bench/Wall Grinder 620-230 is the ultimate companion for efficient and successful results for heavy-duty and large volume chainsaw maintenance.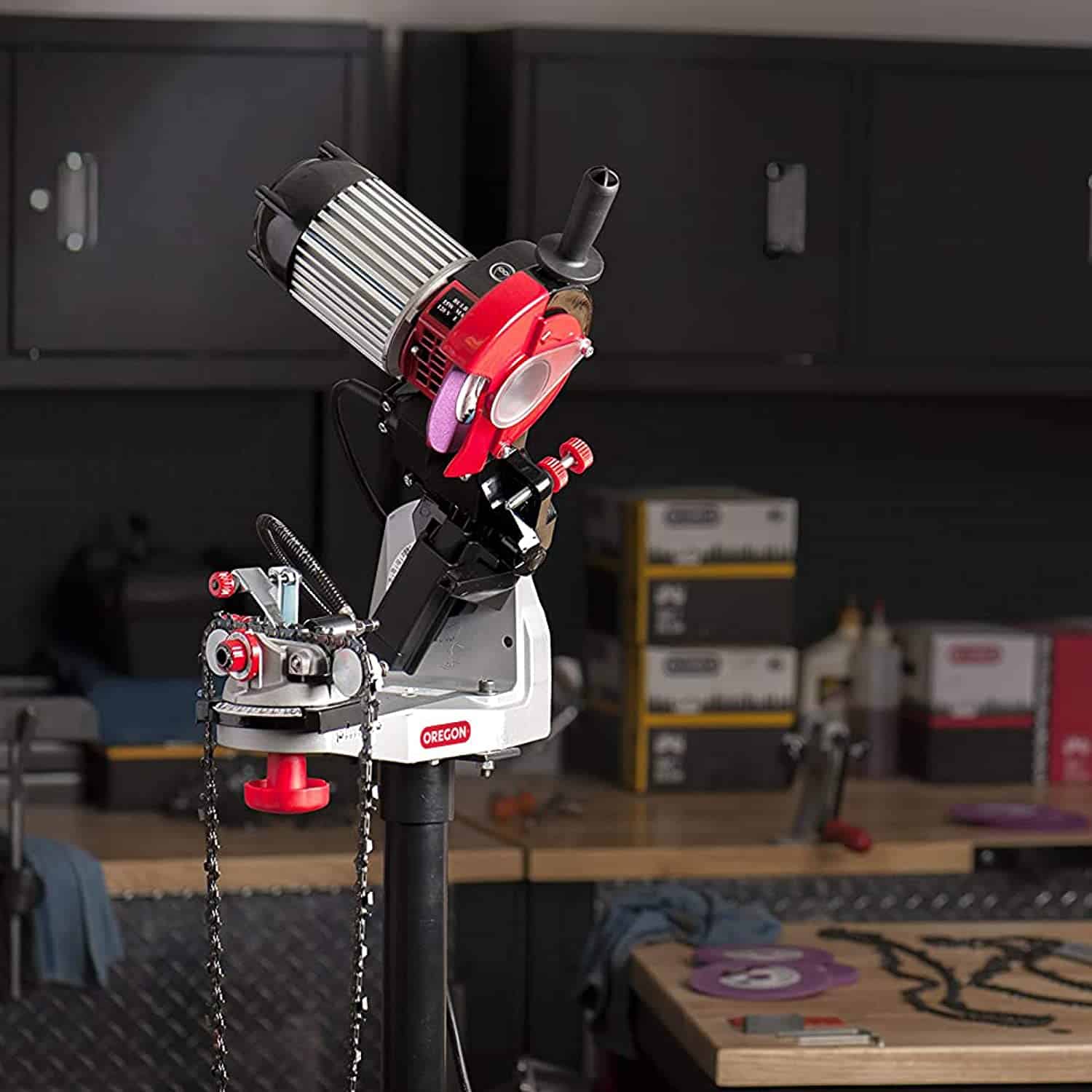 Specs
hydraulic clamping assistance
230V
Compatible with all chain pitches and all chain brands and types
one-way motor for operator safety
built-in light
three grinding wheels (3.2mm, 4.7mm, and 6.0mm) for a low profile, pitch saw chains and depth gauge maintenance
Top-of-the-line and professional results
This chainsaw grinder from OREGON is one of the most powerful chainsaw tools you can find o the market. Its hydraulic clamping assistance eliminates the need to manually adjust the vice, making for fast and efficient performance. This innovative feature can cut down chain maintenance time by about 50 percent. Automatic and hands-free assistance also provides users greater operator safety.
Professionals also appreciate the OREGON for its versatility and universal design. Users can sharpen up to .404 inch pitch chains, and it's also compatible with almost any chain available on the market.
Flexible adjustments
This ideal model for high-volume use makes it easy for operators to make adjustments for optimal accuracy and precision. Users will find that the OREGON Professional Chainsaw Sharpener with Hydraulic assist comes with multiple adjustment points.
Three grinding wheels are available in two diameter sizes to address almost any type of chainsaw maintenance task. Users can also rest assured that this chain sharpener works on a one-way motor to ensure operator safety at all times.
Heavy-duty
If you work on labor-intensive projects that require large volumes of chain sharpening, you can rely on the OREGON Professional 230V sharpener to get the work done without any issues in performance and quality.
The product includes a dressing brick, a profile guide, and complete operator instructions to ensure operators get the best results each time in any project. A flat profile disc also accompanies the product to ensure proper depth gauge maintenance. Its two other powerful grinding wheels at 3.2 mm for low profile chains and 4.7mm for .325 inch pitch saw chains ensure unrivaled expert-level results.
Pros
automatic vice assistance improves operator safety and project efficiency
ideal for heavy-duty and large volume chain sharpening needs
easy and safe adjustments
Cons
more expensive than most chain sharpeners
[table "lt13gt" not found /]
Shopping guide for chainsaw sharpeners
Whether you're on the hunt for your very first chain maintenance tool or you want to upgrade your arsenal, there are several key factors you need to consider to ensure you get the best quality service for years to come.
To guide you through this important decision, read up on the key factors you need to consider when buying chainsaw maintenance equipment.
The first thing you should know is that chain sharpeners vary in power source. Electric chainsaws have different motor sizes, and they can have an amperage of up to 300 watts. More powerful electric chainsaws work faster and are more efficient, but they definitely cost more than the time-consuming manual chain sharpeners.
Frequency of use and work specifications
Another thing to consider when buying a sharpener is how often you use your chainsaw. If you're a regular chainsaw user who does heavy-duty work, make sure to get a powerful electric sharpener specially designed for large volume chainsaw maintenance. If you take out your chainsaw once in a blue moon, a small and manual sharpener should be enough.
You should also consider what type of projects you do and if it will require a lot of legwork. If your job requires you to be on-the-go, go with a compact and portable sharpener for easy packing.
Chain size and Pitch compatibility
This is probably the most important factor to consider. Each chainsaw will have a specific chain size, and it's critical that you find a sharpener that is compatible with that given size. If you are working with various chainsaw sizes, make sure to get a sharpener with varying grinding settings and sizes.
Another technical consideration is pitch, which refers to the distance between a single chain's cutting components. Pitch is measured in inches, and chains come in five varying pitches: 1/4, .325, 3/8 full profile, 3/8 low profile, and .404 inch.
The most common pitches available in sharpeners are the 3/8 low profile and full profile pitches, but most sharpeners will accommodate all pitch sizes.
Most chainsaw sharpeners are either mounted on a wall or a bench for easy use. Wall-mounting allows operators to sharpen their chains at eye-level, allowing for much safer, more comfortable, and controlled maintenance operations. Bench-mounted sharpeners are useful for large workshops and studies, but this option might be complicated in cramped workplaces. Most electric sharpeners can be mounted on a wall or a bench.
To effectively sharpen your chainsaw, grinding stones on your sharpener need to spin at incredible rates. This is measured in rotations per minute, or RPM. Most sharpeners will have an RPM of 3000 to 4200, with 3400 being the most common chainsaw sharpener RPM.
While a higher RPM will get the job done faster, they're also more aggressive ad likely to damage your material. While higher RPM won't necessarily affect operator safety, a damaged cutting link can be complicated to repair.
While not absolutely necessary, hydraulic assist is a great feature for operators who will be doing many chainsaw maintenance. Hydraulic assist helps lock the chain in place so that cutting links will remain stable as the grinding wheel does its work.
Consider investing in a chai sharpener that features user-friendly and efficient digital tools like an LED-screen. Users will find adjustment and operator control much easier.
Useful Add-ons
Built-in light: By far, a build-in light should be the first add-on you should invest in. Additional illumination will allow you to work in more environments.
Dressing stone: This add-on is useful for removing residue on the grinding wheel
Conclusion
Chainsaw sharpening is essential to ensuring that your chainsaw stays in operation for the years to come. Make sure that you buy chainsaw maintenance equipment that is suitable for your needs and practices. From there, you can start considering models based on the specific features and your budget!