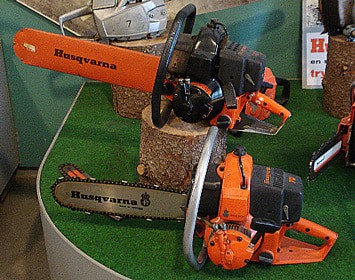 There are common problems with Husqvarna chainsaws that you might think are too complicated to repair. Most of them deal with starting issues.
If you experienced any of those Husqvarna chainsaw issues, you know how mind-boggling it was, and you don't want it to happen again. You want to be spared from the misery it previously gave you.
That's why there are Husqvarna chainsaw troubleshooting guidelines that can help you whenever you have problems with your saw if it doesn't start. It will provide you a clear understanding of ways to fix it, which is very basic and straightforward.
Husqvarna chainsaw important components
X-torq- It makes sure that its fuel consumption is at an optimal level. It also reduces harmful emissions and on par with environmental standards.
Rope attachment- It makes handling the chainsaw easier by attaching it to a tree branch for support.
Side-mounted tensioner- Provides fast at easier tensioning of the chain.
Adjustable oil pump- It manages the flow of oil based on the current climate and numerous applications.
Air filter cover- It is utilized for convenient substitution whenever the spark plug malfunctions.
Chain break windows- It will make you see the guide bar tip easier.
Chain brake- If activated, it will make it safer whenever a kickback happens.
Common problems with Husqvarna chainsaws
Chainsaws are among the most powerful and effective tools in the 21st century. They enable wood-sawing to be more efficient, faster, and better.
The Husqvarna chainsaw was created due to the demand for a more beneficial and innovative way to cut wood. It grew to be a world-class saw that made an impact due to its high quality and affordability.
As the years pass, like all mechanical devices which have moving parts will lose their viability and efficiency. The Husqvarna chainsaw is no different, and along with it, problems tend to arise.
These chainsaws types have different models with their own set of issues. There are also similar problems that all of them have.
Here are some Husqvarna chainsaw starting problems:
Grimy air filters
Whenever the saw's air filter becomes dirty, gas fumes are sucked more than air. If you persist in using it this way, it will continually increase the carbon deposits because of unburned fuel production.
Whenever the saw is at idle speed, the carbon collection will become worse. To stop this from happening, make it a habit to always clean its air filter after using it.
Congested carburetor
Whenever you're not utilizing the chainsaw to do wood cutting tasks, don't fill it up with fuel. It will proceed to congest the carburetor if left in the fuel tank for a long time.
The lighter compounds of the fuel will disintegrate and what remains is a thick residue that causes blockage. It is one of the common problems with Husqvarna chainsaws.
If the obstruction has already occurred, you can fix the problem by cleaning the carburetor with a top-of-the-line carburetor cleaner. Once you are certain it's entirely cleaned, that's the time you can reattach it.
If you can find this kind of thick residue anywhere in the chainsaw, clean it off with the carburetor cleaner. If cleaning it doesn't fix the problem, perhaps you need to replace the whole component.
Flooded engine
One of the steps a chainsaw user must undertake to start the device is to press the primer bulb or fuel pump before starting the engine up. However, if you overdo this, it may result in flooding the engine and keep it from functioning.
You will know if this had happened to the saw if you smell the powerful odor of gasoline emanating from it. At this stage, you should unscrew the spark plug and check if it is wet.
The way to fix this is to drain all the fuel from the saw's fuel tank. You have to pull the ripcord while slowly pressing the throttle and deactivate the choke.
Also, you have to clean up the spark plug and wipe off all remaining residue and moisture. Once done, attach the sparkplug back.
Checking the fuel
Perhaps due to some unforeseen and maybe careless circumstances, you've put in fuel that had gone bad in the tank or didn't put in enough. This lapse of judgment may have resulted in the saw being able to start.
Bad fuel is the result of staying too long in the tank and whose chemical portions have broken down and disintegrated.
The fix for this is getting rid of it by emptying the tank. And filling the tank up again with fresh gas. Make sure it has the right fuel combination, and don't put an ethane or methane mix because they'll cause corrosion to the engine.
If you're unclear about all of these, check on the Husqvarna user repair manual for clarification.
Spark plug issues
The spark plug is an essential part of a typical gas-powered chainsaw. It's because it has to provide a spark to start the combustion of the fuel. One of its usual issues is corrosion over time due to constant usage.
If there are no sparks and cannot ignite, utilize a steel brush to scrape off the corrosive elements. If the problems persist, then replace the plug. Check on the user's manual for the right kind of spark plug for your Husqvarna saw.
Backed up oil ports
All types of chainsaws have two oil inlets at the side of the bar, which tend to clog. If you want to clean it, take apart the bar and use a small wire to poke inside the ports.
Cleaning it will prevent any problems coming from oil deficiency.
Clogged spark arrestor
Whenever a Husqvarna chainsaw stalls, it usually comes from a blocked-up spark arrestor. Look for a small screen near the spark plug. Its function is to keep any sparks from emitting from the engine.
As time passes, that area will get fouled up with sticky material. It will also create a blockage that results in engine stalling.
Chain chattering
The chain of the Husqvarna saw is the part where many issues will occur. It's because it has more operational capability compared to the other component. A click-clacking chain is a usual problem.
It will result in cutting the wood in a curved manner and too much discharge of sawdust. It is the time that the chain needs to be sharpened.
You're able to sharper the teeth of your Husqvarna chainsaw with a properly sized round file for your saw model.
Always turning chainsaw
After finishing your sawing task and proceed to shut it off, it continues to turn. It can originate from a defective clutch or a malfunctioning return springs (it aids in engaging the clutch).
At this stage, the clutch pads have become sticky. The way to fix this is to simply substitute the whole clutch assembly.
Rigid guide bar grooves
Whenever the guide bar groove becomes stiff, it is because of sawdust collecting in the chain by the bar, which hinders it from revolving. Nicking will occur if it continues this way.
To repair this issue, first take out the drive case cover, along with the bar and chain. Then utilize a small screwdriver to clean the grooves manually. You can reach the smaller spots with a piece of wire that you poke through.
Watch out for nicks, which you can flatter out with a file. Be sure to file in right angles from the sides of the bar.
Easy-to-do maintenance tips
Chainsaws are certainly very powerful tools, and like all mechanical devices with a lot of moving parts. And whenever something goes wrong, it undoubtedly requires attention promptly.
Some issues are minor, and some have become detrimental and have the potential to inflict danger on people. If you don't know how to fix it, then it's crucial to ask for assistance from a professional.
However, some issues can be prevented by simply maintaining it the right way, and here are some tips that you can do:
To avoid any Husqvarna chainsaw issues, you must follow a regular cleaning schedule. Make sure all the important components are clean and stripped away from debris and residual substances. You should do this before and after every time you use it.
Manually turn the guide bar and take out the burrs after sharpening and replacing the chain.
Since you will be setting a regular maintenance schedule, inspect the chain tension if it needs lubrication. Make it a habit to frequently check it or else it might rust and become stiff.
Keep the chain sharp at all times. If it gets dull, you will have a hard time cutting wood and makes the task almost impossible to do. So use the correct file size to file it properly at the right angle. Be careful in utilizing the depth gauges.
Make sure the air filters are clean at all times since it will enable its smooth functionality. It will also prevent issues originating from dirty filters.
Avoid speeding up the engine if you are not sawing wood. And be sure to do suitable sawing techniques appropriate for your chainsaw model.
Always use fresh fuel at all times. Also, remember that oil to the gas mixture can rapidly disintegrate if not in use. Thus sticky and gummy residue will appear and clog up the carburetor, engine, and spark plug.
Starting a Husqvarna chainsaw
If you are not familiar with using a chainsaw, there's a right and a wrong way. The right one you should know. This way, you won't do the wrong one that might have dire consequences.
Bring the chainsaw to an area that has a flat surface like a table, then remove its bar covering.
To make sure you're handling it safely, press the chain brake forward on the top handle. This way, there won't be an accidental mishandling of the saw.
There is a Husqvarna smart start on the saw, which enables it to start safely. Do this by pressing in control.
Push the fuel pump so that you can easily see the fuel level.
Pull the ripcord with your dominant hand, which in this case is your right.
Hold the saw with your left hand, and with your right foot and use it to pull the rear handle for the ripcord.
Press the throttle midway and pull the ripcord until the chainsaw is fully running.
Selecting a Husqvarna chainsaw for you
With its wide array of Husqvarna chainsaws sold all over the world, you, as a regular consumer, will correctly surmise that their company has been around for a long time. They're currently available in American, European, and Asian markets.
Yet, there might be confusion in picking the right Husqvarna model that suits your capabilities, so here are a few suggestions based on skill level:
Beginner
At this level, the user is a total neophyte and doesn't know anything about chainsaws, even holding one correctly. So a large, industrial type wouldn't be the right one.
To fit someone of this stature, a smaller, lightweight, and not-complicated-to-use chainsaw would be the best one. The perfect one is the Husqvarna 435 type.
Professional
A person at this level is seasoned and has lots of experience, with total mastery of Husqvarna chainsaws. Professional-level loggers do saw jobs in a larger scope, which necessitates massive pieces of machinery with high horsepower and longer-chain bars.
The tasks involved are sawing humongous trees in ultra-intense situations. These are usually professional lumberjacks and people that work in ranches.
In these high-risk and fast-paced situations, you need a cutting tool that will suit residential and commercial purposes.
A chainsaw that would fit all of these purposes is a Husqvarna 440 type.
For low maintenance
Mechanical equipment that has a lot of moving parts needs constant maintenance. However, not many people like to do manual chores like cleaning spark plugs, air filters, or substituting chain bars.
The best chainsaw for this situation that's designed to be as low maintenance as possible (and has excellent features like maximum airflow) is the Husqvarna 240.
Electric or gas
Electric chainsaws work best for residential purposes due to their quiet nature and eco-friendliness. However, they aren't proficient in demanding and heavy-duty tasks.
Whereas, gas-powered ones work great for heavy-duty chores. Yet they are also too loud and won't be good for close-knit neighborhoods.
Conclusion
Husqvarna chainsaws are one of the best ones in the worldwide market. If a particular model doesn't start, don't blame the whole company. You may haven't maintained it properly or did something wrong to it. Still, there are troubleshooting methods that can help you.