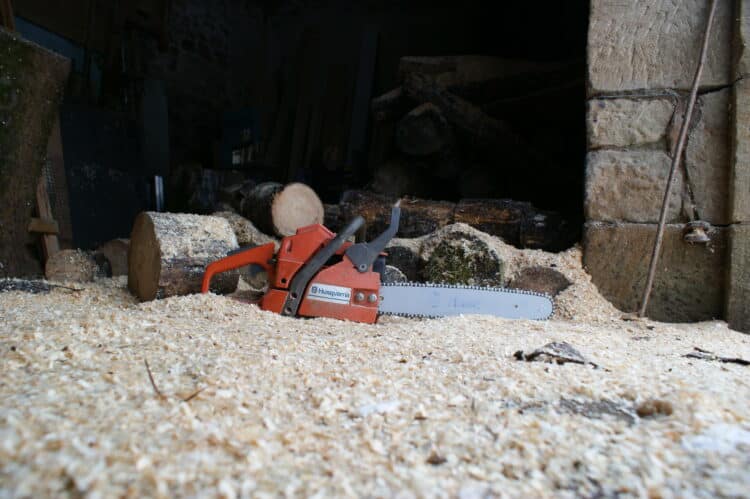 You don't need to use an axe when you can figure out how to split firewood with a chainsaw. The process goes by much quicker and it's found to be a self-fulfilling experience.
On top of getting some exercise, you can get your family in on all the fun as you cut into the wood with a chainsaw, and they stack the firewood for future use.
In this article, you will learn some important tips about how to safely use a chainsaw to split firewood.
Tip #1: Make sure you have a permit
Before anything else, make sure you're up to date with the laws of your state or town. You will need a permit if you have to cut wood outside your legally owned property.
You can head on over to the National Forest Service to ask for help regarding this matter. They will allow you to cut down trees from their forests as long as they are for your own personal use.
Punishments against illegal logging could be harsh in your area, so it's better to go through the hassle of getting a permit than face a huge fine or worse, imprisonment.
Tip #2: There's a good time to cut firewood
It's not just something you do on a whim because you have a camping trip in two days. Cutting firewood is best done in the early spring.
This gives it enough time to "season" for about 6 months before winter comes. Not allowing firewood to season properly means it creates more smoke than necessary as you light it up.
Even if the tree your splitting has been dead for quite a while, it can still have stored water in its bark. And we all know that wood that's wet with water won't serve good kindling for our fires.
20% moisture content is the ideal seasoning percentage for firewood.
What kind of firewood should I use?
Almost all kinds of wood can be used for firewood, but each one has its own unique quality that could serve the purpose you're looking for.
1. Spruce is a soft wood that contains a lot of resin. This means that it heats up quicker—and burn faster.
Be prepared to add more logs of soft wood to your fire if that's what you're using.
2. Beech and oak are hard woods that are best served for a fireplace or for cooking. It burns for a longer period of time and will also need more time to heat up compared to soft woods like spruce.
Tip #3: Make sure you've got the right tools for the job
Yes, cutting firewood comes with its own set of tools that you will have to ensure are of good quality to prevent untoward injuries or accidents.
It also lessens any effort on your part. The reason you're using a chainsaw is to have an easier time cutting firewood, not having an even harder time figuring out how it should work.
Below are some tools you need to prepare to make this process as enjoyable as possible.
Chainsaw
Amazing enough as it sounds, chainsaws have their own sizes. They range from 18 inches all the way up to 24 inches, and some stores even offer larger ones.
Before you know what size chainsaw you need, you have to figure out the size of firewood you're going for. It is recommended that your chainsaw be at least two inches longer than your firewood.
This ensures lesser kickback and prevents some parts of the chainsaw from getting pinched.
Oil for your bar and chain
The part of your chainsaw called a chainsaw bar needs to be oiled so that they can be protected against rust, wear and tear, and from corroding.
You could probably get away with using regular oil from the kitchen, or even motor oil from the garage, but it's best to use what hardware stores recommend.
And they will definitely recommend an oil that is specifically for your chainsaw's use. Each individual chainsaw brand may even recommend a specific kind of oil so make sure to read up on your manual before starting.
Gas
Some chainsaws require gas, but with the rise of electric powered chainsaws, most people are going green.
Nevertheless, if you already have a gas chainsaw on hand, then it's better to just go with that to save up on costs.
Each chainsaw has a different recommended type of gas so check out your manual to find out what yours needs.
If you have no choice but to use gas that has been unused for 2-3 months, then a fuel stabilizer has to be added to your shopping list so that the gas can maintain its quality.
Sharpener
No, not the one you use for your pencils. This type of sharpener is meant specifically for your chainsaw.
Don't waste time and try to cut wood with the dull blade of a chainsaw. You could fall victim to kickback, and you really don't want that to happen.
Usually, a chainsaw will spit out chips. Your blade needs sharpening once the chips are replaced by dust.
The sharpening process will take up at most 10 minutes of your time once you get used to it. As usual, refer to the owner's manual for specific requirements meant for your chainsaw.
Do take note that chains have to be replaced every so often. On average, they can be sharpened about ten times. Past that number, you may have to sharpen it more often, or you may need to purchase a new one
Wedges
These are triangular-like pieces of wood or steel that you can jam into the trunks of trees in order to control where it lands.
When cutting firewood, a wedge is useful because it allows you to slice without getting your chainsaw stuck.
Axe
Some things are best left to manual labor than an automated chainsaw. Sometimes, you will have to remove the branches around the tree to get a clean go at the trunk.
An axe helps you with this process.
Log Lifters
A log lifter holds heavy logs off the ground and helps you turn them to the desired side. This allows your chainsaw's chain to avoid the ground and your chainsaw bar from "binding."
Tip #4: Wear the right safety equipment
Safety first. Prevention is better than cure. Wrap it before you tap it.
So many sayings are out there for safety, but they are even more important when you're dealing with chainsaws and wood.
The most basic safety equipment is wearing thick clothes, gloves that are designed to prevent you from being cut, eye protection, hearing protection, a helmet, and boots.
Keep a first aid nearby to deal with minor injuries and make sure you have a way to call in case of emergencies, or quick route to get there.
Tip #5: How to split firewood with a chainsaw
And now we reach the part you've all been waiting for: the actual process of splitting firewood with a chainsaw. It's a pretty easy process once you've prepared all the right equipment both for yourself and for your chainsaw.
1. Chop the tree trunk
This is a step-by-step process. You start by creating logs from the tree trunks. This is usually done by creating equal lengths from the tree trunk by dividing it.
The usual length to create a log is four feet. You can do this with rough estimates, or by using measuring tape and marking your measurements.
Once you've done that, cut about three-quarters of the way into the trunk and turn it over to continue cutting from there.
From four feet lengths, cut them down to sixteen inches
You may need a sawhorse for this part of the process. Place your four feet logs onto the sawhorse and cut through them to make your desired length.
Since you're using a sawhorse, there's no need to cut three quarters of the way through then turning it over.
Turning them over is only applicable if you're cutting through them while they're still on the ground because it prevents your chainsaw blades from dulling.
Cut them in half then into quarters
You can continue using a sawhorse for this, or just do it on the ground. Make sure you put enough support beneath your firewood so that it doesn't turn over while you're cutting it in half.
Make sure to cut down the length of your firewood. Once you're done with that, cut each half in half again so that you form quarters from every single log.
Repeat for all other logs until you finish.
Conclusion
Once you get the hang of it, it's pretty easy to get started on splitting firewood with a chainsaw. It will definitely take less effort than with an axe.
It's a job that children can help out on as long as you keep them a safe distance away from the chainsaw. Have them measure and mark the sizes instead.
You can even get them to arrange the firewood neatly to distract them from the racket a chainsaw makes.
And that's it for how to split firewood with a chainsaw. Stay safe and make sure you have all the right tools and equipment to get the job done.