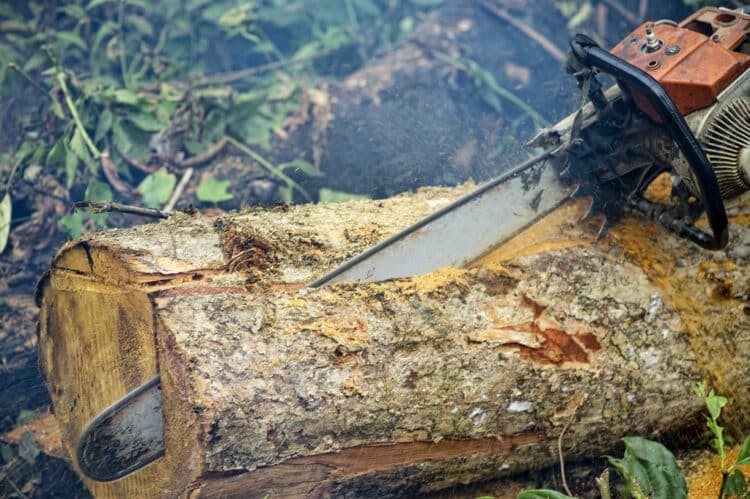 Cutting a log into a particular size or shape is not always easy. How to cut a log lengthwise with a chainsaw is even more challenging. The techniques tend to vary depending on the kind of project you're handling. In most cases, cutting logs lengthwise cutting is necessary for home construction projects like cabins, benches, cupboards, bookshelves, including other furniture.
As a novice, this is a skill you need to grasp. To help you out, we have the following procedures on how to cut a log lengthwise with a chainsaw.
How to cut a log lengthwise with a chainsaw
First, you must ensure that the chain is suitable for cutting the log lengthwise. A chainsaw with enough power tends to work faster and provide remarkable results.
Make sure you check the sharpness of the chainsaw. Check also for the fuel level and how tight the chain is before starting the cut. After preparing and checking your saw, consider putting on your safety gear. In this case, wear appropriate chainsaw gloves and sunglasses.
Here are the straight forward ways on how to cut a log lengthwise with a chainsaw.
The best way to cut logs with a chainsaw starts with creating a flat and stable surface for excellent working. Make sure the area you choose to cut the log lengthwise is free from any kind of obstacle. Besides, you should not get disturbed as the surrounding may have other people or kids making noises. That will interfere with your focus and you won't get straight and clean cuts.
Choose a support bottom for the log. This should raise the log from the ground and offer space for better cutting. Hold the log correctly in place and ensure it doesn't move a lot.You may also include some support at the log's top part. This will help keep the log in place on the ground and prevent any chance for tipping over.
Lubricate the chainsaw pretty well for swift cutting. And before you start cutting the log, ensure you have your protective gears on. Be sure the blades are well aligned, clean, and sharp. Plus, clear all the branches from the tree as they can make the cutting process tricky. This will make you feel comfortable while cutting.
Using both of your hands, hold the chainsaw firmly but steadily. Then place it on top of the log. That will be the first spot where you'll start sawing and work it out all the way to the bottom. If this is your first time, be sure to make some marks.
Simply drag a border using a pencil or marker pen from where you'll start the cut. This will enable you understand the spot on the plane surface where the cut should continue.
As you cut the log with a chainsaw, try to maintain an angle of 90-degree with the surface of the log. Don't rush to cut. Instead, stay firm and hold the saw and let it move lightly to cut the log. Be ready for a kickback. This often happens when the blades try to cut through harder objects. If you ignore this, you may get a severe injury.
Otherwise, it'll be easier to make impact over the saw and affect the entire cutting process. Don't change the chainsaw's position as you use it. It may give off a sudden jerk that you're not ready for.
Before resting, make sure you switch off the saw. Keep the saw close by your side to avoid potential injuries to people around you especially children.
Always remember to clean your chainsaw since its care and maintenance are crucial. This helps to keep it clean and spot-free for an extended lifespan. After finishing cutting, always clean each part and allow the blades to cool down before starting another job. Clean the edges to retain their sharpness for longer periods and lubricate the bullets.
How to hold logs while cutting logs with chainsaw
If you want to get a perfect lengthwise cut, you need to know how best to hold a log. The steps may vary depending on the style or cutting method you choose.
Below are the methods of cutting logs lengthwise and distinct procedures to follow for a perfect cut:
Cutting logs on ground
This is a perfect method of cutting a log that's near the ground surface. To prevent it from rolling, you need a wedge. Make sure you don't cut straight into the ground surface to avoid damaging the surface or making the chain blunt.
Here's how to cut a log from the ground with a chainsaw:
Start running the chainsaw at a low speed. Place it at the marked spot on the trunk you want to cut and cut three-quarters of the log at every marked section. Rotate the log 180 degrees and finish the cutting from the other side.
How to split a large log lengthwise with a chainsaw
Well, choose an apt chainsaw for this job. It should be quite larger than the log it needs to cut. Hold the log in place and mark 2-inches slit into the log.
If you want, make several slits lengthwise. Have a sharp wedge next to you as you can place it where you intend to cut the log. Finally, hit the wedge with a hammer to split the large log lengthwise.
How to Hold Logs while Cutting with Chainsaw
Holding down logs and cutting them with a chainsaw can be quite a daunting task. That's especially if you don't know the right way to do so. Typically, you should start by finding the right equipment and safety gear required for the process. Then, learn how to hold the logs appropriately and how to cut a log lengthwise with a chain saw. Regardless the case, you should put your safety first.
Tips on How to Hold Logs while Cutting Lengthwise with Chainsaw
Here are our handy tips on holding and cutting logs using a chainsaw:
Get the Right Equipment
Like any other task, having the right equipment at hand is vital. The obvious equipment to think of is the chainsaw. But, you'll need other essential equipment to use along with the chainsaw for you to use it appropriately. They include the following:
Claw Bar
If you're planning to cut big logs, a claw bar is pretty essential. It helps you roll a big log over with ultimate ease. That's when you want to cut the log from the underside.
Sledge Hammer
As an individual well-versed with cutting logs, we understand that a wedge is pretty helpful. It helps you split the logs with ease. You'll need to have a suitable hammer if you want to smoothen the process. A sledgehammer comes in handy as it helps you pound the wedge into a log effortlessly.
What is the right type of chainsaw for cutting logs lengthwise?
There are lots of chainsaw variations. However, the choice you make will depend on the area you'll be working in and cutting duration. The most common chainsaw option for many people is one powered by gas. It tends to work perfectly when you are dealing with logs 16-inch in diameter for longer hours.
If you intend to cut the logs from home, an electric one would be great. Also, get to know the chainsaw's size, and this one often depends on the log's diameter and engine performance.
Safety Gear
There are many instances of unexpected injuries resulting from careless activities while cutting logs. For this reason, it is critical to put on proper safety gear to keep yourself safe.
Even though most modern chainsaws are now safer than before, having protective gear is essential to prevent hazards. Before you start using these cutting tools, below are the must-have safety gear you must have:
Gloves
Chainsaw gloves are pretty critical. There are sometimes when the chain breaks and may hit your hand. Besides, you may easily lose balance, or the chainsaw kicks back while in your hands. If you have your gloves on, you can be sure that your hands will be safe.
Chainsaw helmet
A protective helmet will help keep your head and face safe from injuries. Having one with a face shield and ear protection can be pretty handy. That's because the chainsaw's engine often produces a lot of noise. This may lead to loss of hearing, primarily if you use it for a lengthy period.
Additionally, cutting the logs using a chainsaw produces sawdust. When you inhale these particles, you may end up having lung problems. With the face shield, you can avoid these harmful particles from entering your eyes and nose.
Preparations
Now you have your appropriate equipment and safety gear, right? Well, the next thing is to start preparing how to hold and cut logs lengthwise with chainsaw. To do so, you'll need to clear the space surrounding the log. It's obvious that after cutting down a tree, the branches and leaves will scatter everywhere. In such a case, it's easier to encounter an accident.
Plus, you'll not have a comfortable working environment. That's why clearing the area surrounding the log is essential. Once you finish, you'll be good to proceed to hold the log while cutting with a chainsaw.
To this point, we believe that you now understand how to hold a log while cutting with a chainsaw.
Conclusion
Now you understand how to cut a log lengthwise with a chainsaw. The idea is, always have in mind all the essential points you need to cut. That's especially if you want to cut the logs more often.
If it's your first time, the entire process may seem pretty demanding and tiresome. But with the above tips and regular cutting, you'll probably manage or adapt to the struggle. This may be relatively easier than you can imagine.