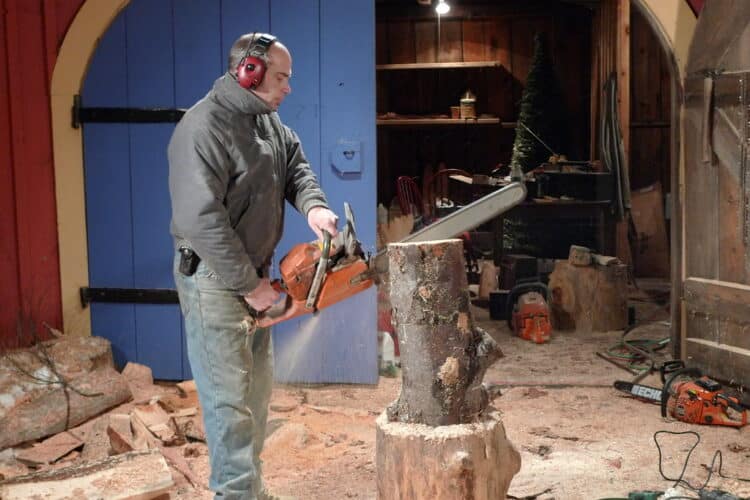 If you're worried that your chainsaw chain keeps coming loose, there's no need to be concerned. It is an ordinary occurrence that happens to everyone that owns or operates a chainsaw.
The good news is that it's not difficult to repair and you can do it quickly and efficiently. And your loose chain will be fixed in no time.
There are many ways to find information on how to fix a chainsaw tension problem. There are many online websites dedicated to it. But to know why it keeps coming loose, it's a different matter altogether.
With all the resources at your disposal, you can learn to be an expert chain tightener. But if you constantly keep on tightening it, it can be infuriating.
So the best way to keep it from happening is to learn ways how to prevent it.
Reasons why the chainsaw chain keeps coming off
You're wondering, why does my chainsaw chain keep getting loose?
To rephrase it and use technical terms, the question should now be, why does my chainsaw chain push upwards from the guiding bar?
There are a couple of reasons why a chainsaw chain keeps getting loose:
Worn-out drive sprocket
If your chainsaw chain jumps off the bar many times, the likely perpetrator might be the wear and tear of the drive socket. Its function is to engineer propulsion off the chains, and because of that, it becomes worn-out.
As time passes, fatigued drive sockets cannot maintain chain's the proper tensile strength, more so in restraining the chain in its ideal position. If this is the situation with your chainsaw, you should anticipate the blade to continually throw off the chain from the groove if you use it to saw wood.
Chain not properly set
Another reason why your chainsaw chain jumps off the bar is that it wasn't correctly set. Whenever you undergo the steps in chain tension, you need to complete them by setting up its tension, so it does not change as you make the saw run.
Some chainsaw models have automatic tension handles, but most typical ones have only one to two bolts in position to do the job. These bolts' function is to lock the bar in place in relative capacity to the internal sprocket.
It will enable its tension to function uniformly. If the clutch cover nuts aren't tightened securely to the bolts, the bar's position will shift and cause damage to the chain's tension.
If the chain's tension is adjusted as it should be, many positive things will happen to the saw. Productivity will enhance, and the lifespan of the motor, chain, and bar will increase.
Worn-out bar heel
When the chain tension has lost its hold on the guiding blade, most people will adjust quickly. This solution is not supposed to be a long-term one.
This issue should be treated more seriously and brought to the attention of a professional chainsaw repair person.
One of the most common chainsaw faults with a chain you can't cut is a worn-out bar heel, which is t likely perpetrator. But for an unfamiliar layperson, what is it?
A chainsaw bar heel is an essential component located close to the drive sprocket. If it becomes fatigued, it heightens the space the chain moves because the grooves become ineffective and slowly lose their functionality.
With a wider distance, the chain will start to push upwards and leap off the guiding bar.
Fluctuating temperature
If you remember your science lessons in school, if heat is introduced to metal, it expands. The same thing will happen to your chainsaw. After constant usage, friction will occur with its moving parts, and it will be heated up and be larger.
Hence, a typical chain of a chainsaw will seem to be tight before operation and will become looser later once it's used.
If a chainsaw is put in storage for a while where the environment is cool, then utilize it later, you'll notice that the chainsaw chain keeps coming loose. You will have to tighten it again to be able to continue using it.
You wouldn't discover this as a reason for the constant loosening of your chain unless you're located in a place where it is either very cold or warm. The fluctuating temperature has a profound effect on your chain tension.
Fatigued bar rails
If the chainsaw keeps throwing the chain off, another problem might be the bar rail might be in poor condition. This component is especially crucial in the operational sawing tasks and is the component that takes a lot of beating throughout its lifespan.
The bar rails will be strained beyond their limitations if the chainsaw is constantly used in full-throttle mode and the chain rotates at high speed. This way, there is a big chance it will accidentally move in a direction you wouldn't want to and hit the ground and damaging it.
If it is the reason for the constant loosening of the chainsaw chain, it is a sign of a bigger problem. If left unfixed, the chain's drive links will slowly lose their hold on the guiding bar. If this happens, it will come off frequently.
Impaired guide bar or chain
If the chain or the guide bar is damaged, it can be why the chainsaw won't stay on. Among the other causes, this one is the most dangerous and whose outcome might be dire if left unfixed.
A conventional chainsaw bar has a groove that rotates its outer edges. The chain has sharp teeth that run in the bar rails to enable the chain to run straightforwardly.
You wouldn't find out if this type of malfunction is happening just by looking at the chain. You have to disassemble the bar, chain, and chain cover.
Look if there are any debris or wood chippings stuck in and around the bar. And check if it's fatigued. If that's the case, you will discover that the rails don't have any depth.
If this is the reason for making the chainsaw chain lose, there's no way to fix it, and you have to replace it with a new one.
Also, be sure you have a working chain oiler, and the chain's teeth remain sharp and not broken.
Mechanical issues
If your chainsaw chain keeps coming loose, the reason might be mechanical issues. Its tension will be measured by how big or small is the space between the sprocket and bar.
As you enable the chain to be tighter, the mechanism for tensioning will drive the bar to go farther from the sprocket. If there are internal failures with its components, it will keep the chainsaw chain loose.
The only way to fix it (since it might be due to one or many malfunctioning internal parts) is to bring it to your local mechanical repair shop. While maintaining is doable, finding out which component is defective and fixing it is above your capabilities, so have someone professional repair it.
The chain isn't loose
Untightened chainsaw chains are the usual suspect whenever it jumps off the bar. But on some occasions, the opposite is why that happens: it's adjusted too tightly.
It happens all the time that people over-tightens the chainsaw chain. And when that occurs, many problems arise due to that.
Whenever you already the proper way to tighten a chain, try to do a pull test. It's done by pulling it up with your fingers as far as you can (wear protective gloves to do this).
Ideally, the chain will elevate from the bar, and the drive links do not come clear. If it won't lift, it's too tight, and if the drive links come clear off, the chain is too loose.
How to tighten chainsaw chain
If you have a predominant problem of a chainsaw chain keeps getting loose, the next question that most likely pops up in your head: how can tightening a chainsaw chain be done?
There are a few ways to fix this issue with your chainsaw.
There is a way called the dime method wherein you place the coin between the chain and the bar if its tension needs to be adjusted. It is the easiest way to ensure the chain is set up just right, but there are still others.
Also, remember that over time, the chain will eventually get loose. So over time, you have to frequently check the chain tension if it needs tightening or not.
And more significantly, if you lack the know-how and don't know how to properly lighten a chainsaw chain, leave it to the professions. Or else, if you attempt to tighten it without knowing how, you might make the issue worse.
If you don't know what either a good or bad tension looks like, here's how to know which is which:
Tension is good
If a chainsaw chain has proper tension, pull it and observe the drive links. If it stays intact, nothing is wrong, and you can go ahead use it for sawing.
In other words, if you pull up the chain from the bar and if you see a small opening in between, everything is in its proper place. Yet, the gap should not be too wide, which would indicate it has improper tension.
A too tightly set chain will not cut wood effectively if its engine is in full-throttle mode. And there is a risk that may result because of it, which is it might violently break away and cause wanton damage to everyone nearby.
Tension is bad
You will know if it's loose if you can easily pull and remove it from the guide bar. If this happens, then you have to tighten it immediately.
Also, check on the drive links. If it looks to be loose and disengaged, it would indicate that your chain's tension needs to be adjusted.
Important steps to take
Adjusting the tension of the chains means a few steps need to be undertaken. If you do it correctly, it will take a couple of minutes. Then you can return to using it to cut wood.
Also, when doing the steps to adjust the tension, do not skip a step, which might have dangerous consequences.
To begin, you will need a screw wrench. Most chainsaws will already have one included upon purchase. You can find a top-quality one in your local hardware stores or go online.
First, you need to loosen up the guide bar and chain before correctly adjusting them in the proper tensioning. If your particular chainsaw has the brake fastened to the two mechanisms on the side panel, unscrew the brake first before unfastening the side panel.
Secondly, look for the tension screw on the guiding bar's sides, then adjust it. If you make it tight, the chain's tension will increase. If you make it looser, the chain will also loosen up as the screw lets out the tension.
The third and final step is to tighten the side panel nuts and the guiding bar. At this stage, the chainsaw nose should be lifted to make sure that the chain has even tension throughout the bar. Anything that goes between the bar and chain will have something bad happen to the tension.
If you follow the steps above, you can use the chainsaw without fear of anything heinous occurring. The chain is tightly secure and won't come off again.
But if the problems persist, you have to replace them with a newer and better chain.
If you buy a new chain, check on the measurement of the old one. You don't want to purchase a too long or short chain and needlessly spend more.
If it doesn't tighten
If you've bought a new chain and installed it, yet it still becomes loose, then you have to troubleshoot it further:
Threads – the threads purpose is to hold the screw in place for adjusting tension, whose location is in the chainsaw case. It might be stripped, so you need to substitute it.
Tension adjustment screw – If it keeps on turning by itself, it might be stripped. So replacing it will also fix the problem.
Guide bar – You should ascertain if the correct guiding bar is put in, particularly if it's still brand new. Guiding bars are available in different sizes, and if you install an improper one, it will affect the chain's tension.
Wrong chain – What may have happened is that you may have installed an incompatible chain. Be sure to get the right chainsaw chain before it's set up in the first place.
Conclusion
Owning a chainsaw doesn't seem to be hard, but maintaining it is another matter entirely. Set up a regular maintenance routine, and be aware of any malfunctions or defects. If you properly take care of it, it will last for a long time, and your children and your children's children will still get to use it.