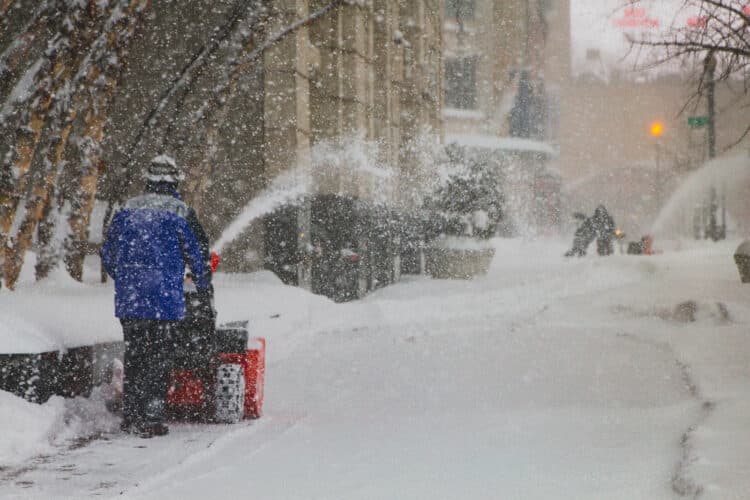 If you live in an area that gets several feet of snow every winter, you know how tiring it could get to clear your driveway each day. We'd recommend you to stow away your shovels and invest in a trusty snow blower to make your lives easier!
Snow blowers are a real investment as most models are expensive and can cost you several hundred dollars. The thing is, powerful snow blowers can save you from backbreaking work that will take at least a couple of hours. That's a lot of effort and time on your part – won't you prefer spending that time by the fireside with your family?
When choosing a snow blower for your household, you'll have to consider several factors. You need to think about the fuel source, the design, and maintenance and other accessories. With the wide variety of snow blowers in the market, it can be hard to find the best one to effectively keep up with your needs. We've compiled a list of the top 6 best snow blowers on the market to help you find the right choice for your home!
Best Portable Snow Blower
Ariens 921046 Deluxe 28 in. Two- Stage Electric Start Gas Snow Blower
Specs
254cc Ariens AX engine
Two-stage and gas-powered
Blows snow up to 50 feet
Choice of 24-30-inch clearing widths
14-inch auger diameter
21-inch housing height
Clears 62-72 tons/hour
Self-propelled six forward and two reverse speeds
Dual-belt drive
16-inch tires
Made from 100% steel
Auto-turn triggerless steering
If you're looking for a high-powered snow blower that can tackle any task, the Ariens Deluxe 28 28 in. Two-Stage Electric Start Gas Snow Blower is the choice for you. This gas-powered snow blower is sure to get the job done with its reliable motor and specifications.
Effortless and convenient
According to Ariens, this snow blower is all about business – the Ariens 921046 Deluxe features impressive technology that can blow snow up to 50 feet in as fast as 72 tons per hour!
The snow blower has a self-propelled motor with six forward and two reverse speeds. Users will love its auto-turn steering wheel that ensures you can move effortlessly through blocked driveways and sidewalks.
This powerful equipment also comes with large grip tires for maximum performance and operator safety. Its 16-inch large directional tires promise mobility, agility, and grip for efficient throw even through slippery surfaces.
Powerful performance
The Ariens 921046 Deluxe 28 in. Two-Stage Electric Start Gas Snow Blower is powered by a 254cc engine coupled with 14-inch l Large, three-blade all-steel impellers that will ensure that you can plough through snow up to 21 inches without any difficulty, even through the toughest blizzards! The impellers can impressively throw snow up to 72 tons per hour.
This gas-powered snow blower is more expensive than most devices. Still, you get your money's worth in terms of efficiency with its two-stage operating system and 28-inch clearing width. This will be especially convenient for homeowners with large driveways and yards.
All the components of this powerful snow blower are made of 100% steel, so you don't have to worry about durability.
Pros
Powerful engine
Large clearing width
Efficient and quick
Cons
A bit on the Expensive Side
Troy-Bilt Squall XP 208cc Electric Start 21-Inch Single Stage Gas Snow Thrower
This reliable and handy snow blower is the best choice for homeowners who want a lightweight yet powerful snow blower. If you're in search of convenience and ease-of-use, consider getting the Troy-Bilt Squall XP 208cc Electric Start 21-Inch Single Stage Gas Snow Thrower.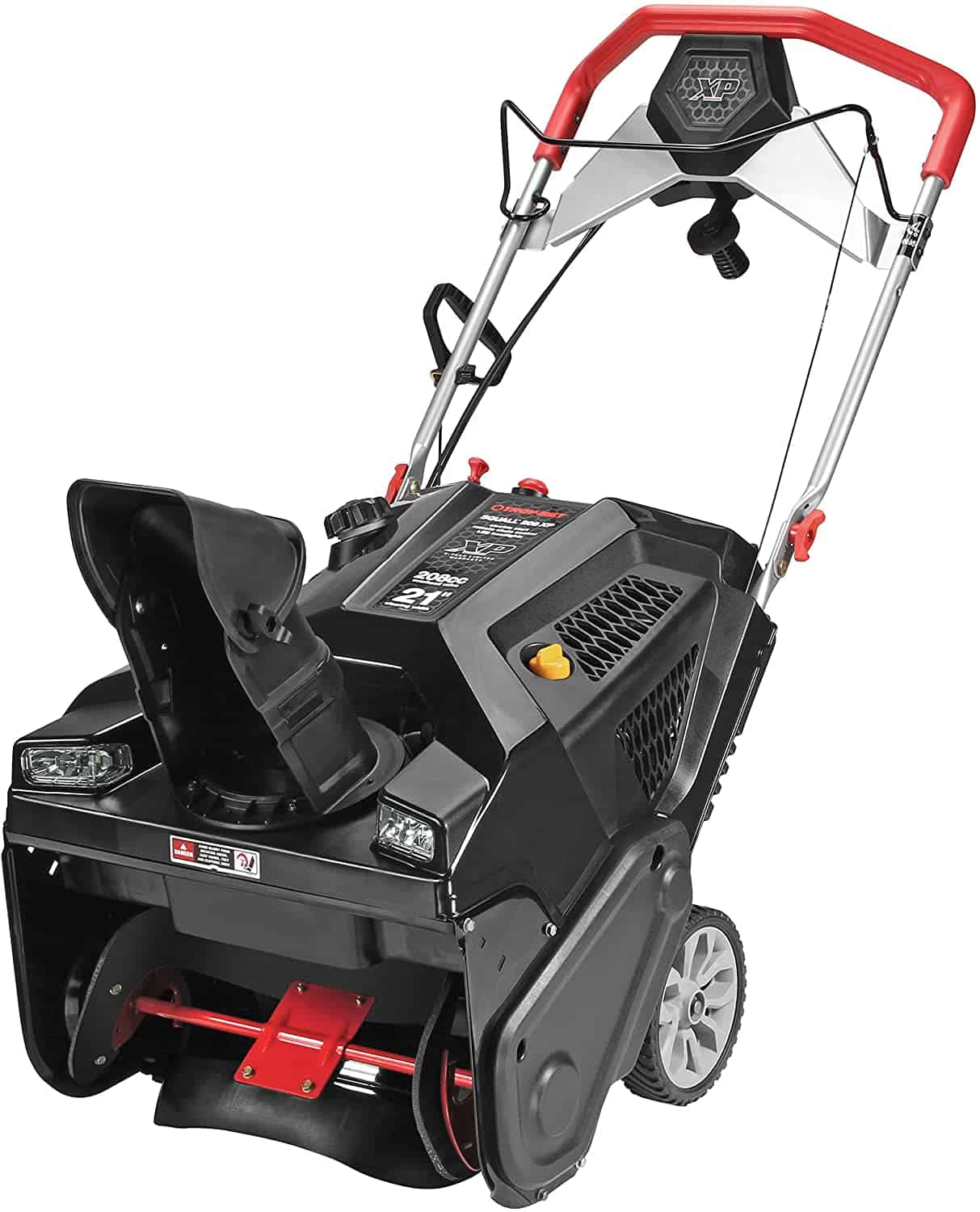 Specs
208cc 4-Cycle Electric Start OHV
One-stage and Gas-powered
21-inch clearing range
9-inch auger
99.7 pounds
29.88×23.75×25.13
3-year limited warranty
Convenient and ergonomic
Though compact and lightweight, this model from Troy-Bilt doesn't shy away from power and efficiency. At only 95 pounds, this powerful gas-powered snow blower maximizes maneuverability and convenience. The powerful 208cc Engine can clear up to six to 13 inches of snow, coupled with a 21-inch clearing area.
The snow blower is equipped with deluxe reversible skid shoes to allow more control. A remote crank chute control also comes with the system for easy chute adjustments during clearing operations. The snow blower also comes with DUAL LED lights for easy maneuvering in low light conditions.
Durable and robust
Troy-Bilt's snow blower was engineered to provide effortless assistance through tough snow conditions no matter the amount of snowfall. This lightweight device is made complete with a robust and reliable engine, housing and wheels. The 8 by 2-inch tires provide good traction even during harsh conditions.
What's more, the system is backed by an extended 2-year warranty, so you can rest assured that there's a snow blower that will have your back in the winters to come.
Pros
Compact and lightweight design
Convenient dual-LED lights
Convenient auger assist
Long warranty period
Generous clearing width
Cons
Husqvarna ST224 24-Inch 208cc Two Stage Electric Start Snow Blower
Homeowners looking for a heavy-duty option to deal with their snow-covered driveway can rely on the Husqvarna ST224 24-Inch 208cc Two-Stage Electric Start Snow Blower. Its powerful Engine is guaranteed to clear off thick snow and work through heavy snowstorms.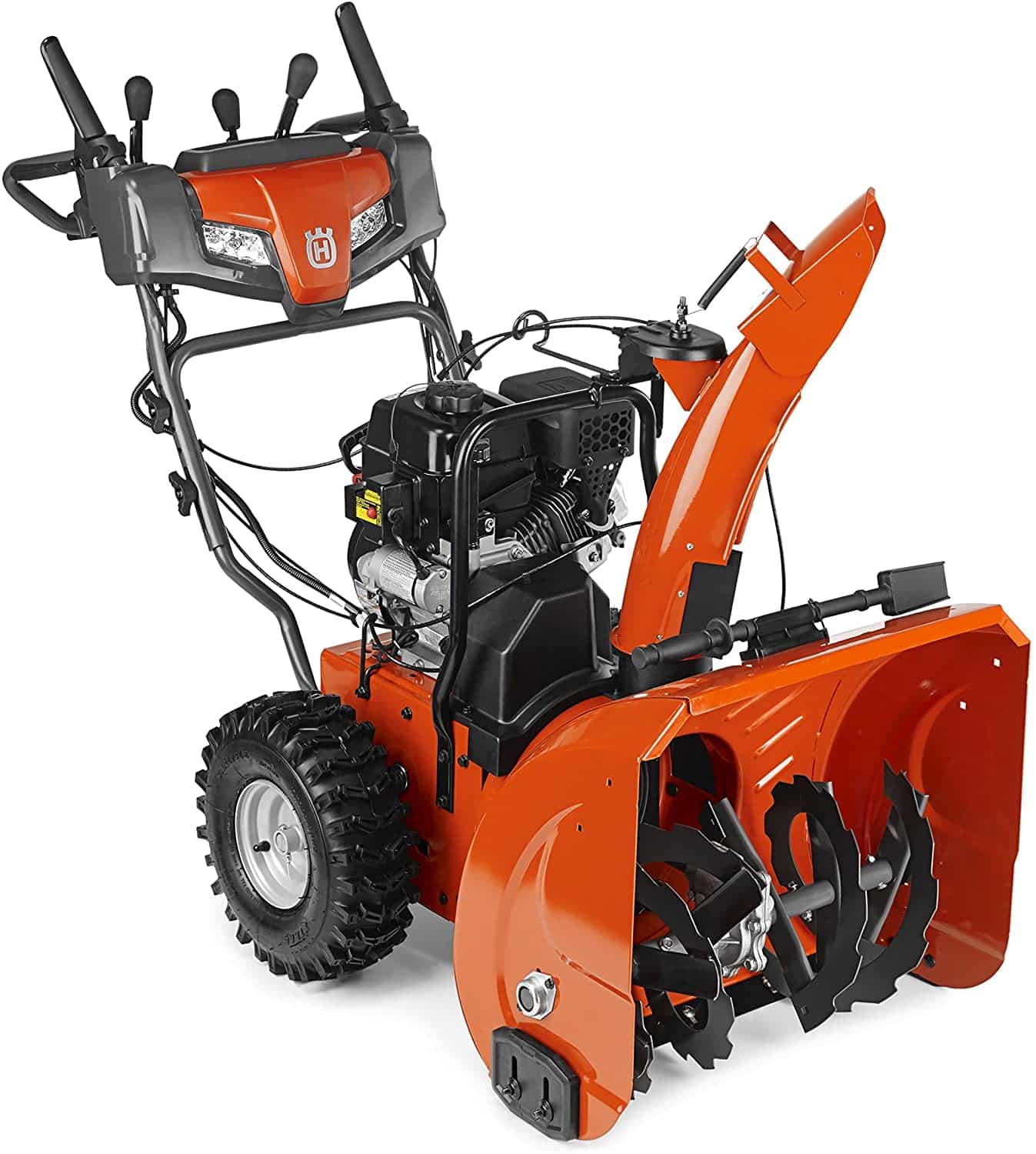 Specs
208cc Husqvarna engine
Gas-powered, electric start
Two-stage
6 forward, 1 reverse
3-year limited warranty
Dual-LED lights
Smooth performance
This two-stage snow blower is powered by a 208cc Engine that can effortlessly cut through frozen ice and precipitation thanks to its heavy-duty augers. The snow blower comes with adjustable skid shoes, so its perfectly safe to go over any surface, regardless of snow and ice coverage.
It is also equipped with an efficient two-stage system that features a high throwing capacity, making tiring clearing operations a breeze. The snow blower also comes with a Friction-disc transmission to ensure smooth operations all the way.
Convenient and reliable
The Husqvarna ST224 is the complete package when it comes to your snow blowing needs. It can be used in almost all snow conditions and surfaces. The Engine is started up with an electric starter system, so all you need to do is find a power outlet and press the button – no need for cramping! The machine boasts efficient and quiet clearing thanks to its easy to shift speed with six forward and one reverse option.
The product also comes with ergonomically designed handles with heated grips for ultimate operator comfort. Users will also love that the Husqvarna ST 224 comes with powerful LED headlights that will ensure you get the job done even in low light conditions.
Pros
Powerful engine
Ideal for heavy duty jobs
Efficient and quiet clearing operations
Wide clearing area
Ergonomic handles
Convenient LED headlights
Cons
Snow Joe iON18SB-PRO 40-Volt iONMAX Cordless Brushless Single Stage Snowblower Kit
For homeowners looking to clear their yards from the occasional wall of snow, they can opt for this electric cordless snow blower from Snow Joe. The Snow Joe iON18SB-PRO is convenient and reliable for your routine household chores.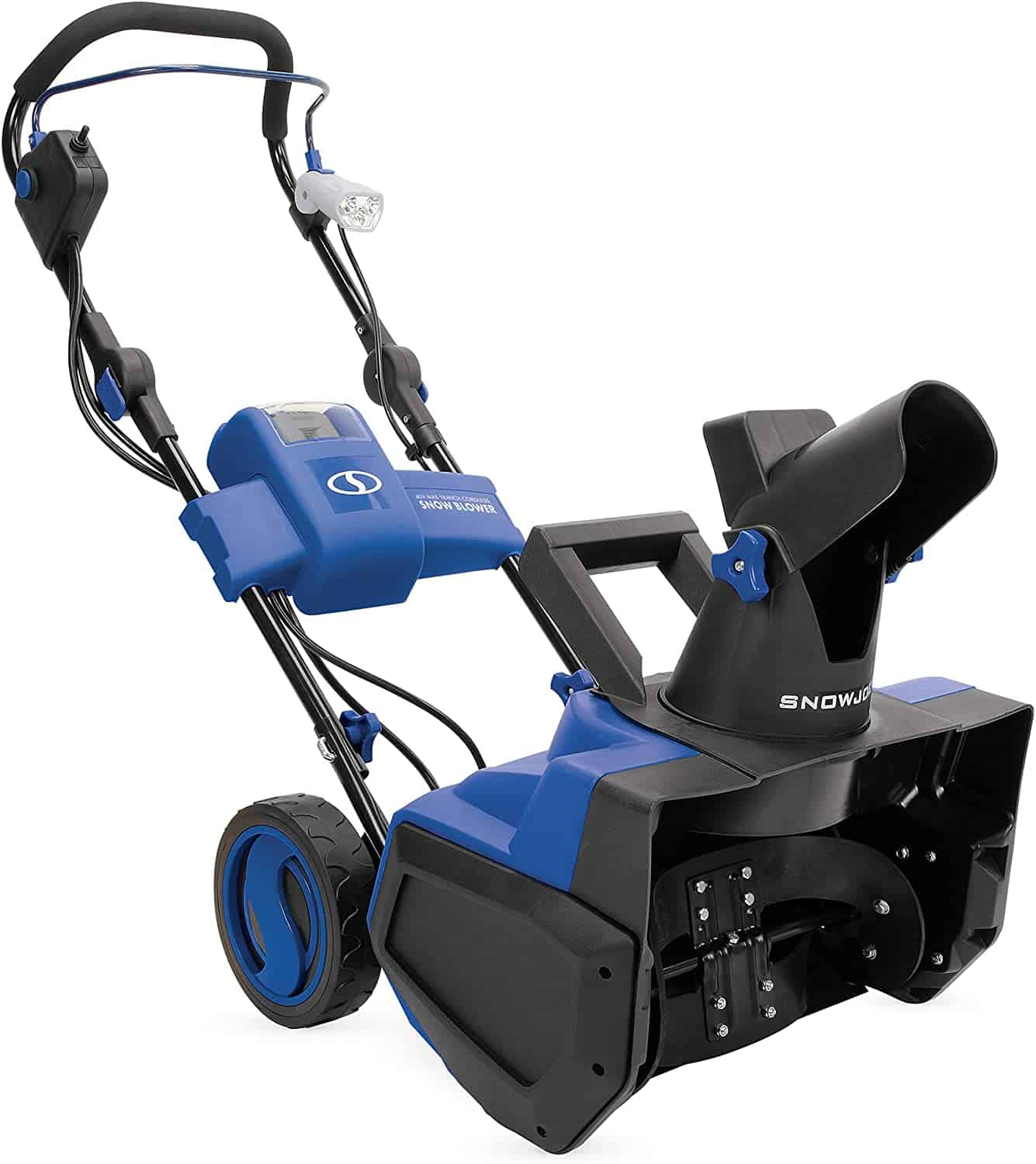 Specs
40V iONMAX 5.0 Ah rechargeable Lithium-Ion Battery
65 minutes runtime
180-degree auto-rotate chute throws 20 feet of snow
Brushless motor technology
3-watt LED headlight
Clears path 18 inches wide and 8 inches deep
Innovative
The Snow Joe iON18SB-PRO is an innovative machine that is designed to make tiring chores easy for you. The snow blower is powered by an easy to charge a battery that runs on silent even on demanding work.
The well-designed 180-degree auto-rotate shoot can throw snow as high as 20 feet, thanks to its innovative brushless motor design.
Convenient and reliable
While electric snow blowers offer less power, the Snow Joe is a convenient option for busy homeowners who don't have time to maintain heavy equipment. The Snow Joe iON182B.-PRO runs on a 40-volt battery, enough service to offer 65 minutes of snow blowing services per charge.
This lightweight snowblower at 32 pounds offers a generous 18-inch clearing width, ideal for small paths, driveways, and sidewalks. These features are sure to make your tiresome snow blowing duties easy.
Pros
Lighweight and portable
Easy storage
Innovative technology
Eco-friendly
Cons
May not be ideal for large lots
Briggs & Stratton 1222EE 22-Inch Single-Stage Snow Blower with SnowShredder
This one-stage snow blower from Briggs & Stratton can go heads-on with most two-stage equipment on the market. This powerful and easy-to-maneuver snow blower is worth looking into.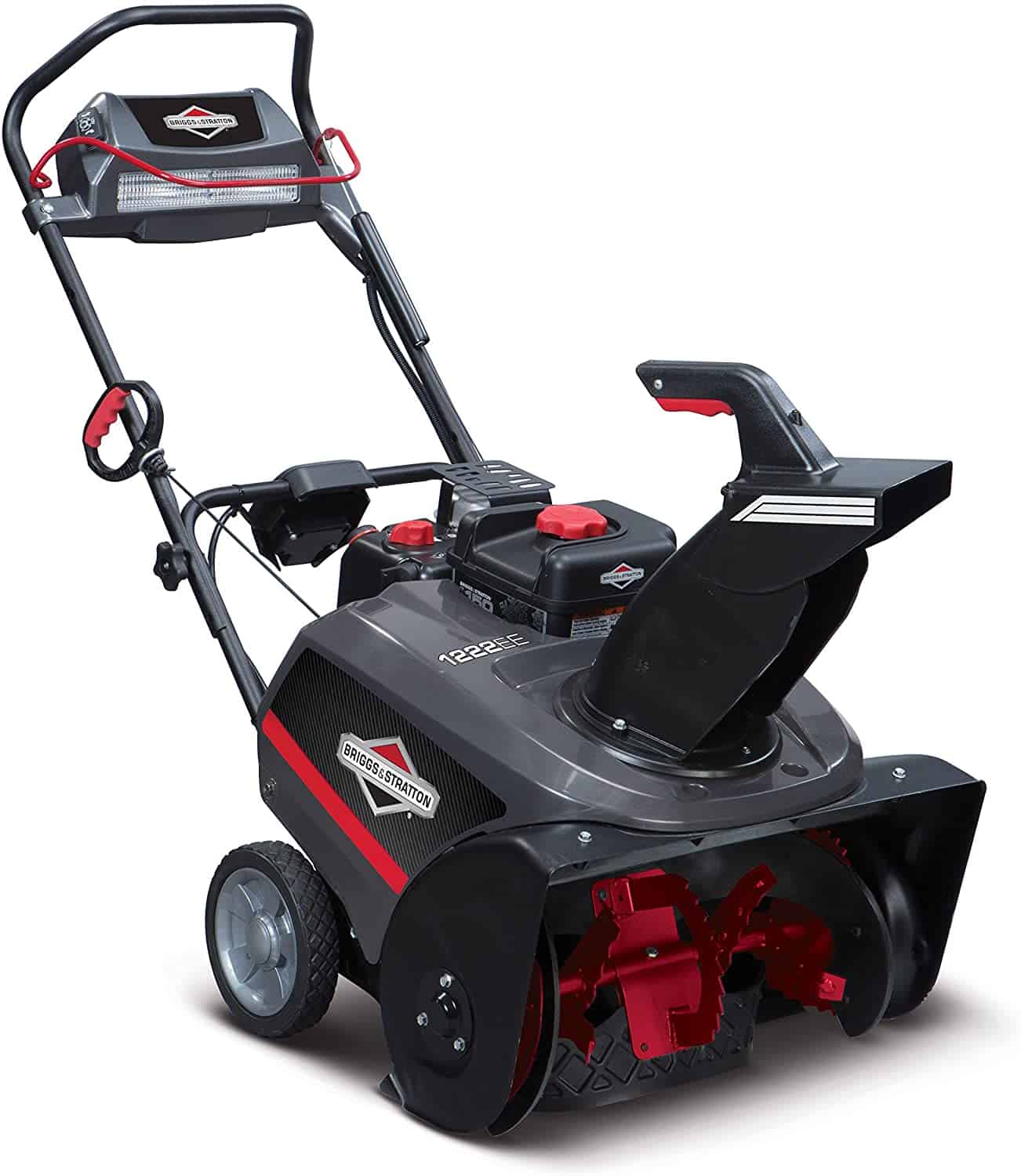 Specs
Single-Stage, gas-powered electric start down to -20 degrees Fahrenheit
SnowShredder Serrated Auger
22-inch clearing width
10-inch auger
8-inch wheel
Automatic electric chute rotation
Powerful process
Though relatively small, the Briggs & Stratton Snow Blower is more powerful than some two-stage models on the market. The model is equipped with a 250cc Briggs & Stratton 1150 Snow Series Engine compounded with a SnowShredder Serrated Auger Technology that can power through heavy-duty clearing operations.
The Engine is designed to deliver optimum results even in the most extreme weather conditions. The multiple serrated augers provides next-level snow clearing and ice chopping services that will make your labor-intensive snow clearing operations a breeze. This snow blower is ideal for small to medium-sized lots covered with a light to moderate amount of snow.
Convenient and straightforward
With its convenient electric-start button, this snow blower from Briggs & Stratton makes start-up easy each time, even during temperatures of less than 20 degrees Fahrenheit!
Users can also conveniently adjust chute direction from left to right with its electric chute adjustment button conveniently located on the handlebar. The snow blower also comes with a headlight and a quick-adjust deflector to help tackle any obstacle you may encounter.
Pros
More powerful compared to most one-stage engines
Convenient electric start-up
User-friendly features include automatic chute rotation, headlights, and quick-adjust deflector
3-Year limited warranty
Cons
Does not have a self-propelled motor
Husqvarna ST 427T Snowblower
Does a massive wall of snow loom over your head every winter? It might be time to invest in a heavy-duty snow blower that is ideal for frequent and extended use! The Husqvarna ST 427T Snowblower is a powerful solution for labor-intensive snow clearing.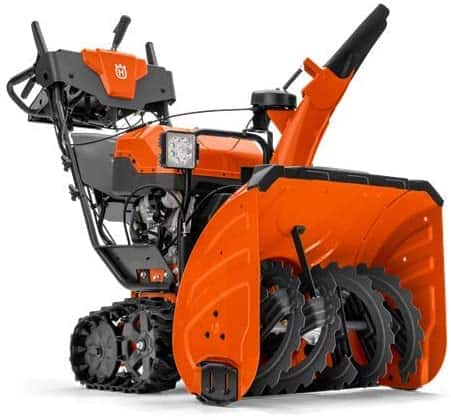 Specs
369cc Husqvarna electronic fuel injection (EFI) 4-Cycle Engine
Two-stage
27-inch clearing width
Reduces Magnesium, Lead, Calcium, Iron, Radium, and other Heavy Metals.
Regeneration in 30 minutes
Ideal for long trips
Unrivaled performance
The Husqvarna ST 427T Snowblower is the ultimate solution for homeowners and professionals looking for premium-grade performance. This snow blower was designed for large-scale and commercial applications.
The snow blower is equipped with a superior 369cc Husqvarna electronic fuel injection (EFI) 4-Cycle Engine and a cast iron impeller fan that is ready to face heavy-duty work. This Engine comes with a convenient electric starter, so operators get power and convenience all in one package.
The Husqvarna ST 427T Snowblower is also equipped with continuous treads for superior traction in any weather condition. Users will love that the snow blower has a clearing width of 27 inches.
Superior investment
This snow blower is definitely not the cheapest on the market, but we can guarantee that you will get every penny's worth. This high-capacity water softener was designed for heavy-duty yard maintenance, and the Husqvarna ST 427T Snowblower is sure to deliver.
Aside from its powerful Engine, the whole machine is guaranteed to offer you its services in the years to come, thanks to its robust materials. The auger is made from heavy-duty material that is meant to work in frozen and wet conditions. The three-blade impeller that ensures long snow throwing distance is also made of cast iron to ensure maximum durability.
When you're out in the freezing cold doing hard, there's no better reward than optimal results through an efficient and comfortable process. The Husqvarna ST 427T Snowblower features heated handle grips for comfortable operation in a cold climate as well as a loop handle for optimum control and ergonomic grip. Users will also love the equipment's convenient LED headlights.
Easily change settings and have maximum control over your snow operations with the system's all-steel operator console. This device was made to last for years, even under the toughest conditions.
Pros
Ideal for commercial use
Powerful motor and robust materials
Stable and robust materials
Hydrostatic drive
Comfortable and ergonomic design
Cons
Shopping considerations for Best Portable Snow Blower
Shovels work great on small walkways and stairs, but a wide patio and driveway need the efficient power of a quality snow-blower. Snow blowers are expensive equipment, so make sure to find a model that is best for your specific yard maintenance needs.
Now that you've read through our comprehensive reviews, you should have realized that the best snow blowers for your snow clearing operations will depend on several factors:
Motor type type
Single-stage vs. Two-stage snow blowers
The type of Engine you should get will depend on the scope and intensity of the work you want to get done. Areas with minimal snowfall of about six inches can opt for a one-stage snow blower. Homeowners in areas with heavy snow coverage should invest in two-stage snow blowers.
Single-stage snow blowers are more affordable, but there are several limitations in terms of efficiency and power. Single-stage blowers will only work effectively on hard surfaces and pavements, as a cement patio or driveway. These types of snow blower will only throw snow in one motion, efficiently propelling the blower forward without the need for an engine. In this case, one stage snow blowers don't work great on gravel driveway and snow coverage greater than eight inches.
Two-stage snow blowers are powerful yet more expensive. These systems feature a front auger (first stage( that feeds snow into the equipment. The impeller (second stage) will then throw out snow through a chute. Two-stage snow blowers with a clearing width of 24 to 26 inches is best for clearing 6 to 18 inches of snow. Operators can go with snow blowers with a clearing area of 28 to 30 inches for snow coverage of 15 to 20 inches on large driveways.
Electric vs. Gas
Electric motors are more eco-friendly and economical. Users can opt to charge their electric snow blowers, and they can get service of up to one hour. These electric motors are also convenient in the sense that they are more lightweight and easier to store. Your neighbours will also thank you for your snow blower's quiet operations that don't spew out gas fumes.
For homeowners and professionals who need a heavy-duty solution, a gas-powered snow blower is the best choice. While gas snow blowers are more expensive and time-consuming to maintain, they're much more powerful and efficient. This means that you can get more work done in less time.
Clearing width
Another important factor to consider is how wide a path a snow blower can clear with each pass. Most models will have a clearing width of about 20 to 25 inches. More affordable models will have a shorter clearing width. In contrast, sturdier and more expensive snow clearing equipment can have a clearing area of up to 30 inches or more.
A narrow clearing width simply means that it will take much more time, money, and energy to complete clearing operations. You'll have to make more passes to completely clear the area. This also means more time spent in harsh weather conditions.
If your clearing operations are large-scale and labor-intensive, choose a snow blower with a wider clearing width to get jobs done faster and more efficiently.
Speed control
For next-level control, opt for a model that has a user-friendly variable speed control. Make sure to choose a model that has the speed control lever in a comfortable position. Most models will have five to six-speed levels for forwarding options and one or two-speed options for reverse.
Conclusion
Looking into different types and models of snow blowers may seem daunting with all the features and specifications you need to think about! Snow blowers are expensive equipment. Its best to go with a model that can keep up with your labor-intensive chores and harsh conditions.
Review our comprehensive guide to find the best snow blower that is powerful and convenient.