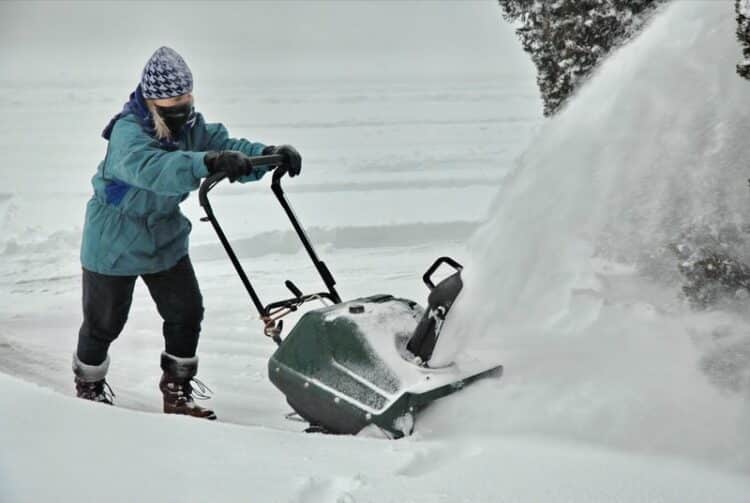 What is the difference between Track Snow Blowers Vs Wheel Snow Blowers? What would you prefer? Would you choose a snowblower with wheels or a walk-behind snowblower with tracks? In this article, we will assess the arguments and applications for both types so that you can make your choice. Generally speaking, most people prefer wheel snowblowers, but that does not mean that track snowblowers don't have their place. Each snowblower thrives in different conditions and surfaces. Wheeled snowblowers and track drive snowblowers differ in many things like traction, speed, and maneuverability. Let us explore the key differences between these two in detail.
Track Drive Snow Blower
What is a track drive snowblower? The main defining factor of a snowblower is how it moves. A track drive snowblower has tracks in the place of wheels. Track snow blowers are more stable than wheel snowblowers because the tracks give them extra traction.
If you want to clear snow on the sloppy or uneven terrain area, then track snowblowers are the best because of the extra stability they provide. Track snowblowers are also more suitable for densely packed deep snow. If you were to use wheel snowblowers in such circumstances, you would experience many challenges, including the risk of slipping, difficulty in turning, and less efficiency. However, track snowblowers have their disadvantages. One of them is that they are ideal for sharp turns. That is where wheel snowblowers beat them on flat surfaces. Tracks are not flexible when it comes to maneuvering around.
Track snowblowers look like tanks. Therefore, they tend to be heavier than wheeled snowblowers. It further helps in improving their traction. Perhaps this best explains why they are the best choice when it comes to working on packed snow. Most track snowblowers are set very low. It makes them the best machines to clear densely packed snow.
Most tracked snowblowers are two-stage or three-stage snow blowers. It makes them the most suitable for throwing snow on gravel driveways. Go for a two-stage or three-stage snowblower to clear snow from gravel surfaces because you want a machine that will not scoop gravel and other stones from the ground. Unlike their single-stage counterparts, three or two-stage snow blowers have an extra feature that allows them to use a metallic auger to scoop the snow first and then use an impeller to expel the snow. The snow is thrown out through the discharge vent called a chute. As already mentioned, tracked snowblowers are more powerful when throwing out densely packed snow, thanks to the two extra augers in the three-stage track snowblowers. One auger is located at the back, while the other sits in front of the equipment at a right angle (90°).
In addition to the above strengths and features of tracked-snow blowers, there are compelling reasons why wheeled-snow blowers can still provide a superior experience.
Tracked-snow blowers may provide more stability and traction, but many people find them less flexible and slow. As we have already mentioned, this makes it hard to work with them on flat surfaces where traction is not required. However, technology has addressed many of these weaknesses. So newer models have tried to bridge the gaps. For instance, manufacturers have incorporated turning technology to make it easier for the operator to move the machine in whichever direction you turn. Some of them have multiple speed options to allow you to choose the best speed for the occasion.
Wheeled-snowblower
Wheeled snowblowers are the most common and most available machines in snowblower stores. The snowblower uses the wheels to move around. Wheeled snow blowers are ideal for removing snow from most ground surfaces. The surfaces are flat such as paved surfaces and other land surfaces. However, under extreme weather conditions, these snow blowers are less reliable compared to their track counterparts. FOr example, things like slush, water, and ice make the machine difficult to move around.
A wheeled snow blower machine is suitable for use in an area that experiences moderate snowfall. It also works best on a relatively flat surface. Although a tracked snowblower can still get work done on similar surfaces and under the same weather conditions, they will be slower than the wheeled snowblowers. So that is why many people don't find any reason to spend extra money buying tracked snow blowers whereas they can get cheaper and faster than wheeled snowblower counterparts. After all, many people live on flat surfaces and there are few cases of extreme snowfall.
The downside with wheel snowblowers is that they are much lighter than track snowblowers. The reason track snowblowers vs wheel snow blowers are heavier is because the weight on the tracks is distributed evenly over a wide area. The weight of the wheels of the wheeled snowblowers is concentrated in one place. This acts as the contact between the wheel and the ground surface. This explains why wheel snowblowers easily get stuck especially if you removing heavy snow. Things can get worse if you spin them on the muddy ground. The snowblowers can dip in the ground because of the small contact area between them. But the track snowblowers are flat; therefore, they have a larger contact area between the tracks and the ground. That is why they can easily glide over uneven surfaces.
Wheel snowblowers are more efficient because they require less torque to move, unlike track snowblowers. It means that wheels are more efficient than the track snowblowers. In addition to that, wheel snowblowers tend to last longer than their track counterparts because they have fewer moving parts.
When should I choose track wheel snowblowers?
We started by mentioning that the type of snowblower will depend on many factors like the surface and type of snow that one wants to clear. Before you make that important snowblower buying decision, you need to make a clear distinction on where and when each snowblower is most suitable.
Track snowblowers are suitable for uneven surface
If you want to clear snow on an uneven surface, track snowblowers are the best choice. You are better off with these types of machines than the wheeled counterparts because they have more traction and are more stable. Find a snowblower that will stick in place when moving on bumpy ground.
Tracks snowblowers are more suitable on icy surfaces
Again, track snowblowers perform better than wheel snowblowers on densely packed snow surfaces. Get a heavy machine that can easily maneuver and stick on the ground.
Tracks snowblowers are more suitable for heavier jobs
This is similar to the point previously mentioned, but there is a slight difference with this point. Track snowblowers are designed to do heavier jobs than their wheeled counterparts. Most tracks are two-staged or three-staged snowblowers, meaning they are more suitable for heavy-duty jobs. They are equipped with features that allow them to deal with slush or ice.
When should one use wheeled snowblowers?
Wheeled snowblowers are suitable for use in most situations. Unless you live in a place with a gravel driveway that is experiencing heavy snowfall, you are generally good with a wheeled snow blower. Most domestic snow throwing needs are not as heavy as to require heavy-duty machines like tracked snowblower machines.
The advantage of wheeled snowblowers is that they come in a variety of sizes. From a single-stage to a three-staged snowblower, these wheeled machines can be used in different situations. So even if you want to put your snowblower on heavier use without looking for tracked snowblowers. The only time you should buy a tracked snowblower is when you live in a sloppy, uneven, and area that experiences constant heavy snowfalls. Generally speaking, a wheeled snowblower should be able to do a job unless extreme conditions dictate that you use a tracked snowblower. Moreover, a wheeled snow blower is less expensive to buy and maintain compared to a tracked snowblower.
Are there alternatives to wheel and track snowblowers?
New advancements in technology have sought to bridge the gap between tracked and wheeled snowblowers to achieve a composite model. These days it is possible to buy machines that toggle between while and track drive. It means that one can switch between wheel and track on the same equipment, depending on where and where they are working. That means the machine must have a gear to allow for constant switching. But this also means that they are more expensive and are prone to wear and tear. A good workaround for this problem is to purchase a good two-stage or three-stage snowblower and place chains on the wheels. It adds more traction to the machines while maintaining their maneuverability and speed.
Conclusion
The type of snowblower drive you choose depends on the situation and on the conditions you are working in. Wheeled snowblowers work better on a flat surface. They are also faster and have more maneuverability. Tracked snowblowers are more suited for bumpy surfaces and areas that experience extreme conditions like sustained heavy snowfall.