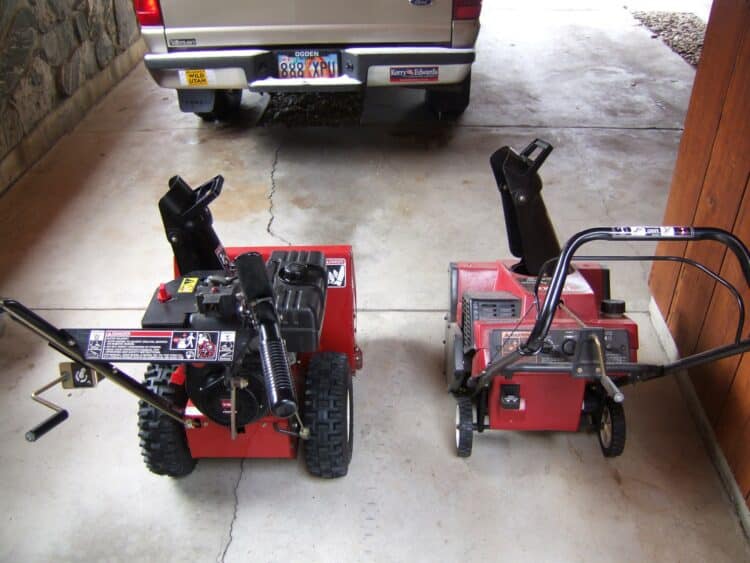 Winter is coming, and it is time again for snow blowers to shine.
Aside from getting the best snow blower model and knowing how to operate one, you should also pay attention to how to properly store your snowblower.
Proper storage and maintenance are the keys to giving your snowblower a longer lifespan.
How to prepare your snowblower for storage
Before you store your snow blower, you should prep it first to ensure that it will still be in good running condition the next time you will be using it again.
Here are some tips on how you should prepare your snowblower for storage.
Drain the fuel
Allowing fuel to remain in the tank for any gas engine going on long-term storage is a bad idea. Old gas can corrode, and gunk can form and build up inside the tank. This can cause issues in your carburetor and fuel lines.
Some owners use a fuel stabilizer instead of emptying out their gas tank. The fuel stabilizer will prevent the gas from corroding and forming gunk to clog the snow blower's lines and injectors by absorbing the moisture that can accumulate in the tank.
However, it is still safer to drain the tank. Make it a point to drain the tank before storing your snow blower – even if the gas is stabilized. You can use a chemical pump or siphon to transfer the fuel to a gas can. Make sure that you use a container that is specifically made to hold fuel.
To ensure that there is no fuel left in the tank, run the snowblower until it burns out the remaining fuel in the tank.
Seal the engine
Remove the spark plug and lubricate the cylinder wall and piston by pouring a drop of oil in the combustion chamber. Take this chance to inspect the spark plug if it needs to be cleaned or replaced.
Put back the spark plug and pull until you feel the cord shows resistance. When this happens, this means that the piston has already sealed the chamber.
Sealing the chamber will prevent moisture from getting in the chamber and causing corrosion in the engine.
Check for repair and replacement needs
Before you store away your snowblower, give it one last thorough check to see if there is a need to repair or replace anything. The belt, shave plate, and rubber paddles are among the most common parts that get regular wear and tear in a snowblower.
Take this as the chance to touch up on chipped surfaces as well.
Wipe it down
People who own snow blowers often forget to wipe down their snowblower with a clean cloth. Even if your snowblower looks clean, it may still have salt stains. Leaving it on when you store it will cause corrosion in the metal parts of the snowblower.
To clean your snowblower thoroughly, use a warm and wet cloth to wipe it down. This will remove not only salt stains but other types of stains as well.
Lubricate and protect
Spray the exposed metal parts of your snow blower with a thin layer of grease, engine storage spray, or rust preventative spray. This will make sure that they will not corrode or rust while in storage.
The areas you need to lubricate are the chain, gears, axle shaft, auger shaft, hex shaft, and pinion shaft.
Wrap it well
When you store your snow blower, make sure that your snowblower will not be exposed to dirt and dust. You need to invest in a good snow blower cover.
Snowblower covers are not as expensive as you think. They are made out of breathable material, and it is strong enough to save your snow blower from scratches.
A snow blower cover is way better than using a plastic tarp or garbage bag. Because the material is breathable, this will prevent moisture from building up if the weather gets humid.
Protect your garage floor
If you want to protect your garage floor, you should consider getting a snowblower garage mat.
Where to store your snowblower
The most important thing you should know is that your snowblower should not be stored anywhere near a pilot light or open flames like a gas dryer or furnace – even if you have drained all the fuel.
Garage
Most homeowners store their snow blowers in the garage on a mat and are covered. It is a great way to ensure that your snow blower will be in a dry place where you can access it easily.
Storage sheds
Another popular option for homeowners is storage sheds. You can quickly build yourself one or have someone do it for you. A shed will ensure that you have a roof above your snow blower and other machines like lawnmower or tools. A shed can protect your things from the elements while providing extra space for storage.
Outdoors
Leaving your snowblower outside is a bad idea since it can be exposed to the elements – even if it has a snowblower cover that adequately covers it. But if you have no choice because of space limitations, just make sure that it is off the ground. This will help it get damaged from the rain.
Storage unit
If there is no space left for storage, you can rent out a local storage unit in your area. This gives you the chance to store other seasonal equipment, tools, items, and wardrobe too.
An engine that is not being used consistently can be prone to different types of damage. This is why you should take extra care of seasonal engines such as snow blowers when you store them. Remember, a well-maintained and properly stored snow blower can save you hundreds of dollars in repairs!