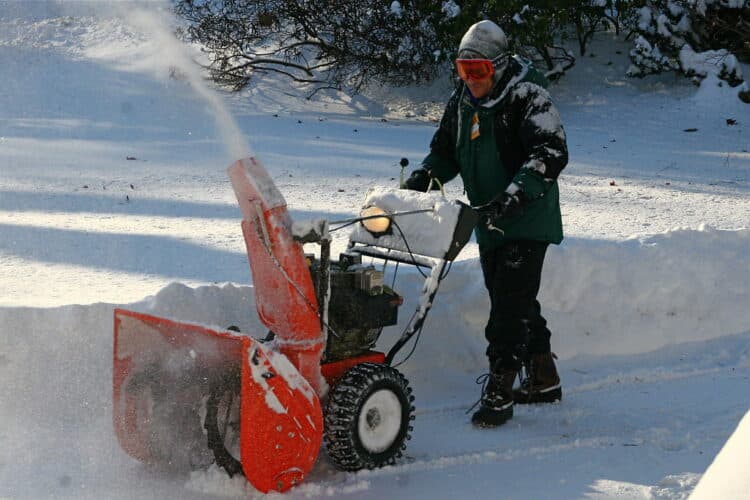 When buying a snowblower, factors like the cost, purpose, and brand come into play. It's vital to consider these basics when shopping for one. Knowing the types of snowblowers out there and how they vary from each other will help you make a wise decision.
The available types of snow blowers are built for a particular variety of conditions. The amount of snow received can play a factor in the kind of snow blower you will acquire.
There are five snow blower types. They are namely;
1. Single-stage Snow Blowers
2. Two-stage Snow Blowers
3. Three-stage Snow Blowers
4. Electric Snow Blowers
5. Battery-powered Snow Blowers
They come in different prices, width, size, surface type, and power. You have to mull over these types to make an informed decision.
Remember that we have no wrong type of snowblower. That's because each option has a special design for a particular set of conditions. It's not only about the quantity of snowfall, but the ease of using and storing it.
There's no point in purchasing a mighty and snowblower for the light snow you receive each year. Similarly, buying a cheap, low-powered unit for a heavy snowfall can be a costly mistake.
Categories of Snowblowers
Before we look at the different types of snowblowers, let's understand their classes. They are as follows:
Gas-Powered Snowblowers
Gas-powered snow blowers are the most potent models on the market. They are the best option to consider if you know that you may have a problematic snow-blowing task.
Most people living in rural areas often opt for these types of snowblowers for one reason. That is, they have incredible power enough to handle larger quantities of snow.
Are you looking for a blower that can clear your large-sized driveway? Gas-powered units are the best options to pick from. You'll find them with an auger system that lifts the snow and throws it to the other side with ease.
Since these types of snow blowers are powerful, you'll need to be pretty careful while using them. For instance, using single-stage snowblowers on gravel surfaces could make the rocks in the snow fly. This could be dangerous to nearby vehicles, people, or even the house's windows.
They are an excellent option for people who live in regions that receive heavy snowfall. Their designs and special features will help you clear snow from your driveway with ease.
These models are available in different types, which we will discuss later.
Electric Snowblowers
These snow blowers are a popular choice for clearing snow from medium-sized spaces. They are great for removing any snow from a city-style or urban suburb home.
However, they are not the most powerful snow blower models out there. For this reason, they may not be the most suitable option for use in places that receive dense snowfall.
Still, you can get a better-performing electric snow blower at a reasonable price. Interestingly, most electric snow blowers work pretty well on any surface.
They have lighter weight than the gas-driven models. Asa result, you can be sure to drag around and use it as you like with ease.
Cordless Snowblowers
Many people tend to feel that using a tethered snow blower is a hindrance to the process. That's because they find it harder to reach farther places to drop the snow.
Cordless snow blowers come as excellent options and have several benefits to enjoy. They work similarly to a typical corded electric model. You may find a few of them with similar performance as a single-stage gas-driven model.
The greatest benefit, though, is that this kind of snow blower gives you total freedom to move it anywhere. So, no worries of getting tangled in the cord or your area of operation limited.
Thus, it's a very convenient option for homeowners with large driveways or spaces. Be sure to look for one with high-voltage batteries for efficient performance.
They are also very light, just like the electric models. This means that maneuvering your preferred option will be easy without struggles.
5 Types of Snowblowers
That said, let's now look at each type of snow blower in detail for a better understanding.
Single-Stage Snowblowers
Single-stage snowblowers have high-speed augers that provide power using gas. They have a low price tag due to their simplest design. You'll find them with a corkscrew auger in front that rotates to break down the snow.
The attached discharge chute attached helps with the easy clearance of snow. Besides, these machines are small (18-24 inches wide). And their lightweight allows for easy maneuvering even in fixed spaces.
Their reduced heights enable them to handle only snow heights of about 8 to 10 inches at a given time. Typically, single-stage snow blowers don't have a self-propelling feature.
The rubber-tipped auger moves at excellent speeds upon making contact with the surface. Though don't use it on gravel or lawn surfaces. That's because the high speeds may tear up the grass or turn rock pebbles into high-speed bullets.
In short, it's the best snow blower for light snow found on smaller sidewalks and paved driveways. It can also help you clean moderate snow. These snowblowers can manage large amounts of snow but find it hard to clear wet and heavier types of snow.
Two-Stage Snowblower
A two-stage snow blower has two devices that help clear snow from surfaces. Its slow-rotating auger has a corkscrew shape. So, it removes the snow from the ground efficiently.
The impeller included pushes the snow the auger picked to the outside via the chute. Thus, more snow can pass through the machine with ease and then throw the snow far away.
In terms of size, these models are pretty larger and heavier. Their giant auger can break down solid snow and ice effortlessly. Their auger doesn't make contact with the ground. So, you'll feel comfortable using it on concrete and gravel surfaces.
The taller snow buckets included enables these models to handle snow depths of up to 20feet. And the high-speed impeller restricts the chute from blocking.
Even though they are larger, these snow blowers are easy to move and use. The self-propelling mechanism guarantees ease of control on the reverse and several forward speeds.
Are you looking for the best type of snowblower for removing large quantities of snow? This should be the one for you. It can still handle light and dense varieties on all types of snow surfaces.
They're ideal for snowy areas with medium or large-sized driveways. Though they are one of the expensive snow blowers, it's a worthwhile investment.
Three-Stage Snowblower
The world of snow removal is ever-changing, and the three-stage snow blower is the latest trend. It boasts similar features (an impeller fan and drill) as the dual-stage blower.
But, it has an accelerator in the middle that slices the snow and forces it out via the impeller. Its robust design makes it suitable for any snow Mother Nature can form.
That's why it can handle the thickest, wet and dense snow or ice of over 20 inches. Consumer Reports say that this type of snow blower can work 30% faster than the dual-stage model.
Because of that, it is more expensive, just like the two-stage type. If you live in places that receive heavy snow, this snowblower type should be the best option.
It can clear even high snowdrifts or heavy and dense snow that accumulates at your driveway's end. This model discharges snow to greater distances. Hence, it's the best choice for clearing large driveways.
Corded Electric Snowblower
The electric blower comes as an excellent snowblower for light snow clearing. Typically, this unit is much affordable than the gas-powered models. Like in single-stage, this blower has an auger system that uses the discharge chute to remove snow.
It handles about 8 inches of snowfall, throwing it up to 30feet away. Moreover, you'll find them lighter in weight with a narrow width of 12inches. Therefore, they guarantee you the best maneuverability you desire.
Since they require no gas refills or oil changes, electric snow blowers are easy to maintain. Plus, you'll not have to pull start-up cables or face messy emissions.
Unfortunately, you'll have your area of reach limited by the insulated extension cord. Still, corded electric models are best for places with light to moderate snowfalls.
Primarily, this snow blower is great for paved surfaces with slight slopes. For this reason, they're ideal for use on single-car driveways, decks, and walkways.
Are you handling hard-to-reach areas? Well, be sure to use this model together with a larger gas-propelled unit and enjoy snow blowing.
Cordless Electric Snowblower
Do you hate the idea of accessing areas at limited lengths? If so, then a cordless electric blower ought to be an excellent choice for you. A lithium battery technology powers this unit, making it more powerful.
Tons of them exist as single-stage models, though some of the newest models are dual-stage. They are narrow and lightweight for easy use and maneuverability.
Their biggest pro is that they are environmentally friendly than gas-driven blowers. That's because they have quieter operations without emissions.
It's ideal for snow blowing without causing any disruptions to your neighbors. Plus, it demands less or no maintenance, and there's no pull cord to start it.
When it comes to choosing a cordless electric snow blower, make power your top priority. A typical machine can manage snow depths of 8 to 10 inches. Yet, their batteries facilitate operations between 30 to 60 minutes on a full charge.
The power can reduce when the battery starts draining. Therefore, this unit will struggle to clear the snow found at your driveway's end.
You can opt for an electric snow blower that uses a battery for power to clear light to moderate snow. Such a unit is excellent for smaller and paved surfaces with no heavy slopes. Plus, it's best for individuals with fixed budgets, yet they require help with snow removal.
Handy Features to look for in a Snow Blower
Like any other machine, there are several vital features to look for. They include;
Speed control – The machine should enable you to increase or reduce speed while in operation.
Drift cutters – This feature helps remove large-sized snowdrifts with ease and fasten the cleaning process.
Chute control – It enhances easy control of the direction to which the unit throws the ice. Therefore, it helps prevent causing damage to neighboring objects.
Electric start – This ensures the easy and fast start of the unit and gets the process.
Headlights – They increase visibility when it becomes darker before you finish snow blowing. Besides, this feature enhances efficiency and safety.
Heated handles – These offer utmost comfort while clearing the snow.
Self-propelled – A snowblower with this feature increases maneuverability even in thick and dense snow or ice.
Conclusion
It's evident that snow blowers are vital for snow clearing. They help to make space in driveways and sidewalks. When making a purchase, it's advisable to keep in mind factors like the amount of snowfall, the price of the snowblower, and the surface to be used on.
Snow type affects the type of snowblower. Compact snow can only be broken through by powerful units. It's also important to consider the size of the snow to be cleared. Light snow blowers are ideal for snow that is less than 10 inches tall.
Expensive does not necessarily mean better, as cheaper snow blowers like electric ones can maneuver tight spaces better than more expensive snow blowers. Always carry out detailed research before narrowing down on an option.
We also understand that deciding which blower type is ideal for you can be a daunting task. However, you should first know what kind of surface, type of snow, or time to use the machine.
So, do your research and get the snowfall averages your area receives every year. After that, you can proceed to decide what handy features in a snowblower meet your desires.