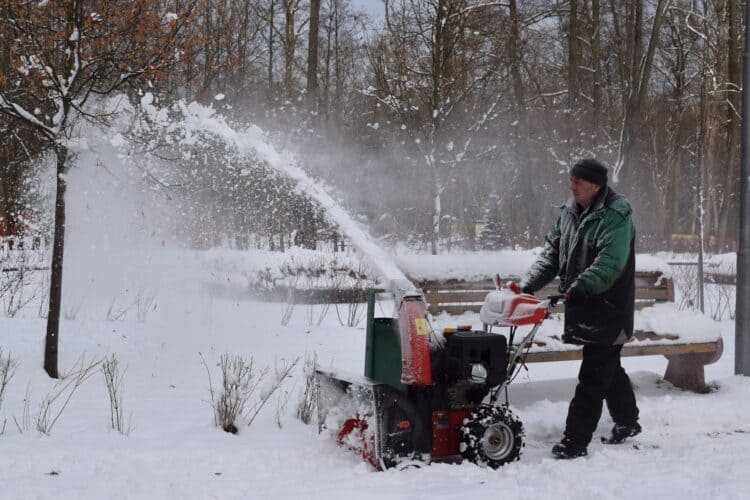 The season of snow is here with us. Snowfalls can be fun to watch from the indoors. Watching those magical snowflakes through the air is refreshing. However, It is hard to clear them from the driveway. Fortunately, there are many ways to manage snow for easy clearance of the snow. A snow blower salt spreader is one method of controlling snow. This article looks into detail how the snowblower salt spreader works.
What is the use of salt spreaders? According to statistics, more than 600,000 North Americans report injuries associated with snowfalls and ice. That means that you need to be careful when dealing with snow. One of the most effective ways to accomplish this is to spread salt before or immediately after the snowfall. Of course, snowblowers the work of removing heavy snow easier, saving you time and energy. However, find a way of controlling snow from coalescing. That is where salt spreaders are crucial.
What is a salt spreader?
Is there too much snow in your driveway, car parks, aisles, or work areas? You could spend countless hours spreading salt around these areas, but that won't be effective. If you want to distribute salt, you need to look for a suitable salt spreader to simplify the process instead of using your bare hands. A salt spreader will quickly spread salt for you in a fraction of time.
Salt is a good snow neutralizer. You have probably walked on salt before during winter and chances are you preferred walking on salt rather than risking a slip on snow. In short, salt is a snow removal element that has been around for centuries. However, instead of waiting for the snow to pile up and then spread the salt, the best time to distribute salt is before the snowfall or immediately after the snowfalls. That is why you will see many homeowners throwing salt on driveways and sidewalks to keep snow and ice at bay.
Therefore, a salt spread is a critical component when it comes to snow and ice management during winter. A salt spread's work is to distribute salt at high speeds. The process of spreading salt using a salt spread should be controlled, hence, efficient. The reason why salt is such an effective ice control agent is that it lowers the freezing point of water. It means that ice will not form unless under freezing conditions.
A salt spreader is so effective because it is used to distribute the salt evenly. You can attach a salt spreader to the rear of a moving machine such as a vehicle, tractor, snowblower, or other moving machines to distribute the salt. The most common forms of road salt include calcium chloride, sodium chloride, potassium chloride, and magnesium chloride.
A salter spreader uses a simple mechanism to spread salt. All you need to do is to mount it on a moving machine, fill it with salt and start spreading it as you move. You can control how much salt to spread each mile. The auger pulls the salt from the hopper and discharges it to the ground through a discharge chute. A salt spreader contains a spinner whose work is to distribute salt over the area you want to spread the salt.
It is worth mentioning here that salt does not melt ice (deice). The only thing it does is to prevent the ice/snow from bonding with the surfaces. For deicing to be effective, you should spread the soil immediately after the snowfall or better steal, before the snowfall.
Removing ice from surfaces such as the pavements without deicing can be challenging because ice tends to form strong bonds with the surfaces. It is also not safe to walk on snow-filled sidewalks because it can cause injuries.
Advantages of salt spreaders
If you live in a snowy area, you will find salt spreaders are worth the investment. Here are some of the reasons why you need to invest in a salt spreader.
Salt spreaders are very versatile. A good example is a snow blower salt spreader. As you throw snow, you can mount a salt spreader behind it so that you can accomplish two things at a go. In other words, you can remove snow while at the same time applying salt using a salt spreader to prevent more snow from icing.
Another advantage of a salt spreader is that it saves time and effort. Imagine grabbing a bag of salt to spread over a 5,000 square feet field. Is it something you are going to do when you have to be at the office in 20 minutes? Are you even going to spread the salt with the efficiency and uniformity it requires? A salt spreader is a quick fix to this problem. You can quickly spread salt for a couple of minutes and go on to attend to other things.
A salt spreader makes the road a safe place to move around. Manual application of salt won't do the job as required. Without a salt spreader, you are going to have a hard time walking on sidewalks, driveways, and pavements. This is very risky for you, your guests, customers, or employees.
Lastly, did you know that salt spreaders are the perfect solution to the freezing rain menace that has been causing havoc every year? Icy pavements and driveways have been causing hundreds of deaths and hundreds of thousands of car accidents each year. With a salt spreader, you can clear the road without a problem.
Conclusion
Salt spreaders are critical snow management solutions. Whether you are clearing snow or you just want to make the surfaces safe for everyone, you need a salt spreader. It is also important to keep in mind that there is no point in spreading more salt than necessary. For salt to be effective, it must mix with water to keep ice from forming. It is also critical to remember not to spread too much salt on areas with high foot traffic. Salt can destroy shoes and cause other environmental damages when used in large quantities.