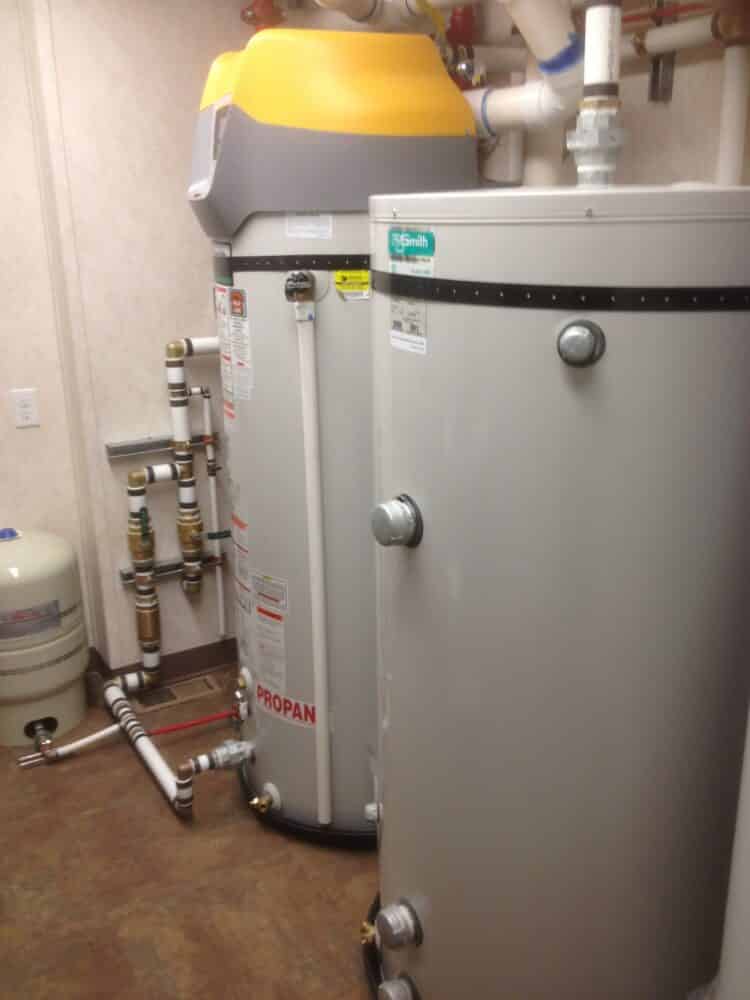 Nothing can be more relaxing than a hot bath or a warm cup of tea when you're relaxing at home. Steaming water coupled with pure and clean water is all a homeowner could ever ask for!
Homeowners who have invested in hot water heaters know that this piece of equipment is costly to maintain and repair in case of damage. One of the factors that can wreak havoc on your expensive water heater is sediment build-up. Do your wallet a favor and install a hot water filter to ensure the integrity of your hot water heater.
We've compiled the best hot water filters on the market to ensure your water supply's cleanliness and purity. We'll also guide you through the key factors to consider when buying the best hot water filter.
Best Hot Water Filter
KleenWater KW2520SCALEX Tankless Water Heater Filter
This hot water filter from Kleenwater was engineered as a pre-filter to remove sediment, scale, and contaminants that might damage your water heater. Homeowners looking for a reliable product can count on the Kleenwater Tankless Water Heater filter to get the job done.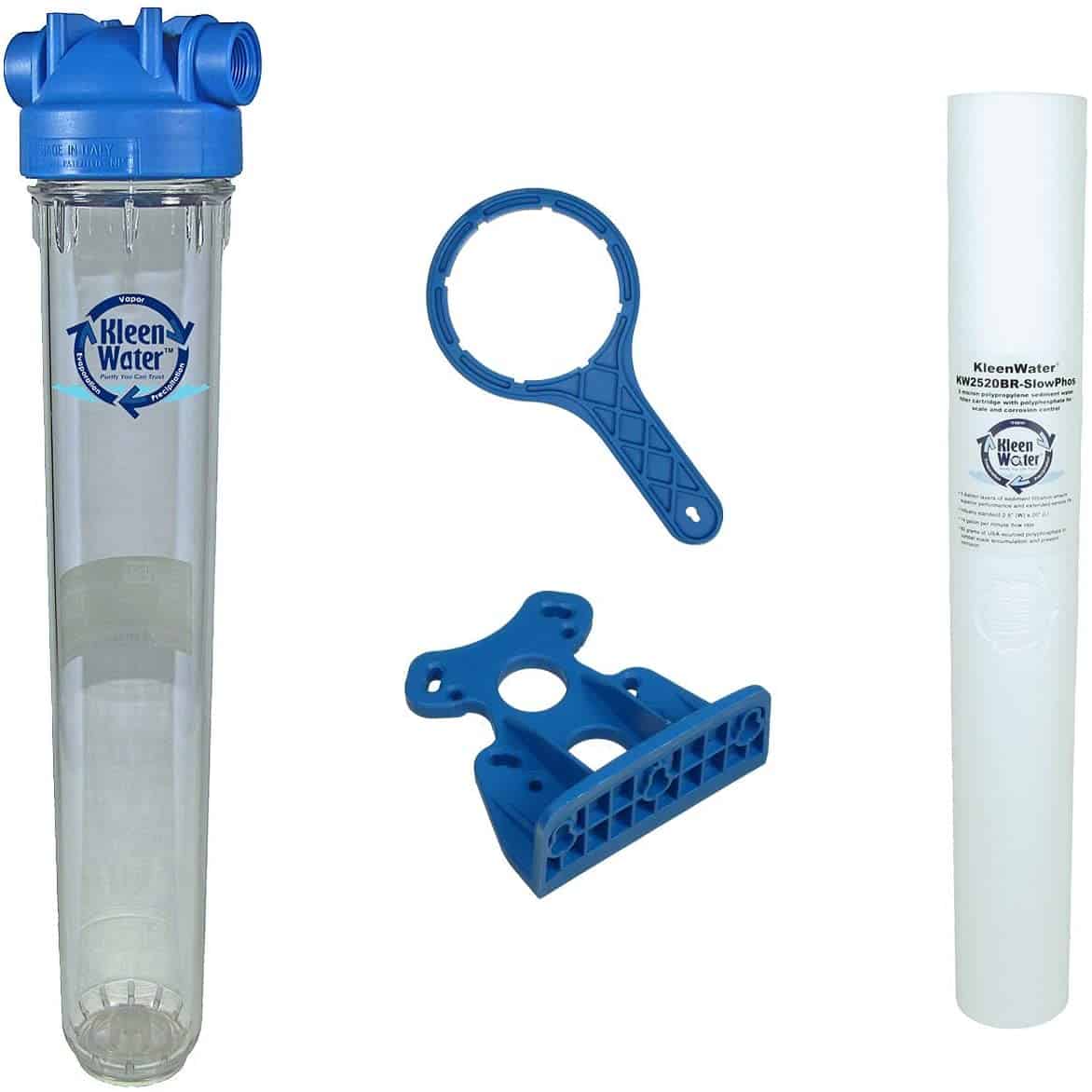 Specs
125 psi maximum working pressure and 120 degree max temperature.
Point-of-entry installation
Filter: made of polypropylene that filters to 5 microns.
Critical ingredient is phosphate that forms a protective layer on piping
Compatible with most water heater fixtures
Ultimate protection
This tankless water heater filter guarantees to get the job done. The KleenWater heater filter was specifically designed to protect tankless and traditional tank hot water systems. The system includes a polyphosphate filter that effectively reduces hard water content and prevents scale build-up.
The water filter cartridge is also made up of polypropylene that is effective at filtering water down to 5 microns. Phosphate is known to naturally react with calcium, which forms a protective and non-corrosive layer on pipe walls. This protective layer is extremely effective at protecting your hot water plumbing from hard water.
This filter from KleenWater guarantees to help homeowners save up on costly repairs and maintenance due to damaged piping and water heaters from scale build-up and corrosion.
Smart technology
The KleenWater is installed at the water supply point of entry. This means that you can rely on this water heater system to provide protection from scale, corrosion, and sediments to the entire home. With this reliable filter, homeowners can rest assured that all appliances, water fixtures, and plumbing is safe from acidic water, corrosion, and the damaging effects of hard water.
The system's filter housing was manufactured from durable polyethylene in Italy. Polyethylene is the certifiable choice among food and beverage specialists. The filter is robust enough to withstand temperatures as high as 120 degrees and a pressure level of 125 psi. While this filter was intended for cold applications, it's the ideal pre-filter that can be coupled with your traditional tank water feeder.
Pros
Easy installation and maintenance
Effectively reduce scale build-up and corrosion in water heater, plumbing, and water fixtures
Ideal for cooking and drinking
Compatible with many models
Cons
Customer complaints of leak due to connectors
Tankless Water Heater Filter, KleenWater KW2520SCALEX Tankless Hot Water Filter System, Polyphosphate Filter for Scale Prevention
KleenWater transparent water filter housing, water filter cartridge 2.5 x 20 inch, bracket and wrench
Protects tankless and traditional tank hot water systems and helps avoid costly service calls
Polyphosphate filter to prevent scale and reduce the harmful effects of water hardness
Can be installed at the "point of entry" to provide scale and corrosion protection for the entire household
Compatible with all brands such as Rinnai, ECOTEMP, Rheem, Eemax, Takagi, Noritz, Ecosmart, Atmor, Bosch, Navien and Marey Power
RUSCO 1-1/2-60 Hot Water Spin-Down Filter System
This robust filter from Rusco guarantees long-lasting protection from contaminants to provide safe and clean-tasting water. The filter is made from high-grade stainless steel that ensures the reliability and longevity of the product.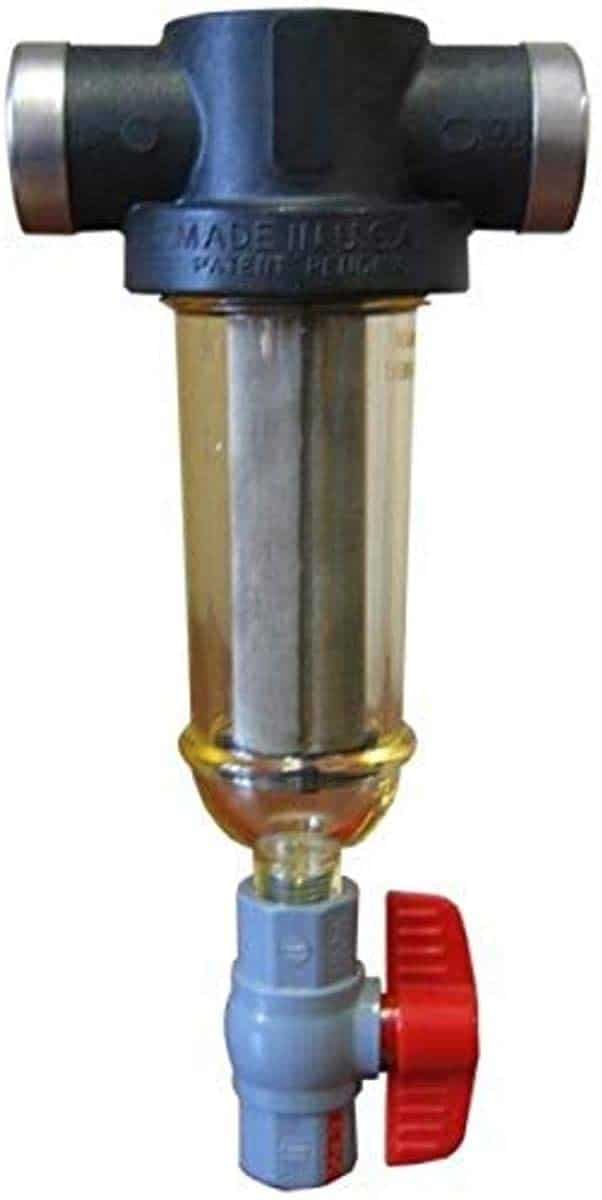 Specs
Flow rate at 25 GPM
Centrifugal separation technology
Visible sediments through cover
Convenient hand-tightened cover
Stainless steel components
Long-lasting protection
This powerful hot water filter water system from RUSCO is made from industrial-grade steel, which allows the hot water filter to operate at 200 degrees Fahrenheit. Due to its robust material, homeowners can rest assured that the system is reliable and durable enough to withstand wear and tear as it filters minerals and sediment.
The Rusco water heater filter also has a flow capacity of up to 25 GPM, a highly competitive flow capacity for these types of products. The product is affordable yet provides maximum work efficiency so homeowners can rest easy knowing that their plumbing and water heater is safe from scale build-up.
Innovative technology
This Rusco water filter is guaranteed to provide homeowners with clean and fresh-tasting water. The system uses a centrifugal separation technology that effectively filters large sediment from water. The product is guaranteed to remove any traces of harmful contaminants that might get through its filtration system.
The filter also has a see-through cover which is a convenient feature that allows homeowners to manually check for any serious sediment build-up. Another useful feature is a one-step flush outlet that efficiently flushes out sediments from the system.
The filter screen is also made of reusable stainless steel, which makes it a cost-efficient, durable, and eco-friendly option for homeowners.
Pros
Durable material can withstand up to 200 degrees Fahrenheit
Robust stainless steel inlet and outlet
Easy to install and operate
Cons
No indicator for replacement
RUSCO 1-1/2-60 Hot Water Spin-Down Filter System, 1-1/2-60-Inch
The Rusco hot water filters can operate up to 200 degrees F (93C) because of its industrial grade parts.
The Rusco hot water filter systems come with female threads with a stainless steel reinforcing ring over the inlet and outlet.
The Rusco filter system uses centrifugal separation technology to filter large sediment from water.
Model number: 1-1/2-60
3M Aqua-Pure Whole House Scale Inhibition Inline Water System
If you're looking for a robust and efficient hot water filter, the 3M Aqua-Pure Whole House Scale Inhibition Inline Water System won't let you down. The product is NSF-certified for its durable materials and structural integrity. Users can rest assured that this device will efficiently get the job done.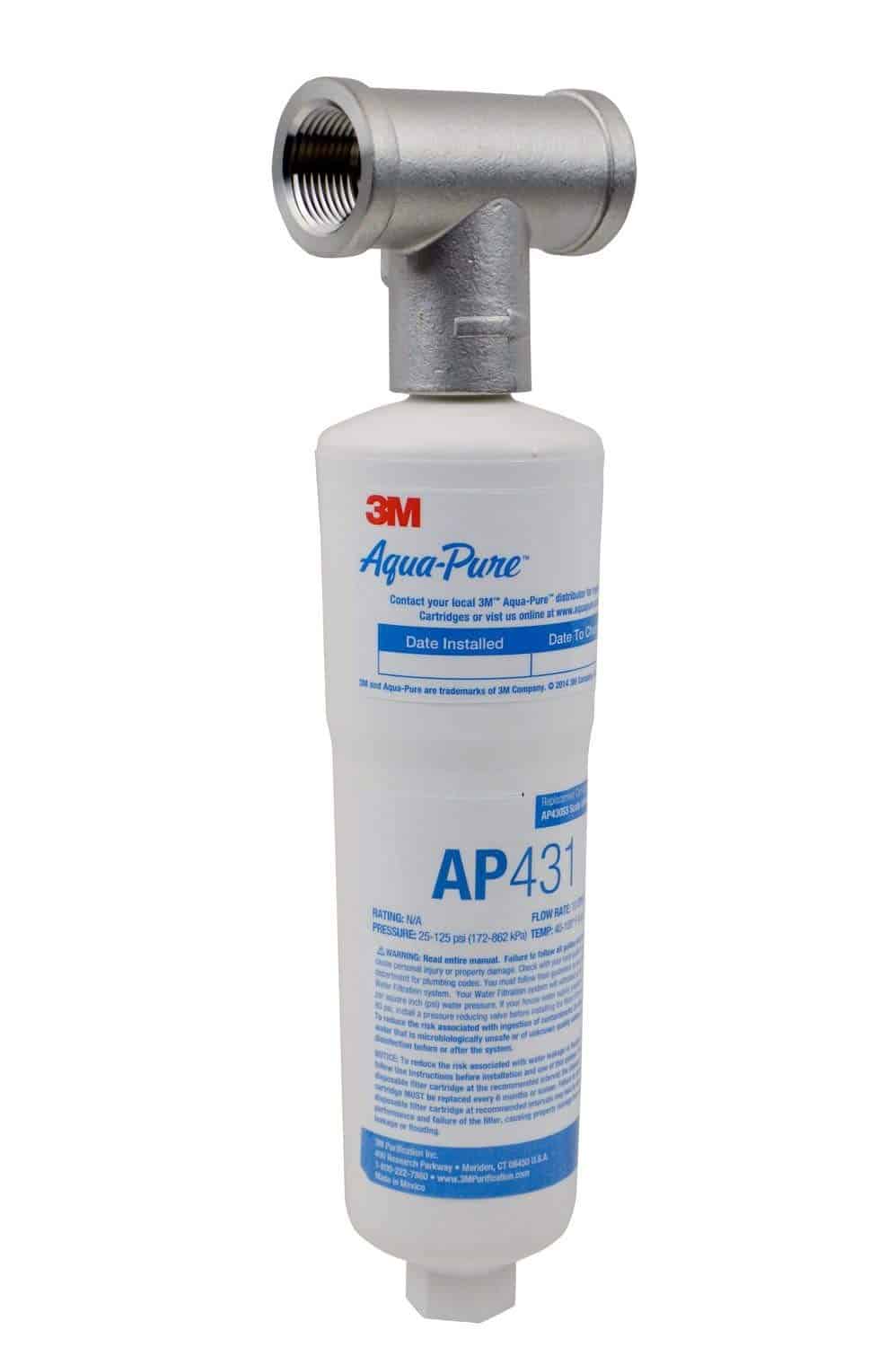 Specs
Flow rate at 10 GPM
Ideal for any sized home
Contain polyphosphates to inhibit scale
Flow rate: 0.5 gallons per minute
Corrosion resistant stainless steel head
NSF/ANSI 42 standard certified
Convenient and durable
The 3M water filter is one of the most reliable systems you'll find in the market. The product comes with easy-to-install parts and replacement components that make it simple for homeowners to provide clean and purified water for their families.
Moreover, this water filter is equipped with an industrial-grade 304 stainless steel head that can be installed on copper pipes in your home. This robust material will ensure that no component of your water filter will be damaged due to corrosion. Filter replacement is also made easy with a user-friendly replacement cartridge. Your family will surely benefit from this durable and low-maintenance water filter in the years to come.
Certified and efficient
The system has undergone rigorous testing to be NSF/ANSI-certified for its material ad structural integrity. The 3M hot water heater contains polyphosphates which are responsible for reducing scale build-up in tankless hot water heaters and boilers. This hot water filter works hard to maintain the protection of all your home appliances, pipes, and plumbing fixtures.
Since the 3M filter is ideal for all home sizes, all homeowners can benefit from its efficient technology and design that is guaranteed to cut down on maintenance and repair costs. The filter has a high flow rate up to 10 GPM, strong enough for most home applications.
Pros
Easy installation and maintenance
Durable and corrosion resistant stainless steel head
Certified by NSF/ANSI
Multiple applications
Cons
Users report some issues with fittings and threads
Express Water WH100SP Anti Scale Whole House Filter
This water filter from Express Water is a powerful option that can efficiently protect your whole home by filtering your water supply. This water filter will ensure that incoming water is free from any minerals and sediments that might damage your health, appliances, or plumbing.

Specs
100000 gallons (6 months to 1 year)
Flow rate at 0.25 gallons per second
Comes with a stainless steel mount
Whole-house filtration
Pressure gauge monitoring
Convenient and user-friendly
Homeowners can easily install this powerful faucet filter into their homes thanks to its user-friendly components and features. Users can also conveniently replace the filter when needed. All you have to do is twist off the housing, removed the used filter, pop in the new filter, and you're good to go! The system comes with a monitor that indicates when the filter should be removed, making routine check-ups easy and convenient.
With this filter from Express Water, homeowners don't need to waste time and money on complicated repairs and maintenance. This product is best for busy homeowners who just don't have enough time to replace their filters every month. The Express Water filter has a service life of up to 100,000 gallons! That's a whopping 6-12 months of use, and there's no denying that this is one of the best deals you can get.
What's more, users can get a flow rate of 0.25 gallons a second. It's definitely a unique feature for treatment systems to provide filtered water without any pressure loss!
Comprehensive filtration system
This reliable water filter has a Polyphosphate filtration system that prevents any form of corrosion and scale. Homeowners can rest assured that this filter from Express Water successfully removes any signs of rust, dirt, silt, scale, and sedimentation. Homeowners might be wondering why they should get this system rather than a water softener. The main difference is that the Express Water filter focuses on preventing and eliminating the formation of scale build-up.
The water filter comes with industrial-grade sodium polyphosphate crystal beads that are effective at maximizing chemical absorption. What's more, the system is topped with a thermally bonded cap and industrial-sealed silicon ring so users can rest assured that the filter is durable and reliable.
Pros
Industrial grade components
Convenient self-indicator for replacement
Large capacity and fast flow rate
Long service life
Innovative filtration system and easy filter removal
Convenient to install and maintain
NSF-ANSI certified
Cons
Express Water WH100SP Anti Scale Whole House Water Filter System, Blue
Protect Your Home From Scale - Protect the entire house from scale and filter algae, silt, sand, sediment, sand, and rust
Water When You Need It - Large easy flow filters and high flow connections keep your water pressure high
Don't Waste Time on Maintenance - Our quick and easy to understand design means you can swap out filters quick and easy
The Best Filtration - Made with food-grade slow dissolve sodium polyphosphate crystal beads giving you maximum chemical absorption
Pentek 150015 3/4″ #10 Standard High Temperature
This water filter is suitable for industrial applications. This reliable product guarantees only quality service for any of your water filtration needs.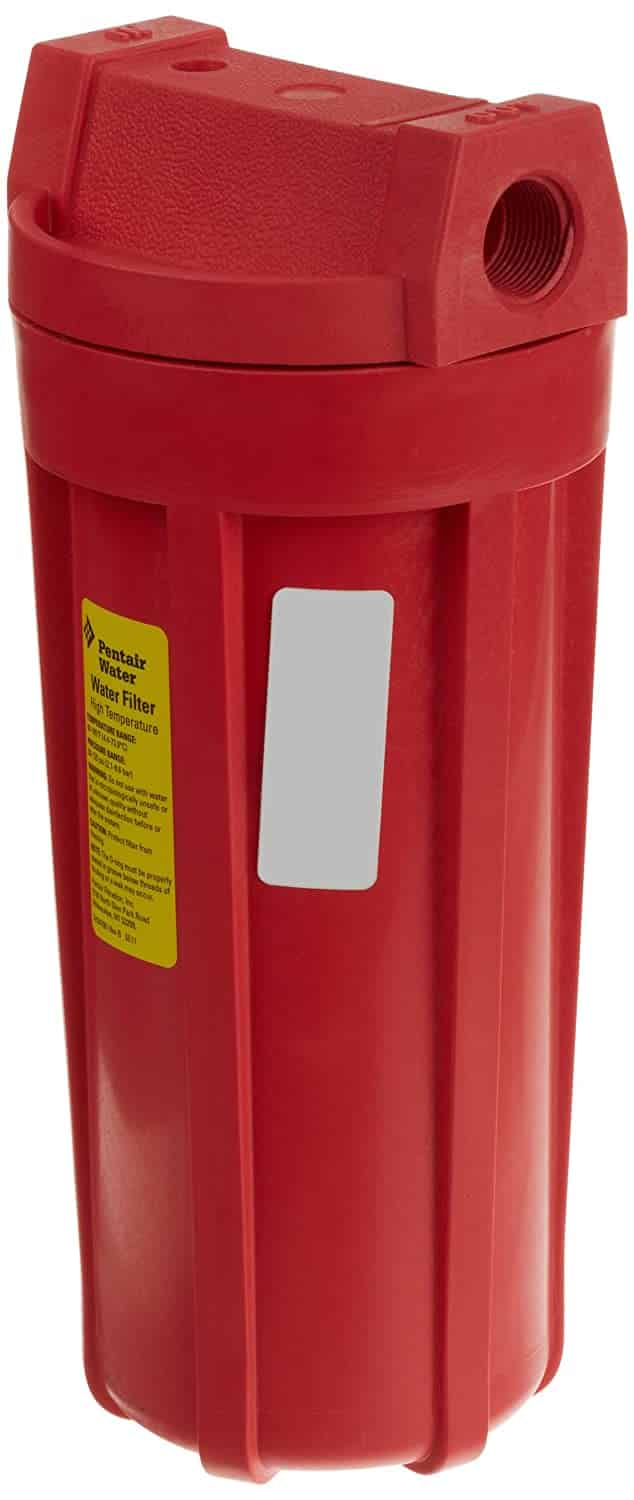 Specs
High temperature housing
20 GPM
Suitable for residential and industrial applications
¾ inch inlet-outlet for easy installation
Durable glass-reinforced nylon construction
NSF/ANSI certified
Thorough purification
This water filter goes through a comprehensive filtration process that is suitable for private, industrial, and business scale demands. This water filter is certified to remove the most harmful chemicals and contaminants in your water supply. This includes microorganisms, large particles, and substances that might contaminate your water system.
The water filter is made from premium-grade filaments that effectively trap suspended particles. The filter also contains special technology that is able to adsorb damaging compounds and substances that might cause corrosion in your appliances and water heaters.
Premium services
Since this powerful tool can be used for both residential and commercial purposes, users aren't at all limited to any application. Homeowners can use it for cooking, drinking, and household chores. Commercial establishments can rely on this water filter to efficiently decontaminate large-scale water systems, technical services, and pools.
Though a complex and powerful system, installation and maintenance are simple and straightforward. The filter can accommodate a maximum temperature of 165 degrees Fahrenheit and a pressure of 125 PSI. This water filter from Pentek has undergone external testing certification from NSF.
What's more, the product features easy-to-install components, including the filter and the quick-connect filter head. Homeowners can rest assured that this reliable filter is compatible with most faucet models.
Pros
NSF-ANSI certified
Meticulous filtration system for residential and commercial purposes
Reliable water pressure, temperature, and filter
Robust and durable housing is a great alternative to carbon and stainless steel
Cons
No indicator for replacement filter
Sale
InSinkErator F-1000S
This faucet filter from iSpring is a premium-grade and certified water filtration system that will ensure clean and safe water for your household. Thanks to its 50 to 100-micron filter, homeowners can rest easy knowing that their water supply is free from any risky sediment and chemicals.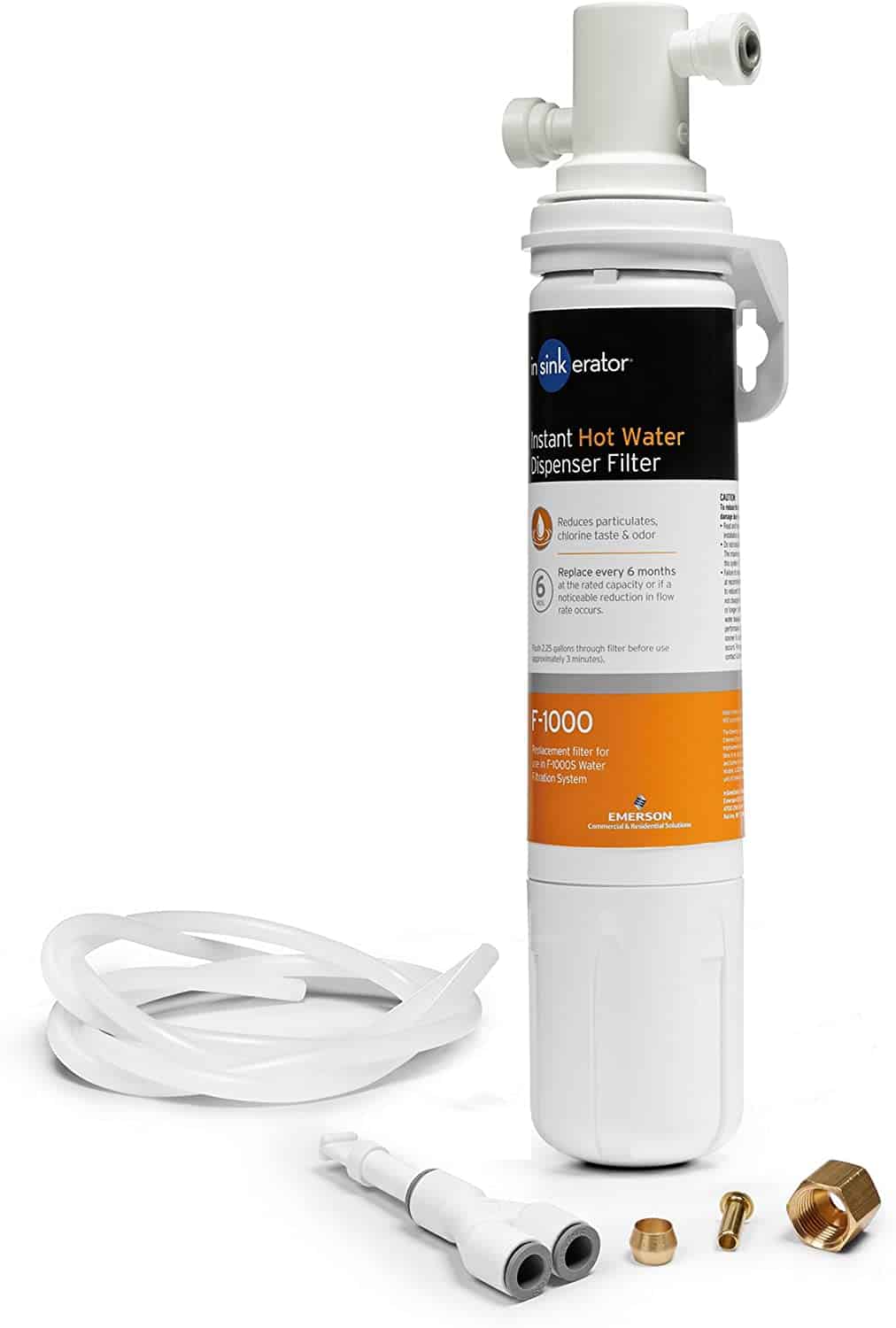 Specs
NSF 42 certified to reduce particulates and chlorine taste and odor
Recommended 6 months filter replacement
Designed to improve mineral content and water alkilinity
Removes lead, mercury, cysts, asbestos. and other contaminants down to 0.5 micron
Improves taste and water quality
NSF standard 42 certified for quality assurance
Quality performance
The InSinkErator filter incorporates a comprehensive water filtration system that works to remove the most harmful chemicals and particulates in your water supply. The InSinkErator also works hard to transform the overall quality of water so users can enjoy pure and fresh tasting water.
This filtration system is guaranteed to provide homeowners with the cleanest drinking water to optimize overall health. Users who opt for water filters can also significantly save-up on bottled water expenses. Mother earth will thank you as well for reducing your carbon footprint!
What's more, each InSinkErator product undergoes meticulous lab-testing for quality assurance. Users can rest easy knowing that they'll get high-performance and premium quality products from this model.
Convenient and reliable
The InSinkErator filter is known to be durable and long-lasting. Users are recommended to replace the filter after six months, a convenient maintenance routine for busy homeowners! The filter replacement process itself will also take only a few seconds. Due to its simple twist-and-lock design, this filter system is guaranteed to be hassle-free.
Pros
Convenient automatic shut off during filter replacement
Filter lifespan is longer than most
Convenient and easy installation and maintenance
NSF/ANSI certified
Cons
Only compatible with InSinkErator dispensers
Sale
InSinkErator F-1000S Standard Under Sink Water Filtration System for Instant Hot and Cold Water Dispenser System
ENJOY BETTER TASTING WATER: The F-1000 filter is designed to reduce particulates, and the unpleasant taste and smell that chlorine adds to tap water. Filter head bracket compatible with F1000 & F2000 replacement filters.
EASY INSTALLATION: The F1000S Water Filtration System includes the F1000 filter, twist-&-Lock quick-connect filter head, and the other parts needed for install. Recommended 6 month filter replacement for optimal performance.
HEALTH, TASTE & SUSTAINABILITY: Filtered tap water optimizes health, saves money on bottled water, and helps manage the global volume of discarded plastic bottles. Designed for exclusive use with InSinkErator water dispensing systems.
FASTER, CLEANER, SMARTER: From meal prep to cleanup, InSinkErator helps make it fast & easy to keep your kitchen clean with our iconic appliances: garbage disposals & instant hot water dispensers.
A HISTORY OF INNOVATION FOR THE SINK: We invented garbage disposals in 1927, & we're the world's largest manufacturer of garbage disposals & instant hot water dispensers for home & commercial use.
| Hot water filter | Flow Rate | Maximum temperature | Amazon link |
| --- | --- | --- | --- |
| KleenWater KW2520SCALEX Tankless Hot Water Filter System | 14 GPM | 120 degrees Celsius | |
| RUSCO 1-1/2-60 Hot Water Spin-Down Filter System | 25-50 GPM depending on mesh | 200 degrees Fahrenheit | |
| 3M Aqua-Pure Whole House Scale Inhibition Inline Water System | 10 GPM | 100 degrees Fahrenheit | |
| Express Water WH100SP Anti Scale Whole House Filter | 0.25 GPS | 100 degrees Fahrenheit | |
| Pentek 150015 3/4" #10 Standard High Temperature | 20 gpm | 160 degrees Fahrenheit | |
| InSinkErator F-1000S | 0.75 Gallons Per Minute | 100 degrees Fahrenheit | |
Shopping considerations for Best Hot Water Filter
Hot water heaters are costly to maintain and especially expensive to repair. Lock in the luxury of safe and hot water for your family by investing in a hot water filter. The best hot water filters will provide steaming hot water that homeowners won't have to worry about damage to their water heater, plumbing, and appliances.
To guide you through this important decision, read up on the key factors you need to consider when choosing the best hot water filter for your home.
Key Features of Best Hot Water filter
There are several key considerations to read up on to ensure that you're providing your family with hot water that is safe from contaminants. It can get complicated to find the best product for your home, considering all the hot water filters varying in the application, design, and construction.
When reviewing hot water filters, make sure to consider these key factors:
Make sure to do a comprehensive screening for your area's water hardness level to assess whether or not you really need to install a hot water filter. Particularly hard water has a high mineral content of calcium and magnesium that can potentially damage your expensive water heater.
Hard water can damage water heaters by piling upscale and sediment, which makes it harder for the system to produce heat. This causes wear and tear in the heater, eventually causing enough damage that will cost a lot in repairs!
The filter is by far the most important element of your hot water filter. Different filters will have varying effectiveness levels depending on their material. Once you have an idea of the hardness of your water supply, you can choose a filter that targets the particular issues in your household.
Another important aspect of filters is the filter rate. The filter or flow rate refers to the amount of water a filter can treat in terms of gallons in a certain period of time. This is important so users can estimate what filter size to get based on their household consumption and specific applications.
Installation and maintenance
Make sure that the filter you choose has a user-friendly manual and a convenient maintenance system. Most filtration systems will require routine replacement every few months, so make sure to go with a large capacity filter that will make it convenient for you to replace only once in several month's time.
Since your hot water filter will target scale and minerals, it's important to ensure that the materials of your filter are robust and durable. Weak components will compromise the structural integrity of your water filter. This means that you'd have to spend more time, effort, and money on repairs.
Certification and Licensing
Make it a point to ensure that each feature of your filter is backed by NSF/ANSI certifications.
When it comes to hot water filters, the most important certifications are on structural integrity and on the prevention of scale build-up.
Conclusion
Investing in a high-quality hot water filter guarantees the safety and health of your family, appliances, and plumbing. Make sure to get a hot water filtration system that is specific to your water supply needs.