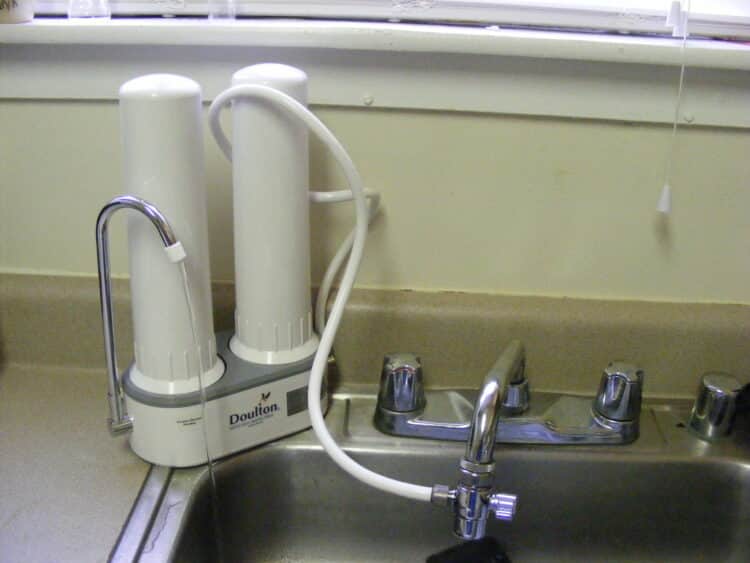 Imagine a world with clean and reliable tap water.
While some countries are blessed with tap water safe enough for drinking, the majority of us have to take some extra precautionary measures. It's absolutely necessary to ensure that our families are safe from physical, chemical, and biological contaminants from drinking tap water.
Countertop water filters are the next best thing. While providing you the same convenience as drinking straight from the tap, countertop purifiers ensure that harmful compounds are filtered out.
Countertop filtration units are a great investment to make. Find out how effective these systems are so you can get one for your home.
How effective are Coutertop Water Filters
A wide variety of filtration systems are available to fit almost any household's needs.
Countertop filters are very popular because they are affordable and convenient. Most countertop filters for homes are simple but versatile enough to remove harmful contaminants.
Most units will have a replaceable carbon cartridge to remove chlorine and other city tap water contaminants. More complex and technical cartridge filters are specifically designed to remove pollutants such as heavy metals, lead, fluoride, nitrates, and cysts. Other filters claim to remove some bacteria and viruses.
Older disposable models do not have replaceable cartridges.
How do countertop water filters work?
Different brands of countertop water filter dispensers are designed differently, but they work on the same basic principle.
Most units are set-up beside the sink and will have their own spout.
Less popular styles have a return diverter valve that includes two hoses. In these older models, water exits through the sink's faucet.
When the diverter valve is open, water from the sink enters the water filter housing. This is where the replaceable carbon cartridge works to filter out contaminants. The filtered water then flows out the filtration unit.
Should I get a Countertop Filter?
The answer to this question will depend on several factors.
If you're still confused about whether or not you should invest in a countertop water purifier, read on to find out more:
What are the Benefits of Countertop Filters?
Safe Drinking Water.
Countertop drinking water filtration system effectively eliminates chemicals and compounds that can compromise your health and immune system.
Some of these chemicals include chlorine and fluoride, which can also irritate the eyes and skin. Lead, mercury, and other heavy metals are dangerous compounds to watch out for.
Filtered water will keep your family away from any contaminants that might affect their physical well-being and development.
Drinking water tastes and smells better.
The funny taste comes from the chemicals that work to keep tap water safe for consumption, but the flavour can be off-putting for many people. Actually, one of the most common reasons why people get countertop drinking filter systems is because these units effectively pull unpleasant flavors and odors from tap water.
Cut-back on Expenses.
Some people might not want to invest in expensive filtration systems and choose to buy bottled water instead.
In the long run, depending on bottled water will definitely eat a huge chunk of your savings. You'll also be doing mother earth a favor by switching to a more sustainable means to get drinking water.
Easy Installation.
Unlike other more complex filtration systems, countertop water filters are simple and easy to install. The device is lightweight and compact. You can easily pack-up the unit as needed when you travel.
Some water filters also require the installation of an extra tap. With the above counter water filters, it's as easy as it gets.
Convenient and Simple Maintenance.
Unlike most at-home filtration systems, countertop water purifier dispensers are easy to maintain. These do not require complicated cleaning and replacement schedules.
Replacing the cartridge is straightforward and easy.
What are the Limitations of a Countertop Filter?
There are a few limitations of choosing a countertop filter:
Point-of-use
This means that tap water from other water fixtures in your home will not be filtered. This will be a problem if you'd like your whole house to have filtered water, including showers and appliances.
Efficiency
Countertop filtration units are convenient, but it probably won't be the best method if you're looking for more elaborate water treatment.
If your household consumption is quite large, opting for a whole-house filtration system might be better than a single countertop unit.
Conclusion
Now that you have an idea of how countertop filtration works, you can weigh the pros and cons of installing one in your home.
Remember, choosing the right filtration system for your home will depend on your household needs and budget.