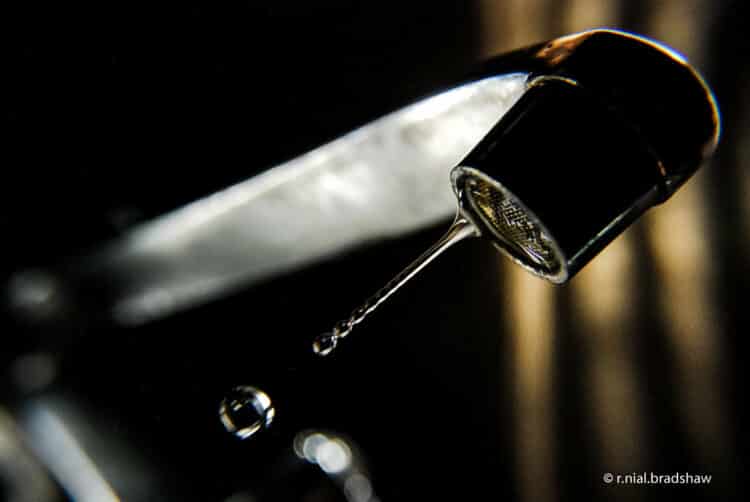 From your favorite home-cooked meals to a refreshing glass of water, families depend on access to clean and safe water each day. We hate to burst your bubble, but one of your most trusted water sources might not be as safe as you thought – your faucet.
It might surprise homeowners that clean and pure water is not so easy to come by. Most homeowners still need to take precautionary measures to ensure that their water supply is safe from pollutants and contaminants.
Whole-home water filtration systems can be expensive. The good news is that affordable and effective water filters are now available on the market! One of the best investments you can make to ensure your family's safety is installing a faucet filter.
We've compiled some of the best faucet water filters on the market to ensure your water supply's purity and cleanliness. We'll also guide you through the key factors to consider when buying a faucet water filter.
PUR 3-Stage Drinking Water filter for Faucet Tap
This easy-to-install faucet water filter from PUR should be among your final list of choices! Don't underestimate the power of this compact device. The PUR 3-Stage Drinking Water filter ensures superior contaminant removal and the most reliable water filter system.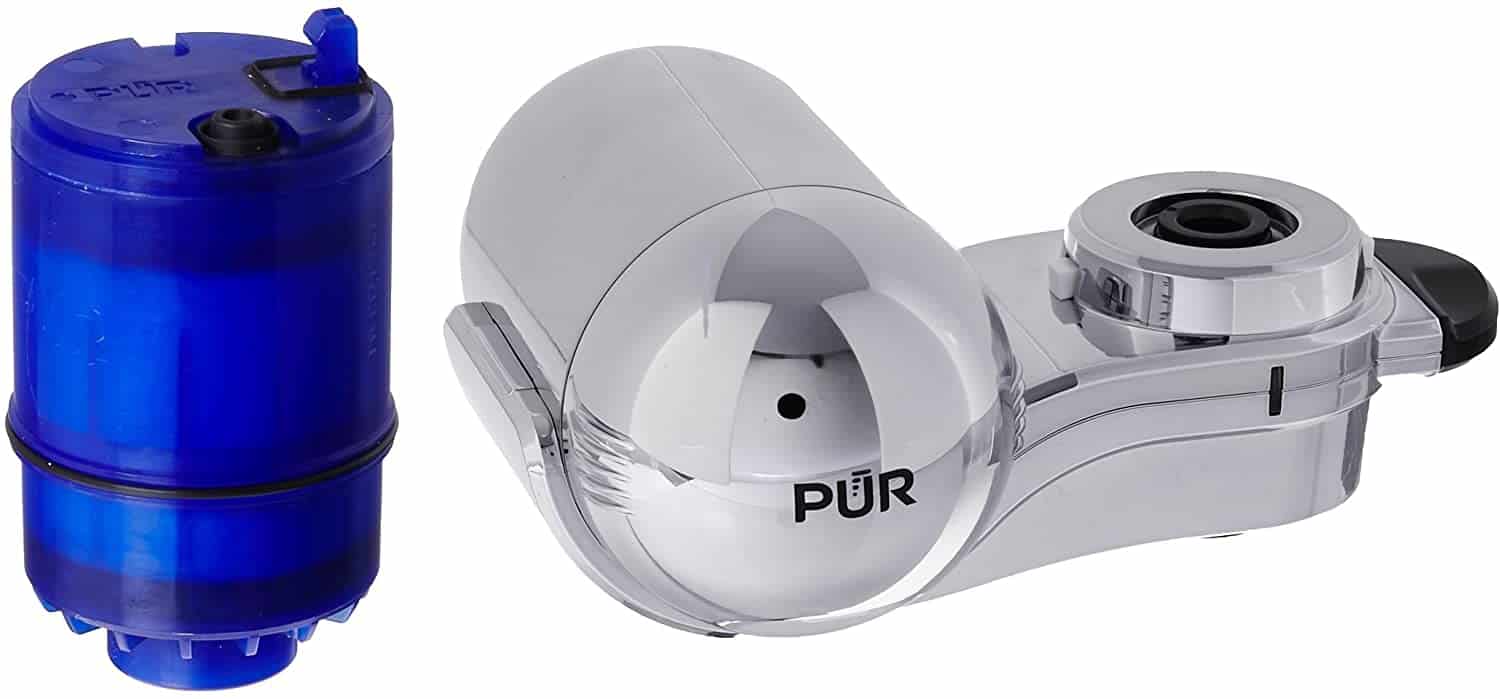 Specs
Removes 92-99% of contaminants and chemicals
ANSI/NSF certified
Removes unpleasant tastes and odor
Filter up to 100 gallons of water (2 months)
Three-layered filtration system
Compact and Easy-to-install
For busy homeowners and newbie DIYers, this water filter is your best bet! Within a few minutes, homeowners can set up this ultra-reliable filter in their home faucet. What's more, the filter is also user-friendly. Simply switch to filtered water by pulling out a knob on the product.
The product comes with connectors that even the most amateur DIY enthusiast can figure out. The PUR is compatible with most standard taps, so users won't have to worry about extra adapters and additional construction expenses.
This compact and lightweight filter is made of plastic. Still, homeowners will be surprised to find that the filter comes in various finishes to accommodate all home interiors. The PUR filter will look great in any kitchen or bathroom!
Culligan filters are also a great option for homeowners on a budget. They have adapters available that can accommodate almost any size of pipe tubing. There's no need for complicated construction.
Thorough cleansing
The PUR filter provides the safest and purest water you could possibly ask for! With its three-layered filter system, homeowners can rest assured that only fresh and clean water enters their homes. Activated coconut carbon is used to trap sediments, cysts, and harmful chemicals and impurities that might damage your health and water quality.
This product is certified by NSF international to significantly remove any traces of lead, mercury, and pesticides. The PUR filter can treat and filter 100 gallons of water. That's enough water to last up to two months.
Homeowners who are concerned about water taste and smell can opt for this PUR filter. It is certified to improve the turbidity, taste, and odors of your water supply. Rest assured that you can safely drink, cook, wash sensitive skin and clothes, and garden after purifying their water with this PUR water filter.
Pros
Easy installation and maintenance
Certified by NSF/ANSI
Ideal for cooking and drinking
Affordable price
Comes in a variety of finishes to fit any decor
Cons
Customer complaints of leaking due to connectors
Waterdrop WD-FC-01 NSF Certified 320-Gallon Long-Lasting Water Faucet Filtration System
Although water drop is new to the water treatment industry, the company has gained a loyal customer following its reliable and innovative water filtration processes. This faucet filter from Waterdrop guarantees long-lasting protection from contaminants to provide safe and clean-tasting water.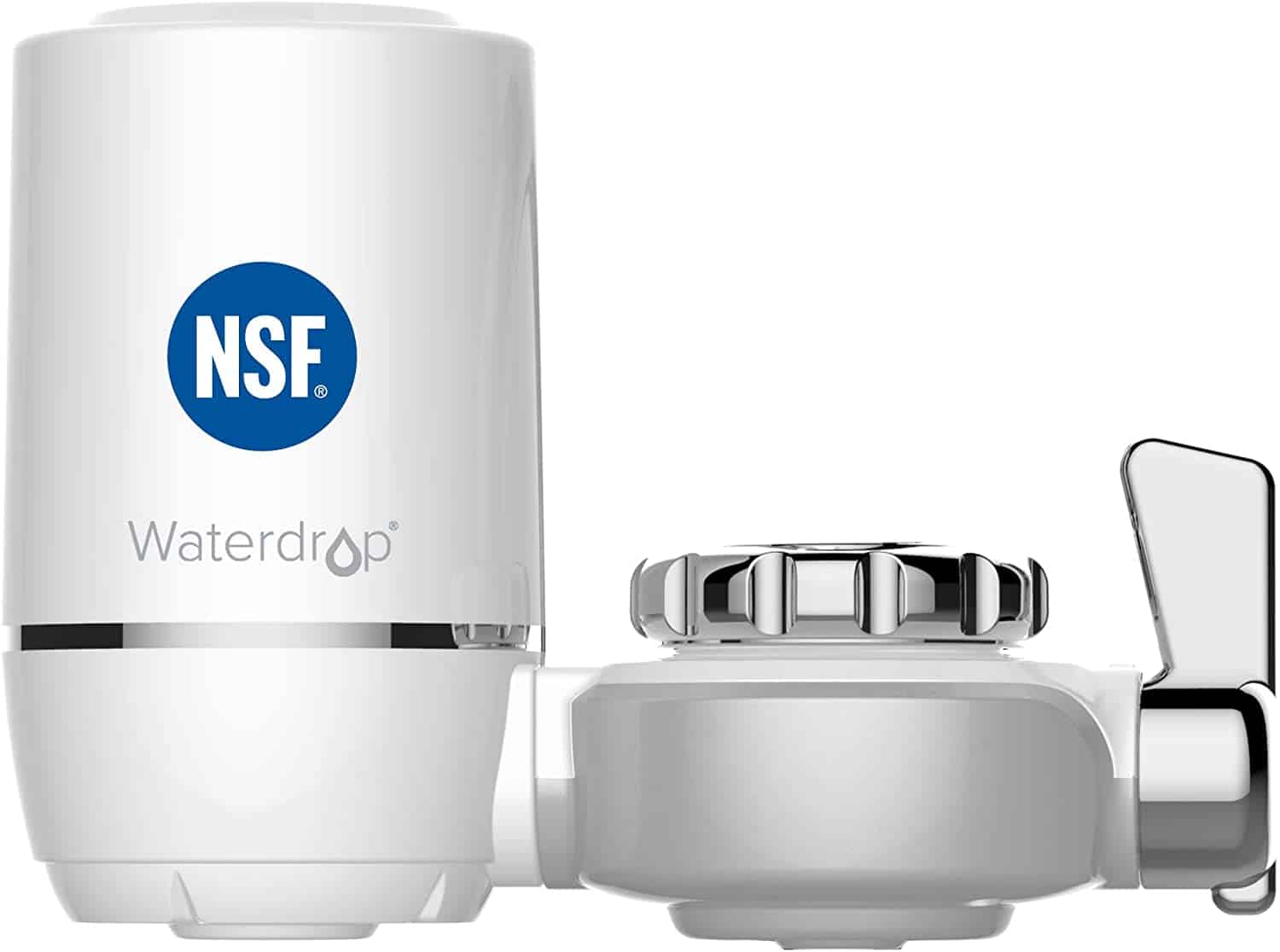 Specs
Filter up to 320 gallons (3 months)
Activated carbon fiber and pre-filter layer
ANSI/NSF certified
Significantly reduces lead and chlorine content
Improves smell and taste of water
Long-lasting protection
This powerful faucet water system from Waterdrop has a high-capacity filter of 320 gallons. That's powerful enough to fresh and clean water in the next three months! That's twice as long as most faucet water filters. This makes maintenance and replacement convenient for busy and on-the-go homeowners.
This system is convenient and user-friendly. The product can easily switch from regular to tap water with a switch. The product also has leak-proof technology that is compatible with most standard faucets. This simple and dependable design ensures that your product will provide reliable service for a long time.
Quality and pure drinking water
The Waterdrop faucet filter is guaranteed to provide homeowners with clean and fresh-tasting water. This Waterdrop filter is NSF/ANSI certified to reduce chlorine and to improve water taste and odor. The system is guaranteed to remove any traces of harmful chemicals through its comprehensive filtration system.
The filter features an innovative ACF material that meticulously and efficiently filters your water supply. Homeowners can fill up to four water bottles with filtered water each minute. This innovative filtration technology significantly reduces lead and chlorine content to provide only safe drinking water for your family.
Pros
Large capacity
Certified by NSF/ANSI
Powerful filter against lead and chlorine
Cons
No indicator for replacement
DuPont WFFM100XW Tap Water Filter White Chrome
If you're looking for a handy and reliable water filter, you can't go wrong with this product from Dupont. The product is affordable and convenient to install. It's also certified to protect your water supply from harmful contaminants and chemicals.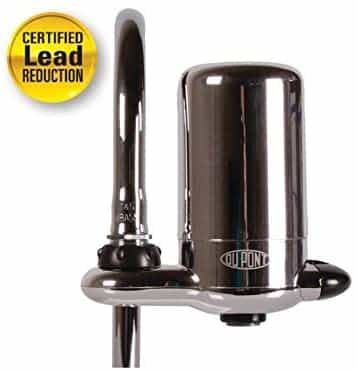 Specs
100-Gallon Filter Capacity
Removes 99.9% of Microbial Cysts, Cryptosporidium, and Giardia
Advanced Four-Phase Protection and Filter
Flow rate: 0.5 gallons per minute
Made from stainless steel
NSF/ANSI certified
Convenient and compact
The DuPont water filter is one of the most reliable systems you'll find in the market. The product comes with convenient and easy-to-install parts that make it simple for homeowners to have clean and purified water in their homes!
The DuPont faucet filter is also ergonomically designed to save valuable counter and sink space. The faucet filter conveniently perches vertically atop the head of your tap to save space.
Healthy and safe water
Although one of the most affordable water filters in the market, homeowners can rest assured that they'll get the same benefits as high-end water treatment systems. The filter can treat up to 100 gallons of water – that's two or three months' worth of water. If you'd rather increase treatment capacity, users can opt for the 200-gallon filter.
DuPont ensures that all its products are NSF certified. This faucet filter is certified to lead, mercury, chlorine, and other harmful chemicals and sediments, thanks to its comprehensive four-phase filter. DuPont has also made it a point to improve your water supply's overall quality, which includes odors and tastes.
Pros
Easy installation and maintenance
Affordable
Certified by NSF/ANSI
Multiple colorways
Cons
Users report leakage issues
GEYSER EURO Water filter for kitchen tap
This water filter from GEYSER EURO is a powerful option that is efficient and extremely easy to install and maintain. This efficient faucet filter will ensure that you get purified and clean drinking water that can be trusted by the whole family.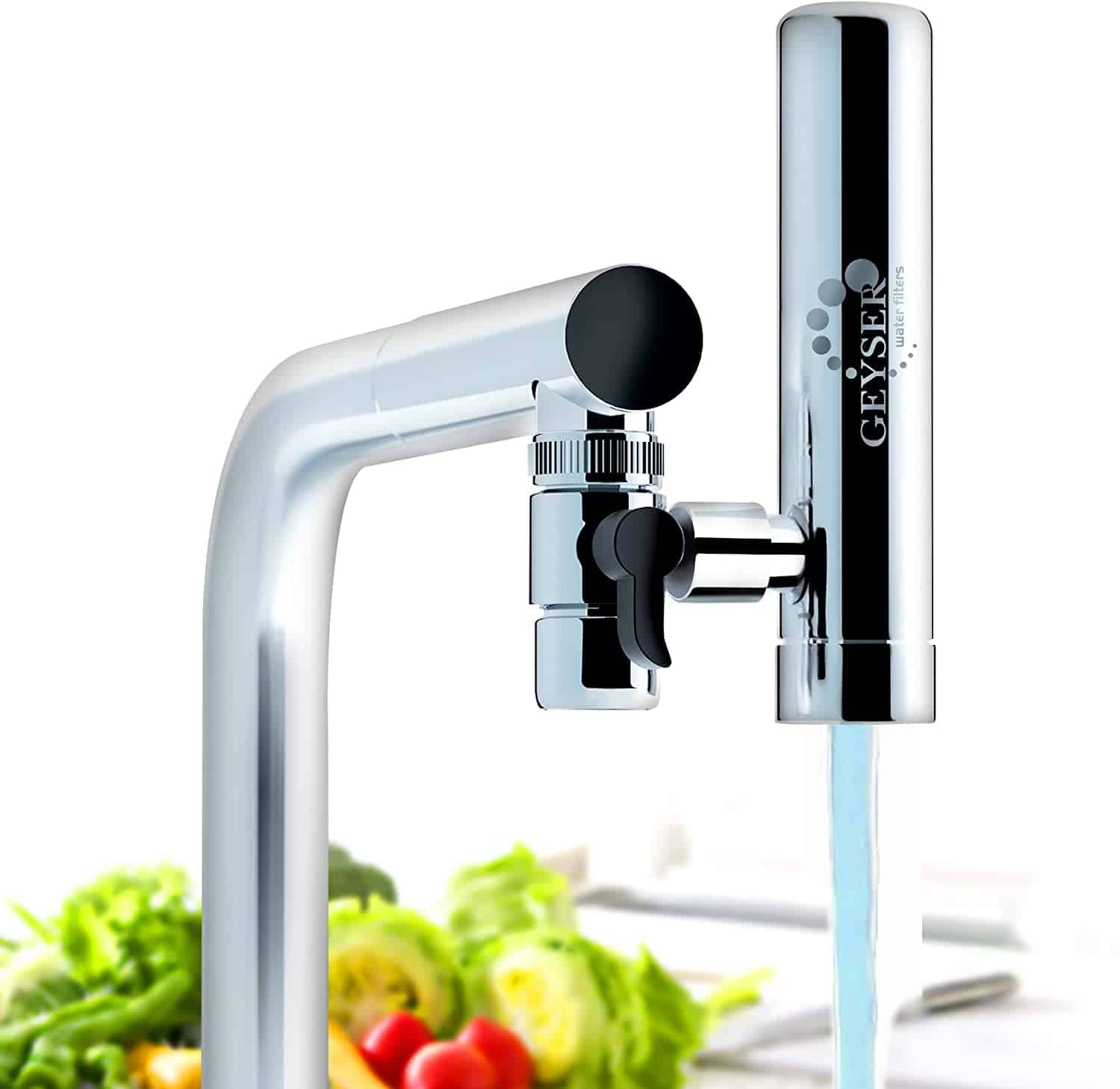 Specs
Ion Exchange
3000 liters (4 months)
Purification on and off switch
Includes silver-impregnated ceramic candle to prevent bacterial growth
Improves water taste and odor
Convenient and user-friendly
Homeowners can easily install this powerful faucet filter into their homes thanks to its mountable features. The product can conveniently fit standard taps with threads of 22 and 24 mm, so DIYers won't have to worry able additional plumbing and construction work.
Thanks to its compact design, this stylish filter can fit in any kitchen or bathroom decor! Though the product is small, homeowners can rest assured that it provides powerful ad maximum protection through its several filtration stages. Homeowners can safely use treated water from the GEYSER EURO for cooking and drinks without worrying about contaminants.
This product is also convenient for busy homeowners who just don't have enough time to replace their filters every month. The GEYSER EURO water filter has a service life of up to 3000 liters, which's enough to treat filtered water for up to four months!
Effective and efficient
This reliable water filter has an efficient design that allows users to easily switch between filtered water and tap water for their different needs and chores. The GEYSER EURO owes its effectiveness to the properties of ARAGON material developed by the company's specialists.
According to GEYSER EURO, the innovative RAGON technology is the optimal solution to water purification. This faucet filter has an effective three-stage filtration system that removes active chlorine, VOCs, heavy metals, viruses, and bacteria to ensure the whole family's health and safety. Homeowners can also safely use this purified water for sensitive technical needs such as cleaning and doing laundry.
Pros
Compact and easy to install
Convenient self-indicator for replacement
Large capacity
Long service life
Innovative filtration system
Easy to install
Cons
Culligan FM-25 Faucet Mount Filter with Advanced Water Filtration
This water filter from one of the most reputable names in the water treatment business won't let you down. The filter has a sleek chrome finish that will look great in any home. When it comes to Culligan products, the real catch is the power and reliability of their products.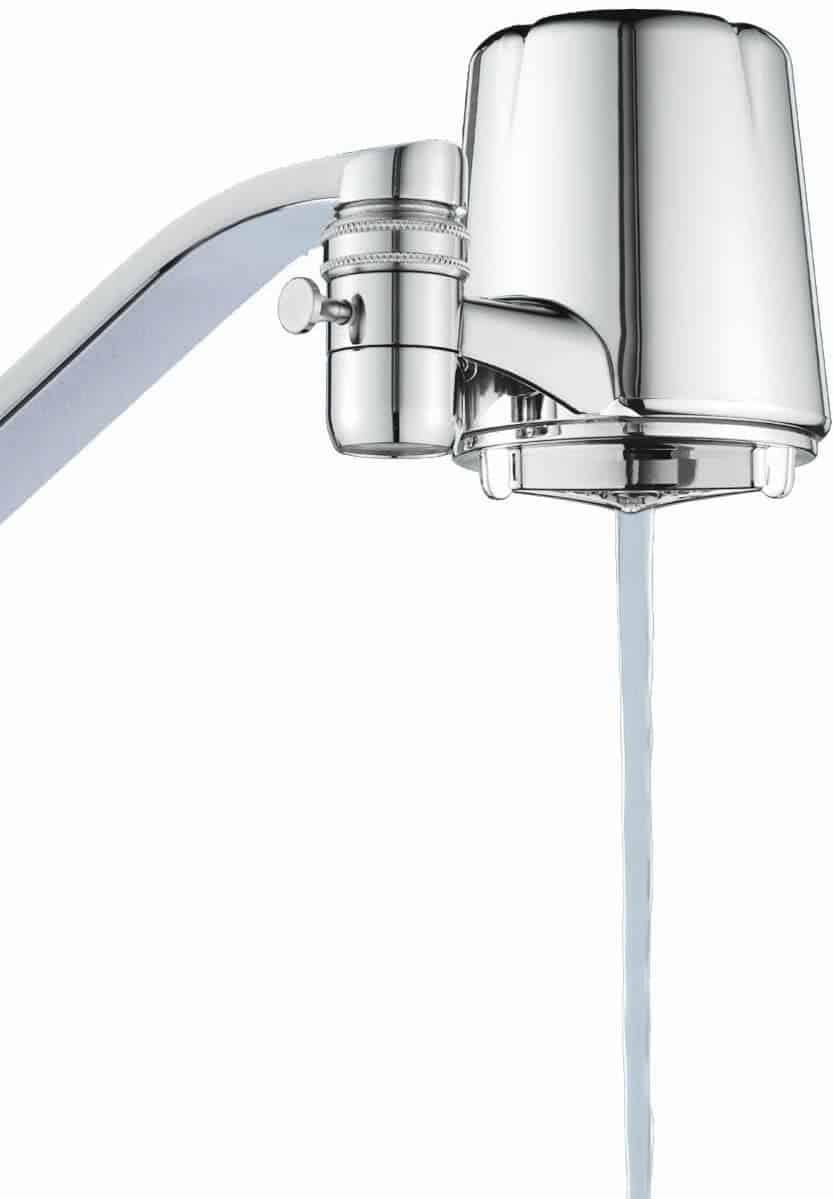 Specs
200-Gallon Filter capacity
Reduce Sediment down to five microns
Remove 97-98% lead and chlorine
Removes cysts, herbicides and insecticides
NSF/ANSI certified
Thorough purification
This water filter system goes through a comprehensive water filtration and enhancement process! This is certified to remove the most harmful chemicals and contaminants in your water supply. This includes lead, chlorine, large sediments, heavy metals, and VOCs. Protect your family from harmful pharmaceuticals and unpleasant water quality as well.
The system is NSF and ANSI certified, so homeowners don't have to second guess the Culligan FM-25. The filter is certified to remove up to 98.8% of lead and 97% of chlorine. Users can also rest easy knowing that their water supply is safe from select herbicides, insecticides, disease-causing cysts, and Cryptosporidium.
Convenient and reliable features
Most users are wary about water filters due to the reduced and inefficient flow rate. Homeowners don't have to worry about that aspect with the Culligan FM-25. Fresh and purified water is immediately available upon demand with the system's half-gallon per minute flow rate. That's enough to fill up a standard glass of water in around seven seconds!
The Culligan faucet filter has a comprehensive filtration system with a five micro rating, which is one of the best deals you can find in the market. This filter can treat up to 200 gallons of water, and it can easily be replaced in the FM-25's reusable housing. A diverter tab is also present, which extends the service life of the filter.
Pros
Large water capacity
NSF-ANSI certified
Meticulous filtration system
Reliable water pressure and filter
Sleek chrome finish ad compact design
Cons
No indicator for replacement filter
Engdenton Faucet Water Filter Stainless-Steel
This faucet filter from Engdenton is a premium-grade and certified water filtration system that will ensure the safest and purest water for your household. Homeowners also love that the product is made from a stainless steel exterior that is both durable and sleek.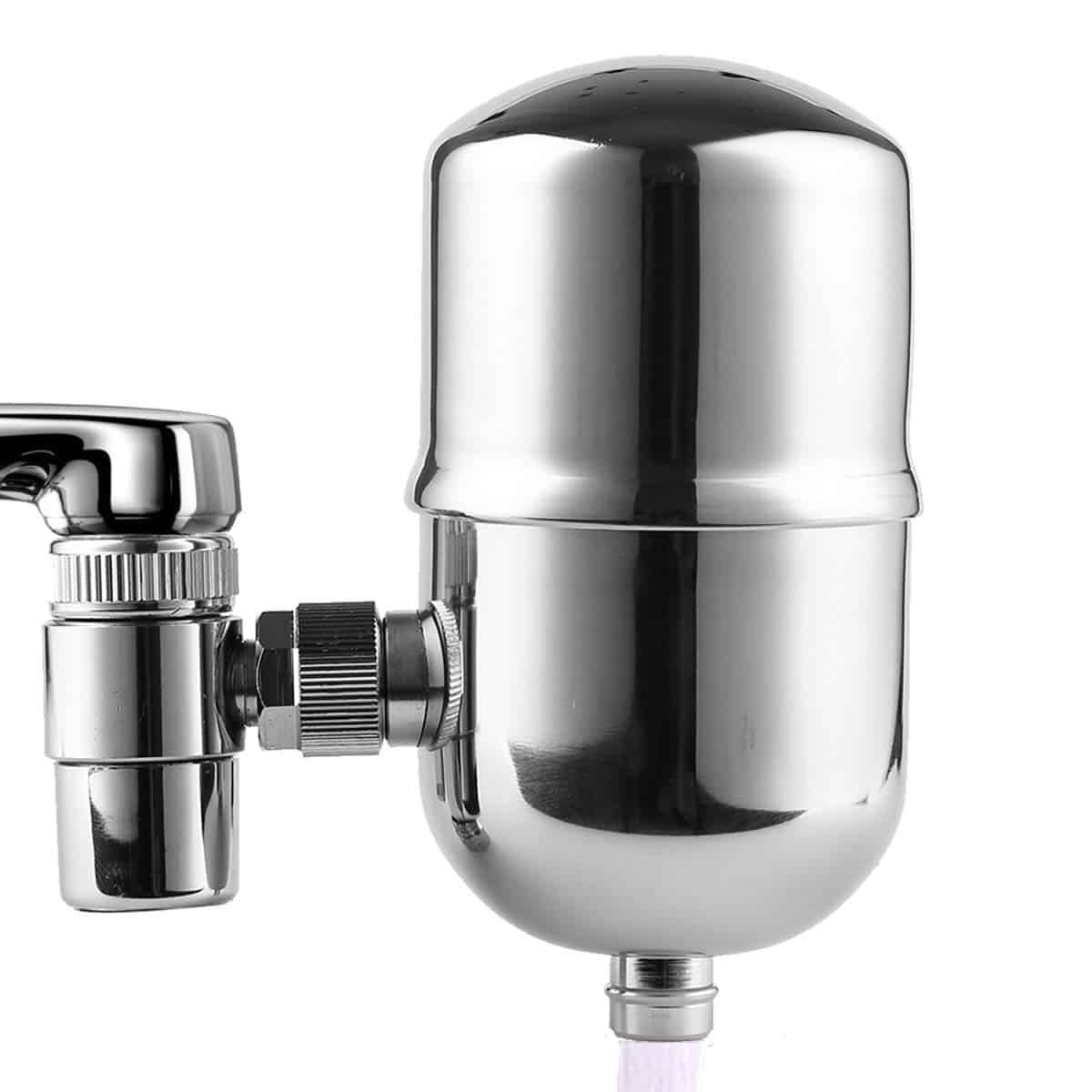 Specs
High-quality food-grade 304 stainless steel housing
Activated Carbon Fiber (ACF) filtration technology
Designed to improve mineral content and water alkilinity
Removes chemicals, dirt, sand, rust, heavy metals, chlorine, and other contaminants
Improves taste and water quality
320 gallons (6 months)
Quality performance
The Engdengton faucet filter incorporates a comprehensive water filtration system that works to remove the most harmful chemicals and contaminants in your water supply. The system also uses a reliable filter treatment method to convert water into its purest and cleanest form.
According to Engdenton, they use a filter made out of Japanese carbon fiber, about ten times more effective and long-lasting than standard filters. This filtration system removes up to 99% of harmful chemicals and sediments, including lead, mercury, chlorine, arsenic, fluoride, and about 70 other contaminants.
What's more, each product from Engdenton undergoes meticulous lab-testing for air leaks and pressure and cycle resistance. Users can rest easy knowing that they'll get high-performance and premium quality products from Engdenton.
Convenient and reliable
This water filter is one of the most robust and reliable models you can find on the market. Due to its strong stainless steel body, the Engdenton faucet filter is sturdy, durable. It eliminates the potential for damage and leaks.
The filter is also extremely durable and long-lasting. Users can have the convenience of changing the filter only twice or thrice a year – a convenient set-up for busy and on-the-go homeowners.
This premium water filter system is straightforward when it comes to installation and maintenance. Engdenton provides a complete and easy-to-understand installation guide complete with well-organized written instructions and videos even the most amateur DIYer can follow.
The system comes complete with adapters, so homeowners can rest assured that this reliable filter is compatible with most faucet models.
Pros
Made from robust and durable stainless steel
Filter lifespan is longer than most
Innovative active carbon filter
Convenient and easy installation and maintenance
100% customer satisfaction
Cons
Not NSF/ANSI certified
No filter indicator for replacement
[table "lt14gt" not found /]
Shopping considerations for Best Faucet Water Filter
To ensure the safety and health of your family with safe drinking water and a faucet filter are a great choice, especially if you're on a budget.
To guide you through this important decision, read up on the key factors you need to consider when choosing the best faucet water filter for your home.
Key Features of Best Faucet Water filter
There are several key considerations to read up on to ensure that you're providing your family with water safe from contaminants and chemicals. It can get complicated to find the best product for your home, considering the wide variety of faucet water filters in the market, varying in construction, design, and filter medium.
When reviewing faucet water filters, make sure to consider these key factors:
Filter
The filter is by far the most important element of your water treatment system. Different filters will have varying effectiveness levels and pros and cons. Some filters are great at eliminating chemicals, bacteria, viruses, and pathogens. In contrast, others are better at improving water quality taste and smells.
The first step is to determine the specific contaminants in your water supply. From there, you can make a decision on the best filter for your household. Carbon-activated and charcoal filters are your best bet for removing carbon-based toxins and chemicals.
Granular filters are an all-around choice for homeowners looking for a filtration system that can deal with various issues.
Filter rate
Water filter rate measures how many gallons of water can be treated per minute or per day. This is usually indicated by a number in GPD or gallons per day. From this, users can estimate how much water a system can treat. It also indicates the lifespan of their water filter.
Installation and maintenance
Make sure that the filter you choose has a user-friendly installation and convenient maintenance system. Most filtration units will require routine maintenance every month or so. Go with a large capacity filter that will make it convenient for you to replace once in several months only.
Durability
Make sure to check the components that your water filter is made from. Since chemicals and contaminants will go through your water filter, it's particularly important to ensure that the materials are of robust quality.
Low-quality components will ruin the structural integrity of your filter system. That means you'll have to spend more on repairs ad replacement parts.
Certification and Licensing
Make sure to do your research and ensure that your filter's claims are backed by recognized NSF/ANSI certifications.
The most important certifications include protection against bacteria, pathogens, and cysts. Ensure that the system is also certified to remove chemicals and heavy metals such as chlorine, mercury, and lead. Some homeowners also take into account certification to remove unpleasant odors and tastes.
Conclusion
Investing in a high-quality faucet water filter guarantees the safety and health of any household. Make sure to get a water filtration system that is specific to your water supply needs.