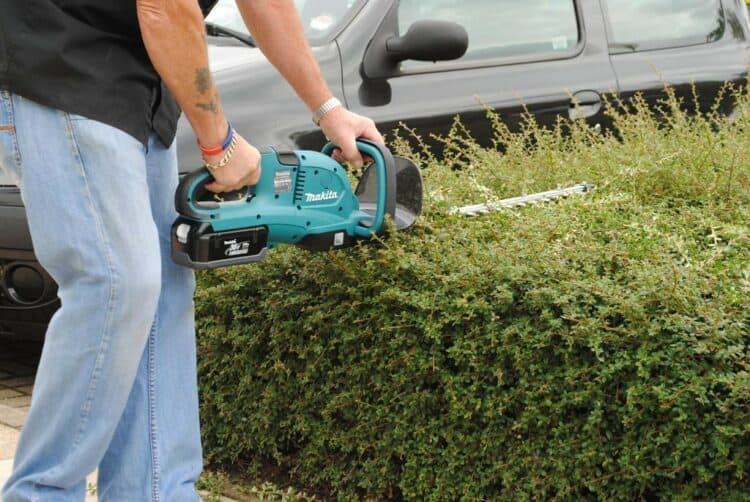 Cordless electric string trimmers are fast replacing gas-powered ones. And it's all for good reasons.
First off, cordless electric string trimmers are friendly. They are battery powered and, you can worry less about running out of gas.
Plus, while using these cordless trimmers, you do not need extension cords. Nothing is restricting your range of motion.
The challenge comes in picking the perfect cordless string. How do you know which cordless trimmer is more durable and convenient?
To help you answer that question, here is a buyer's guide to the perfect cordless string.
The battery
There are several factors that you can consider before settling for the trimmer. Yet, there is no denying that battery power is a deal-breaker.
But there are several tips and tricks you should keep in mind to ensure that your battery lasts long. These tips may bring all the difference.
One, you should always have an extra battery. That way, you don't have to wait for one battery to finish charging before you use it.
And two, only squeeze the trigger when trimming. That is what drains the battery.
Although gas trimmers are powerful, there are battery powered trimmers as powerful.
These, can complete the same tasks that the former trimmers can.
The battery life of these trimmers is long and perfect for the job. Here are two types of rechargeable batteries that you can use for your lawn tools.
Ni-Cad batteries
These us older battery technology. They are also less available.
The downside of these batteries is the weight. They are too heavy and do not provide a consistent power output when the battery runs down.
It is better to upgrade to the lithium-ion battery if you want to have better service.
Lithium-ion batteries
These are the standard batteries that most people use. But, both types of batteries can still do the job.
Most people prefer lithium batteries for several reasons. It is the most recent innovation in battery technology for powering trimmers.
Its design is to help improve performance. These batteries are lightweight.
Your string trimmer will weigh half the weight it would when you use Ni-Cad batteries.
Lithium-ion batteries are also more durable. You can recharge them three times before replacing it.
But before replacing the battery, it would be best to refer to the product manual. That way, you will know the amount of voltage your replacement battery needs to have.
And more so, you will get a consistent power output even when the battery runs down.
The trimmer shafts
These are the second thing people consider when picking the right cordless trimmer. And like the batteries, there are two styles available.
The straight and curved shafts. The straight ones are more common than the latter.
Depending on your height, you can adjust the straight shaft models (either short or long). That is because of the telescoping feature the shaft has.
These shafts are perfect for tight spaces or those that are hard to reach. You can also use straight ones to get under fences.
Even so, curved shafts are excellent for grass trimming or weeds in an open area. Trimmers with these shafts are less common.
Capability
Most cordless string trimmers are only perfect for single purposes. Still, other models are multipurpose.
Those models have a two in one capability. You can use the tool as both a string trimmer and a grass edger.
So, instead of shifting between tools, only one will suffice.
The string or the line
Now that you know the perfect cordless trimmer from the pointers above, it's time to talk about the string.
Regardless of the battery the trimmer use, you may still need to change the line or string in the future. That is because the lines can grow stiff over time.
But how do you know which string is perfect for your cordless trimmer? Well, it is best to consider the diameter as the deal-breaker.
The replacement line should have a gauge with a diameter between .060" and .095". That way, you will not need to worry about the performance of the trimmer.
Bottom line
The perfect cordless string trimmers are so for several reasons. And it would be best if you considered all these when picking yours.
The battery life is vital in ensuring that you have enough power to complete the task you set out to do. But that's not all.
And depending on where you plan to trim (tight spaces or an open area), your shaft should be able to reach those areas.
All in all, you are on your way to having more efficiency and convenience with your cordless trimmer.