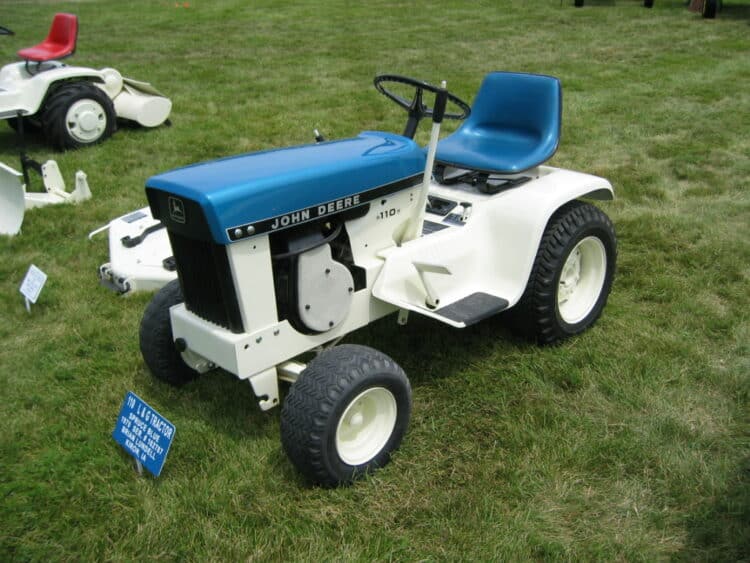 The arrival of autumn is always a sight to behold. The climate becomes colder, and the leaves turn golden-orange, yet when they fall to the ground it turns into a nuisance. The leaves then become a lot of things: they serve as a shelter for pests, they cover the grass, therefore closing it off to sunlight, and promote the growth of fungi and other grass diseases.
Other lawn rubble like grass clippings can bring about some issues as well. If you have a massive lot filled with grass along with a few trees, then it is your responsibility to keep everything tidy from all debris that befalls it.
So naturally, you own a riding lawnmower to cut the grass to keep it neat and dandy. But your only way to collect the lawn trimmings is manually gathering them on your own. So how will you do it better?
The good news is: there are mower accessories that can help you with that. These can be attached behind the mower and do the process of rubble-removal. These, in turn, will make yard clean-up a quick and easy chore that you can do throughout the year.
Tidying Up with De-Thatchers
Lawn clippings and dried leaves are what consist of the usual yard rubble, yet it is not difficult to gather them up. However, thatches are another situation entirely. These are thick plant matter that consists of dead grass and roots that are bunched together and usually stuck in the mower's blades. Yet if the lawn thatch is only a moderate consistency, it can assist your yard as a sort of insulation for the heat of the sun. But if the thatch is thick, it can damage your grass by blocking the necessary nutrients that it needs from the sun and water.
If the thatch on the grass is about ½ inch, then you need to start the de-thatching process. You can attach the prongs on the de-thatcher, which you can tow behind the mower. It will pry loose the tangled mess of thatch from the surface.
A rake or a pushcart de-thatcher can do the de-thatching job in a small yard, but if you have a massive lot, then a tow-behind de-thatcher can be crucial in this case. It can be purchased as a separate attachment or as an accessory that you can install behind a lawn sweeper. It can do the job of loosening the stuck thatch on the ground and gathering them in one wide sweep.
Sweeping Your Wide Lawn with Lawn Sweepers
This fantastic buggy-like attachment functions like a broom that brushes the debris away from the lawn. The good thing about it is that you would not need to carry it with your hands. Its bristles are connected to an axle and will enable to push the rubble to a hopper for storage.
It is specifically made to sweep off dry leaves and grass. It does not function like a grass sweeper that you can push behind because of the usage of an engine as a propellant. These kinds of sweepers that you can tow behind do not have a motorized engine but depend on the pulling action of the mower attached. It will do the chore of sweeping lightweight rubble. For commercial establishments that have humongous lawns, the way to cover more surface area is to employ tandem sweepers.
The lawn rubble that this type of sweeper can remove is plant petals, lawn clippings, fallen leaves, and pine needles. It is also handy for sweeping lawn rubble even though you do not want to trim the lawn.
On hot summer days, you can utilize a bagger attached to your mower to take away trimmings.
Do not mow your grass in the months of autumn because it does not grow at that time or any period when it becomes obvious that your lawn does not need mowing. Yet you are still able to use it, not by mowing, but by sweeping off the clippings and other debris with the handy lawn sweeper.
Sucking the Rubble Out With a Yard Vacuum
This device can do the task of lawn sweeping. However, it is a more effective tool because of its awesome suction ability. You can get the job done quickly and more efficiently.
This type of lawn cleaner has its gas engine, which you can attach and tow behind your mower.
It is specially created to link up to the discharge chute of the mower. It used its gasoline-powered motor to make a hurricane of sucking power. Some current models have a vacuuming suction force of eighty MPH.
This lawn device is a better option than a yard sweeper because of three reasons:
If you want to chop down the sucked rubble into smaller pieces, some models have impeller blades attached inside.
The vacuum container that loads debris is much larger and can store rubble than the rather smaller hopper of the sweeper.
A detachable hose can be used to clean corners.
This lawn equipment is known to be heavy, so you need to check first the manual for the weight limit of your yard mower before purchasing one.
Collecting Nuts with a Nut Gatherer
Nuts are entirely different from light lawn materials like grass and leaves. A grass vacuum or sweeper could not do the job of collecting nuts from the ground, so you need different equipment to do the job.
If you have nut-bearing trees, you need a nut gatherer to pick them up. Since nuts have smooth outer shells, a vacuum could not pick them up. Because they are heavier than lawn trimmings, a sweeper could not brush them away.
You can attach it behind the mower, like the other attachments mentioned above. It has a prong-like instrument to pick them up. It comes with different lengths, widths, and configurations, so you can sweep up the nuts in a single stroke and can cater to different kinds of nuts.
There are many kinds of mower attachments that you can choose from for different types of yards. So if mowing only does half the job in your yard, then these attachments can finish the task by cleaning up the rest of the yard.