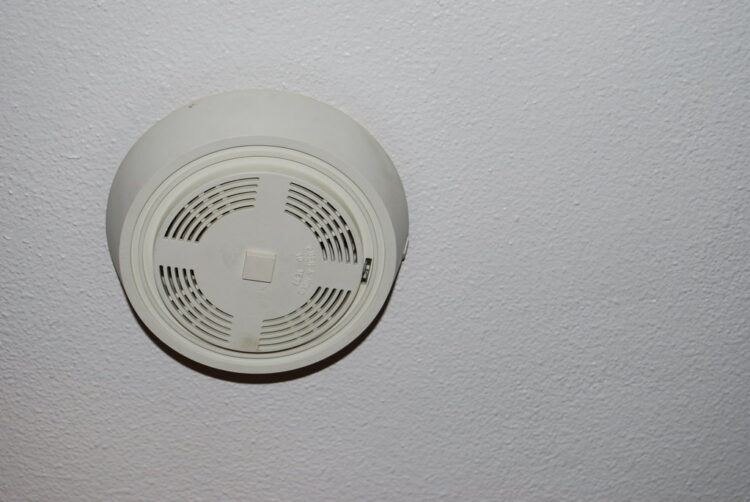 Every year many people die because a fire alarm failed to go off when a fire broke out. The main reason is that alarms' batteries die.
Or sometimes people remove them because of false alarms. Or, the detector was past productive life or far away from where people could hear it.
You can avoid such misfortunes in the future. Learn ways that show you how to check if a fire alarm is working.
Replace it if it is not operating. You also get to know what is new and upgraded with fire alarms.
How to stop fire alarm chirping and turn off the unit
As you check to see if your alarms are running, you'll have to know how to switch the alarm on and how to stop fire alarm. The test to make sure the alarm is working is simple.
Push the button called test button and if the detector is okay, the alarm will sound. Sometimes an alarm getting powered by batteries does not sound. Put in some new batteries and perform the test again.
A hardwired unit that gets examined and gives no sound needs replacing with a new unit. Always inspect the label to see the date. Then you will know when to replace the system.
Generally, smoke indicators are to be in use for ten years, after which you can replace them. Some detectors give a chirping sound at the end-of-life. But some die without a sign.
You should thus know when to replace fire alarms at their expiration date. Most fire signals have a 'replace by' sticker on them.
If you cannot see one on your unit, detach the detector from its support after rotating it. There should be a tag inside it or an embossment on the plastic.
If the detector passed the test but is past ten years old, replace it. Whenever you check an alarm and it has stayed for a long time with no date code on it, replace it. Whether it passed the test or failed to pass the test.
A few things to know before buying a replacement for the alarm
Check if yours is a hardwired fire alarm
To know whether yours is a hardwired alarm, rotate it to remove it from its root. Then disengage it from the wall.
If you see any wires, that means the wires are connecting them. It is powered by your home's power source.
The replacement has to be a similar hardwired unit. Do not replace the unit with one that uses battery power.
Know whether your smoke detectors are interconnecting
When hardwired smoke detectors are interconnecting, they work together. They make sounds when one alarm senses fire.
Apart from that, look at the number of wires in the unit's electrical box. If the wires are three, there is an interconnection. If the wires are two, there is no interconnection.
If your home was there before 1989, hardwired detectors are likely not interconnected. If you are not sure, count the wires in the alarm's electrical box.
But, if your home was after 1989, by then building codes had a rule. The dictate was that all hardwired fire alarms should have interconnection.
Either way, before replacing your alarm, these are things you have to know. Whether your current alarm has an interconnection or not. Then you can buy the right units for replacement.
Get interconnected alarms that do not use wires
Interconnected alarms use radio frequency (RF) to communicate. This befalls both battery-powered and hardwired alarms.
It is, therefore, possible to interconnect hardwired non-interconnected fire alarms. Even with wireless interconnected alarms. You can still add wireless detectors.
In the end, you will manage to have a reliable system of alerting you in case of fire breakouts. Meanwhile, you will not have to add more wires.
Do you want to add battery-powered units to hardwired interconnected alarms? In that case, all you need to do is replace a hardwired unit with a bridge unit. Afterward, you can add the battery-powered units.
Sometimes the issue is having non-interconnected alarms powered by batteries. Replace them with interconnected beamed battery-powered alarms.
Dual-sensored fire alarms are the best for bedrooms
Most homes have installed ionization detectors that sense blazing fires. They are less costly than photoelectric units which sense smoldering fires.
Sometimes you question whether to go for a photoelectric smoke alarm or ionization. Fire experts propose that it would be advisable to fit both types in every room in your home. Especially in the bedrooms.
Both types combined go by dual-sensor detectors. One of such costs $50 and it is not necessary to mount many of them on ceilings or walls.
But for sleeping areas and corridors leading to those rooms, get two dual sensor fire alarms installed.
You also need to install a photoelectric fire alarm. It must have battery backup.
Include an extra fire alarm ionization unit with carbon monoxide sensors. There should also be an escape light that guides in the smoke and darkness through fires.
Photoelectric smoke indicators are preferable. Particularly for the kitchen and hallways leading to the bathrooms.
This kind will not trigger false alerts. Such empty warnings are due to cooking fires and steam found in those areas.
Try Talking fire alarms
These are among the latest types of fire alarms. With them, you can program the place you have installed them.
You pre-record your voice into the devices of the location you have set them. They give off warnings by spoken word.
If a fire erupts the detectors will warn of the location in a unified voice. It helps people know which route to take while evacuating.
Wi-Fi enabled detectors and those controlled by applications installed in smart devices
With these types of installations, monitoring the home is possible from anywhere. You will get notified when anything goes wrong and you will be able to respond.
You can also read the level of carbon monoxide from the device. A false alarm can shut off using an app.
Improved ionization detectors
Nowadays they have advanced software that reduces the likelihood of false warnings. It is still safer not to install the alarms in kitchens and bathrooms and other steamy or fumy areas.
How often should you replace smoke detectors?
Replace the smoke indicator ten years after installation. You can write down the fitting date on a piece of tape and stick it on the detector as a reminder.
This rule does not apply to all smoke detectors. Some need frequent battery changes. While others become dysfunctional and need replacing before the end of ten years.
Make sure to install a carbon monoxide detector
There are options for carbon monoxide detectors. There are fire alarms with a carbon monoxide sensor that is in-built.
There are also plug-in detectors that are battery-powered or that have battery backup. You can install them everywhere in the home.
Check on the replacement recommendations. Some carbon monoxide sensors need replacing after five or seven years. This varies as per their sensing technology.
Recycling old detectors
Look into recycling organizations in your area. Some would be willing to take the old detectors.
They will likely accept photoelectric detectors. Ionization detectors get rejected because they have radioactive substances.
Minimum mandatory requirements for installing fire alarms
The National Fire Alarm and Signaling Code (NFPA 72) gives specifications for alarm fixing. They need people to at least have smoke alarms in every bedroom and outside those sleeping areas.
They also need people to install some alarms on every level in homes. Further, there should be more alarms installed for larger homes. They noted that unfortunately many homes of the old model did not follow the instructions.
Enforcing authorities and homeowners should be informed. The need for fire detection has gone up. They should be intentional in making sure that all homes are well equipped with smoke alarms.
These requirements were after fire research. The research shows that materials in our homes cause a fire to spread faster. When natural materials were in use, the fire did not spread as fast.
An installation guide to use in your community
There is a guide to make the installation of fire alarms in your community successful. It is the Planning and Implementing a Successful Smoke Alarm Installation Program.
The guide gives everything you need to get moving. You will get directed on how to publicize your program, get donors, and pick out volunteers.
What to look for when installing fire alarms
The description on the detector should be the name of an approved testing lab. For the detectors installed outside of bedrooms, install them in the living area. And also at the staircase leading to the next level.
Install the fire alarms at least three meters or ten feet from a cooker. Or other heat and smoke-emitting appliances. The fire alarms should be high up on ceilings or walls because smoke rises. Wall alarms should be at most twelve inches from the ceiling.
If you have a pitched ceiling, mount the detectors within four inches or three feet from the peak's apex. Install fire alarms away from doors, and windows. They should also be away from ducts where the wind could mess with how they work.
Install alarms from the same manufacturer to ensure compatibility. The alarm system may fail to work otherwise.
You should always refer to the instructions given by the manufacturer. Follow them for maintenance of the smoke detector system.
Cleaning fire alarms and maintaining them using manufacturer's instructions
Use the instructions for directions on cleaning fire alarms. Dust and pollutants could affect the way the fire alarm detects smoke or heat from fires.
Use the guidelines that come with the detectors. Or from the internet, for cleaning smoke alarms. So that they can continue functioning well. Dust and dirt particles may limit the performance of the alarm.
Dusting the gadget is okay. But twice a year, commit to cleaning the smoke alarm. Disconnect it from its source of power then use a dry cloth, or compressed air can, or vacuum attachment to get rid of
the dust that has accumulated.
After you finish, reassemble the alarm and put it back on the ceiling or wall. Do not use liquid cleaners or sprays.
When should you change batteries in your smoke detector? How often should you replace your smoke detectors?
Some detectors powered by batteries expire after ten years. They give a warning that the battery is low.
Replace the smoke detector. But alarms with other types of batteries should have their batteries changed every year.
The alarm will chirp warning that the battery is low and needs replacing. When changing the batteries, go through the list given by the manufacturer.
There are specific brands and models of batteries whose use is advisable. Follow the manufacturer's guidelines. If the specified battery is not used, the smoke alarm may get dysfunctional.
Interconnected smoke detectors make it safer during fire outbreaks
A survey was recently done. It was about homes that had experienced fires.
The Consumer Product Safety Commission (CPSC) was behind the survey. It included those homes that did not call the fire station.
They observed that interconnected smoke alarms worked well. They alerted people in homes to fires. Sometimes people knew of fires even though they had not heard smoke alarms.
Exit plan when the fire alarm sounds an alert
Whenever the fire alarm sounds, it is likely there is a fire or something is amiss. You should get away from the house. You should have a plan to do that.
Plan safe ways of escape. Make sure there are at least two ways of getting out of any room in the home.
Be very intentional when feeling the doors. If any of the doors is hot, do not open them. Use an alternative way out of the house.
Always remember to crawl. Do not walk upright because smoke and temperatures from a fire rise. But, closer to the floor, the heat and smoke will not be as much.
You should all meet at a spot outside the house that was pre-arranged to see those who were able to get away. Once outside, contact the fire department. Give your address, full name, and any other required information.
Never go back to a burning building. Wait for the firefighters to arrive.
Conclusion
Practice the dos and don'ts of installing and maintaining a fire alarm. Always prepare to respond when a real threat from a fire happens. That will save lives.