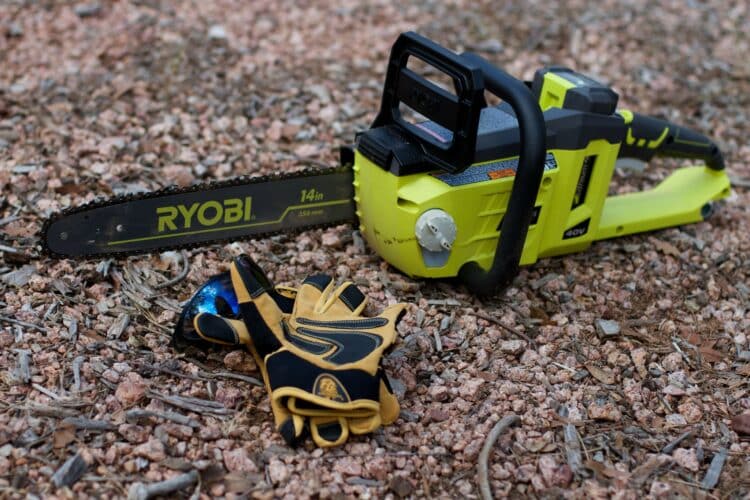 When it comes to labor-intensive construction projects or yard work, proper use and handling of chainsaws can be your saving grace! Chainsaws are a powerful tool to have in your arsenal through thick and thin, from felling a tree that threatens to topple over your home or if you need to make some firewood during a cold winter night!
Although chainsaw designs might seem similar, there are different chainsaw types made for every project you can imagine. A basic chainsaw is portable and has a sharp set of teeth that rotates along a guide bar. These are usually used for simple yard work and maintenance. Innovations in tool design have us seeing the benefits of using chainsaws in the medical field and large-scale construction work.
Aside from understanding chainsaw types and applications, successful and responsible chainsaw users should sharpen their knowledge on chainsaw maintenance and safety. At Kyle's Garage, we work to give our loyal followers and supporters the most comprehensive and relevant information on power tools – including chainsaws. This includes every single part that makes up your chainsaw, from power options to its sharp set of teeth! We want to help you know the ins-and-outs of your chainsaw so that we can help you use your power tools to the fullest.
Getting to know your Chainsaw
Types of Chainsaws
To maximize your chainsaw to the fullest, the first thing you need to do is to make sure you're using the right one! Let's start with a short yet detailed description of the different chainsaws you can have in your tool shed.
Chainsaws can be classified according to their application or power options, so let's focus on those two categories. When it comes to the first category, different chainsaw types will be designed for the convenience and optimal results for that specific application or material. The most common use for chainsaws is probably its various approaches to cutting wood. There's tree felling, limbing, pruning, and bucking. Specialized chainsaws can cut through heavy-duty material like brick, metal, concrete, and even diamonds.
Another thing you'll have to be careful about is proper chainsaw maintenance according to the power options. Most chainsaw operators still choose gas-powered models because of their power. Keep in mind that these models are less convenient to use and more challenging to maintain than electric-powered alternatives. These are heavier and noisier to use. You'll also have to think about the best fuel. Most gas chainsaws will work on a blend of gasoline and 2-cycle oil.
If you're only into simple to moderate construction work, consider getting a corded or battery-powered chainsaw. While these are less powerful than gas-operated ones, it's easier to use and simpler to maintain. Make sure to look into cord safety and the amperage rating of your extension cords.
Another option would be to get a pneumatic chainsaw, though you'd have to invest in an air compressor as well to have it run.
Chainsaw key features
Now that you have some basic knowledge of the different types of chainsaws let's get into detail about the most essential tool features you need to keep in mind! From a beginner's perspective, get a basic understanding of chainsaw types and these key features, and you're good to go.
Let's start with the part of your chainsaw that gets most of the work done: the chain. While most DIYers won't find a need to replace their chain, some operators that get into a variety of construction or yard work should look for a chainsaw model that can easily accommodate different chains. Get to know different chain spacing and teeth profiles according to your project needs.
We all know that chainsaw operations can be tiring and dangerous work. To reduce fatigue and hazards, it's best to cover all the bases when it comes to safety. Get a mode that has anti-vibration features and rubberized handles to reduce work fatigue. You can also opt for a saw that has a chain brake to protect against machine kickbacks. A chain catcher is also an important safety feature that can save you in case something is wrong with chain tension and maintenance.
Consider getting a model that has an automatic chain oiler. This feature makes sure that the machine is oiled and properly maintained by preventing premature wearing down and overheating. Operators can have both hands firmly on the chainsaw, which eliminates the need for an oil plunger. Even the most affordable chainsaws will have this device, so make sure to double-check!
Another simple feature that can do so much for user convenience is handle position. Top-handle chainsaws are great for simple yard work for their lightweight and compact design. These are best used at a height, which limits user stability. For greater maneuverability and ease in groundwork, you can opt for a wider rear-handle saw.
Chainsaw shopping considerations
If you're an amateur DIYer, there are plenty of flexible and convenient models that cost around 100 USD, 500 USD tops! Most homeowners who do simple yard work have power options as their primary concern. Remember that the best option for you will be that one that fits the intended applications! At Kyle's Garage, we want to make choosing the best machine simple for you. We've compiled some of the best chainsaws you'll find on the market.
If you are doing laborious yard work that includes felling trees and making firewood, go with an all-around 18 to 24-inch bar and gas saw. For homeowners looking for a gas-powered saw on a budget, an option for you will be the HUYOSEN 54.6cc 18-Inch Gas Chainsaw.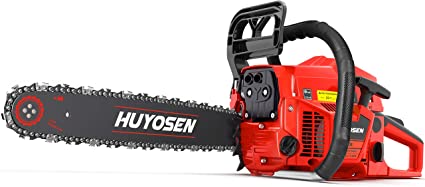 This chainsaw has a sturdy design that has a powerful motor and strong blade. DIYers just beginning to familiarize themselves with simple yard work can easily get the job done with this model. While this saw might not be able to fell the biggest tree in the forest, it makes simple woodwork like pruning, cutting, and limbing convenient and manageable at the push of the button.
If you are doing minimal yard work, like cutting off an occasional branch or limb, go with an electric saw that has a short bar. An excellent option for you would be the WORX WG303.1, a highly versatile with a 14.5 amp motor and a 16.5 in. bar – all at an affordable price.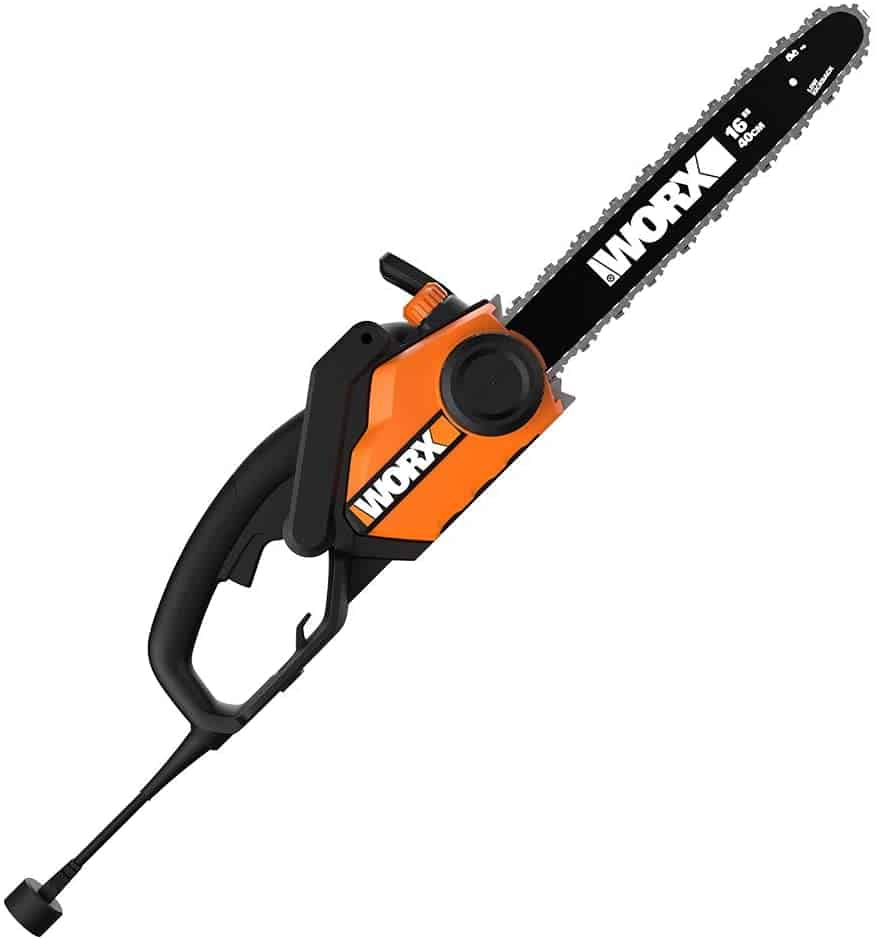 This model is at the top of the review boards for its impressive ease of use and overall performance. It has an ergonomic design, and it includes all the key safety features you could ask for when doing simple DIY work. Not bad for a machine that just shies away from 10 pounds.
A more comprehensive list of the best chainsaws under 200 USD is available at Kyle's Garage. Many chainsaw models just under 200 USD can give you a flexible range of applications, safety features, and an ergonomic design. We promise to provide you with eye-opening reviews and critical insight on the best machines that will address all your needs.
We also offer detailed information on the best care and maintenance practices for your chainsaw. We'll help you keep your saws whirring for years to come with honest insight into the best maintenance tips and products on the market. If you want your chainsaw to work effectively, make sure to invest in high-quality maintenance products, including lubricants and chain sharpeners.
Make sure to keep the chain free from dirt and debris before and after each use. Ensure proper chain tension and maintenance with bar and chain oil. All DIY-ers can easily do chainsaw maintenance with these steps, preferably after each use.
For successful chainsaw operations, you'll also have to sharpen your chain. Routine chain sharpening will depend on the type of work the chain is exposed to and the frequency of use. As a rule of thumb, you can sharpen the saw teeth each time you refill your gas tank. In the case of electrical saws, always sharpen after a hard day's work. You can do chain sharpening manually or with a rotary tool. Otherwise, you can bring it to a professional service center.
At Kyle's Garage, we provide you with much-needed information on how to do general chainsaw maintenance with our easy-to-follow guides and reviews on maintenance tools and products. We'd like to help you keep your valuable machine for years!
Conclusion
At Kyle's Garage, we believe in each homeowner's capacity to build their own home, just the way they like it! We are passionate about sharing our knowledge about power machines that can make your yard work and DIY projects successful and safe!