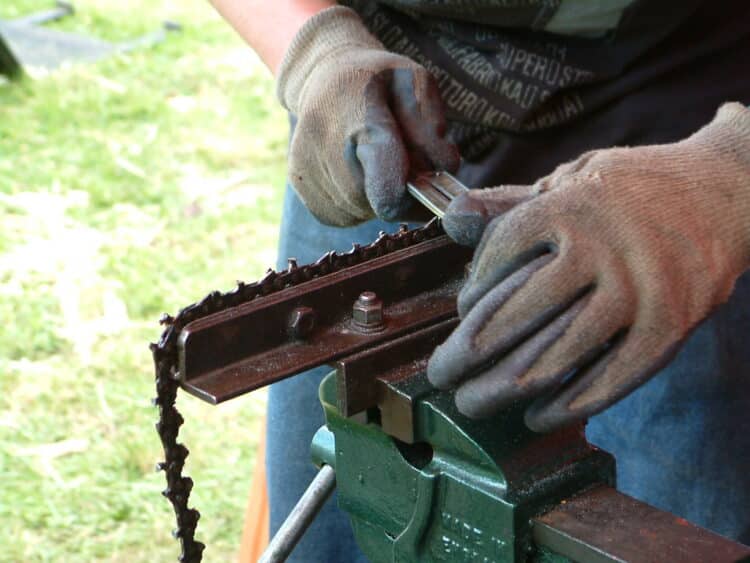 If you haven't sharpened your chainsaw chain in some period, then it's time you get on with it. A fresh new edge is what your chainsaw needs.
There are a couple of signs that should tell you your chainsaw needs a sharpener. One is the cut your chainsaw makes.
A curved cut should remind you to get a better edge. So why not save money and sharpen the chainsaw chain rather than getting a brand-new chain?
The second is sawdust coming from the cuts rather than flake or wood chips. And the last is your cuts producing smoke.
And no, sharpening your chainsaw doesn't necessarily need a particular chainsaw sharpener. There are numerous methods to do it.
Now, the procedure you use for the task depends on two things, money and time. How much of each are you willing to spend to complete the job?
Filing the chain by hand
Metal files can do a marvelous job to your chain cutters and the depth gauge. You can sharpen a single chain cutter at a time until you feel you've done a successful job before moving to the depth gauge.
However, you need to use different handheld files for the two parts. For the cutters, a round file will suffice, and a flat one for the gauges.
And you do not need to take apart your chainsaw to get the best results. You can use a straightforward bar-mount filing guide to get the task done right.
Manufacturers also provide a detailed hand filing guide. To add to those instructions, here are a couple of tips you should always bear in mind:
Start filling either the most destroyed cutter or the shortest one so that you can file the rest consistently.
Keep in mind the number of strokes used for each cutter so that you can file the rest uniformly.
Always file from the inside out.
It is a cheap option but the most work-intensive as well. But if you don't mind the hard work, you are good to go.
Using a chain grinder
It is an option that is less labor-intensive and will leave your chainsaw looking sharpened with expertise.
When using a chain grinder, you can mount it on a bench so that you are comfortable working with it. Plus, that will also improve its stability.
The two most crucial parts of a grinder are the clamp and the grinding wheel.
The clamp clasps the chain in a fixed position, whereas the wheel evens the teeth, making them sharp again. If you sharpen your chainsaw frequently, then this too will suffice.
Using sharpening kits
PowerSharp sharpening kits make the task seem both convenient and effortless.
In each kit, you will find four components that work in harmony as a system, which is, sharpening stone, chain, sharpener mount, and a guide bar.
The guide bar is particularly for attaching to the sharpener mount, and the chain travels around the guide bar. The chain cutters get an excellent edge from moving along the sharpening stone.
If you need to replace your chain, you will get a new sharpening stone along with it. Also, ensure that you check the size compatibility of your chainsaw and the sharpening kit before settling for it.
But don't worry, these kits come in all sizes.
Final say
For your chainsaw to continue operating at an incredible performance, it needs to be sharp. Think of it as a maintenance procedure.
Keeping a spare chain for if you need a replacement is not such a terrible idea either. It means you are ready for the task at all times.
You can sharpen your cutters at any time, and the right tools make it all so effortless. Now that you know how to sharpen your chainsaw, always keep it sharp.