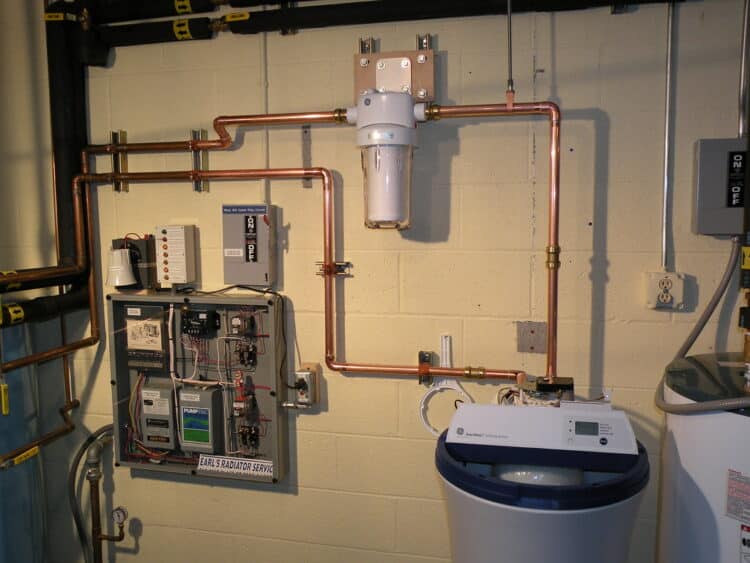 Though we live in a modern world with water treatment plants, pure and clean water is still hard to find. While treatment plants remove most germs and bacteria that make water safe to drink, it doesn't remove residual minerals altogether. Water high in mineral ions like calcium, iron, copper, manganese, and magnesium is called hard water. These minerals are the reason why most homes need a water softener.
A common problem that homeowners face with hard water is the affected water quality and taste. While not particularly harmful, prolonged exposure to hard water can also cause dry, itchy skin and hair. It can also be a hassle to do household chores like washing the dishes and running the washing machine as hard water makes it difficult for soap to lather! Hard water is also known to damage clothing, and it also causes dulling of colors.
High levels of minerals cause water to turn cloudy, and this is when limescale starts to form. Mineral deposits can damage your plumbing, appliances, and water heater! We all know those repair works won't be doing your wallet any favors.
Water softener systems may be used to effectively lower mineral levels and remove calcium buildup in pipes and fixtures. Water softeners are available in a wide variety of products and devices. The most basic softeners can be bought in liquid or pellet form to aid in your bathing and household needs.
While water softeners don't cause much of a health concern, they're essential to protect your plumbing and appliances. Believe us when we say that hard water in your home can slowly cause deterioration and damage to your home! At Kyle's Garage, we want to help all homeowners be responsible for their own water supply. This is possible with a deeper understanding of water softeners and water treatments that will be best for their home.
For homeowners to expand their water supply treatment, a dedicated water softener is necessary for your plumbing. Read through our detailed guide on finding the best water softeners on the market to help you find the right choice for your home.
Getting to know your Water Softener
Before we look into the different types of water softeners you can choose from, some basic understanding of how the system works is necessary.
First, let's clear up the terms' hard water' vs. 'soft water.' According to American National Standards, soft water has less than one grain of hardness per gallon. The more calcium and magnesium ions it contains, the harder the water is.
While each water softener treatment system is different, most models rely on ion exchange. Sodium chloride is essential for the exchange, but we want to clarify that water softeners do not put salt in your water! Sodium chloride is only used to clean hard water, resulting in the breakdown of its molecules. During this process, hard water flows through resin beads where hard mineral ions are exchanged for sodium or potassium ions, leaving only soft water. All hardness molecules and chloride are flushed down the drain.
Water Softener shopping considerations
Homes with soft water can have their appliances and water heaters last for decades without any changes inefficiency. There are several fundamental factors to consider when evaluating the available water softeners in the market today. Remember that each household is different, and the most important considerations will be regarding your household consumption and specific needs.
Here are the critical considerations to finding the right water softener for your family
Evaluate the need for a water softener
This first item on our list might be obvious, but all homeowners should have a clear evaluation of the hardness level of their home's water. Depending on where you live and your water source, each household will have different hardness levels, ranging from negligible to potentially hazardous levels.
After getting a general idea of water hardness in your area, make sure to double-check if the water softener you choose can treat hard water levels. These should be based on your specific hard water symptoms. These can include:
scale buildup on faucets and showers
decreased water flow and clogged pipes
decreased effectiveness of soaps and cleaning products
skyrocketing utility bills due to overworked water heaters
spotty glassware, stiff and faded clothing/towels/li>
damaged appliances
dry, itchy skin and dull hair

Consider household consumption
Water softening capacity can be measured according to grain capacity, indicated by a number in the 10,000s. These grain capacity levels are often included along with the model number.
It's extremely important to check grain capacity since the right system for your home will be one that can keep up with your family's consumption. Simply put, more household members would mean higher water consumption – that equates to a larger water softener capacity.
A small to medium-sized water softener with a 20,000+ grain capacity should be enough for small households with less than three people. For larger homes with more than four members and at least three bathrooms, get a medium to large-sized water softener with a grain capacity of not less than 30,000.
Consider budget and functionality
Now that you have a clear idea of your home's specific water softening needs, choose a softener that fits your budget and offers the particular features you're looking for. Most water softener features may seem too technical to understand. Still, once you get to know the basics of some water softener terminologies, it'll be much easier to trim down your list of water softener choices. For a comprehensive explanation of hard water/ soft water terminologies, refer to our guides at Kyle's Garage to get you started on finding the perfect softener for your home.
Water softener key features
Aside from softening capacity, there might seem a million features to think about when considering water softener models for your home! At Kyle's Garage, we want to make choosing the best water system for you. We've compiled some of the most fundamental features to look for in a water softener.
If your home has unusually hard water, the smell and taste might become unbearable. Make sure to get a water softener that includes the feature of removing the taste and smell of chlorine. Most of these types of water softeners come in the whole-home filter model.
An excellent choice for large homes and buildings where water quality matters is the Aquasana Rhino Series 6-Stage. This model is one of the most powerful heavy-duty whole-house water softeners in the market.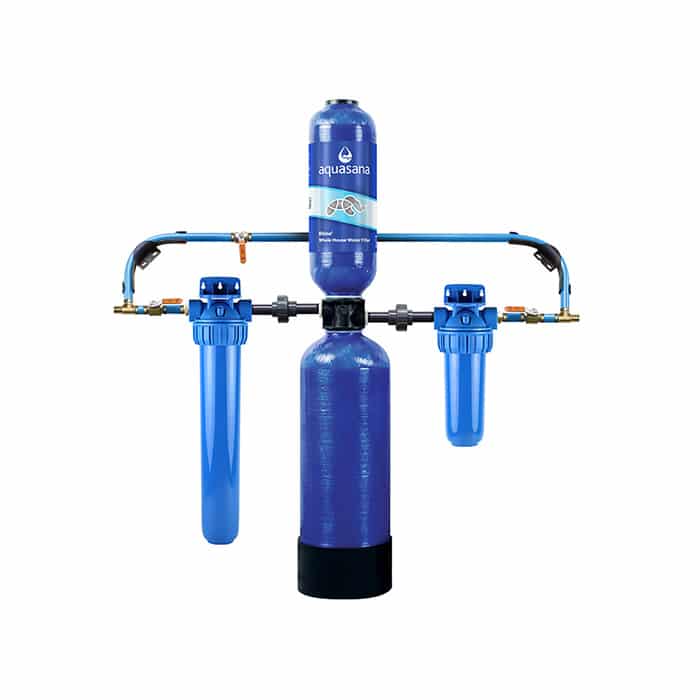 The Aquasana Rhino boasts of a salt-free water softening process that removes chlorine, pesticides, heavy metals, and other chemicals. Though this device has complex features, installation can be done by any homeowner. Simply hook it up, and you're good to go!
If you're having a particularly hard time with rust, the problem might be with your water's iron levels. Not only does iron give water an unpleasant smell and taste, but it also damages the aesthetics and structural integrity of water fixtures and appliances.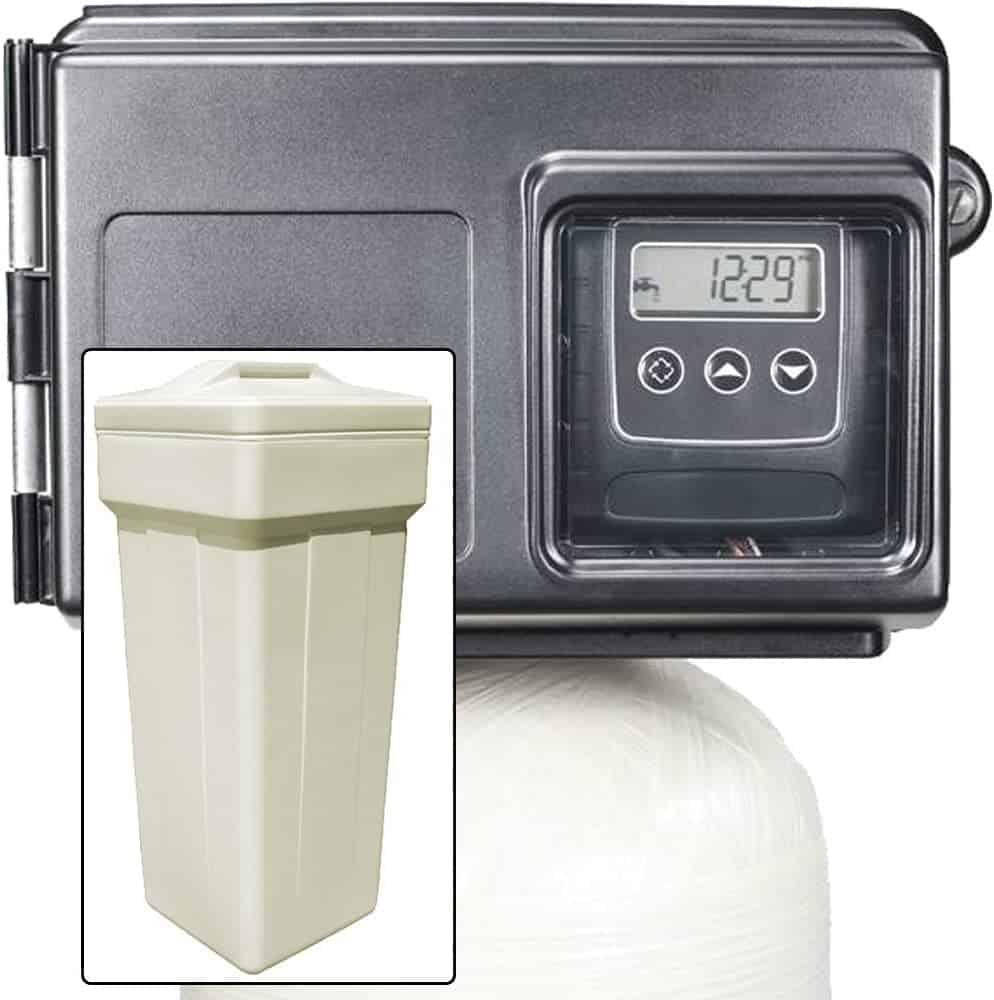 One of the best options for large families or homes with particularly hard water is this 48K twin tank from Fleck. This powerful device guarantees the removal of minerals and iron from hard water every minute of every day!
Once one tank runs out of water and needs to regenerate, the other will take over its place. This means that this water softener can provide your family with fresh and clean water for the entire house 24 hours a day. While initial costs might seem expensive at 1000USD, without a single drop of hard water, you'll surely save up a lot on appliance and plumbing repairs!
A great option for homeowners on a budget is the Aquasana Simplysoft. If you're only looking for a cheap yet permanent softener that doesn't neglect quality, this model is the one for you! The Aquasana SimplySoft uses a salt-free design that guarantees safe water free from harmful chemicals. It is powerful enough to handle a variety of simple tasks without having to be refilled.
It's also extremely user-friendly and easy to install. It's the complete solution for busy homeowners on a budget.

A more comprehensive list of the best water softeners ranging from 100 USD to 1000 USD is available at Kyle's Garage. Many water softener models around 100-200 USD can allow you to have a flexible range of functionalities and features. We promise to provide you with eye-opening reviews and critical insight on the best machines that will address all your needs.
At Kyle's Garage, we also offer detailed information on the best care and maintenance practices for your water softener. We'll help you keep your water softener, water fixtures, and appliances safe for years to come with honest insight into the best maintenance tips and products on the market.
Conclusion
At Kyle's Garage, we believe in each homeowner's capacity to build and maintain their own home, just the way they like it! We are passionate about sharing our knowledge on home maintenance to help you achieve the best for your family.