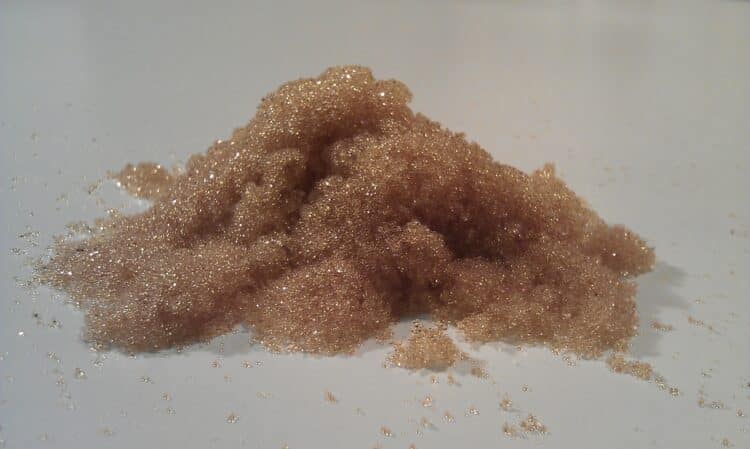 What is water softener resin? Why is it important? find out more
Is your water softener able to remove enough hardness? If so, congratulations! Your water softener system is working well. But If you see water scales or spots, then the softener is not working well. So, you need to replace the softener resin. Your water resin could be having issues if you also notice that the pressure is not adequate. See if you are always running out of water. It could mean that the efficiency of your resin beads has gone down.
Understanding a water softener resin beads
Inside your ion exchange water softener, there are uncountable resin beads. But, you cannot see them with your naked eyes. Their work is to trap the hard water minerals (calcium and magnesium). Resin beads start working the moment you install the water softener. Once they wear out (after several years), you can replace them with newer ones. They resemble sugar granules.
The beads embed in the resin tank in a way that they cannot escape from the softener cylinder tank. So you should not have any worries about your water becoming toxic.
Each resin bead is a type of synthetic plastic that resembles polystyrene. Divinylbenzene (DVB) works to bond the polystyrene. Each bead contains charged sodium ions. Calcium and magnesium ions get attracted to the resin bead the moment they come into contact. When this happens, sodium ions jump from the resin and into the water. So sodium ions attract magnesium and calcium ions as they pass through the resin beads. The minerals stick around the beads as sodium ions free. We call this the ion exchange process of water softening. Sodium ions replace calcium and magnesium ions.
As this process goes on, the sodium released from the softener plays a role in regenerating the beads. This process continues for many years. You might never need to replace the resin beads in the lifetime of some water softener models.
is water softener resin toxic
Your water will have an odor immediately after installing a water softener. The strong smell comes from a DVB, which is a clear yellow liquid. It can leak into your water.
So is resin toxic? As we have mentioned, DVB can leak into your water supply. Having chemical names such as polystyrene and DVB might sound like toxicity. But, the truth is that these substances are not toxic.
But that does not mean that you should go on and ingest them when they leak. If you notice leakage, call a professional as soon as possible to fix the issue. Remember, resin beads are plastic. Hence, no one should be consuming plastic into their system. If you can avoid it, find ways of preventing the leak.
Apart from the leakage, plastic is susceptible to damage if exposed to chemicals. Chemicals like chlorine are very detrimental to resin. Have you seen what happens to plastic toys left in the swimming pool? This gives you an idea of what happens to your resin beads when you add chlorine to the water. Your resin beads could wear down over time.
How long does a water softener resin last?
There are chances that resin replacement is on your to-do list if you have been using your softener for a long time. Even if you recently purchased the softener, you will need to replace your softener in the future. So have an idea of how long resin can last.
This brings us to the question: how long do resin beads last? How can you increase their lifespan so that you save on maintenance costs?
All factors held constant, you can expect to replace your resin beads after about 10-15 years. The quality of your water and the number of times you regenerate plays an important role.
The ion exchange effectiveness of resin falls when you expose them to contaminants. With time, the resin beads will get damaged. That means they are no longer able to hold hydroxyl or hydrogen ions. This hinders the ion exchange process. So when this happens, it means that they need replacement.
When should you replace the resin beads
To answer the question, it is good to know what factors will contribute to wear of resin. Let us look at some of the factors that may shorten resin beads' lifespan.
Continual exposure to high amounts of chloramines/chlorine reduces the lifespan of resin. If the incoming water contains chlorine, the resin beads can break down with time. You will notice that the cylindrical beads are breaking down to look like mush.
Water that contains debris or trace amounts of iron is also harmful to resin. Ensure that you pick up any debris or iron from the resin tank when doing regeneration. If you permit the above elements to interact with resin, expect them to damage the resin. That means it will need replacement sooner than you expect. It can end up increasing your water softening costs.
Water hammer, also known as hydraulic shock, can also cause resin beads to fail. When there is a sudden change in water pressure flowing into the resin beads, the beads break or crack. As a result of the sudden force, the resin beads slam against the side of the tank. They end up breaking/cracking. To prevent this from occurring, avoid fast-acting solenoid valves in your piping.
The other thing that can cause resin beads to stop working is an increase in generation cycles. The more regeneration you do, the more your beads wear off. Choose a water softener that can meet your water requirements for several days or weeks. It ensures that you don't have to regenerate more often. Try to get a water softener that can last you a few weeks in one regeneration.
Combining different resin beads can be risky. Some water treatment vendors tend to mix many resin beads. They do this by removing resin beads from several ion-exchange basins. They then combine them. The problem with this approach is that if one resin gets fouled, it reduces the quality of all other resin beads. That is why it is not advisable to mix resins if you have many ionizers.
How to recognize bad/expired resin
It is not difficult to recognize expired or fouled resin. Most water softener systems come with a water quality monitoring system. It will alert you when the quality of soft water coming out is not up to standards. Whether it is a digital meter or a manual light system, you will know when the water quality goes down.
The manual light system is very simple. When the quality of water reduces, the light changes from green to red. At that point, you can change your resin beads.
The digital water quality meter gives you the most accurate reading of the quality of your water. If you notice a change in the quality of your soft water, it is time to change your resin beads. When you notice a drop in the quality of your water. Always get an expert to ensure that your digital calibration is accurate. There are cases where people have read the digital meter wrong.
Types of resin bead
Not all resin beads are the same. There are two main types of soft water resin beads. Let us look at them to help you choose the best water softener resin bead.
Fine mesh resin
Fine mesh resin has small-sized beads that are capable of removing as much iron as possible. Sometimes fine mesh resin blends with activated carbon.
Fine mesh is best suited for water that contains high amounts of iron. This will help to make the water taste better. Ensure to place a flow basket on the top part of the resin to prevent resin from moving during regeneration.
Standard Ion Exchange Resin
This is the most popular type of resin in the market. It is less expensive than fine mesh resin. It removes less amount of dissolved irons compared to fine mesh resin. But, when it comes to water purification, you will get better results with this model.
Apart from the shape of the resin beads, you can also look at the crosslink percentage. Crosslink percentage is the measure of how much DVB your resin contains. The higher the crosslink percentage, the more costly your resin bed will be. But, this does not mean that resin with a higher crosslink percentage is the best for your softener. There are two types of crosslink percentage resin types.
8% crosslink
8% crosslink is the most popular water softening resin. This resin can dissolve up to 5 parts per million of iron. With care, this resin can last for about 10-15 years. If your water quality is great, you can expect it to last longer. The less chlorine your water contains, the better.
10% Crosslink
If you are dealing with very hard water that is also chlorinated, this is the best resin to buy. The high percentage of crosslink gives it strength. It also processes a higher capacity of water than the 8% crosslink. The only drawback is that it costs more than the 8% crosslink.
The type of crosslink resin you choose depends on your needs and the type of water you are using. If your water contains 5 PPM of chlorine, then go with 8% crosslink. Choose this crosslink if you are also treating city water. City water usually contains chlorinated water with a lot of iron.
If you are dealing with water with a lot of chlorine that is higher than 5 PPM, then go for 10% crosslink. For those with borehole water, any of the crosslink percentage resin works.
How Much Resin Do I Need?
When your resin begins to fail, the next logical thing to think of is how to re-bed the softener. If this is what you are considering doing, you need to know how many resin beads you need to buy. It is also important to know whether you are having too many resin beads in the water softener. If you have too much resin, water flow will not be good. So you need to know the right amount of resin bead you need. You will need to measure the circumference of the resin tank and divide it by pi (3.14) to know how much resin you need. That gives you the diameter of the resin bead tank. Now, measure the size of the tank to determine the size of your tank. Depending on the size of your tank, get the right amount of resin to reduce water softener problems. It is important to allow some room for the resin to expand. Do not fill the resin to the brim as this will cause problems.
Do I need to add gravel underneath the resin tank?
You don't need to add gravel to your resin basin. Adding gravel under the bed of your resin can help improve water distribution in the tank. Yet, that is only applicable to big tanks of more than 2 cubic feet. Apart from making water distribution easier, the gravel plays no other role. So there is no need to add gravel underneath the resin tank if the softener is less than 2 cubic feet.
what brand of water softener resin should I buy?
From experience, the brand of resin you need to buy doesn't matter. So long as you get the basics right, any brand should work fine. Water softener resin is a common product. Many companies, households, and businesses use this product. That means that the sourcing of chemicals and other components are similar. Even the quality control procedures are all well followed, thanks to manufacturing laws. The only thing you should look at is whether the product serves your needs and is of good quality.
Conclusion
It is important to understand how resin beads work. Every water softener owner will have to replace their resin beads at some point. So it is important you understand how to make your resin last longer. It is also important to know how to select the right resin that will cater to your water softening needs. Choose a resin that will handle the type of water you are softening. Make the right choice to save money in the long run.