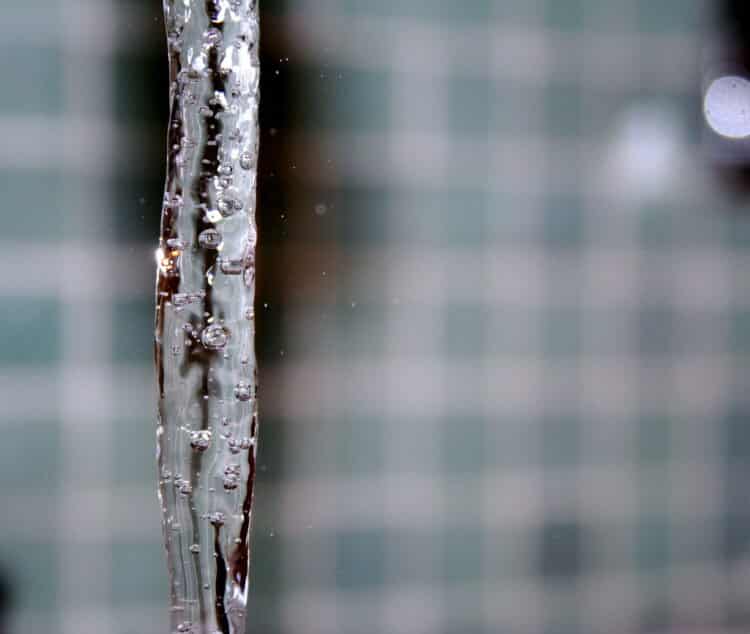 A water softener is an appliance that is used to clean and remove hard water and transforms it to soft water for household use.
Not only does it create soft water for your showers, but it also helps with the extension of the other appliances within the household. It lessens the amount of electricity used by your washing machine.
For a water softener to function, it needs both water and salt. Salt is one of the most important things a water softener needs to do its job, but it also needs to use a certain amount of water to regenerate.
Once a week, a water softener has to enter a regeneration cycle. It uses about one bath's worth of water for this process.
Regeneration is a procedure that allows your unit to dispose of the hard minerals it caught from the hard water.
It gets rid of the minerals that were captured by the resin beads and refreshes the entire set of beads for the next week.
How much water does a water softener need to regenerate?
It actually depends on how often you use your machine and what kind of softener you have. There is no exact calculation out there, only estimates.
Water hardness also plays a huge role in the amount of water used by a water softener. The same thing applies to the number of times it has to regenerate.
On average about 25 gallons to 65 gallons of water is used during each regeneration cycle.
How to Schedule Regenerations on a Water Softener
A great feature found in water softeners is that they provide a meter or a timer. It allows homeowners to set a regular schedule for regeneration.
They can set it to a specific time where no one is using water. Most regeneration cycles occur at night when most of the household is sleeping.
Here are the basic steps in setting a schedule for regeneration. Remember that each machine is different, and you should also refer to the manual that came with your machine.
1. Gently open the lid of the water softener. Refill it with salt via the salt hopper. The salt hopper is where you pour the salt in.
2. Before scheduling the first recharge cycle, make sure you've done the calculations on your household's average grains per day.
This comes in handy once you input the setting for hardness levels, and the number of people in the household.
3. Take the knob of the timer and set its first regeneration cycle to the present time. After that, reset it to its regular schedule.
Most timers use a 24-hour dial to do away with confusion between AM and PM.
4. Take note that there's a chart meant for determining how much water you use every day in your household. This chart can be found in the softener's operation manual.
Make sure you stay on average and adjust the dials accordingly depending on the changes to your household.
How long does it take for a water softener to recharge?
About two hours. It's better to take note that the number of times your water softener recharges depends on the water hardness levels and the water usage in the household.
Most water softeners will reserve about 20% to 25% of soft water for its own use during the regeneration cycle.
The units usually regenerate at dawn or at a time when the homeowners are not using water. A common time for regeneration is between 2:00 am to 4:00 am.
How long should a water softener last?
Water softeners are highly beneficial for your household when it comes to maintaining smooth skin, unclogged pipes, frugal waterworks, and an extension of the lifespan of household appliances.
It is a known fact that appliances are not meant to work forever. Sooner or later, it will have to break down.
Determining how long your water softener will last involves taking into account the make, model, and quality of the unit you bought.
The average lifespan of a water softener is between 10 to 20 years.
An electric single tank water softener is given an estimate of 12 years before it breaks down.
If you consider buying a Kinetico system, it can last as long as 20 years and more if you observe proper maintenance and quick repairs.
When a water softening unit develops a problem, it is best to have it repaired as soon as possible. Unless the water softening system is more than 10 years old, don't buy a new one yet.
Most problems with machinery are repairable. Have it inspected by a professional and they will advise you on the best course of action.
However, if it's more than 10 years old, it may be time to call for a replacement. Observe proper maintenance of yuor water softener so that you can extend its lifespan and get your money's worth.
Is it safe to use water during a regeneration cycle?
It's not unsafe, it just invites in hard water to your plumbing system. It's best to avoid using water while regeneration is happening.
This is why most regeneration cycles are scheduled during hours when the household goes to sleep. No hard water enters the plumbing, and the softener can regenerate in peace.
Unless your water softener uses a dual tank system, then water during a regeneration cycle is a bad idea.
Hard water can bring back scaling in your system and dry out your skin. If it's absolutely necessary to use water while there is no soft water available, make sure to use the least possible amount.
Conclusion
Despite the amount of water a water softener seemingly goes through, it actually reduces your water bill. The regeneration cycle of a water softener is one of the most important processes it runs.
This process rejuvenates the resin beads found in its resin tank so that they may be able to reabsorb more hard minerals and turn hard water into soft water.
It takes responsibility to maintain a water softener and see it through its entire lifespan that spans 10 to 20 years. Salt pellets have to be refilled, the entire unit has to be cleaned, and so on.