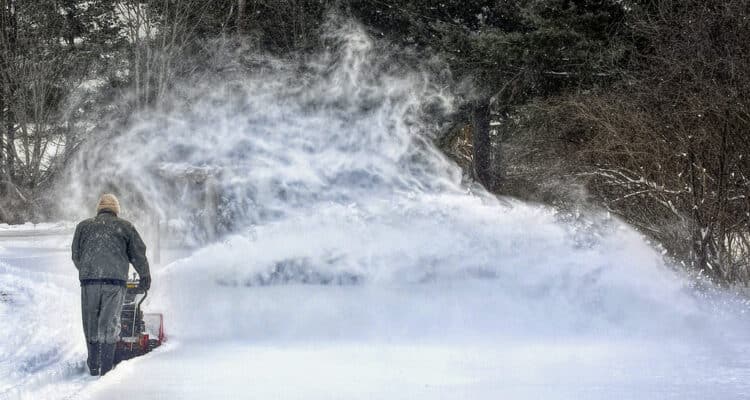 Have you ever found your driveway buried in inches of snow with no way to move it? Then a snowblower is exactly what you need. It will save you plenty of time and stress from shoveling snow manually. Snowblowers are convenient, easy, and fun even.
But as with every home appliance, it can be challenging to find one that suits you perfectly. We've put together this guide on how to choose the best snowblower for you.
Before you choose, you have to know your options. Snowblowers come in five types: Electric, Single-Stage, Two-Stage, Three-Stage, Track Drive. Here we will cover the first four styles.
Electric Snowblower
An electric snowblower is not heavy-duty. But if you're only worried about a few inches of snow, then an electric snowblower is enough for the job. They are mostly used for decks, paths, and steps since they are small enough to fit in such spaces. But they can work for small driveways and sidewalks as well.
The electric type is also easy to maintain. Since it doesn't rely on gas, you don't have to keep changing its oil or filling it up. You need a trusty extension cord that can last through cold weather and an outlet that is placed conveniently enough to reach your snowblower where you need to.
Recent electric snowblowers have been working towards being battery operated and completely portable. In a few years or so, you may not have to worry about extension cords at all. In fact, some electric snowblower batteries can be used now for chainsaws and leaf blowers as well.
Single-Stage Snowblower
Single-stage snowblowers rely on gas to keep it powered. It's significantly bulkier than an electric one, but it's the lightest among the gas-powered types.
For its price and function, it's an excellent snowblower for getting rid of moderate snowfall. Suburban households often use single-stage snowblowers for driveway clearing because of its size, affordability, and simplicity.
However, be warned that the auger paddles, which scoop up the snow, are almost continually scraping the ground. Because of this, you can only use the single-stage snowblower on non-gravel surfaces. If your snowblower accidentally scoops up gravel, it can damage your snowblower and even lead to injury.
Single-stage snowblowers are best for around 8 to 12 inches of snow, with 12 inches already being a challenge thanks to the single-stage's limited height. Although it has a hefty width of 18 to 22 inches, deep snow needs a two or three-stage snowblower to move it.
Two-Stage Snowblowers
Two-stage snowblowers are sturdy and heavy-duty appliances built to handle more than 18 inches of snow. It's able to do this at a great pace and without much struggle.
It blows the snow in two stages. The first stage is when the auger collects and scoops up the snow. The auger of the two-stage snowblower doesn't make contact with the ground, so it's usable for gravel as much as concrete.
A high-speed rotor then throws out the scooped-up snow. The snow is thrown such that it doesn't clog the snowblower afterward. The buckets are much taller too, which means it can get through even deeper piles of snow.
If your driveway is gravel or concrete and is prone to more than a foot of snow, we highly recommend you get a two-stage snowblower.
Three-Stage Snowblowers
Three-stage snowblowers are even more powerful than the two-stage ones. They are equipped with two strong augers that can handle ice as much as snow. The ice is funneled to a chamber in the center that breaks down the snow until it's fine enough to be blown through the rotor and the chute.
Three-stage blowers often come with extra features. Some would be heated grips, self-propelling wheels, and even additional controls for the chute itself. Three-stage snowblowers make it possible to get through over three feet of snow and moving it over fifty feet of distance. They're the best heavy-duty snowblower you can find.
Now that you're familiar with the main types of snowblowers, we hope you can match them precisely to the needs of your house. Consider how deep your snowfall typically gets and how wide or narrow a snowblower you need. The price point is important too, but good snowblowers are well worth the investment.