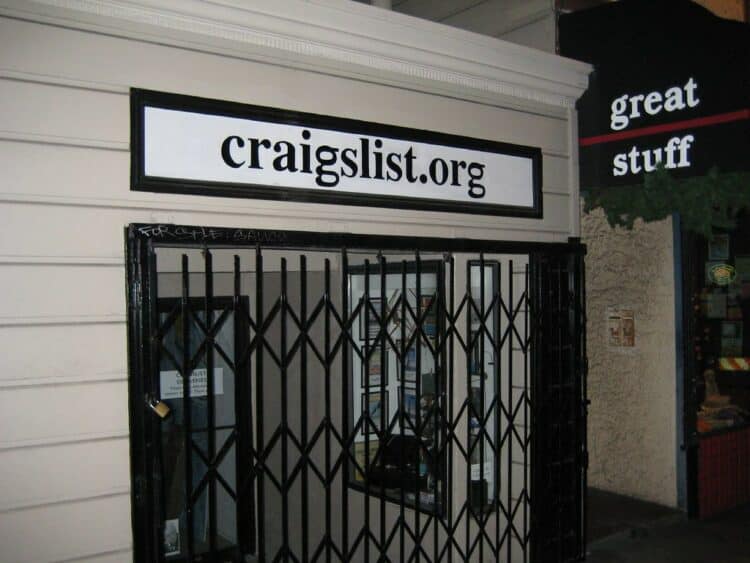 Buying a new snowblower can be quite an expensive option for many. Thankfully, there's a thriving market for used snowblowers for sale on craigslist. Usually, most people upgrade their snowblower models before the winter season.
As a result, they may need to replace the older ones. Besides that, the spring season sometimes demands us to free the garage. Regardless of the case, it pays to stay on-watch before buying a brand new snowblower.
Where to Find the Best Used Snow Blowers
Ask anyone, and they'll tell you that buying from an online seller is super easy and fast. However, it is critical to take proper safety measures. Even for a potential buyer, carrying around a lump sum of money can make you a primary robbery target.
Therefore, make sure to meet the seller in public and well-lit spaces. Additionally, let your loved ones know where you're going and who you're meeting with. And ensure you have the seller's phone number before the meeting.
That said, let's now look at places where you can find used snowblowers for sale on craigslist. Here are various options for grabs:
Craigslist: Quick and Handy
Do you live in or closer to a city? Craigslist should be your best option. It is always busy with tons of activities running on their items for sell section. For that reason, it stands out as one of the go-to options for selling or buying power equipment.
Even though their website looks outdated, Craigslist's features are quite handy. You can start by creating a craigslist account and then save your searches.
For instance, let's say you intend to buy a Honda snowblower. So, you'll search for it on the craigslist websites. If the equipment is unavailable, you can save the search.
And whenever the snowblower appears for sale, the system will notify you. It can be a perfect way to secure the best deal, especially if you are patient.
When searching for snowblowers for sale on craigslist, ensure you click on those with images. If the seller doesn't provide a photo of what they sell, don't trust them.
The 'piping' function enables you to combine search terms and find results with ease.
For example, if you prefer a Honda or Toro snowblower, you can search for Toro/Honda snowblower. It'll still give you the desired results. Be sure to use different search terms such as snow thrower and snowblower.
eBay: Incredibly Safe
eBay is one of the safest global marketplaces to find your dream product practically. As a result, many people prefer using it to sell new and old or used snowblowers for sale.
Its biggest pro is that it allows you to customize the searches to suit your needs. Just search for a snowblower and navigate through various options offered.
For instance, you can select depending on the used state, type, brand, and many others. The system then analyzes the search results to find you a tool that meets your demands.
eBay often charges higher fees, and this means that deals may not always be available. But, it guarantees the safest platform for all purchases.
That's because it provides receipts for transactions and measures for buyer protection. This is usually helpful when an individual tries to sell you damaged products.
Facebook Marketplace: Best for Giving Smart Suggestions
A few years ago, Facebook entered into the 'For Sale' marketplace industry. That's for sure a big win for many of us. Unfortunately, there's a warning that the company may use or abuse your details.
That may be already too late if you have a Facebook account, but keep on reading. There's no way a marketplace can't sign up on its own. The good thing is that the process is straightforward and fast.
Log in to your Facebook account, check for marketplace on the left-side column and click on it. After that, search for any product you want, let's say Toro Snowblower. The search results will pop up and find your desired used snow blower on sale in seconds.
Unlike Craigslist, Facebook lacks capable systems to notify you when the machine pops. But, it has a fancy technology that gives suggestions centered on your search history.
That may seem a bit scary, but you'll save a lot of time. Moreover, be sure to use various search terms and protect your favorite snow blowers.
It'll then search for related items that have similar descriptions, shapes, and colors. The biggest letdown is that you must contact sellers through their messenger app.
Small-sized Engine Repair Shops
These are unique places where you can find a few used snowblowers for sale on craigslist. Often, these tools come from customers who no longer want to invest money in them.
So, the experts often buy cheap and oldest snow blowers, repair them, and then sell them. The best part is that a professional inspect the tool before you buy it. Besides, you may sometimes enjoy certain short warranties.
Garage Stores
You can also find used snow blowers from a local homeowner who tries to free up their garage spaces. In this case, you can rest assured to get great deals at a flexible and negotiable price. Therefore, be sure to check out if the old snowblower can suit your needs.
Things to Consider when Purchasing a Used Snow Blower
Undeniably, finding a suitable snow remover can be pretty intimidating. Yet, ensuring that you buy a functional machine is another greatest priority.
It would be best to test-drive the used machine before purchasing it. Plus, you'll often have to do a quick inspection. That's where the following things to consider come into play.
Snow Blower Model
When looking for a snowblower, it is vital to understand which type of model is best for your needs. Typically, there are different types of snowblower models designed to perform different roles. This depends on the kind of area surface you'll be clearing, the type of snow, and its storage capacity. As such, you'll find three main types of snow blowers on your preferred marketplace. They include: single-stage gas, two-stage gas, and single-stage electric.
Single-Stage gas snow blower
The gas-powered snow blower is simple in design and costs less when compared to other snow blowers. It breaks up snow by using a corkscrew auger which spins breaking up snow. Snow is launched using a discharge chute attached to the corkscrew. The high-speed auger provides all the power.
The unit is small and lights, making it ideal for use in tight spaces. It usually ranges between 18 to 24 inches in width. The company can clear up to 10 inches of snow per single try. It lacks a self-propeller.
The blower is not suitable for gravel surfaces and lawns because of the high-speed rubber-tipped auger, which can tear rocks into projectiles. It can also destroy grass on grounds. The single-stage snow blower is suitable for sidewalks and paved driveways.
The unit is the ideal snowblower for light snow. It can handle large quantities of snow, although it may struggle against a heavier and wetter snow variety.
Two-Stage gas snow blower
This blower incorporates two devices to shed snow. The slow-turning corkscrew-shaped auger sucks snow off the ground. An impeller (fan) helps to push the snow from the auger's to the outside using the attached chute.
The unit is heavier and more extensive when compared to the single-stage snowblower. Its large auger enables it to break through compacted snow and ice quickly. The auger does not hit the ground, making it the best snow blower for a concrete driveway. It is also ideal for gravel driveways. It has a taller bucket enabling it to clear over 19 inches of snow per try. The chute's efficiency is ramped up by the impeller, preventing clogging using its high speed.
The two-stage snow blower is easy to maneuver despite its large size. The majority of the units have a self-propeller which aids simultaneously forward and reverse control. The self-propeller enables easy plowing of snow for a long stretch without slowing down.
The unit is efficient for the efficient removal of vast amounts of snow. It's built to handle both heavy and light variety of snow on all surfaces. It is the perfect snowblower for the large driveway. The two-stage snow blower is one of the most expensive snow blowers, but it's worth the money due to its efficiency.
Electric snow blower
The unit is powered by electricity. It's ideal for clearing a fair amount of snow. The companies are cheaper when compared to those powered by gas. They require minimal maintenance as they do not require gas fill-ups and oil changes. It does not have any gas emissions and a start-up cord either.
They function similarly to a single-stage snowblower, where snow is blown out using a discharge chute powered by the auger. It can clear snow up to 8 inches and a width of 30 feet. The unit is maneuverable due to its lightweight. It's ideal for areas that receive low amounts of snow. You can use it to clear decks, sidewalks, and single-car driveways.
Ease of Ignition
Once you choose the model type, you must understand how easy and fast the used snowblower ignites? Does it need several pulls? The only best way to tell is to test it before buying.
If it has an electric start button, try it out see how it starts the machine. Remember to carry a handy electric cord as the seller may not have one.
The thing is, go for a used snowblower machine that is easy to start upon ignition. This will help reduce time wastage and your efforts.
Rust
When it comes to handling metal, moisture, and salt, rust is nearly unavoidable. Even though it may not be bothersome in small amounts, it is essential to minimize the spread.
You may find some old used snow blowers with some bits of patches of rust. That can be an easy fix. Use paint and a wire brush to fix that small rust surface.
Ensure that the machine you buy has its rims, skid wheels, and housing are in a good state. Those are the critical parts you must be careful with if you want the snowblower to function for a longer time.
Noise
The best-used snowblower machine needs to start up and take a full throttle with ease. After that, listen closely to the engine. If you hear grinding or knocking sounds from the engine, then that's nothing good.
Surging may be a sign that the carburetor is dirty or damaged. Therefore, you'll need to clean it or replace it to get running.
Belts
Inspect the belts for any signs of wear and if they're trailing straight. In case of damage, that's the perfect chance for negotiating the price and repair it yourself.
Looseness
The auger and impeller shaft need to be solid and steady. If you notice they are very loose, that's terrible news. The same should apply to wheels. Look out for dangling wires and other things that feel amiss.
Tires
Most buyers tend to ignore to check if the tires have strong treads for excellent traction. A used snowblower can be functioning well. But without proper traction, you'll end up sliding and slipping all the time.
So, it's worth looking at the tires. From there, you can replace new ones or buy chains. Also, bargain the price down to cater for the fixes.
Essential Tips for Buying a Used Snow Blowers on Craiglist
Price range
Used counterparts come as the best option for the most expensive and brand new ones. However, we mean that you buy the right one as cheap can be costly.
So, do proper research before making any buying decisions. Similarly, be sure that the snowblower is in a great state. The price should be reasonable, fit your budget, and meet the required needs.
Availability of Spare Parts
We all understand that a used snowblower may have certain parts damaged. Thus, it's a must to check if the machine needs spare parts and assess if they're easy to find.
Though this may vary depending on the model you buy, in other words, only believe used snowblowers whose spare parts are readily available and fit the brand.
Safety
When it comes to operating machines, user safety is critical. In this case, you'll want to check if there are any switches or cables that are hanging or cut loose. If yes, don't buy it as it may cause severe injuries.
Strictly examine the auger and impeller while testing for usage stability. Don't ever clear the blocked auger housing or discharge chute with your hands. This may cause severe harm to you.
If you find a used snowblower without a plastic glade, always use other equipment to get rid of the ice. Plus, single-stage blowers often collect and throw gravel, ice, and anything it meets. Hence, make sure people are far away from your working spot.
When operating a gas-driven snowblower, put on hearing protection. This prevents potential damage to your ears. Please ask any questions or raise your concerns for the seller to offer help.
Brand
With viable options available, most of us get enticed by machines with big brand engine names. That's until you realize you get disappointed.
The performance of a used snowblower involves many things than just the engine. Check the engine size while bearing in mind that it's not related to how much snow it can remove.
Go for a used snow remover brand that is reputable and has a suitable engine that works well for you.
Ease of Maintenance
Maintaining a used snowblower is usually easy. If you are using gas-powered models, be sure to drain the gas yearly. Also, check out the machine's spark plug more often and replace it every winter. However, some may last through several seasons.
Check your used snowblower each fall to ensure it's in good condition before winter kicks in.
Frequently Asked Questions
What makes a used snowblower brand the best?
There are plenty of great performing brands on the market. But, there are distinct features that make a brand stand out from the rest. If you are looking for a machine that lasts longer, Honda should be the perfect option.
Besides that, consider safety, performance, design, and many other essential features before buying. Other brands like Toro, Briggs & Stratton, and Ariens are the safest options to consider.
When should I buy an old snowblower?
There isn't an exact answer. That's because you may opt to buy the machine even in the spring when there are great deals. Also, you may predict from the lighter winter and rethink about buying it.
But usually, summer is the best time for many people. That's the time you'll find many homeowners upgrading their tools and earn cash for their old ones. Besides, you'll see plenty of ads popping up with incredible deals for grabs.
However, the most suitable time to buy it is when the ground has snow. This gives you an excellent chance to test-drive the machine before buying it.
What kinds of used snow blowers to avoid
Generally, don't buy used models whose spare parts are no longer available. This may be very inconvenient for you and even more expensive. And buy something that suits your needs.
Conclusion
That said, we believe that you have learned the essential tips for buying a used snowblower for sale on craigslist. Even if you operate on a fixed budget, there are some cheaper options to consider.
Old or used snow removers offer the best chance to save money and still keep your home's outdoor snow-free. Find a suitable model with great design, performance, and readily available spare parts.
If you find any troubles when buying a used snowblower on sale, be sure to go through our tips above. Best of luck!