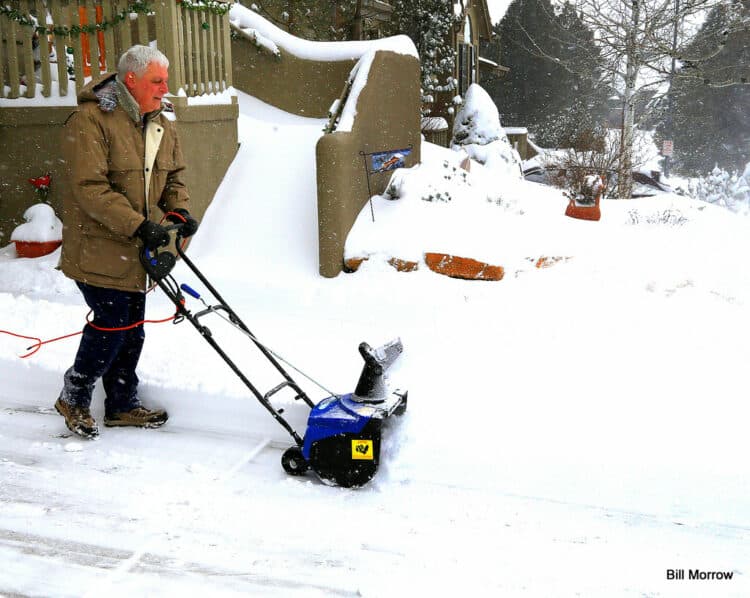 When it comes to shopping for a snowblower, the choice often rests between a gas-powered and an electric snowblower. While both are great at removing snow, electric snow blowers tend to be a choice for many because of their noiseless features. However, other factors play a role in determining whether an electric snowblower is a proper choice. Here are the pros and cons of electric snow blowers.
Pros and Cons of Electric Snow Blower
Many people prefer the electric snow blower due to its efficiency and dependability. And by owning it, you must know what the pros and cons of an electric snowblower are.
Pros of Electric Snow Blower
Easy to maintain
Electric snow blowers don't have liquids that you need to change. It also doesn't have parts that you will need to clean. These elements mean that this product requires little maintenance.
Can you store the electric snow blower outside? It would be best to keep the blower in a very dry place to work longer and perfectly. Maintenance is one factor to consider when purchasing any product.
produces less or no notice
Working in a quiet environment is interesting. Electric snow blowers make almost to no noise when functioning. You can wake up in the morning and find no snow in your neighbor's yard. This is because they used an electric snowblower, which you can barely hear when at work.
The electric blower is the best when you don't want to cause any discomfort in your neighborhood. Besides, it's hard to predict when the snow will form. You can easily find snow when you wake during winter. You will be required to make your way quietly for yourself and others so that normal activities can continue.
Light weight
Electric snow blowers are light. Blowing snow is not an easy task, which might be more challenging if the machine is heavy. The electric blower is easy to transport. It's convenient if you want to blow snow away from your home. Carrying a heavy machine then working with it will be very tiresome. Choose the electric blower if you want a smooth job.
Effective to use in tight spaces
Purchasing a product that will be effective almost everywhere should be a consideration. Electric snow blowers are pretty small than the many gas-powered blowers. The machine will clear snow on the small walkways with ease. Besides, due to its size, it can easily fit anywhere hence easy to store.
Easy to use
An electric snow blower is easy to use. If you have used a vacuum cleaner, you have an advantage as they operate almost the same way. Don't worry if you have no experience using both machines. It's easy to understand as it takes little time to maneuver. And understanding of the guidance provided.
Disadvantages of Electric Snow Blowers
Everything has its drawbacks, and an electric snow blower is no exception. The machine comes with some limitations that a buyer should look at and compare with other tools. Below are some of the cons of the electric snowblower.
Less effective to deep ice
The machine is light. Its lightweight comes with some bad news. You don't know the density of snow that might form. An electric snow blower is ideal for a light snow that is below 1.5 feet deep. Additionally, it's not useful on wet and compacted snow. If you need a heavy tool that will function on any snow, then an electric snow blower is not the choice.
Relies on electric power
It uses electricity, as the name suggests. This feature makes it challenging because the power can go off in the middle of the work. So, it means that it has little work and one cannot rely on it. Though you can have an extra battery, this increases its expenditure. If the snow covers a large area, it will also be challenging despite having a spare battery.
Things will be even more challenging if you're using the corded blower. The corded blower will restrict movement. You can't go beyond the length of the cord. Garden furniture, rocks, and plants, among other objects, are a threat to the rope. So, the battery snowblower is better compared to the corded one.
Requires skills to operate
An electric snow blower can be a risk, and it needs careful handling when in use. The machine can cause a severe injury to the user and people near. The engine produces deadly fumes that can cause health issues. The motor is another injury-causing part.
Whenever using the electric snow blower, it's good to know the whereabouts of the cord. Something can damage the cable in the course of the work, which can turn to be dangerous. The result can be either electrocution or shock.
Do You Have to Plug in the Electric Snow Blower?
This question will depend on the electric snow blower you're using. If you are using the corded blower, you need to plug it in for power. The tool will need an outside extension cord. It should have the same or above the blower's amperage. For instance, if the snowblower is 15 amp, the extension cord should be 15 amp or above. Never buy a low-powered extension cord.
Are electric snow blowers good?
The electric snow blowers are excellent and cheap tools to remove ice in your yard. As you can see from the information, the pros are way beyond the cons. The fact that they are light and are not suitable for heavy snow doesn't mean they're weak. It's a snow-blowing machine that is The electric blower doesn't need regular and heavy maintenance. But, it's always advisable to keep and store the blower in a conducive environment to avoid failure.
Now, you have all the information about the pros and cons of electric snow blowers. The information will help you clear the doubt about the snow-blowing tool. Put your money in the superb and effective products. Electric snow blowers will never disappoint you. It's now the time to make a choice and buy your best tool this winter and make your compound playable.