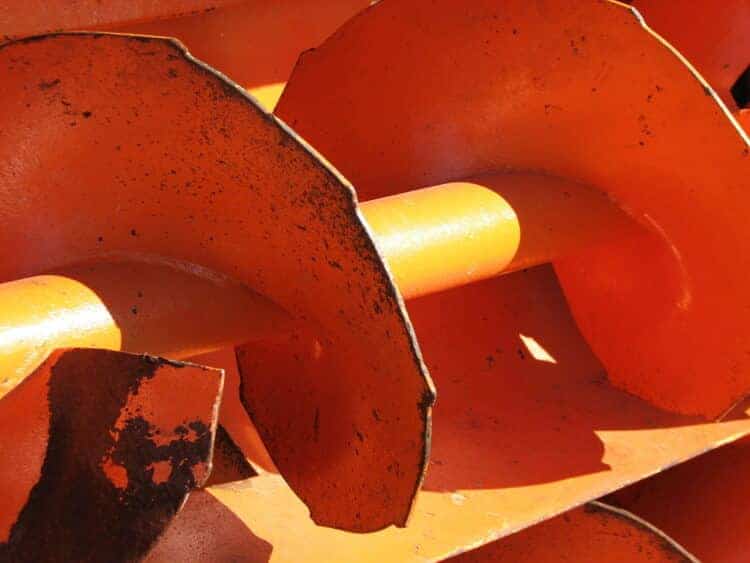 A snow auger is a simple machine made from just a snow shovel and an auger. This machine is less complicated and yet beats a snowblower by a wide range. A snow auger costs way less than a snowblower which makes it the best alternative for snow clearing.
Even more, in this article, you will cover 11 reasons why a snow auger beats a snowblower—comparing the two and letting you in the various categories such as maintenances, dependability, and cost.
Reasons why A Snow Auger Beats A Snow Blower
Requires little to no power
Most of the modern snow blowers require power to function. They either require either electricity or gas. These power requirements in the contemporary snowblower help them simplify the work and less tiresome. However, it also makes them function for less time and constantly requires refill or recharge.
Compared to the snow blowers, the snow auger functions more like an ice shovel with rotating blades. The only power required is manpower which applies to all snow blowers. Not only does the snow auger save you money in power, but also it will run nonstop, clearing the snow from your driveways and walk paths.
Easy to use
Snowblowers have a complicated system to operate. This will require you to go through the endless pages of the user's manual to understand your system better. Additionally, you will be required to have a little knowledge about a snowblower to operate it safely.
Some owners would rather have someone else with skills to operate the snow blower come and help them clear the snow. And even get it repaired.
When it comes to the snow auger, operating it is straightforward. It's like clearing snow using a snow shovel. It has no gauges that one has to study and understand how it works. A snow auger will not require an off or on a switch to start all you need to get there and start clearing.
Cheaper
The modern snow blowers are easy on your backs. But heavy on your pocket. Suppose you want to own one. It's pretty expensive, letting alone the maintenances cost. At the same time, they consider that you will be using it a few times a year.
In this category, the cheapest being an electric blower which costs $417. Relatively affordable but not that reliable since you will be dealing with its cord and regular charging. On the other hand, a gas blower will cost you a whopping $1,199 at its cheapest. Though it will do a better job than the electric, it's too expensive for one season.
But when it comes to the snow, an auger is the ultimate alternative. This blower is the best alternative for one season a year, and it will require minimum maintenance ace—most of which you will do yourself. The snow auger will do a great job equally as the modern snowblower.
You can shovel snow longer
Modern snow blowers will require a regular recharge of electricity or gas while operating or clearing a vast land of snow. Even more, it will require you to take breaks in between and allow the system to cool and prevent any breakdowns.
It has no complex system that will require the method to go on breaks when it comes to snow auger. The Auger can run nonstop and ensure that you have cleared the entire drive-through. Additionally, the snow auger does require any recharge or refill. All required is a little push from you and allow the Auger to clear the snow for you.
Easily clears smaller walkways
Clearing snow in tight sports is complex while operating using a snowblower. The complex system of a snowblower makes it gigantic. This prevents it from working through tight walk paths, which forces the owners to opt for other alternatives.
On the other hand, when it comes to the auger blower, working in tight spaces isn't an issue with its ability to clear up to four inches of snow. The Auger can clear the slimmest paths with ease. Since it has fewer components, its body structure is small and light for easy movements.
Faster to operate
Snowblowers require time before they start operating or plowing snow. It means that you need to check if all systems are working perfectly before setting off and start plowing. You also need to check if it has fuel or fully charged as well. It is most likely to take most of your time.
When it comes to speed, the snow auger is always ready to work. All you need is to stretch its handles and push. They come in handy, especially when you need to go to work and your drive is completely blocked. In this case, you should prefer having a snow auger by your side.
Easier to store
The snow clearing types of equipment work a few times a year. It means that most of its time will be in the storage areas. And owning a snowblower, you must have adequate storage rooms since they occupy more than enough.
Also, this means that gaining aces to your other equipment will be hectic due to its prolonged stay in the storage room without getting out.
But the case is different when it comes to the store auger. The only part that is huge is the handle. But this shouldn't worry you. The handle is retractable, making it flexible to fit even to the tightest of places. Moreover, you don't need to own a storage area to own one. You can store it in the house.
Light weight
Gas blowers are relatively heavy than other snow blowers. Because it has the engine oil tank and other relative parts, all these components make it extremely heavy that you cannot push it. That is why it has an automatic drive.
An electric snow blower is lighter than a gas blower. It is because there is no engine and fuel tank. However, the motor and battery do make it quite heavy. And slightly lighter than the gas-powered.
Snow auger is very light that you can carry using your hands. The snow auger has very few components, including the unbreakable plastic, the handle, and the Auger. These components are lightweight in design. That is best for you.
Requires minimum maintenances
For a gas blower, regular maintenance is required before and after performing its tasks. Maintenance includes:
Clearing a clogged chute
Checking the shave plates
Lubricating the machine
Proper tire pressure regulation
When it comes to an electric blower, few other maintenances is required. The maintenance includes charging the batteries, separate the batteries when not in use, and checking on electrical connections, among others.
Since the snow auger has no electrical parts or gas components to be maintained or offered any special care, the snowblower is the best to use. With only a little bit of assembly, you're ready to work. All that is needed from you is a push, and the tough task of snow removal will be no march for you.
Easier to repair
When a snow blower is Brocken, there are a series of troubleshoots you have to run to ensure that your snowblower runs. Some of these repairs take time and money and may never work. In some cases, when it fails to work completely, an expert has to be consulted or handle it.
All these factors make the snowblower the hardest to repair. Unless you have the skills and the money to handle it, most times, many realize their blower is damaged when it's late, and snow is everywhere.
But the snow shovel repair is straightforward and easy to handle. It will take you minimum time to find where the trouble is and repair it. You can do the repairs on your own without having any mechanic look at it. You can start your snow auger repair, and the next minute you're clearing snow.
Minimal noise omission
Snow blowing should be a great experience. However, most snow blowers are noisy. It makes it uncomfortable for one to work around them and can be annoying for your neighbors too. Many opt to blow their snow when everyone is not around.
This should not be the case. Since the snow auger has no mechanical parts, no one will even notice when you're clearing snow. Additionally, you will enjoy clearing snow during the early mornings since it's you will be excessing.
Conclusion
If your clearing a small area that will not require much power. Then snow auger is the best equipment for you. It is more advantageous than any other snowblower available since it's pocket-friendly. Also, more minor maintenances will be required, and you can always rely on it to clear your snow every year.