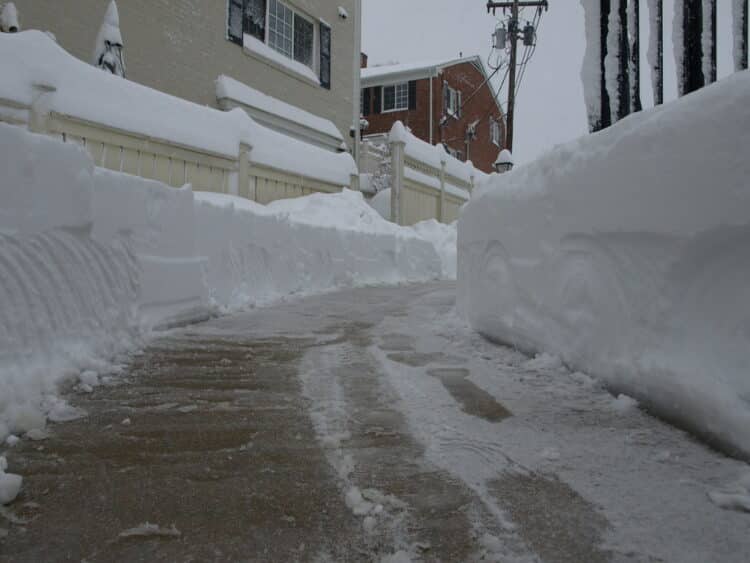 When it comes to a snow shovel vs. snow blower, most people prefer the latter. This is because snow blowers are gentler to your back and shoulders. They also make snow clearing easier. Yet, unknown to most people, there is a difference between a snow blower vs. a snow thrower.
Let's first highlight what sets a snow blower and snow thrower apart. Later on, we will discuss the variations between a single and two-stage snow blower. We will also compare and contrast a two-stage vs. three-stage snow blower.
Snow blower vs. snow thrower
A snow blower and a snow thrower differ in several ways. The primary difference lies in removing the snow from a surface.
What is a snow thrower?
A snow thrower refers to a machine used to remove unwanted snow from areas around the house or roadways. The machine's drill digs into the ground and scoops the snow. The drill then propels the snow through the conduit and throws the snow to a different site.
What is a snow blower?
A snow blower is snow clearing equipment with two or more stages of ice throwing. The auger gathers the snow and passes it to a rotating impeller. The impeller then breaks down the ice and propels it through the discharging channel depositing it to a new location.
What is the difference between single and two-stage snow blower?
Single-stage snow blower components are a drill and a discharging channel (chute). The auger scoops the snow and pushes the snow through the tube, and throws it to another site in one motion.
Single-stage blowers are suitable for clearing light and loose snow around the house.
The two-stage snow blower has an auger, a fan-like rotating impeller, and a discharging conduit. The auger scoops the snow from the surface and avails it to the impeller. The impeller sucks it and pumps it through the conduit throwing it about 35 feet from the original site.
A two-stage snow blower is suitable for clearing heavy and moist snow from broad areas such as driveways.
Two-stage vs. three-stage snow blower
The main difference between a two-stage and a three-stage machine is that the latter has an accelerator. Both machines collect the snow using the drill and push it to the rotating impeller. The impeller then breaks down vast chunks of ice and pumps the particles through the chute.
The three-stage machine has an accelerator that speeds up the whole process. You end up clearing your driveway snow in less time than you would take using a two-stage snow blower.
The 3-stage snow blower is faster and removes larger volumes of snow. This snow blower is complex for home maintenance. You need to consult an expert for regular maintenance.
This snow blower is suitable for areas that experience heavy and wet snow. It is also ideal for you if you wish to speed up your snow clearing routine.
Specifications differences between snow blower and snow thrower
We have seen the primary thing that sets snow throwers apart from snow blowers. Now let us look at differences in specifications and features.
Features
Snow throwers have simple features. They are small machines compared to the large and complex snow blowers. Snow throwers come with the following features depending on the manufacturer and price:
Power switch to turn the snow thrower on and off
Headlamp
Motor
Cushioned clasps
Batteries(for the cordless snow thrower)
Manual lever pulled to power up the machine
Dead man's switch- an automatic trigger that shuts down the machine if you release the handles
Features of a 2-stage snow blower:
Electric power button
Chute controls
Headlamp
Self-heating grips
Dead man's switch
Cushioned clasps
Speed preferences to set your preferred speed
Self-propulsion capacity
Features of a 3-stage snow blower:
Electric power button
Chute controls
Headlights
Dead man's switch
Steering lever
Cushioned hand clasps
Self-heating handles
Speed preferences
Track drives to replace the wheels for use on gravel surfaces that cause flat tires. Track drives also prevent the machine from sliding over ice
Self-propulsion capacity
Power
Most snow throwers use electric power, although some single-stage snow throwers are powered by gasoline. The electric ones use a cord connected to a power socket. There are also electric snow throwers that use rechargeable batteries.
The battery can sustain the machine for up to 45 minutes before they run out of charge.
The corded snow throwers limit where you clear the snow as you can only snow up to where the cord reaches. You also need a power socket near where you are clearing the snow. To correct these limitations, consider going for the battery-powered snow throwers.
Snow blowers use fuel such as petrol and diesel. You clear your driveway and other areas around the house without any limitations. However, snow blowers need regular maintenance, such as checking fuel levels, cleaning, and replacing engine parts.
Cost
Snow throwers are cheaper than snow blowers. Single-stage snow throwers' prices range from $100 to $300 for the electric types with cords. You will pay between $250 and $900 for a battery-powered snow thrower.
Two-stage snow blowers are relatively expensive. On average, you will part with $600 to $2000 for this kind. The price depends on the quality, ease of maneuver, and available features. For instance, snow blowers with heated grips are more expensive than those with regular clasps.
3-stage snow clearing machines are the most expensive, but their excellent features are worth every penny. The extra accelerator speeds up the snow clearing process and can clear a wide snow area in little time. The price ranges from $1000 to $2500.
Capacity
Snow throwers are small and light. Most of them are not self-propelling and need your effort to push them through the icy pavement when clearing snow. They are best suited for a powdery and light snow that is shallow. A snow thrower can remove up to eight inches of ice from surfaces around your house.
Snow blowers are big and heavy. They are self-propelling, which eases your snow clearing since you only need to control the movement, and the engine will propel the machine. Both 2-stage and 3-stage snow blowers are best suited for deep snow cover.
The two-stage type is the most common machine in average snow areas. It quickly blows wet and heavy snow cover from broad areas such as your driveway. A two-stage snow blower is suitable for removing snow of up to 26 inches in width and 10 inches deep, throwing it to 33 feet away.
A three-stage machine is for people who don't mind seeking professional maintenance services every time there is snow on their driveway. This machine is best suited for clearing snow covering up to 30 inches in width and over ten inches deep, throwing it 50 feet away.
Storage and Maintenance
Snow throwers are small machines and take up limited space in your storage area until the next snow season kicks in. You only need to wrap the cords well and check the batteries once in a while. They use electric power and need zero to minimal maintenance.
Snow blowers are large machines with some almost the size of a tractor. They take up a larger space in your garage or storage area, and you have to consider this factor when buying one. They also use gasoline and diesel, which emits fumes and could cause a fire.
The machines need regular checking of fuel levels, lubrication, and engine parts. The three-stage kind is quite complex and requires professional maintenance. This could take a toll on your time and money.
Which is better: Snow thrower vs. blower?
A snow thrower and a snow blower help you remove blankets of snow on surfaces around the house. Each machine has its advantages and disadvantages. The snow thrower does well in areas with light and powdery snow and is suitable if you are operating on a low budget.
Snow blowers are handy in areas that experience heavy snowfall. Also suitable for clearing wet sticky snow, like the one used to make a snowball. They are fast and efficient, and you use half the time you would spend clearing the same snow using a snow thrower.
They need constant maintenance and are pretty expensive. You will pay more to buy and maintain a snow blower.
Conclusion
In the above snow blower vs. snow thrower showdown, we have discussed what sets the two terms apart and how each machine operates to help you clear snow from surfaces around the house. The snow thrower uses a single action to scoop and transfer snow from one point to another.
A snow blower clears the snow in two or three stages. It first scoops the snow, then passes it to the impeller. The impeller then breaks the snow into tiny particles. The fine particles are then propelled through the conduit and thrown away.