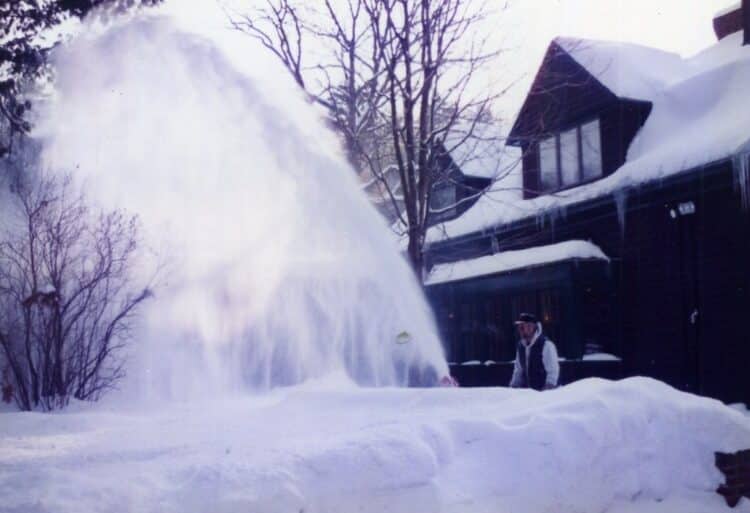 The annual figures for severe injuries due to unsafe snow blowing lie in thousands. Whether it's frozen fingertips or toes, or injured hands and backs, all these emanate from improper handling of snow removal machines.
Additionally, unseasoned are affected and seasoned and professional snow removers, especially when the snow is too thick, heavy, and wet. People often assume that they can use their hands to dislodge accumulated ice or snow. In other instances, ignorance of how the machine works can also be the cause of injuries. To ensure you keep safe this season, here are essential snowblower safety tips you should know about:
Pay attention
Losing focus can lead to severe injuries and even death while clearing snow. You must pay attention to detail and the task at hand. For instance, even when you turn off the snowblower, the blades can keep on rotating.
It cuts anything on its way, and that includes your body parts if you are not careful. Additionally, if you are under medication that leaves you disoriented, you should leave the snow-blowing task to someone else. You should also keep off alcohol and other substances when snow blowing.
Put on safety gear
Snowblower safety starts with you. That is why you must wear the right gear for the task. For starters, keep off any form of loose clothing, including scarves, and lose pants. In case of an accident, these can get caught up in parts of the machine. That can make escape impossible. You should ensure that all your clothes are tight-fitting and if it is necessary to have a scarf on, tuck it in on your jacket.
Additionally, you should put on the correct footwear that provides good traction. That way, you can avoid slipping and hurting yourself in the snow. If possible, you can add ice spikes to your shoe for a more sturdy foot grip.
Moreover, ear and eye protection are essential. Suppose you are using a loud machine-like gas blower. It's best to use earplugs. While you only use your snowblowers a couple of times each winter, the ear damage it can cause may affect you forever. You can also use safety glasses to ensure there is no chance of flying dust, twigs, and debris getting into your eyes. Besides, there is a face shield for snow blowing that can prove quite handy.
Choose a safe direction for the snow blowing
Snow can be a cause of wonderment but also of damage. If you direct the discharge chute the wrong way, you may end up with more damage t properties and injuries to passersby. You should avoid leading it towards traffic.
Keep away from children
Kids are naturally curious about the workings of all machines. However, snowblowers should be out of their reach at all times, whether or not they are in use. If your children have an outdoor activity planned for the day, you should ensure that they stay in the house until you are done clearing the snow. Accidents can happen otherwise, and the injuries can be severe.
Learn first
Many DIY individuals take tremendous risks with snowblowers, whether while repairing it themselves or using it. If it is your first time using the machine, you should start slowly until you get the hang of it. There are numerous snow safety topics and resources you can use to learn more before clearing the snow. You can also pace yourself and understand your limits. There is no shame in taking frequent breaks in between clearing the snow. Additionally, if your snowblower has a problem, you can quickly learn how to fix it. If you feel it's more than you can handle, it's best to have a professional take a look at it.
Never start the machine indoors
The excitement that comes with giving your snowblower a spin is excellent. Nevertheless, that does not mean you should through caution to the wind by starting the machine in your garage shed. If you are looking forward to testing out your snowblower after a whole year of rest, it's bests to do it outside. You risk carbon monoxide poisoning otherwise if you start your gas blower behind closed doors.
Refuel safely
Sometimes you may run out of gas in the middle of a clearing. If that happens, refueling is inevitable. However, please do not make the mistake of refueling while your engine is still running nor when it's still hot. It's best to ensure that your machine cools off well.
Additionally, always add gas to your machine outside. Doing it inside may be unsafe and can cause more harm than good. If you know the clearing task may take more than a single refueling, you may use an approved gas container to store the gas for the next refueling. Lastly, ensure the oil/gas mixture ratio is correct while fueling your gas blower.
Pick up before you start
It's always wise to pick up before an impending snowfall. The last thing you want is these items getting covered in snow and making it difficult to see. These can cause the extension cord of your snowblower to tangle up in the drill or clamp the chute even before you start clearing the snow, its best to pick up anything that may clog the blower or fly off hurt a passerby. That includes toys, stones, mats, Shovels, cords, decorations, and any other item.
Use the right extension cord
Each model has a specifically rated cord for use. Suppose you own an electric snowblower. It's best to ensure that the cord is suitable for its model and an outdoor cord with protection. Additionally, you should ensure that you use a GFCI outlet to plug in the cord.
If the cord is quite long, ensure that it's a fair distance from the augur. Don't let it get tangled up in the front end of the machine. Preferably, keep it behind you at all times. That can ensure no accidents involving the cords happen.
Take extra care while clearing graded areas
Most injuries occur while clearing sloppy areas. You need to take extra care even if you have years of experience under your belt. Maneuvering can be challenging, and you may need to focus all your attention on the task.
Confirm with your doctor if you are suited for the task
People with conditions like heart disease and diabetes risk the worst outcomes from sustaining a simple snowblower injury. Depending on your health condition, it's best to consult your doctor to know whether you should operate on a snowblower. That way, you can prevent injuries by allowing someone in better health to help you with this chore.
Don't remove the safety devices on your machine
The latest models of snow blowers come with numerous safety devices. These are important, especially for a novice in using the machine. Refrain from removing them, as they may prove handy.
Don't use your hands to remove compacted snow
If snow has accumulated and is quite thick, it's best not to use your hands to clear it. Doing so can leave your hands and fingers frozen, leading to amputation. Besides, there's always the danger of the snowblower blades still rotating and further hurting you.
If you must clear the compacted ice manually, then a broom or a stick is most suited for the task. In addition, it's easier and faster using a broom than your hand.
Never use your hands to clear a clogged chute while the engine is still on
One grave mistake can lead to amputation and a life without the full regular use of your hand again. Numerous snowblower users tell the same tale of forgetting to turn off the engine before inserting their hands into the discharge chute.
Sure, a twig or whatever is clogging may have stopped the auger from spinning, but it will undoubtedly resume spinning after you remove the clog. So why risk your hand or fingers getting caught up in it? Your best bet is to turn the engine off first.
Even so, prevention is always the best measure to take. Here is how to keep snowblower chute from clogging:
How to prevent snowblower chute from clogging
Your discharge chute can clog for several reasons. The key to unclogging it lies in understanding how that happens in the first place. For starters, it may clog when the snow is too sticky and accumulates in it, preventing the chute from discharging. This is more likely after a snowstorm.
Secondly, the chute can clog if you are moving your machine too slowly. The slower you are, the slower the snow discharges and the more likelihood of a terrible clog due to buildup. Here are the possible solutions to these issues:
Work at a swifter pace but not too fast if you do not have the skills to maneuver the machine well. That way, the snow gets discharged faster, leaving no chance of accumulation.
Ensure the moving parts of the machine are well lubricated. You can use cooking oil to spray them.
Clear the snow frequently after a snowstorm or a heavy snowfall. That way, the snow will not accumulate too thickly, making it hard to clear.
How to keep snowblower from freezing up
It's no secret that a freeze-up snowblower can be a major cause of clogs. That's why it's important to prevent that from happening in the first place. Your snowblower can freeze up easily if you leave it outside after use or if you leave it idle for long. Here are several tips to help you keep your machine unfrozen:
Coat the chute and auger with a nonstick spray
This is the best lubricant you can use to ensure there's little to no clogging, clumping, and sticking. It lasts long enough to ensure you complete the job, unlike using vegetable oil. All you have to do is spray the two parts before any snow clearing session.
Store it inside after use
The last thing you want is to leave your machine outside in an ongoing snowstorm. However, you may forget it by accident. It's best to make it your number one rule of taking it inside with you.
Clean out clogs before the issue escalates
If you notice any signs of a buildup. It's best to clean it up before it makes a mess of things. You can use a clean-out tool that comes with your machine (or buy one if it doesn't). These tools are often hardened and act like plungers. That makes your work all the easier.
All these tips can come in handy in preventing a clogged chute. However, clogging may still happen, and you need to prepare yourself for the unclogging task ahead. Here are some safety tips for unclogging your snowblower:
Ensure that the engine is off and the blades are not moving before trying to clear the clog
Don't use your hands for the task. Even if the engine is off, there might be enough lingering energy to trap you and cause severe injury to your feet and hands. A stick or a clearing tool is a better choice of tool for and safer.
If you are using shields, it's best to ensure they stay in place while unclogging the chute. That way, flying debris, snow, and twigs cannot harm you.
Get help
Although prevention is possible for most injuries, sometimes accidents are inevitable. If you get hurt while using your snowblower, you should seek immediate help. It always helps if you have a friend nearby, but if not, you need to rely on yourself to save your life.
The first thing you should do is assess how badly hurt you are. If it is a hand injury, you can remove your gloves and bandage them. It would be best if you strived to stop the bleeding while rushing to the emergency room. If you can't make it to the hospital yourself, it's best to have someone on speed dial or call the emergency contacts for quick help.
Final Thoughts
Snowblowing injuries are pretty common even for seasoned and experienced users. The best thing you can do is follow the safety blower guidelines provided by the manufactures. These rules can be the difference between a safe snow clearing season or a tragic one. Additionally, the tips above can help you safely use your machines.