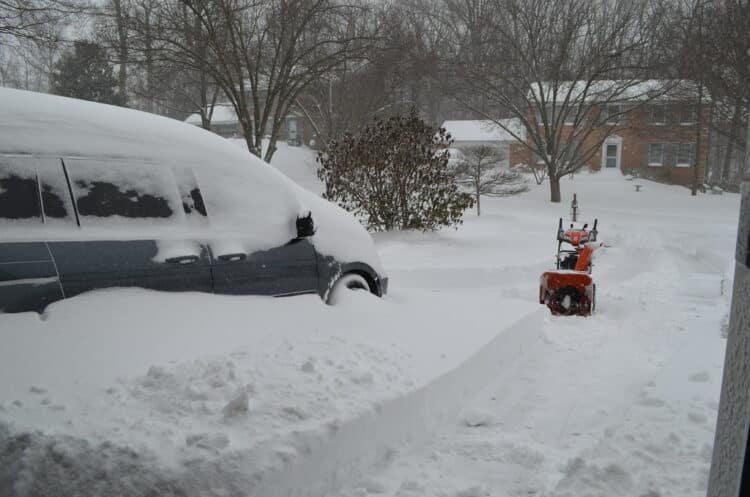 Buying a snowblower can be overwhelming. When selecting the best model for you, you have to consider certain features. These features are meant to keep your snowblower working even in the harshest of conditions. They include heating fixtures for your limbs, tubeless tires that can't go flat, and easy to maneuver machine with the push of a button. But that's not all.
Regardless of the type of snowblower you want, here are the basics you need to know before buying a snowblower.
What to know before buying a snowblower
Although the basic knowledge on what to look for in a snowblower is important, there's more. Here are a few tips to guide you:
Never go for Big Brand Names
Snowblowers available in the market have very catchy names; however, don't fall for that. You should check out the performance of the blower itself. It is important to note that the performance of a blower does not rely on the design or engine alone. Select the one with your preferences. Besides, some big brand names can prove costlier and less durable than other much cheaper snowblowers.
Purchasing Second-hand Snowblowers
When it happens that the snowblower you want is extremely expensive for you, the best thing to do is opt for a second-hand one. However, take your time to do adequate research for the suitable machine and its condition. In most cases, they need spare parts.
It is also essential to recognize whether you can manage the spare parts by hand as they are unique depending on the manufacturer. Look out for loose-fitting cables that are dangling or detached as they might cause severe injuries. When testing steadiness, do not forget to look at the auger and the impeller device. Also, look out for any other concerns the seller may indicate and ask questions for clarity.
Consider Risky Factors like Slope Driveways and Construction
Can you use a snowblower on a driveway with gravel? The answer is yes! The best snow blower for this job is the minimal single-stage snowblower. However, it is an unsuitable snowblower for stony driveway and slopes with high inclination. This is because it has a rubber-made drill, which scraps snow from the ground to the casing.
On the other hand, it is essential to note that you shouldn't use a single-stage snowblower on such grounds. That's because it's prone to damage the rubber auger within a limited time. You will also scatter gravel over the lawn doing so.
Chute and Auto Chute Rotation Control
When considering this factor before purchasing a snowblower, know that a chute rotation controller from a less expensive machine is a crank. It makes your work tiresome as you have to turn the snow blower on at the end of each path. Thus alter the chute height manually when altering the tossing range.
Expensive snowblowers have chute rotation mechanisms that have cable, and you operate electronically. Your work will be to use the operator's control panel to change the pitch and direction. Other models come with valuable features like one hand joystick chute. Even so, a Chute size guide will help you know the suitable model with your preferred chute rotation mechanism. There is also an electric motor for the snowblower chute.
Steel or Plastic Chutes?
When comparing the two, a plastic chute lasts longer and works best than steel cutes. Blower plastic machines are slippery made making it easy to move snow from the lawn. It is also flexible and doesn't crack during winter, unlike steel chute that dent and chip or even rust when they contact heavy and wet snow. The snow sticks in the chute and shut down, forcing you to clear the sticky snow in the machine. Steel chutes are the pull-type snowblower and not the best snow blower for a gravel driveway.
Airless tires
When using a snowblower, you make sure to avoid tires that can go flat. They prove to be a constant problem. They constantly require replacement and refilling after completing an overwhelming task. Also, when there is uneven air between the tires, the machine will lean and slide.
Choosing a tubeless tire is an excellent choice. It's resistant to punctures. Toro tubeless tires are contracted from a polymer material that flexibly goes into the snow shed as they are made of tractions like traditional rubber tires. Tubeless tires are excellent snowblowers for driveways with gravel. It is because they remove side-tracking, and maintenance is easy. The snowblower is a perfect choice for the elderly.
Varied Models
Each person has varying needs, similarly to every snowblower model, which caters to all the different needs. Snowblower's price ranges between $100 and $3000 or even higher for heavy-duty snowblowers. Select a model that meets your individual or company's demand depending on your situation.
The three main snowblower types include single-stage snowblower Honda vs. Toro, two-stage gas, and three-stage snow blowers. Additionally, there is the single-stage electric snowblower. Here's what you need to know about each type.
Single-Stage Snow blower
This type of blower has a single auger that eliminates snow ground and disposes of it via the excite chute. Single-stage snowblowers are designed to eliminate and break left-out snow plows and clearing a two-car snowy driveway.
It is also made of a rubber-padded auger to propel the snowblower when in use slightly. This type of snowblowers is not suitable for step-grade walkways and driveways. Instead, use the other alternative of blowers. While buying the single-stage blower, make sure to differentiate between the Toro and Single-stage blower.
Two-stage snowblower
This snow blower is equipped with a special screw-like auger that helps collect snow to the housing center. Later, the impeller propels the snow at high speed from the chute. The machines are designed to handle large driveways with a snowfall depth of up to 12 inches. They have large engines and augers to handle compact snow and ice faster and efficiently. It is the best snowblower for a stone driveway.
Three stage snow blower
Like its name suggest, a three-stage snow blower has a shifting auger that moves and gathers snow to the center of the housing and propels snow at a faster rate than the other two-stage snow blowers. Thus, you can use the snowblower to move larger sizes of snow within a short time.
Three-stage snow blowers are also designed to handle heavy snowfall of 18 inches. Depths on three or four car driveways. If you are unsure of the best three-stage snow blower to buy, check Columbia 3 stage snowblower review.
what is Difference between 2 Stage and 3 Stage Snowblower?
One of the most significant differences between 2 vs. 3 stage snow blower is their performance. A three-stage machine has an extra auger to dice, freeze and cut heavy compacted snow. A two-stage snowblower, on the other hand, has less snow cutting and braking power.
The other difference between them is that a three-stage snowblower has extra cutting augers, belts, impellers, and larger engines. Thus the best snow blower on gravel lawns. They also come with bigger tires and throw snow away from the grounds through a two-stage snow blower with the same scraping capabilities and throwing snow 40 to 50 feet away.
Another difference between 2 stages and 3 stage snowblower is, a three-stage snow blower has limited features as it is made for professional use. In contrast, a two-stage machine has excellent varieties in the market with good features. The features available in a two-stage snowblower make it the best snow blower for seniors.
What type of snow blower is best for a gravel driveway?
A single-stage machine needs further than a self-propelled type to function on a driveway with more inclination. The top snow blower for a long gravel driveway is a two or three-stage snowblower will do. It's equipped with special drills that only scrap the top snow.
What is the best time to buy a snowblower?
Most people tend to buy their snowblowers after the first snowfall. During this time, they are in a rush to get cost-effective products. But the truth is there are minimal chances of getting the right product during the last minutes.
The best time of year to buy a snowblower is before the snow comes knocking. It can either be during spring or summer; you are likely to get the best snowblower Ontario selection at a great deal. If you wait until later, there are chances of getting a reasonably priced product with limited selections.
The question of when is the best time to buy a snowblower depends on your choices and budget. If you do not mind product selection, purchasing the snowblower when the first snow falls is fine. People also ask when snowblowers go on sale. The answer to this is snowblowers are available in the market any time and season. There is no best time to buy a snowblower. The products are also available online in snowblower online Canada.
Difference between snowblower and thrower
Snowblower vs. thrower is making it easy for individuals to remove snow from sidewalks and driveways. While the term snow throwers and blowers are used similarly in most cases, they are different according to their power, price, and functionality.
Snow throwers are single-stage machines that scrape snow and toss it in a single motion. They can gather snow and create a force that expels it out of the chute 15 to 25 feet away. Most snow blower selections are the best snow blower for hilly driveways.
On the other hand, snowblowers act like snow throwers using a rotating drill to scoop snow, feed it in the impeller and expel it 35 feet away. The most significant snowblower is a three-stage machine with accelerators that pass through compacted snowpacks, crushing it and feeding the impeller.
Another significant difference between a snow thrower vs. a snow blower is snowblowers eliminate snow in both large areas with heavy snow. In contrast, the best snow thrower in Canada stops small-scale and light snow on lawns. Snowblower over gravel is self-propelled, while most Toro snow throwers in Canada are not self-propelled.
Can I use a snowblower on a gravel driveway?
Yes, there is no limitation on where to use your snowblower. You need to know how to snow blow a gravel driveway well with your snowblower without damaging any parts. The suitable snowblower on gravel either a two-stage or three-stage machine as their auger is robust and does not scrape the driveway. A two or three-stage snow blower is also the best snow blower for a dirt driveway.
How to snow blow gravel driveway
When snow blowing a drive or walkway, a single-stage snow blower is not the right and safest machine to use. A three-stage blower is ideal for a gravel driveway or snowblower height gravel. During the process, place the snowblower on the gravel driveway and walk it through the snow carefully to not damage your property or harm yourself.
Conclusion
Snowblowers offer significant value to homeowners during winter. During the snowy period, snow blowers help to clear the driveway and give you ample time while taking a stroll and driving to work and back home. Its benefits make it a piece of must-have outdoor equipment during winter. One of the essential things to consider before purchasing a snowblower is its features.
In most cases, retail stores do not recommend single-stage snow blowers as it is limited to functionality. Anything above that is what most will prefer. With that in mind, do not forget to check the little blizzard snow mac manual for other features of your preferred snowblower.
Besides, knowing the wide range of models available in the market makes it easier to make the right choice. The above features and questions will help you get a suitable snowblower model and make you purchase one like an expert. Also, do not wait until the last minute to buy a snowblower. You may not get the proper selection. Happy shopping!