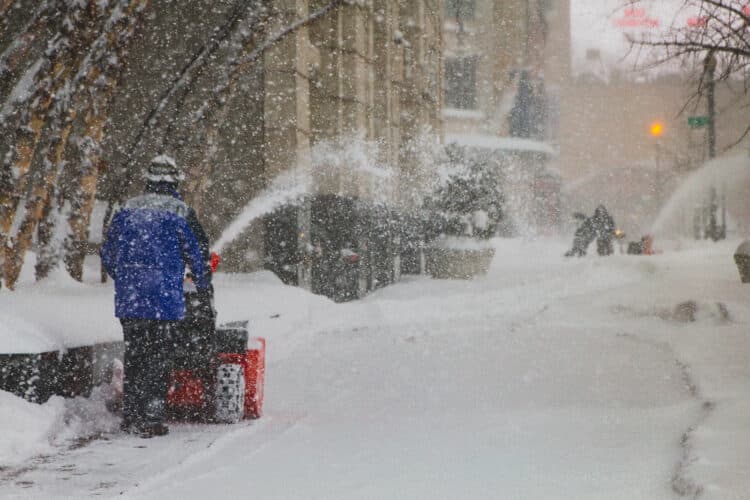 Finding yourself snowed in by a foot of compact snow will surely mean some serious and tiresome yard-work. What will make this even more infuriating is when you find that the sudden drop in temperatures has muddled with your snow blower's ability to power on.
Thankfully there are several fail-proof snowblower tricks that will clear your yard of pesky mounds in no time.
Starting Up Your Machine
How you'll be starting up your machine will depend on the type of snow blower you have. It may be a recoil start or an electric start model.
Recoil start snow blowers
This type features a pull-start feature. To power on the machine, slowly pull the rope until there is resistance from the recoil, then pull on the rope hard to start the engine.
Electric start snow blowers
Models that depend on electricity should be plugged into a power source. Push the ignition button to start up the machine, then unplug the cord once it has come to life.
Other models feature an automatic ignition. This type starts-up similarly to a car or truck with the use of an ignition key.
It's All A Matter of Fuel
1. Choke
If you find that your snowblower won't start up due to the low temperatures of your storage space, the first thing that you should do is to use the choke.
Turning on the choke will prevent air from entering the carburetor. This will result in rich fuel that will make it easier to power on your machine.
Once the snowblower is turned on, switch off the choke to allow air to enter the carburetor again.
2. Run/rocker Switch
When starting your snowblower, switch it to "RUN." This will immediately ignite the engine of your machine.
When you're done with your snow blowing duties, switch the device back to "STOP" to avoid the accidental ignition of your system.
3. Primer Bulb
This feature will make the initial start-up of the machine much easier. This device will pump fuel directly into the carburetor to allow for a quick start-up.
Pressing the bulb at least twice or thrice should be enough to power up the engine. Otherwise, you may refer to your user manual or consult the manufacturer for more information.
Before powering on the machine using your primer bulb, make sure that the safety key is inserted.
The safety ignition key is an added safety feature of the snowblower. In case of emergencies such as accidentally running over something, the machine's engine will immediately shut off upon pulling the safety key.
4. Throttle
To allow for maximum fuel-burning efficiency, turn the throttle on to the fastest mode possible. If you run your machine at full-throttle, this will heat up the machine much faster.
Clearing snow from your yard doesn't need to be time-consuming and tiresome. Make sure to pay attention to your machine's start-up features to efficiently make use of its fuel-burning capacity.