The application of air compressors is immense, and this stems back to 1500BC when a new type of compressor was invented known as Bellows, over the years as people became more industrialized and began to appreciate the influence of machines in enhancing the quality of life, the air compressor was adopted for use in transmitting energy. And given its effectiveness, it necessitated the construction of a compressor plant which rapidly grew from 1500KW to 1800 KW.
Currently, the air compressor has been adopted in almost every field, from the medical facilities to hospitals that can rarely function without compressors, the food and beverage processing plants also use the air compressors, the chemical manufacturing fields, the aerospace and automotive industries all require air compressors if they are to operate to the maximum.
Our mission at Kyles Garage, therefore, is to provide you with the most comprehensive and relevant information on air compressors. And given the extensive nature in use and application, we will focus our attention on one particular area thus provide insight on the air compressors used on cars. Despite its many uses air compressors are also used to inflate a car's tire.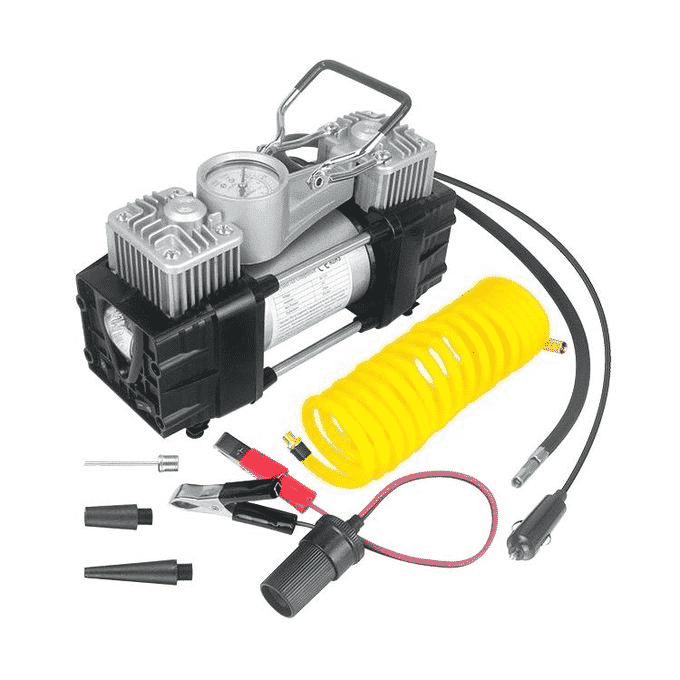 Let us back up a little on the importance of maintaining an optimal range in tire pressure, for one tire pressure will impact the performance of your car either positively or negatively, an underinflated car tire will lead to a bumpy and dangerous ride, consequently making your tires wear out a lot faster. Additionally, an underinflated car tire can barely maintain its shape and will become flat as it comes in contact with the road.
Worse still is that if the car's tire are underinflated by just 6 psi it can quickly lead to tire failure and the tires tread life would be reduced by about 25%. Overinflated tires, on the other hand, tend to lose traction because the tire loses its shape, caused by excessive air pressure. An overinflated tire is, therefore, prone to damages as it is stiff and might not take on the road hazards too well.
Now let us zero in on why you need an air compressor, tires do not lose pressure through punctures alone, but through osmosis via the tire casing which causes the tire to lose about 1 to 3 PSI per month, the above however depends on tires model and make. At times the tire could be having the small leaking punctures in the tread which would also make it lose air pressure.
Tires also lose pressure through the natural permeation process, where air escapes through the rubber's sidewall. Lastly, the weather can also affect the inflation pressure and in this case, your tire will lose about 1 PSI for every 10-degree drop in the external environmental temperature. The above is the exact reason why you need to own at least one portable air compressor, and with it, you can routinely check on your tire pressure and maintain them within the proper range.
While getting a personal air compressor might seem like an expensive venture, it will surely save you a lot of money. Which then brings us to the types of air compressors, the idea here is that you get a reliable air compressor for the long haul, compressors like any other mechanical equipment, are only purchased once, and are to give you a proper service for a couple of years before you get another one.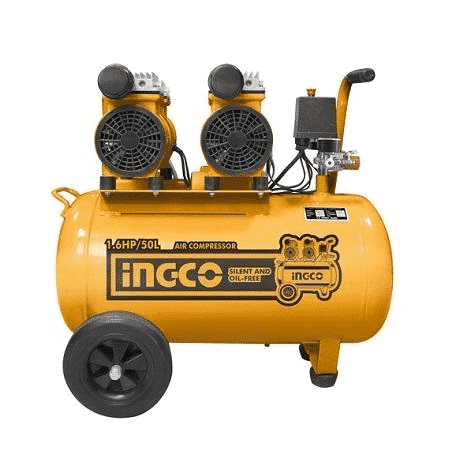 Air compressors are available from different manufacturers and they are of different types, it will be of benefit to you, therefore, to learn of the air compressors that will inflate your tire faster and those that have pressure limit. You will also be interested to know the type of outlet that the compressor uses, between a standard power outlet and a 12volt car outlet.
As a rule of thumb, therefore, it would be best if you got yourself a 12volt air compressor that you can easily store in your car and use while in transit, well, all the above information and many more are available at Kyles garage.
Air compressors have been made to cater to different types of cars; we, therefore, have those that will do a splendid job on the heavy-duty trucks such as the GSPSCN Silver tire inflator.
The latter is not a very common brand but is easy to use when inflating your truck tires. The Silver tire inflator offers the highest air pressure of 150 PSI utilizing its twin motors.
The air compressor's power draw is rated at 120 watts and can give you up to 70liters of air each minute on the tires. Using it is pretty easy mostly because it has incorporated a 9feet long power cable and is equipped with a variety of accessories.
Kensun portable air compressor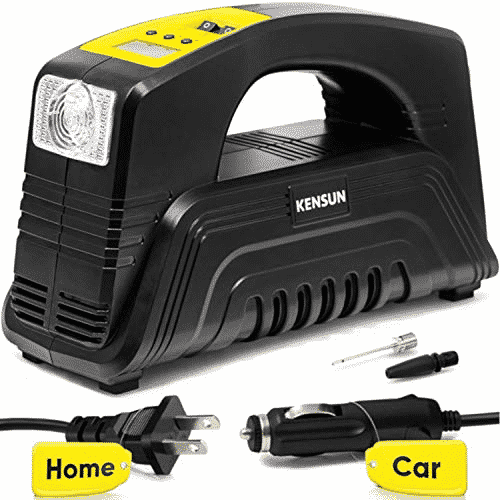 Kensun portable air compressor comes with all the bells and whistles that would sound very good to the ears of the truck drivers. For one it works with both the DC and AC outlets, the unit is also compact when compared to other air compressors, making it a good option while in transit. Kensun will furnish you with a maximum air pressure of 100PSI thanks to its 120 watts motor.
The unit is pretty intuitive to use as it has incorporated a pressure gauge that you can use to know your current tire pressure; alternating between the DC and AC electricity is simple as you have been provided with a switch. Kensun is one of the best air compressors for the heavy-duty truck, because it is highly reliable and durable, has been slapped with a 2-year warranty and is equipped with at least two motors.
If you travel a lot then the air compressor is a basic need, however, not many of them are budget-friendly, and picking the one that will give you a good service can be a challenge. But the good thing is that you are in the right place. Kyles garage has, therefore, compiled an extensive excerpt on the best air compressors under $200.
For example, we have the California Air Tools 5510SE
Just to maintain the peace and prevent your pets and household dweller from jumping out of their skin, the California Air tools, will not be roaring all over your neighborhood, as it has been equipped with a sound level of up to 60 decibels complete with a motor speed of up to 1680 decibels.
The unit can handle both the small and medium tasks, even better is that it has incorporated two gauges the tank and regulated pressure. Additionally, the compressor has been designed to offer a maximum pressure of up to 120 PSI which accommodates more air in the 5.5-gallon tank. With a comprehensive weight of 46 pounds, the air compressor features a stainless steel material that resists corrosion and rust.
More information on the best air compressor under $200 has been provided at Kyles garage, and we believe that the provided insight we will enable you to narrow down to the one option that will suffice your needs. Air compressors under $200 are not only good for the price but come equipped with attractive and relevant functionality features. For example, some are light in weight, are not very noisy and are easy to operate and easy to transport from point A to B.
Kyles garage has also compiled comprehensive information on the best oil to use on an air compressor and the most typical question that people don't seem to get the answer is whether they can use motor oil on their air compressors. Well, the simple answer is no, because for your air compressor to function effectively, you will have to use a lubricant that has been specifically formulated to work on the unique operating design of an air compressor that the motor oil cannot.
You, however, have other options and you can use the synthetic oils on your compressor, the reason being that they will give your compressor the power to work in both the high and low temperatures, and will also protect it from overheating; even better is that they help minimize the noise that comes from the air compressor.
Compressor oil needs to be changed at least once every year, ideally, it is recommended that you change it after 7000-8000 hours under use, and if you are using a reciprocating compressor then you could change the oil at least after every 3 months. Most importantly is that not all oil compressors need oil, so once you make your purchase ensure to find out if it is an oil-free model. If it is not then the manufacturer's manual must have recommendations on the oil that you can use.
You, however, don't need to worry your head so much about this because most of the synthetic air compressor oils are universal and can be used on the different types of consumer-grade air compressors.
Conclusion
There is never too much information and at Kyles garage, we believe in sharing knowledge to help make life easy. Air compressors are not your basic mechanical equipment and even the most versed in the industry will need to brush up on what they know about the air compressors from time to time. We have, therefore, compiled the most current and relevant information on air compressors and all you need to do to access the information is visit Kyles garage.