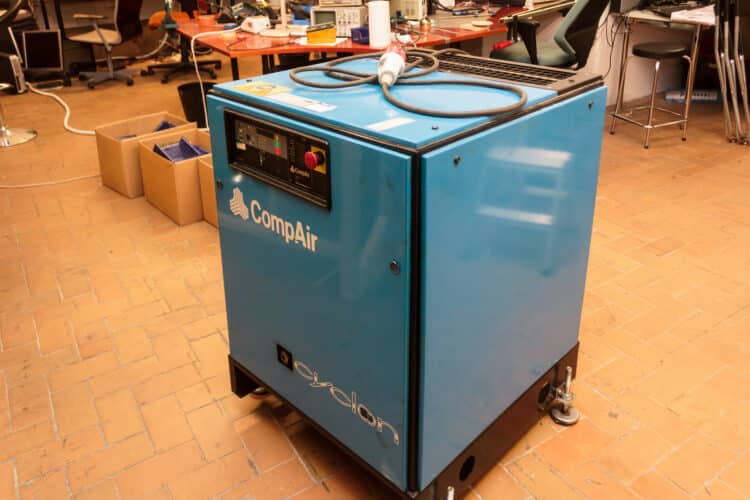 An air compressor has many great uses you might haven't thought of before, and all you have to do is be creative about it. It is a truly versatile device that you can utilize around the house or within the workplace and work wonders.
What are the different uses of air compressors, you may ask? Well outside its known and intended uses, there many. You can either use it to blast some air into your pool toys or do a quick cleanup of your dirty garage, which are some examples that you can do. However, there are a lot more unexpected things you can do with it, which you will be guided in the list below, and a separate list will be added for its more known uses:
The Many Uses of Air Compressors That You Might Not Know
1. Igniting your backyard grill: The weekend has arrived, and all you want to do is relax and have a good time by your swimming pool in the backyard. You have guests for a pool party and plan to grill burgers. But you are dreading the hassle of flaming up the charcoal, which always takes so long.
All you have to do is take your handy garage compressor to the grill, direct the tapered inflator nozzle toward the base of the embers, and blast off spurts of air towards it. You will have a blistering flame in no time, and the burgers will be grilled in a flash. Be sure to lower down the pressure regulator, or else the flame will be extinguished.
2. Instant cleaning up with air pressure: The uses of air compressors are too many to count in your two hands. So after utilizing it in the garage or the backyard, you need to remove unwanted clutters and dirt in a hurry since you are already wiped out from all the manual chores you have already done. So take out your blowgun and squirt quick bursts of air towards the dirty clutter. Be sure to change the pressure regulator to 30 psi or below, and do not forget to wear safety goggles to protect your eyes from debris that might hurl at you. Avoid using compressed air to clean yourself because it might cause harm to you.
3. Inflating your kids' swimming pool toys: What do air compressors do? They bring joy to you kids' swimming pool playtime. They are usually impatient because inflating their rafts, tubes, and toys always take too long. To get them to the pool quickly, you need to fasten a tapered inflator nozzle to your garage compressor and an instant swimming pool fun for the kids.
4. Painting tasks done efficiently and creatively: There are many air compressor uses at home, and one thing you can do with it is painting household stuff, which includes the walls. It accomplishes better tasks than the spray can, which could not reach higher and farther places. With specialized paint nozzles, you can make intricate designs in your lawnmower or your kid's trike. Try out the design first on a spare piece of sheet metal or cardboard before painting it for real.
5. A snowmaker made by a homemaker: Christmastime is about to arrive, but you are missing the crucial element to making the holiday season more joyous: large amounts of snow scattered everywhere. You can transform your ordinary garage compressor into an air compressor snow machine. You only need some pieces of pipes and valves and Google quick instructions then you are on your way to creating the most memorable holiday for you and your family.
The Established Uses of Compressed Air for the Consumer, Industrial Companies, and Professionals
1. In the energy sector: What do air compressors do? Energy-wise, it is massively significant to consumers that need it to function every day. Drilling for oil depends on pressurized air equipment that is unequaled from other ones people are used to because of its no-spark delivery and stable turnouts.
2. For Ventilation, Air Conditioning, and Heating: Systems and units whose primary task is to control the temperature in an enclosed area using special kinds of models, like the rotary screw. It enables "vapor compression refrigeration," which means it modulates the air vapors by compressing them.
3. Engine work: Your car's engine has compressor functionality for cooling and heating it. For larger vehicles like trains and trucks, it is needed for their air braking system. Theme park rides like rollercoasters are operated using compressor technology.
4. For agricultural farming: There are a few air compressor machine uses in farming equipment like crop conveyors, tractors, and pumps. Also, it is needed to ventilate the greenhouse and dairy milking cow stalls.
5. Manufacturing in large factories: The compressor functionality is utilized to make sure that medicines, food, and beverages are sealed tightly to make them safe to consume. The rotary screw device is used for presses, packing, conveyor belts, and sprayers.
6. In building and construction: Building locations use massive air compressors for powering heavy equipment like compactors or drills. Construction in remote areas especially needs it because, instead of electricity, diesel and petrol can be used as fuel instead, to have continuous power.
7. Spray-painting hard to reach places: One of the uses for small air compressors is spray-painting with airbrushes that you can use in your home or work. Some professional artists have replaced this tool with their paint and paintbrushes.
8. Putting air in your rubber tires: It is the best-known use of this device and is also utilized in air beds, balloons, and other inflatable things.
9. For underwater scuba diving: It is an essential gear for diving enthusiasts, which they need to breathe underwater for long periods.
10. For pressurized washing: This handy device is used as high-pressure cleaners that blast water out your paved driveway, concrete flooring, brickwork, and removal of difficult stains from carpets.
In Conclusion
The uses of compressed air are too many to count, whether it be at home or the workplace. It is a handy and useful tool to attain, so get one now!