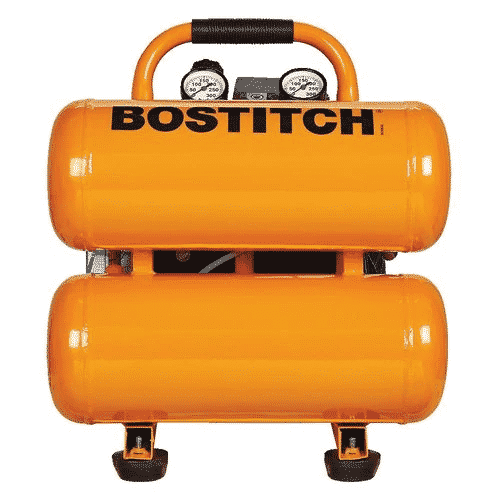 Air compressors are versatile equipment that you can use to conduct different jobs. If you are searching for one, find out how popular models such as Bostitch and Craftsman air compressor compare.
If you have a lot of inflatable items, you need to invest in an air compressor. This tool is not only used at home but also in different works stations to handle various applications. While some of the air compressors provide enough power for tough jobs, others are less powerful. Bostitch and Craftsman air compressors have a lot in common. Read on to learn which air compressor can meet your specific needs.
Bostitch vs Craftsman air compressor – How do they compare?
Tank
The Bostitch tank can operate pneumatic tools continuously over an extended duration. You, however, have to stop working at some point and give the tank time to refill. The good thing about Bostitch is that it takes only 25 seconds to recover. This makes it far superior compared to the Craftsman air compressor.
Noise output
This is a crucial factor to take into account when comparing different air compressors. Craftsman air compressor is known to offer silent operation. You can, therefore, use this air compressor anywhere, including both indoors or outdoors. The high-end motor and pump of Bostitch make it slightly louder during use.
Accessories
If you need an air compressor that can give you more value for your cash, you should consider Craftsman air compressor. This unit comes with a 13-piece kit full of accessories. Some of the accessories that come with this air compressor include PVC hose, adapters, tire chunk, and blowgun. Bostitch, on the other hand, does not come with an accessory kit.
Bostitch air compressor
If you want to use an air compressor at home, you should choose one that is relatively quiet and has a compact design. Choosing Bostitch can help you save on space since it is quite small. It features a narrow diameter tank and has a plastic built shroud.
What you should expect from Bostitch
Most users like the nice design of this air compressor. Bostitch is a solidly built compressor that weighs only 29 lbs. This makes it one of the lightest air compressors available today. Due to the lightweight, you can quickly move it around your working station without hurting your back. You should also expect this air compressor to serve you for long since it is made using quality components. The high-efficiency motor is easy to start even when the weather is cold. Bostitch is also an affordable air compressor that holds pressure well.
What are the key features of Bostitch?
Tank capacity
The tank capacity of this air compressor makes it suitable for applications such as carpentry. Bostitch comes with a 6-gallon air tank, which is large enough for small tasks. If you have demanding jobs and choose this air compressor, you have to keep on waiting for the tank to refill for you to use it. Despite this drawback, the air compressor is known to recover quite fast.
Motor and pump
This air compressor also comes with a motor that draws 15 Amps and can run at 2700 RPM. It means that the standard 1.2V outlet can easily power the air compressor. You, therefore, don't have to get a new outlet which offers higher amperage. It also comes with a lube-free pump that is easy to maintain.
Bostitch air compressor can, therefore, operate without needing oil. It saves you from tasks such as changing oil. Being self-lubricated also makes it more convenient when transporting the unit since you don't have to worry about any oil spilling when the air compressor gets tilted. Most users also find this air compressor quite easy to start. The motor also has a maximum pressure of 150 PSI.
Performance
You can use this air compressor to operate many tools since it delivers 2.6 SCFM @ 90 PSI. Though this air compressor can power different tools, you may face some buffering issues during framing nailers. Though Bostitch air compressor cannot offer industrial power, it is ideal for mid-range applications.
Noise factor
Though this air compressor is not silent, it produces low noise levels of 78.5 dBA. Therefore, you can use it without disturbing anyone or losing your focus on the task.
Pros
Oil-free pump
It comes with well-structured controls
You can easily adjust the outlet pressure
The tank refills within seconds
It supports at least two air tools
Cons
Craftsman air compressor
Most DIYers love this air compressor due to its fast recovery time and compact design. You should consider the Craftsman air compressor if you need an air compressor that you can use at different sites.
What you should expect from Craftsman air compressor
This air compressor is well made and does not need a lot of maintenance. It only weighs 30 pounds and has a handle that enhances portability. Craftsman air compressor is a popular model that features quick recovery and long operation time. You can, therefore, use it to inflate bike and car tires. Having this tool in your garage can help you take care of any emergency blow-ups. Even if you have never used an air compressor, you will find Craftsman air compressor beginner-friendly. It comes fully assembled for you to start using it instantly.
What are the key features of the Craftsman air compressor?
Tank capacity
Like Bostitch, Craftsman air compressor comes with a 6-gallon tank. You can, therefore, use it on small to medium applications. The air compressor can deliver 2.6 SCFM @ 90 PSI. Its maximum pressure is also 150 PSI.
Pump
The problem with some of the compressors is that they need a lot of maintenance for them to offer great service for long. Craftsman air compressor is, however, different since it contains an oil-free pump. This makes it easy to care for and extend its lifespan.
Utility
You can quickly start and use this air compressor in different weather conditions, even in the cold. Most users also appreciate the inclusion of numerous accessories in this air compressor. You should expect things like three inflator adaptors, PVC hose, coupler, tire gauge, blowgun, and rubber tip in the package. An accessory kit makes this air compressor quite valuable since it prevents you from buying additional tools.
Pros
The pancake-style tank optimizes stored air
Has an oil-free pump
It is durable and easy to use
Quick recovery
Cons
You don't get instructions on how to use the small accessories.
Final thoughts
If you want an air compressor for home use, you don't have to go for a heavy-duty one. You should focus on getting a quality air compressor that has all the right features and is within your budget. Both Bostitch and Craftsman are pancake-style air compressors that come in compact sizes. They don't take a lot of space and are easy to move around.
These air compressors have similar features, such as a 6-gallon tank, an oil-free pump, and a maximum pressure of 150 PSI. Despite these similarities, they differ in that Craftsman comes with an accessory kit and works at low noise levels. Though Bostitch is a bit louder, its quick recovery time is impressive.