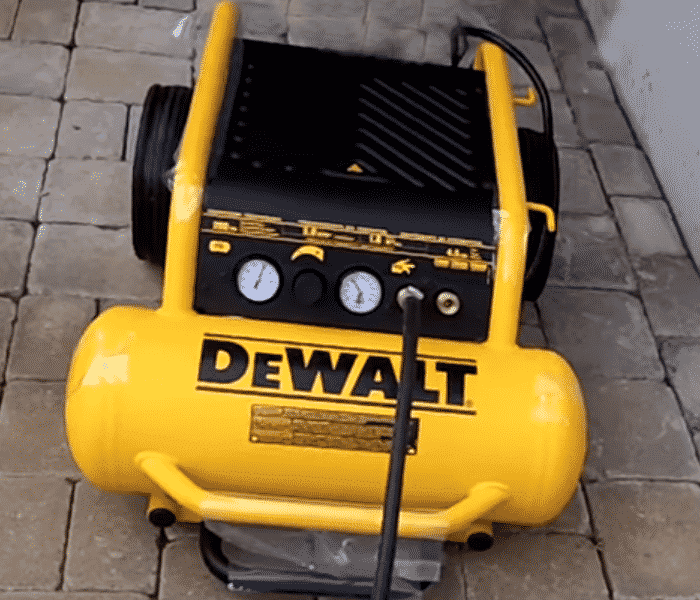 When working with potentially dangerous equipment in construction sites, factories, or any other activity-filled environment, safety should always be considered a priority. Supervisors, managers, safety officers, or any other person in charge want to avoid any work-related mishaps caused by malfunctioning machinery. Doing this will be beneficial for the company, and the employees would feel safe and confident in the work they are doing. Morale would be boosted, and production would increase because of it. Adapting safety protocols is not only mandatory but beneficial to the lifeblood of every company.
Practicing safety measures is very significant in working with heavy equipment like air compressors.
Ask yourself: can air compressors explode?
Air compressor safety precautions are put in place by the higher-ups to ensure that people check their equipment before use. It should be treated with the utmost care and taken seriously as any other work assignment. Every employee that operates heavy equipment must undergo proper safety training procedures, like reading safety manuals and take them to heart. Manuals especially, provide specific instructions regarding the particular tool or device and will instruct you to use it for longer periods without any damage happening.
There are other resources out there that provide pneumatic safety precautions for a high-risk device like the air compressor. The information below will serve as a guide on the correct usage of this device, the particular things you should check first before operating it, what to closely look out for, and ways to ensure its safe running.
Can Air Compressors Explode? And Other Questions Relating to its Hazardous Nature
A person that asks that question is a person that cares about compressor safety devices. He/she wants to learn about its proper maintenance and known hazards in the work area. This way, accidents can be avoided.
Educating yourself about the dangers of compressed air and its known hazards is a good idea if you work in these large companies that have it. If something wrong happens, you can diagnose the issue and be a big help to the company.
Dangerous fumes: Compressors powered by gas or diesel emit unsafe gasses that are harmful to people's health. So they are most likely located outdoors, very far so that employees would not even breathe a whiff of it.
Loud noises: Some models of these devices let out loud noises that may cause loss of hearing.
Bodily harm from electricity: Compressed air risk assessment should be practiced when handling electricity via extension cords. If it is not correctly grounded, electric shocks and electrocution will occur to yourself and the compressor engine. Also, be sure that you are utilizing the extension cord properly.
Pressurized air: If for some reason, you are blasted by it in full force outside or inside the body, you can get your eardrums burst, acquire an air embolism, and rupture your internal organs.
The company's safety officer will hinder these dangers from happening in the work environment by following safety procedures like checking equipment before use.
Is Breathing Air from Air Compressor Bad for You?
The short answer is yes. The longer one is that its air has contaminants that are deadly for your overall health. There is carbon monoxide that accumulates within the vicinity, along with debris and dust that is forever present on the construction site. So, to protect yourself from this, you should wear a protective mask or only do not work close to it and steer clear from the dangerous air.
Can you get killed by an air compressor?
One of the dangers of compressed air is that it can end your life. However, the probability of it happening is extremely low. Yet, a workplace death resulting from a compressor malfunction is rare and can only happen if it explodes, for whatever reason. A more believable reason is that the device's operator does something irresponsible with it which then causes the demise of someone. To avoid this, the operator should follow strict safety protocols and regulations.
Air Compressor Regulations and Safety Tips
Every employee that gets to operate the mobile petrol air compressor has to go through a suitable training procedure and put into mind the compressor safety precautions. Whenever something new happens with it, like upgrades and repairs, its operators should also be informed and retrained. The OSHA requirements for breathing air compressors (Occupational Safety and Health Administration) should be fulfilled and mandated by every company that utilizes this device.
Safely Installing the Device in the Work Area
There are things you need to remember and keep in mind before setting it up. You have to be aware of air compressor safety procedures to ensure safety for the company at large:
If the tank in the compressor becomes higher than necessary, the air receiver relief valve will let out air automatically. It is a crucial pneumatic safety feature in the tank, so you should not attempt to do anything with it.
All its significant elements, like the project air compressor parts, coincide with the pressure ratings.
The air dryer pop-off valve should be at arm's length at all times in case something happens that puts everyone in danger.
Drain valves are powered by electricity, and it should be a situation far from any liquid source and above the ground.
There are movable parts in the device like pulleys, flywheels, and belts that are sensitive to outside forces. So be sure to place a barrier of some sort or any covering.
The overall wetness of the workplace atmosphere is significant to the welfare of the device, so be sure that good air is properly circulated within the surroundings. If the device will run for a longer period, utilizing a heater or drying is a good way to combat the detrimental humidity.
The device emits unwanted carbon monoxide and other pollutants in the air that causes damage to the health of the workplace employees. So be sure that clean air is circulated within an area.
Checking the Equipment before Use
Like all significant factory equipment, pre-checking the compressor safety devices is mandatory for all companies. You have to be fully aware of every possible problem that may occur, so you need to make a checklist before the device goes into operation. There are many important factors to consider:
Pneumatic safety is key to its overall functionality, so to keep its inefficient operational capability, it needs the recommended types of lubricants for every component that requires it.
Oil is like the lifeblood of the device. The device needs it to run smoothly, so be sure to check if it has the right quantity in the system. There is a reservoir, so be sure not to put too much and do not let it spill out onto its outside surface.
The device is often an unwilling recipient to dust and grime, so air filters are necessary to screen them out. Check on them before using whether you need to wash, replace, or remove them.
Fuel is like the food for the device and needs it to keep in good running order. So be sure it has the necessary amount before turning it on since it would be a complete hindrance to refill the tank in the middle of the working day. If you need to refuel or change the oil, be sure the machine has been shut for a long time and cold to the touch.
You have to be sure that the other tools and accessories connected to the device do not have triggering mechanisms before the operation.
Check on the connection of the air source towards the device if it is secured properly. Be sure it is not loose or wrongly linked up. Otherwise, the device would malfunction and not do the job as required.
Electrical outlets that are properly grounded should be made certain so that accidents like fire and electrical damage to the machine is avoided.

For the different components of the device, there are also pneumatic health and safety regulations that need to be followed. These include the distribution lines, the pressure regulation devices, and the air receivers. Each plays a crucial role in keeping the machine in a healthy working condition.
Distribution Lines
There should be air hose management. It has a tendency to wear and tear and should not be curled or bent. There should be regular hose checks for any damage or flaws and change it immediately when it has.
Put labels on every line to show the highest pressure it can go so that the devices operators would not go over the limit.
The fittings on and around the lines are securely fastened.
Pressure Regulation Devices
The compressor user manual has the information for its speed recommendation and will warn you to never go past it.
The pneumatic safety shutoff valve should be 10 percent or 15 psi and slightly higher than its workable pressure but should not go over. If the device is used in frigid environments, the valves should be checked frequently for condensation to occur within the unit. If by chance the valves get frozen, unfreeze it immediately and empty the tank before turning it on again. The blow-off valve should have a protective covering to fend off any harm to the unit.
The air that goes inside the device should come from a clean source like the outdoors. At the intake valve, put in a filter to retain clean air.
Air Receivers
A release valve is included in the air receiver to halt the pressure from going over the limit.
Be sure to take out excess water via the devices draining system so that water would not pool and cause destruction.
A compressed air safety valve and a pressure gauge are present in the device and meet the criteria that the ASME (American Society of Mechanical Engineers has set.
Compressed Air Safety for Operators
The compressor operator is the person whose chief responsibility is to control and take care of it. Part of their job is to be aware of all its valves, gauges, and fittings and to know if they are in good working order and be in control all the time. They have undergone mandatory safety procedures. They also have to know things like making sure that the device is on a parallel surface, or be sure to keep their hair and clothes away from any part of the device.
You can use the device to clean some objects by using the nozzle with minimal pressure only. But there are dangers of using compressed air to take the dirt off the clothes or your own body. Do not utilize it by putting in pressurized air in a container to remove dangerous liquids because they cannot handle its power, and do not use it to clean ball bearings because it may cause them to rotate wildly and blow up.
The operator has to dress the right way for the job, which means wearing safety gear at all times. Wear protective covering for the eyes and ears because they are the most sensitive part of the body. Based on information from the Center for Disease Control, about 22 million ordinary workers are prone to damaging noises that seriously affect the ears. It does not happen immediately but eventually impacts critically in the long run. PPE (Personal Protective Equipment) is compulsory for workers that handle heavy equipment. These include face masks, eye goggles, steel-toed boots, the leather of rubber gloves, and PVC or leather aprons. Do not wear light cotton clothes because they are not effective shields for the hazards that pressurized air brings. Provide covering to any body part that may expose to air debris or harmful fumes.
If you are tasked to operate this device and have undergone all safety protocols and learned its proper usage, you still need to foresee any incoming dangers. So before turning it on and start working for the day, be aware of these crucial details and consistently check them out:
You should be aware of the electrical voltage of the device. If something goes wrong, you have to power it down, label the malfunctioning line, and let out the compressed air. Indoor compressors are supposed to work within the premises only, so do not let it out, or it might get wet and malfunction.
The air that goes inside the inlet should be dry with no moisture and also clean. It should not go over the pressure recommended by the company to use. If the rating of any device related to the compressor goes over the limit, some harm will come to it like defective pressure, breakage in the unit, excessive velocity, and sudden torque.
Always check if the air is clean and dry so that the device will run smoothly and efficiently. It is made possible by filters, which you also need to replace once in a while.
Aside from looking out for your safekeeping, you should also need to be aware of other employees or people within the vicinity of the device. Let them know that they need to steer clear from it in case something bad happens and also so you can do its operational task unhampered. Be sure to keep all of its cables or wires away from any walking pathways so that people would not trip from them.
Air Compressor Regulations for Maintaining and Cleaning Purposes
Cleaning and maintaining the device is necessary for it to continue working smoothly and correctly. Its length of service will increase, and its capabilities will remain unencumbered for a long time. Whenever company equipment will run without any trouble whatsoever, productivity will increase and the morale of the employees will be boosted.
Here are some helpful tips on the proper way to clean the device and to maintain its viability in the workplace:
The manufacturer always provides a user manual to instruct operators on the right way to maintain and clean it, so abide by its recommendations.
Whoever operates it should be thoroughly trained on its proper handling and care so no wrongdoings will happen and no mistakes happen.
There is a wrong way to handle tools and the right way. Always follow the right path and practice pneumatic safety in all compressor-related tools and devices. Do maintenance checks like removing then reinstalling the air hose, turn off/on the air valve, etc.
Before doing the maintenance chore, shut off the device and unplug it from all electrical sockets. Put a label on the electrical switch so that no one turns it on by mistake.
Regular cleaning of the device will help it remain in tiptop form and live for a long time. You can use a soap solution to clean any remaining harmful carbon in the system. Do not use flammable liquids like kerosene for cleaning. Scour all the air out of the system once the cleaning is finished.
When lubricating parts of the device, use the right recommended oils, and do not put too much. Low flash point oils are not the appropriate ones for cleaning, so avoid using them.
Rust is not great for the device, more so if it happens in the tank. If not dealt with can cause ignition, then an explosion. You can put a stop to the rusty menace by draining out the water every day that may fill the tank. Switch on the underside valve to let water out. If you cannot stop the rust from appearing in the tank, you have to replace it since it cannot be fixed.
If some component or the device itself goes beyond regular upkeep and cannot be fixed by yourself, you have to let your bosses know that it needs professional repair. Label the defective portion so that no one makes the mistake of utilizing it.
The Ways you can Safely do Troubleshooting Techniques with the Compressor
At this point, if the question: "Can air compressors explode?" is still on your mind, then you are on the right track. You are now well-versed in its maintenance, but with minor hindrances within your range of abilities, you can still troubleshoot them. Here are some practicable tips:
When the hose does not function the right way and breaks apart close to the fittings, it will whip around wildly out of control. You can put a stop to it in two ways. The first is a correctly-proportioned air fuse, which you can link up to the upper end of the hose. Another is a tool that halts the whipping, which you should connect by the coupling. Whenever any hose is disconnected and whips wildly around, do not attempt to catch it and stay away from it, or else you might get injured.
Before attempting to troubleshoot any wrongdoing, turn off the device. Unplug the cable from the socket and empty the compartment of any leftover pressurized air. Be close to the shutoff valve on the off chance something awful will happen.
If any crucial part of the device is destroyed and unrepairable, replace it with the best quality components that are correct ones for the device. If you have chosen the wrong ones and of an unfit quality, then it might further damage it.
In Summary, the Things you Need to Do and Not to Do
Do these
Be sure that the device is positioned on level ground. But a barrier on the wheels so that it would not move on its own.
Only put oil and fuel in their respective compartments when the device is shut down.
Read its user manual thoroughly and put it to heart.
Ensure that all barriers and guards are fastened before turning it on.
Do not do these
Do not start operating the device before checking if all fittings and hoses are secured firmly.
Do not let children and pets close to the device while running. It has many movable components and emits loud noises.
Do not wear loose-fitting clothes and hanging jewelry when near the device.
Do not use it to clean the dirt from your clothes or form your pets. The pressurized air has a high velocity and will cause harm.
Do not forget to put lubrication to the devices motorized engine. Changing its oil should be done often as well as the filter.