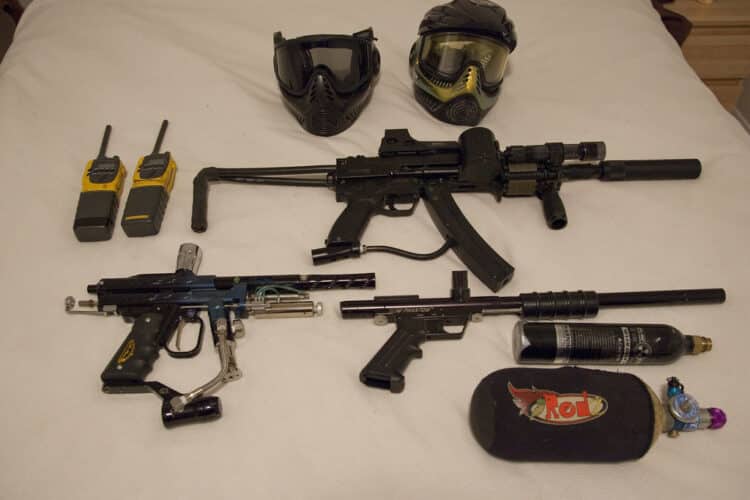 Paintball enthusiasts with a knack for DIYing can create their at-home fill stations. And if you play all the time, your need to refill your paintball gun tank might be regular. That tank needs to stay filled for the gun to work. A fill station comes in handy when your paintball gun tank runs out of air. Not only will you have replacement air at the ready, but you will also save time and money. Here we show you how to fill paintball tank with air compressor.
To do that, there are few things we must explain.
Types of Paintball Tanks
To understand how to refill paintball tank with air compressor, we must know the different types. There are three kinds of paintball tanks.
Co2 Tanks
Compressed Air Tanks
Nitrogen Tanks
Nitrogen tanks are far less common than Co2 and compressed air tanks. So, we won't be dealing with them here.
Co2 Tanks
Co2 tanks are made of aluminum and steel. These tanks range in size from 4 ounces to 24 ounces.
Of course, it is better to refill a Co2 tank with Co2. Any other kind of gas may alter the way your paintball gun performs. Any other kind of gas includes compressed air.
That being said, refilling Co2 paintball gun with compressed air is doable and safe. But, I would refrain from doing so all the time. Here's a bit more detail.
PSI Of Co2 tanks
Co2 tanks have an 1800 PSI rating. Air compressors ratings of 3000 to 4500 PSI. That makes them more than adequate to refill Co2 paintball tanks. This practice is also not against the law.
How To Refill Co2 Paintball Tank With Air Compressor – Drawbacks
For DIYers around the globe, an air compressor is a multipurpose tool and must-have in your DIY stores. It saves you time and money on many projects you have at home. The same goes when you have to refill your paintball Co2 tank.
Refilling a paintball Co2 tank can cost up to $30 or more for each refill. But using an air compressor, you get rid of that cost. So not only is it safe and acceptable to refill a paintball Co2 tank with air compressor, but it is also cheaper.
But are there any drawbacks to this practice? Reportedly, there are at least a few.
Air compressors work using oil. That's one of the reasons refilling Co2 paintball tanks with compressed air is frowned upon by some.
According to reports, the oil in the air compressor mixes with the air it dispenses. Over time, this oil builds up in the gun which lowers its performance and life expectancy. Any part of the gun coming in contact with the air from the air compressor can be affected.
Parts Of Paintgun Ball Affected By Oil
The fill nipple
The tank itself
Barrel
If you want your paintball gun to last and work well, you must do regular maintenance anyway. So the solution to this problem is cleaning your gun every once in a while. That should take care of the oil build-up problem.
Another problem related to refilling paintball Co2 tank with air compressor is quality. Some persons who have used this method report the tank running out of air faster. They also claim that the shots per tank lessen, and the quality of the shot diminishes.
On the other hand, many paintballers who use this method swear by it and recommend it to others. Many video reviews show them using their paintball Co2 tanks refilled with air compressor.
Of course, there is only one way to test which of these claims is true. And that is by trying it yourself. There is no harm as this practice has been marked as safe. Follow these instructions on how to refill paintball tank with air compressor to help you along.
Compressed Air Tanks
Two types of compressed air paintball tanks exist. The first is aluminum and has a PSi rating of 3000. The other is a carbon fiber model, which is much lighter. This paintball tank has a PSI rating of 4500.
I am keen to mention the PSI of each tank because you cannot use low-pressure pumps to refill them. A hand pump or tire pump will not do the job.
You may not be able to fill a 4500 PSI with a 3000 PSI air compressor, but a 4500 PSI air compressor will fill a 3000 PSI tank.
Now it is time to answer your question.
How To Refill Paintball Gun With Air Compressor
A lot of people recommend going to a professional to have your paintball tanks refilled. This recommendation is for those handling Co2 gas in particular. But, there is nothing wrong with doing it yourself by using an air compressor.
Here is a list of all that you need to refill paintball tank with air compressor.
Air compressor
HPA or Co2 paintball tank
Fill adapter
Hose
Safety equipment
Safety equipment includes protective eyewear and gloves.
The one thing that you do want to remember is that you must practice safety when using pressurized air.
Are There Safety Precautions For How To Refill A Paintball Tank With Air Compressor?
When refilling a paintball tank with air compressor, safety is of utmost importance.
The first thing you want to do before refilling is to give your tank a thorough inspection.
Check Your Last Hydrostatic Test Date.
By law, your tank has to undergo hydro-testing every five years. This is to ensure that it has no leaks and it maintains its integrity. Do not refill the tank if your hydro-test is overdue.
Ventilation
You want to ensure that the area where you do the refilling is well ventilated. That applies especially to persons working with Co2.
Co2 is dangerous to inhale in high quantities.
Release Remaining Air From The Tank
Ensure that the paintball tank is empty before trying to refill it. There should be no air left inside. If there is, the remaining air can interfere with the filling process. But, we will explain this in greater detail in a while.
To be sure there is no air left in the tank, open the air bleed valve. That should let the air leak out. Using a scale is optional. But it is another way to ensure that there is no air in the tank.
Find out the weight of your empty paintball tank.
Put the tank to stand on the scale.
If the scale registers the weight of the empty tank then you are ready to refill it.
Once there is no air left in the tank, close the air bleed valve.
Connect Paintball Tank And Air Compressor
The air compressor and paintball tank you have may not have the same size fitting. But you need them to fit securely together. This is to eliminate leaks so the tank will fill the way it should. In that case, you need a fill adapter that will match the size of the tank.
Connect the fill adapter to the end of the hose on the air compressor. Then connect the adapter to the fill nipple of the tank. Turn the air compressor on. Now, this next bit is very important.
How To Open The Valve To Refill The Tank
The reason you want to ensure your tank is empty is so that you do not overfill it. To further ensure that you do not overfill your tank, you need to time how long you run the air compressor.
Paintball tanks have different sizes. So, you want to multiply the size of your tank by two. That will give you the number of seconds you should spend refilling your tank.
Here's an example. If you have a 4-ounce tank, multiply the number of 4 times 2. That gives you 8. That means you need about 8 seconds to fill your tank. That gives a slow fill that won't cause damage to any part of your tank.
The second part of refilling the tank is how fast you open the valve for the tank to receive air. Never open the valve too quickly. Doing so will cause the air to rush in. This causes hot fill. Hot fill will cause the pressure in the paintball tank to drop. You will notice to drop in pressure almost right away on the gauge.
If the filters are not clean, the air may also send debris into the tank.
Disconnect The Air Compressor And Paintball Tank
Once you've filled the tank, that's it. Shut the air compressor off. That may require you to find a release valve and turn it. Some air compressors have a whip that you only need to let go of. But doing so relieves the fill station pressure. Only then should you disconnect the air compressor from the tank.
Conclusion
Refilling a paintball tank with an air compressor is an easy process. It should not take you more than a few seconds to complete. If you decide to do it yourself, remember safety first. Once you do it the right way, go have fun paintballing.