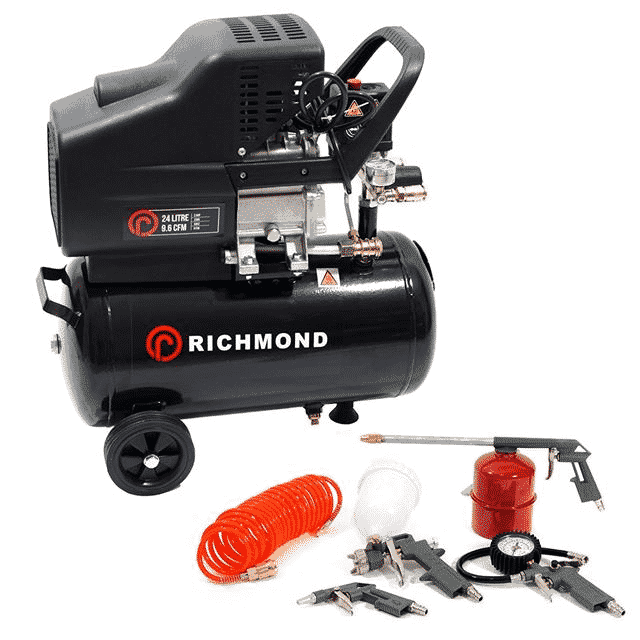 Have you been looking for the best air compressor under 200 dollars budget? Well, this review is just for you.
Like most common purchases, buying an air compressor on a budget can be very tasking in terms of weighing the various factors to consider and picking the perfect air compressor that tailor suits all your needs and requirements. You need to consider the cost against the quality and accessories of the specific air compressor.
Say you need one to keep in your home for inflating common items like bicycles and toys, then it would be imperative to get a silent motor air compressor that has a low power draw and high efficiency, while coming with all the necessary accessories to match the required functionality.
The process would be different for a small site construction worker who requires a high-pressure capability and is not too specific about the noise implications or the additional accessories, because they may already have said accessories on site.
Best air compressor under 200 – Comparison table
| Selected air compressor | Warranty | Max pressure | Voltage | Check on Amazon |
| --- | --- | --- | --- | --- |
| DEWALT Pancake Air Compressor | 1 year | 165 PSI | 120 Volts | |
| CRAFTSMAN Air Compressor | 1 year | 150 PSI | 120 Volts | |
| VIAIR 400P Portable Compressor | N/A | 150 PSI | 12 Volts | |
| BOSTITCH Pancake Air Compressor | 1 year | 150 PSI | 120 Volts | |
| CALIFORNIA AIR TOOLS Air Compressor | 1 year | 120 PSI | 110 Volts | |
| PORTER-CABLE Air Compressor Kit | 1 year | 150 PSI | 120 Volts | |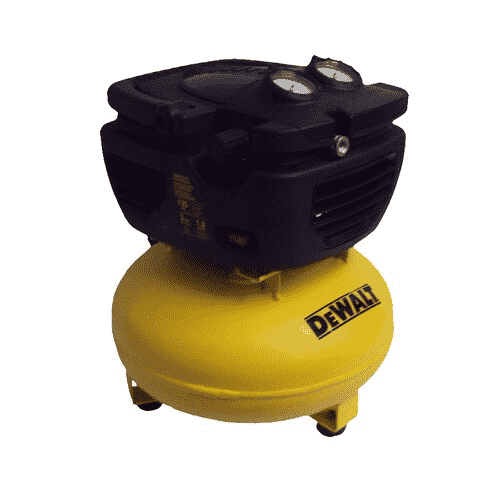 The DEWALT air compressor is known for its compact shape and size, earning it the additional name, 'Pancake.' Despite its intentional small structure, it has quite the number of features.
Specs
Maximum pressure of 160 PSI
Large 6 gallon tank
Compact design and weighs 32 pounds
1 year warranty
75.5 dBA noise level
Oil-free
Can connect to both a female and male hose
120 volts
Its compact size and lightweight makes this compressor highly portable, which greatly diversifies its application areas. It also has a high PSI of 160, which is good enough even for high duty trucks, with a power draw of 120 Volts, which is easily achievable, given that it has an inbuilt rechargeable battery that can go for quite some time without needing a recharge. Its noise level is very low for its performance level at 75.5 dBA, making it rather quiet. It is also oil-free which makes it very easy to maintain.
Users of this pancake compressor have complained of faulty assembling of certain parts like the air tank and the valves. It would be helpful to carefully check the quality and firmness of these parts before you purchase or immediately after purchase.
Pros
It is very compact making it easy to store and move around
Has a large tank
Is easy to maintain
Low noise output
High maximum pressure rating
Cons
It may have issues with the construction assembly
Verdict
This DEWALT air compressor is very powerful, has a compact size and build and comes with a relatively large tank, making it one of the best air compressors within its price range.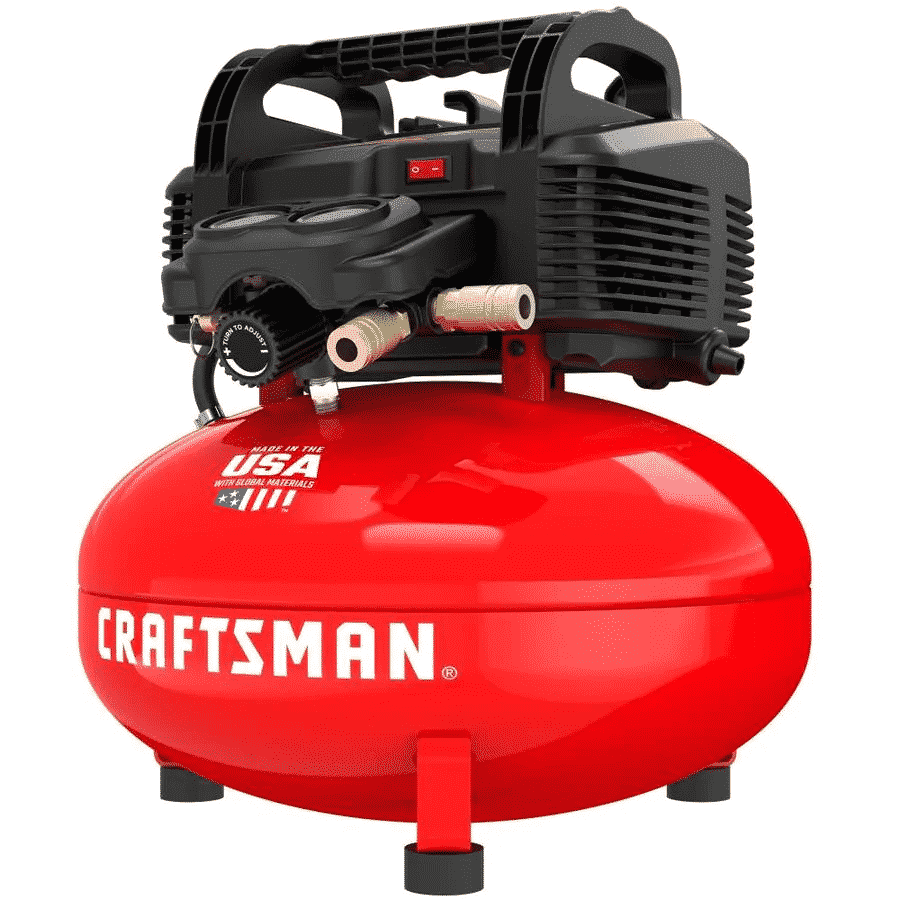 This pancake Craftsman air compressor is one of the best in its price range for a variety of reasons:
Specs
Maximum pressure of 150 PSI
Compact design and weighs 30 lbs.
It is oil-free
Has a 6 gallon tank capacity
1 year warranty
Comes with 3 inflator adaptors, 2 blow guns, 1 tire gauge and 3 inflator adapters.
120 Volts
The most convenient aspect of this air compressor is its inflation kit, on top of the additions mentioned above, it also has a tire chuck, and a 1.25" by 0.2" PVC air hose with a pre-assembled coupler and a plug, bringing the number of additional accessories to 13 and thereby making it totally self-sufficient. This reduces the costs that would be incurred on top of the initial buying price to purchase these helper items. It is also small and light, making it easy to carry around and store as well as a durable pump. The pump is oil-free which makes it effortless to maintain.
Users have complained of an air leak from the tank through the safety valve, which greatly undermines the tank capacity.
Pros
It has a high PSI
Very compact and light making it easy to store and move around
It is not very noisy
Comes with a  large tank
Easy to use and maintain
Cons
It may leak air through the safety valve
Verdict
This CRAFTSMAN air compressor greatly rivals its competitors in its number of accessories. You can't argue with a 13-piece versatile accessory inflation kit that is already assembled at purchase, and has a user manual.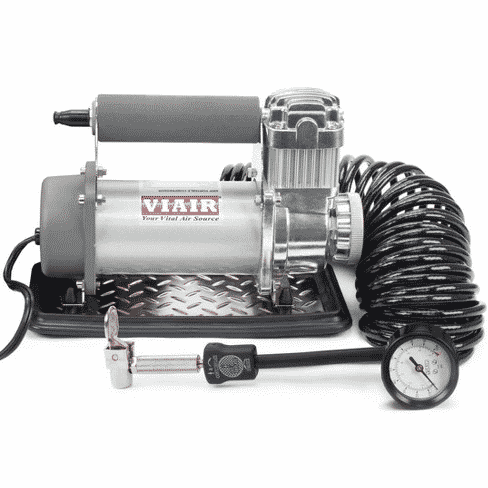 This VIAIR compressor is on this list because it has the lowest power draw for its price range and high PSI. It is also preferred for a number of reasons.
Specs
Maximum pressure of 150 PSI
Permanent magnetic motor
Compact and weighs 8.5 lbs.
Stainless steel valves
Direct drive gearless motor
Run by a rechargeable battery
Has a 40 amps fuse and dual heavy-duty battery clamps
120 Volts
In addition to having the lowest power draw, this air compressor is also the lightest on this list, making it very easy to carry around from site to site and even keep in the car. Unlike the past two air compressors, the VIAIR has a sturdy construction, with re-enforced stainless steel valves to prevent any air leakage during use. It also has PTFE Piston rings which are very durable and ensure consistent high performance. It is very easy to maintain because it is resistant to moisture and dust as well as highly convenient to use because of its rechargeable battery.
Users have complained that this pump takes a longer time to inflate a tire than the average air compressor, probably due to the very low power draw of 12 Volts.
Pros
It is very light and compact
High maximum pressure rating
Easy to assemble and use
Has a very low power draw
Cons
The pump heats quickly
It takes a longer time to inflate tires
Verdict
This air compressor is great because it is very easy to use and has an extremely low voltage. The cons of using it are directly associated to its low voltage making it ideal for a user who specifically needs an extremely low power draw air compressor.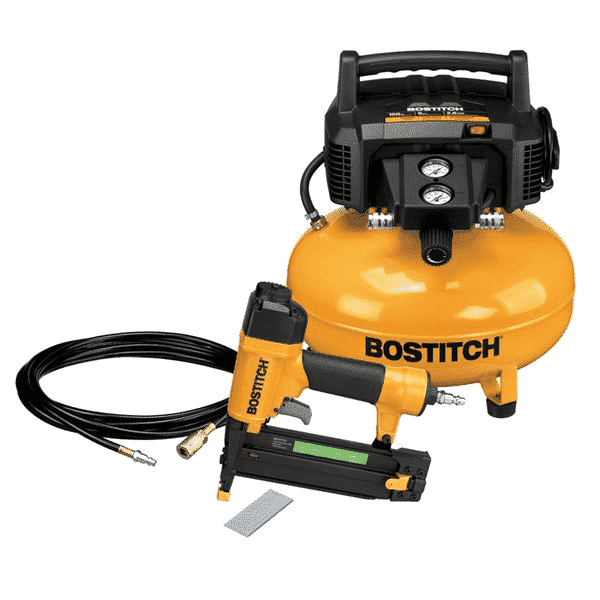 This pancake air compressor has quite a few specifications and features to consider in comparison to the rest in its price range, with the most impressive being its sturdy construction compared to other pancake compressors.
Specs
Maximum pressure of 150 PSI
6 gallon tank
Compact and weighs 32 lbs.
78.5 dBA noise level
Maintenance and oil-free pump
120 Volts
This BOSTITCH air compressor is well known for its superior construction and great quality. The air pump is maintenance-free as well as oil-free which makes the appliance practically effortless to maintain. It also has a high maximum PSI, which would be suitable for a diverse range of uses.
It also has a signature compact pancake design, which makes it portable and easy to store as well as a large 6 gallon tank that increases its efficiency in functionality. The sturdy construction put into this air compressor ensures that it does not leak or fall apart during use,
Despite the low noise level rating, users have complained that it is still pretty loud and should be rated at around 95 dBA instead of the 78.5 listed in the specifications. It also has no additional attachments, which may translate to a higher cost if you need them.
Pros
Has a high maximum PSI
Takes a short time to reach its maximum pressure (less than 3 minutes)
It has a sizable 6 gallon tank
Easy to use and maintain
Cons
Has a relatively high noise level
Verdict
This air compressor is preferable for its efficient and reliable construction and overall performance, with the drawback of having absolutely no additional accessories. This makes it suitable for a user who is only interested in the compressor.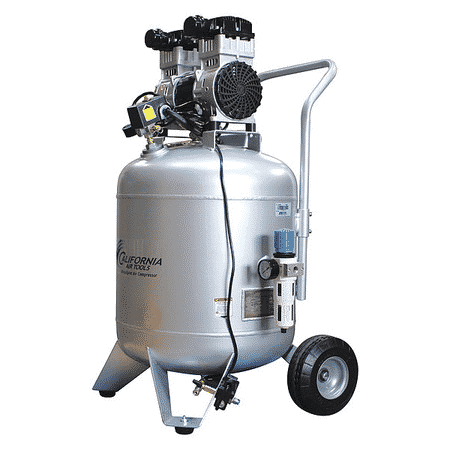 This is the most silent air compressor within and even above its price range. Besides this, it comes with a wide array of features and specifications:
Specs
Maximum pressure of 120 PSI
Large 8 gallon tank
Weighs 48 lbs.
60 dBA noise level
Dual-piston oil-free air pump
110 Volts
The air compressor is the most silent in this price range as well as having the biggest tank capacity. The dual piston and oil-free air pump ensures that it gives a high performance, while being extremely durable and easy to maintain. It is also suited for use on uneven terrain as well as in a sizable range of both cold and warm temperatures. The low noise level makes it convenient to use anywhere and at any time without disrupting other people's activities, as well as being convenient to use.
This air compressor is quite heavy at 48 lbs. which makes it difficult to move around and greatly reduces its portability. However, the design includes a set of wheels that should increase its overall portability.
Pros
It has a very low noise level
Has a large air tank at 8 gallons
Created with heels to increase its portability
Cons
It is quite heavy making it difficult to move around
Verdict
In addition to being extremely silent, this air compressor has a large tank which increases its functionality. Despite being heavy, it has wheels, which make it easy to move around, making it the best option for a user for whom silence is the top priority.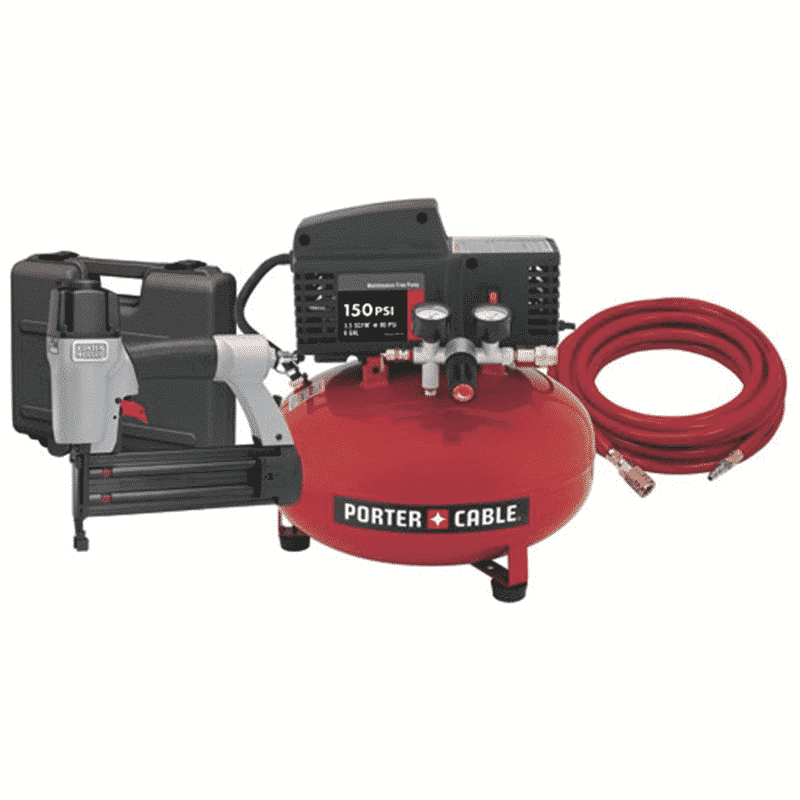 This air compressor kit is the top pick for home use for a variety of reasons besides its small structure and lightweight.
Specs
Maximum pressure of 150 PSI
79 dBA noise level
Weighs 20 lbs.
Oil-free pump
1.5 gallon air tank (completely shrouded)
High-quality handle
Comes with a 25ft long hose
110 Volts
The shrouded air tank makes the air compressor easy to carry while the noise level makes it relatively suitable for home use. Its oil-free pump is extremely durable and low maintenance which ensures that it can be used in a wide range of temperatures while offering great functionality for years. Its design is fully enclosed which protects the compressor from hot parts as well as moving objects while its long cord makes it easy to move around during use. It has a sleek modern design that makes it easy to store and clean as well as aesthetically appealing.
The noise level for this air compressor would be ranked as low, but can be considered rather high for home use
Pros
It is light and easy to handle
Works in a wide range of temperature
Easy to use and maintain
Aesthetically pleasing
It has a quick recovery time
Cons
It is not suitable for heavy-duty work.
Verdict
This air compressor would be great for consistent and long term home use because it is very low maintenance and easy to use, as well as meeting and surpassing all the functionality requirements for home use.
What should you consider when buying an air compressor?
Like purchasing any other item, when looking for the right air compressor, there are a variety of factors that you have to consider:
This specification is usually listed with the price of the air compressor and is measured in PSI (Pounds per square inch). It is very important to consider this factor as it directly relates to your intended use for the device. A maximum air pressure of about 100 should be good enough for most high duty uses and this pressure setting can be adjusted according to the need at hand.
When choosing the right air compressor, it is important to be considerate of the environment within which it will be used. Whether at home, on the road, or on a construction site. With this environment in mind, the user can then gauge the level of noise that would be reasonable. Normally, a range of 60dB to 70dB would be classified as silent enough not to disturb neighbors.
This factor should also be weighed against your specific need. For example, an air compressor that is needed for use in multiple places around the same area would need to be more portable than one that is meant to be stationary. The portability of an air compressor is determined by its weight, ease of carriage, rechargeable nature, air tank capacity and length of hose.
This refers to the amount of power it requires and that it delivers, both of which are necessary and important for their individual reasons. An average of about 120 Volts in this respect is very reasonable. When it comes to power delivery, it is a direct measure of its efficiency and speed of performance as well as being directly proportional to the power drainage.
When buying items on a tight budget, it is very easy to end up settling for one that is affordable and seems to tick all your boxes, but turns out to be of low quality. This is why it is important to consider the brand reputation and carefully inspect any air compressor before you decide to purchase it.
Final thoughts
When buying an air compressor on a budget, it is very important to pay attention to all the specific features and run them beside your needs and specifications. This should ensure that you get the best one within your price range that suits all your needs and lasts for the longest amount of time.