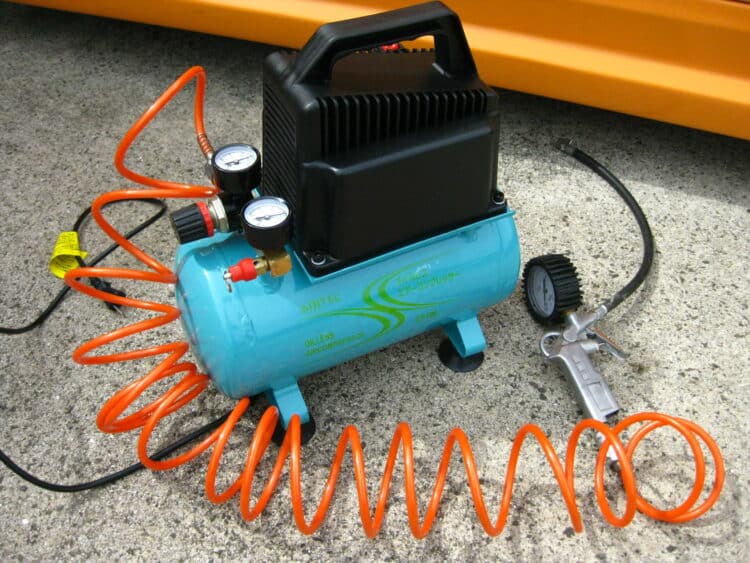 Air compressors are a tricky subject. So let's keep it simple.
Air compressors, when you take time to think it over, are all around us. From your local garage, in the dentist's surgery, in factories, and the car wash downtown. This flexibility is because they make difficult tasks straightforward and are reliable.
On top of that, we seem to dream up new uses for compressors every year. When an air compressor is on the job, you'll notice the big differences it makes almost instantly. In this in-depth article, we'll arm you with all the knowledge to make informed buying decisions. You'll be able to pick the right tool for the job and win back much-needed time to spend elsewhere.
Compressor 101 – all you need to know
Air compressors are used to power a range of air tools. It does so by continually drawing in air and squeezing it internally via a series of moving parts. This mechanical squeezing creates air pressure (PSI).
The volume of air a compressor generates is described as cubic feet per minute. Often this figure is the key to selecting which compressor to power your air tools.
Air compressors come in various types, but we list the most popular ones below.
The right tool for the job
Every well-worn adage like this one has a basis in truth. And equally applies to air compressors. With so many air tools and machines to power, the almost countless applications make choosing the ideal one a tough call.
But considering all your factors from the outset is a great place to start. Consideration of the following questions should help a lot:
* What will you be using the compressor for?
* What are my power requirements?
* Where will it be installed?
The following section looks at various users and their typical applications. Each of the user types has detailed information on how to choose the ideal compressor.
The Homeowner
Believe it or not, having compact compressors means being prepared for whatever fate can throw at you. Flat tires are consigned to the past. It's that sense of achievement when you fix something like a real pro. It's the knowledge that you are increasing your property value.
Whether it is replacing faulty trim boards or fixing decking, you can avoid spending hundreds of bucks on minor repairs and complete projects like a pro.
All that's required is a little compressor know-how and knowing how your tools work. Suddenly that 'to do list' does not appear quite so daunting. In an instant, it has become easier and maybe even fun.
Whether you're a yard warrior every weekend or a veteran DIY-er, buying a sizable one-stage compressor or a pro model will work well.
Having a larger tank and extra power on tap makes all your 'fix list' problems disappear. Whether it's woodwork in your shed, re-siding your home, building a play hut, or more challenging home improvements, a compressor will make life easier.
The Pro
When your livelihood depends on your tools, the second best is not good enough if you're a contractor or business owner. The pro knows that the perfect air compressor does more than power their workshop or work site. It also saves money by working long and hard like you.
The pro air compressor takes everything in its stride. Be it building decking by the dozen, painting countless autos, or changing truck tires by the thousands each year. The pros can hang up their hose when the shift ends in a good mood with the ideal compressor.
Enterprise-standard air compressors are manufactured to endure every job or construction site rigor. They are designed from the outset to be portable and durable.
As every business person knows, you must measure two times, so you only need to cut once. For that reason, your dentist's air system is radically different from that in an auto shop. Your business deserves that you pose all the correct questions in advance of making a purchase.
The Manufacturer
In a dynamic economy, industry and factories rely on industry-standard air compressors so they can adapt to ever-changing demands. Selecting the best system will ensure maximum efficiency and production continue to drive success.
Industry-standard air compressors have, as you would expect, the most power on the market. This awesome power comes with a serious price tag. So being armed with the critical knowledge you require is essential to ensure your buying decision makes perfect business sense for your operation.
It's also crucial to weigh up how your business is growing. The air system you select should be able to scale up. For instance, your air system demands could easily be two-fold in less than five years.
You will need to consider the environment, the compressor's location, CFM, single or three-phase power needs, air treatments, dryers, regulators, and line filters. In other words, you will have to turn over every rock to be sure of getting the perfect fit.
Bear in mind that an under-size compressor won't help your business progress. So too is going too large and paying extra for electricity costs. This problem is where Variable Speed Drive technology comes into its own.
The choices in the commercial air compressor sector are wide. And can even extend to custom-designed compressors for unusual applications. To ensure this guide is accessible, we have focused explicitly on conventional commercial and industrial applications.
Types Of Air Compressor
Basic mechanical knowledge isn't reserved for spanner heads; everyone will benefit from understanding how stuff works.
Reciprocating Piston Compressor
This is the type of compressor most commonly used. An internal crank drives pistons in the cylinders to create vacuums that draw in the air on the downstroke and force air inside a tank on the upstroke.
As the moving parts create friction, these compressors tend to run hot and noisy. However, up to date models use newer piston technology to reduce the heat and noise you usually experience with piston-driven compressors.
Rotary Compressor
These are the faithful packhorses in the car industry. The rotary screw was introduced specifically to handle heavy-duty work that requires high power levels for extended periods. As the air flows into a sealed chamber, it's compressed between two opposing screws.
The screws meshing together act to reduce the air volume and deliver the compressed air at a preset pressure. Unlike reciprocating pistons, rotary screws don't touch, reducing friction. Because rotary compressors also have fewer moving components as well as being oil-sealed, rotary compressors need significantly less maintenance.
Scroll Air Compressor
This type uses twin spiral-like components that are circular and rotate to compress the air between them. The first scroll is stationary, and the other is inserted inside and makes tight circular movements.
You may not know this, but scroll compressors are all around our everyday life. They are widely used in everything from refrigerators to manufacturing and in high-end turbo-charged cars.
According to ISO standards, compressors of this type ranks as the cleanest of all industry-grade air systems. This rating makes scroll compressors perfect for the manufacture of electronics, pharmaceuticals, food, and dental settings.
Compressor Technology
Air compressors date back over a century. However, it's only in the past five decades or so that the technology has evolved significantly in response to changing demands and uses for compressed air.
The first compressors were single-stage that compressed the air with one stroke. Two-stroke compressors superseded them as they could compress air at double the pressure. Since that leap forward, the technology has progressed further to adapt compressors to the specific needs of industry and demands for maximum efficiency and reliability.
More recently, a significant advance was made by the introduction of the variable speed drive. These drives enable the compressor to operate at the precise parameters required to deliver the correct volume of air with the desired pressure whenever you need it.
This tech has now been further updated. Compressors can control the speed of their motor as well as the torque by switching between A/C and D/C electricity and managing the voltage and input frequency.
Innovations in air compressor technology are keeping pace with the new applications being discovered for compressed air. These technical advances have led to machines that are cleaner, quieter, faster, and more robust. Cylinders are being Teflon-coated, and bioengineering is making headway in designs that solve real problems faced by industry.
Pumping Down The Noise
Noise levels are important considerations whether you are working inside your home or have a compressor inside your auto shop.
No matter the air compressor type or where it is installed, there are ways to reduce noise. These include enclosures, sound dampers, or compressors fitted with sound-dampening material.
Thanks to these pioneering advances in technology, today we have exceptionally quiet compressors due to enclosures and new internal design. They are also oil-free and can run all day consistently without losing power. This tech progress makes the new generation of compressors ideal for industries that work 24/7.
Kitting Out Your Air Solution
We at supply comprehensive compressed air solutions that ensure you have everything needed to maximize your investment return.
Air Tools
Tools that are powered by compressed air have revolutionized work for people and businesses. At last, they can get more done faster and at way less cost than previously. Unlike tools that are battery-powered, air tools do not need motors or external sources of energy but still provide performance and optimal power.
A garage or workshop equipped with an air wrench, sandblaster, spray gun, nailer, and stapler will let you take on just about any job around your home with air compressor power. And all without you breaking your budget.
Clean Air
Compressors rely on clean air. Having air treatment that's robust is an insurance policy on the life of your compressor. If dirty air gets pulled in, it will eventually cause damage, costly repairs, and expensive downtime.
Having an air supply that's clean and dry is therefore paramount to protect your compressor and everything that it powers. An air dryer removes moisture as well as some contaminants. An air filter, meanwhile, further treats the air by excluding finer particles and airborne contamination. Clean air cannot be underestimated in protecting your compressor, tools, and airlines from the damage caused over time to internal by unfiltered, moisture-heavy air.
Essential Extras
We carry a stock of replacement parts and compressor extras to improve air compressor solution performance. These comprise regulators, additional air tanks, lubricators, pumps, air hoses, oil, gauges, and extension cords. We also deliver compressed air solutions so you can have air wherever you need it.
Portable
The unique air compressor advantage is their ability to go wherever you need them to go. There is a vast array of portable compressors to tackle just about everything. This versatility ranges from a compact handheld inflator to tough off-road DC air compressors for weekend trips in the wild.
For contractors, being portable means you can use truck or wheelbarrow-mounted air compressors on site. For consumers being portable means being able to move a compressor around their home with ease.
Equally, you need not worry about powering air tools while on the roof or when you need to crawl under your decking.
Installation
A large fixed air compressor or other industry-standard air solution needs to be installed by a qualified installer. A local professional installer will be familiar with both local and state codes. They will ensure the installation meets all protection regulations and your application and power requirements.
Conclusion
All air compressors can boost your productivity. Although picking out the perfect solution may seem daunting initially, you should now possess the information to decide which compressor will meet your needs.
If you're searching for a commercial air compression system and need help, please pick up the phone. We will be delighted to discuss your compressor needs.