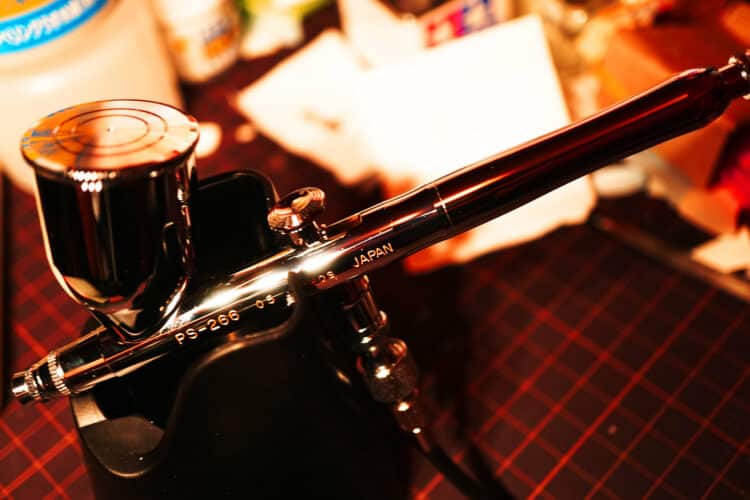 From your classic finicky artist to a make-up artist, an industrial worker, and even a baker, all of these professions rely on tools to apply their medium to a canvas or surface. An airbrush is a perfect tool to meticulously apply paint, ink, dyes, and make-up! These professionals will let you know that airbrushes are perfect for achieving a close-to-perfect finish on a paint job.
An airbrush doesn't complete a paint job on its own. Airbrushes need the help of an air compressor to provide a constant air supply for the job to be successful. Buying a quality airbrush compressor will depend on a few key factors, which might seem complex to many newbie DIYers and artists.
We've compiled the best airbrush on the market to ensure that your work achieves a beautiful finish without the fuss. We'll also guide you through the key factors to consider when buying the best airbrush compressor.
Master Airbrush Cool Runner II Dual Fan Air Compressor Professional Airbrushing System Kit
If you're looking for the complete package, this airbrush compressor from Master Airbrush is the answer to your prayers! The Runner II comes with a variety of airbrush accessories for all the applications you could imagine.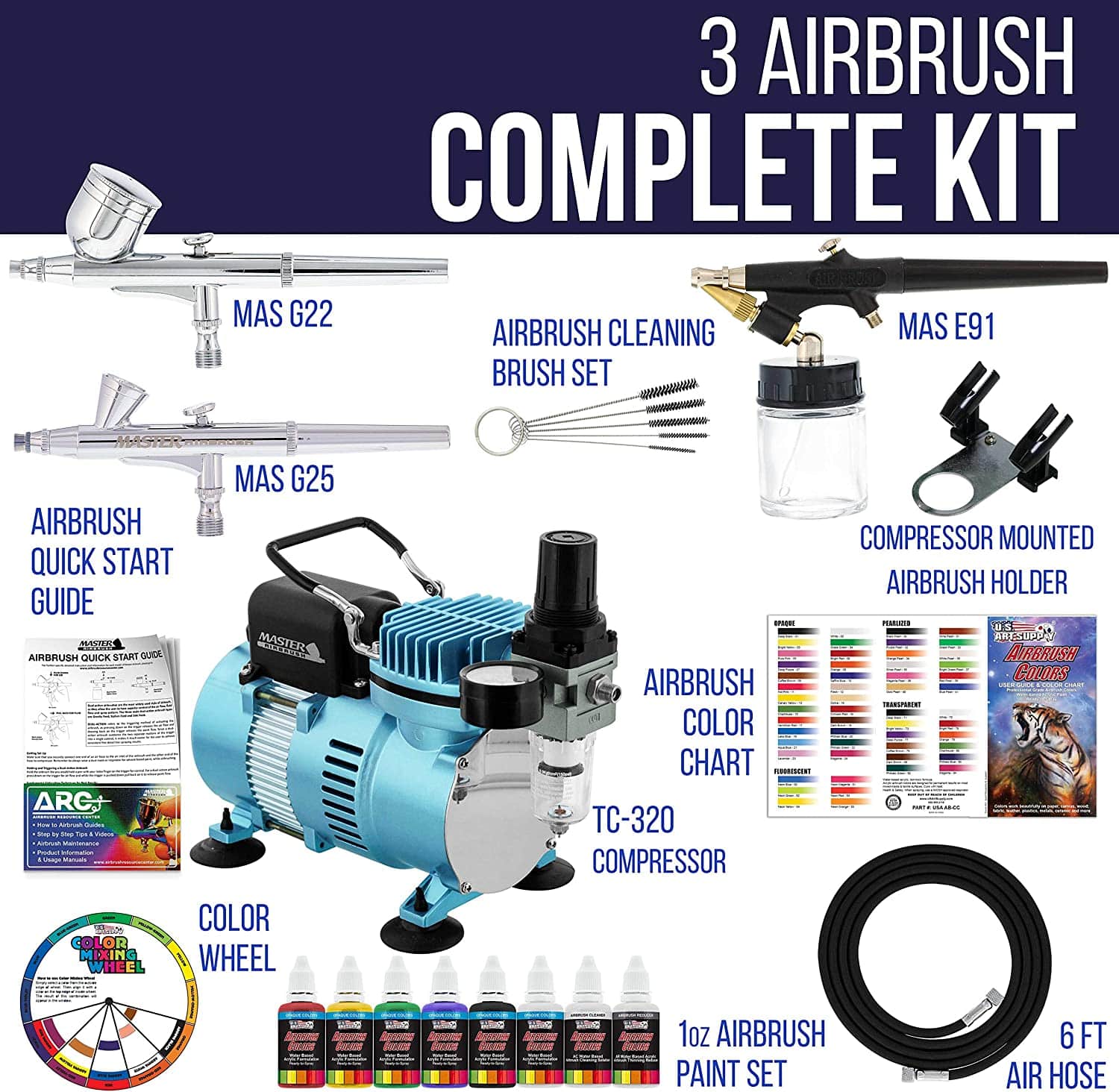 Specs
Model TC-320 Cool Runner II
1/5 hp single-piston compressor
Dual cooling fans
Comes with three airbrushes: Model G22, Model E91, and Model G25
Comes with 6 U.S. Art Supply Primary Colors Water-Based Acrylic Airbrush Paint Kit
Five-year warranty on compressor
Complete package
This Airbrush compressor comes with multiple airbrush compressor options. The model comes with three popular types of Master Airbrushes, the Model G22, Model E91, and Model G25. These have tips of 0.3mm, 0.2mm, and 0.8mm, respectively. The first two airbrushes mentioned are dual-action options, while the last one is a single-action siphon-feed.
Customers will also be happy to hear that this airbrush compressor comes with six primary water-based acrylic paints! The kit also comes with a reducer and cleaner and a double-sided color mixing wheel and cleaning brush set, so users don't have to worry about starting their airbrush operations while short on supplies. What's more, the device comes with an airbrush holder for all your supplies!
Powerful performance
Master Airbrush Cool Runner II guarantees superior performance due to its powerful ⅕ HP single-piston compressor. The tool comes with dual cooling fans that will ensure users of longer running times without the risk of overheating. The model comes with premium rotor windings which guarantee that the tool will have an extended lifespan.
With its powerful and robust engine coupled with complete accessories, users won't ever be disappointed in this product. To provide their customers with a 100% satisfaction guarantee, the Master Airbrush Runner II is backed by a 1-year warranty for the airbrushes and u a five-year warranty for the compressor. Customers can rest assured that the company will provide a refund or a replacement upon request.
Pros
User-friendly applications
Long-running time and prevents overheating
Complete accessories for airbrush operations and cleaning
Long warranty period
Comes with the company's most successful airbrush products
Cons
Needs routine clean-up and maintenance
California Air Tools CAT-1P1060S Light & Quiet Portable Air Compressor
This air compressor from California Air Tools is one of the largest compressors on the list. Still, you'll be surprised to find out that it's light and that it works silently.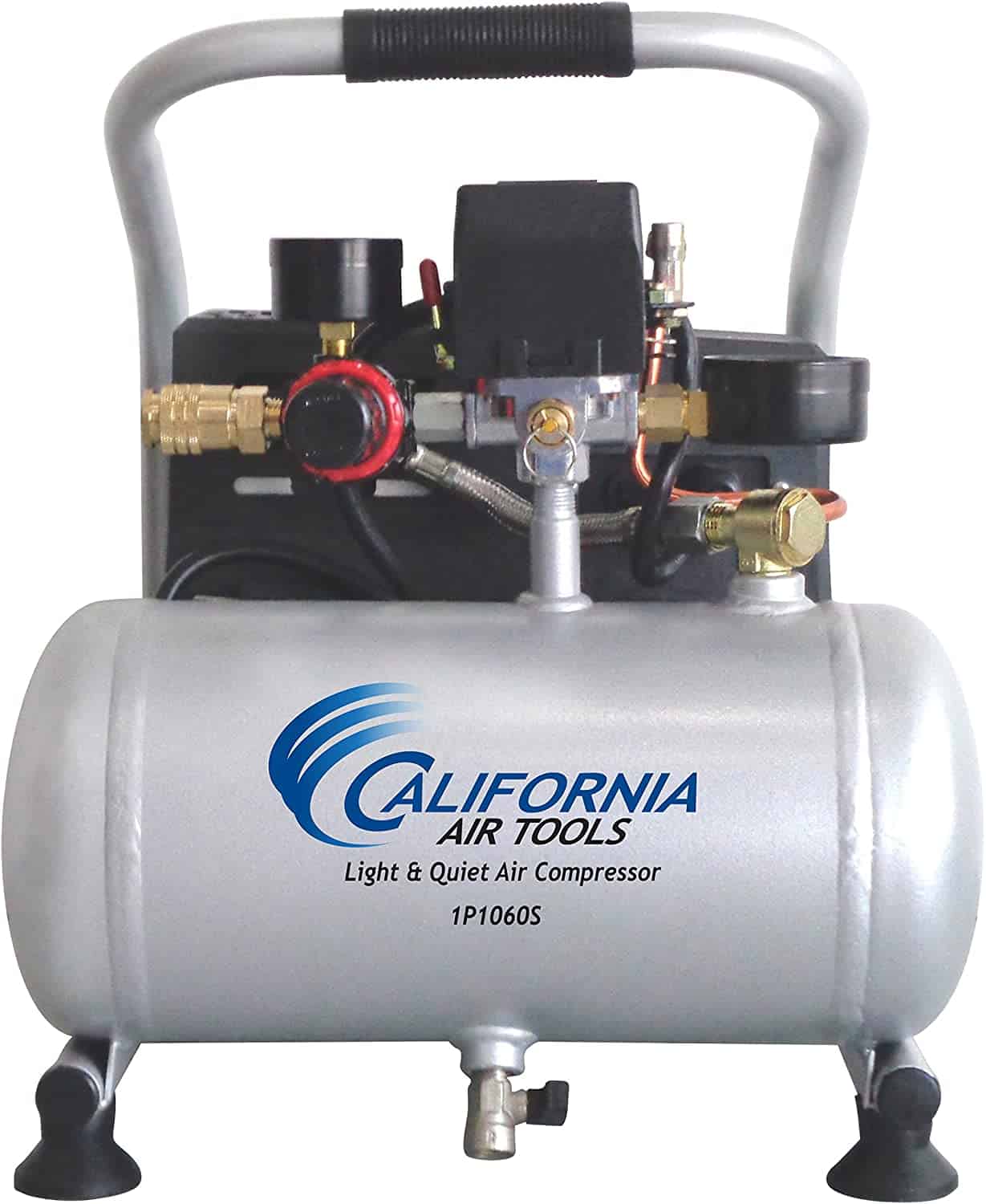 Specs
Ultra Quiet at 56 decibels
Oil-Free Motor (Single Piston Pump)
120 PSI Maximum Pressure
Steel Air Tank weighing at 29.5 pounds
3000 hours of wear lifespan
Large and powerful
This large air compressor comes with a gallon tank that will ensure users of long-running times. The model comes with a powerful 0.6 HP engine that offers an airflow of 1.2 CMF at the most. It also provides an air pressure of up to 90 decibels on-demand. Though the CAT-1P1060S is a high-capacity tool, it completes its efficient tasks silently at 56 decibels. This model was actually designed to be one of the quietest compressors in the market!
The compressor is also made out of premium-grade steel to ensure its optimal build quality and durability. Though this is the case, the CAT-1P1060S is extremely lightweight and only weighs about 29.6 pounds.
Convenient and reliable
The model features the brand's innovative IP Ultra Quiet & Oil-Free Motor. It features a single-piston pump design that is specifically engineered to provide high-performance services and durability. The motor features a life cycle of 3000+ hours of wear, compared to most air compressors with a lifespan of 250 hours or less.
This compressor from California air is also compatible in different environments with varying temperatures and uneven terrain. Aside from using this compressor with an airbrush, this powerful tool with an air pressure of 90 PSI can be used with nail guns, blowguns, staple guns, and finish nail guns. It is also perfect for inflating tires, toys, beds, and cleaning, and general construction work.
Pros
Large capacity
Silent operations
Less maintenance and cleaner air
Lightweight
Powerful motor for longer running times
Cons
Some customer complaints of pressure issues
COSSCCI Portable Mini Air Brush Spray Gun with Compressor
For artists and industrial workers on-the-go, this portable mini airbrush spray compressor is the perfect choice for you. The popular product from COSSCCI is a convenient option that is user-friendly and reliable.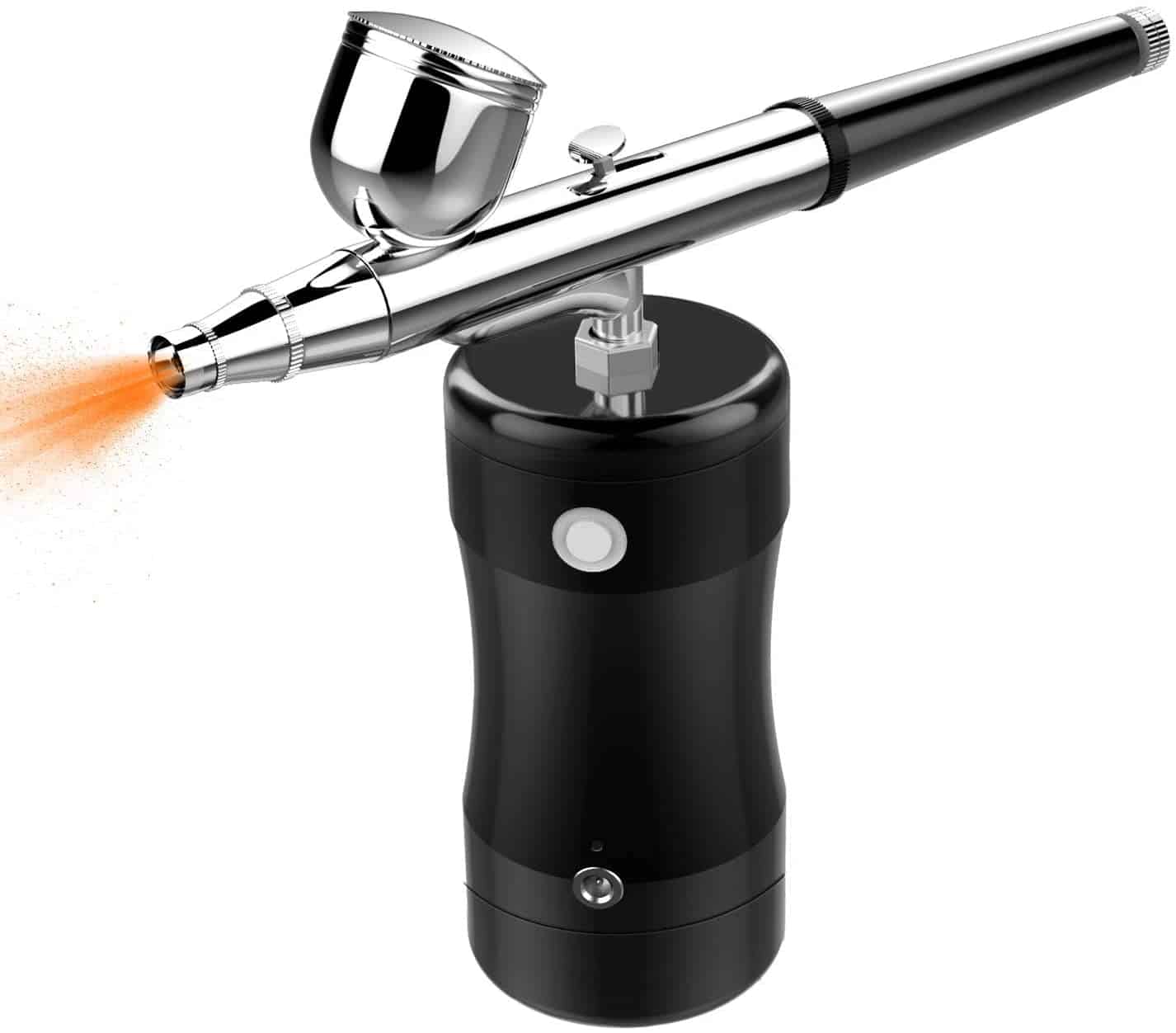 Specs
Single-action gravity portable airbrush kit
Mini airbrush ideal for meticulous work such as cake and food decorations, model making, make-up, body art, ,tattoos, nail art, drawing outlines
USB cable for charging
0.4MM needle 9 CC & 20 CC
Convenient and reliable
On-the-go DIYers are guaranteed to fall in love with this product from COSSCCI. The compressor and spray gun combined in one is extremely convenient since it can easily be transported due to its compact size.
This integrated structure of a single-action airbrush is convenient since users won't need to attach an air hose. There will be a continuous supply of airflow. Still, users can also opt to connect a dual-action airbrush via the included connector in the package.
The compressor also comes with a convenient USB charging cable that can fully charge the device in 30 to 50 minutes! Imagine charging your portable compressor via your laptop, car, or phone charger when you're traveling. This device maximizes usability, and it's also low-maintenance – the perfect companion for on-call airbrush operations.
Optimal results
This small yet powerful airbrush compressor will open up possibilities for your airbrushing career! The COSSCCI Portable Mini Air Brush Spray Gun with Compressor is a sophisticated yet user-friendly choice for beginner DIYers. It can effectively be used for food and pastry decoration, make-up, nail art, body paint, tattoos, and art.
Users can rest assured of the product's motor and engine that has undergone multiple testing to ensure its high-quality performance. Testing of the device is to ensure that the product has a long service time while providing optimal results.
The pump also has an ergonomic design for maximum user comfort. You can't get a better portable device that prioritizes ease-of-use and efficiency!
Pros
Portable and compact
Convenient USB charging
Can apply meticulous details
Low maintenance
Cons
Not as powerful as larger compressors
ZENY Pro 1/5 HP Airbrush Air Compressor Airbrushing Kit
The ZENY Pro is a great option for beginner to intermediate DIYers looking for a powerful airbrush compressor. Users will also love the no-fuss process and user-friendly interface.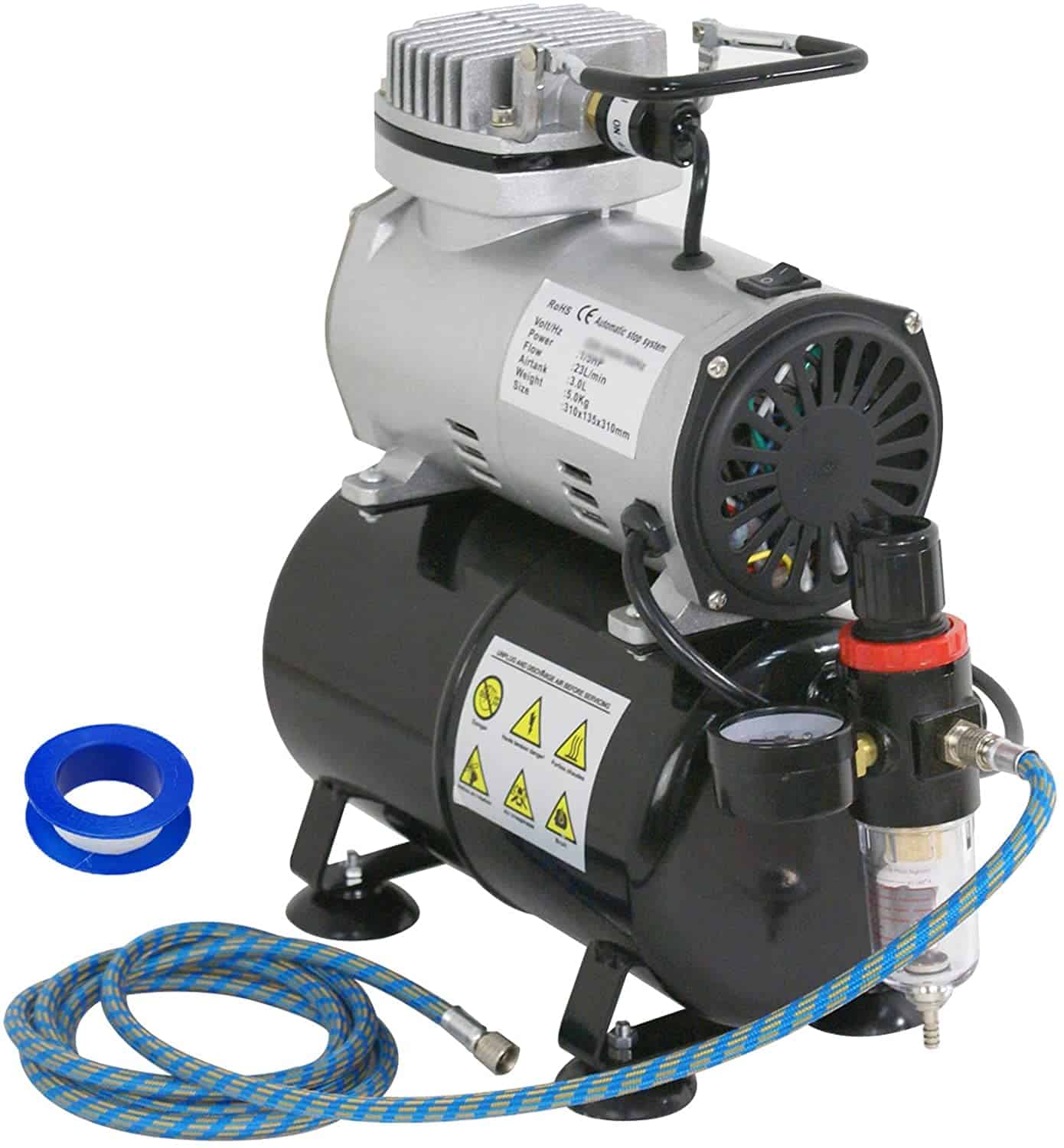 Specs
1/5 HP Compressor
1450/1750 RPM
On-demand PSI up to 97
3 liter Air tank capacity
1-year warranty
Oil-maintenance free
Convenient and portable
This compact and lightweight compressor from ZENY is convenient to carry and bring along when airbrush duty calls. Due to its compact size, it can easily be fitted atop work tables and workstations. Users can enjoy this compressor's service for meticulous airbrush work for painting, decorating, make-up, and tattoos.
The compressor has a large capacity 3-liter tank that is reliable for long work hours. The device is also oil-less, which makes it a convenient compressor to maintain. Users will also find it easy to adjust the demand for regulated pressure. The system is protected by automatic thermal protection, which makes maintenance against overheating easy.
Precise performance
This compressor by ZENY also guarantees more air volume and air pressure to meet any airbrush demands. The system provides smooth airflow due to its reliable storage tank, which allows it to keep up with any type of work!
The compressor also comes with a true diaphragm pressure regulator with a gauge and a water trap filter. These accessories aid users in precisely adjusting airflow for dry and clean air.
Pros
Easy to use and maintain
Users can easily adjust airflow pressure and temperature
Large capacity
Compact and lightweight
Low-noise and oil-less motor
Cons
Some customer complaints of pressure issues
Paasche D3000R 1/5 HP Compressor with Tank
Paasche is renowned for its quality and user-friendly manufacturing and supplying products. The company is beloved by beginner DIY-ers and professionals alike for its reliable and efficient service.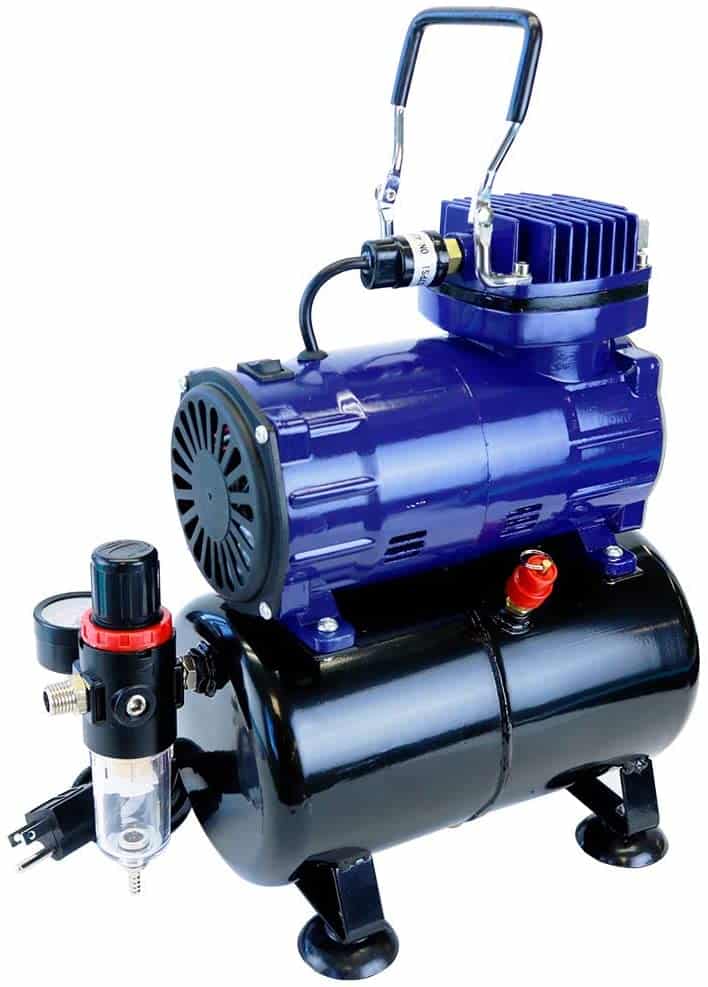 Specs
1/5 HP piston compressor with tank
Comes with regulator with moisture trap
Delivers 20-40 PSI Depending on airbrush used
47 dB
Protection from moisture
Auto-shut off for overheatig
3/4 Gallon Storage Tank
Paasche ¼-inch NPT Hose Fitting and ⅛-inch BPS Hose Adaptor for Competitor Hoses
Efficient and reliable
The Paasche D3000R airbrush compressor guarantees efficient performance. The model comes with a one-gallon air tank, so the compressor is switched only once the air tank is low. This increases overall energy efficiency and functionality.
The D3000R has a steady air pressure of 20 PSI and maximum air pressure of 40 PSI, without creating much noise from the motor. The motor also features smooth performance and transitions between changing pressures. Stable legs also ensure that the compressor doesn't topple over during adjustments and operations.
Ease-of-use
Paasche is one of the most popular brands among hobbyists and beginners for a reason. The brand can create simple and straightforward products that are easy to assemble, operate, and maintain.
The model comes with a convenient BPA hose adapter with a ⅛-inch fitting and the NPT hose with a ¼-inch fitting that can be understood by any DIY-enthusiast. Users will especially love the efficient design of this product, which has an auto shut-off for protection against overheating. A moisture filter is also present to protect the compressor from moisture-related issues.
Pros
Convenient built-in pressure regulator
Maintenance-free airbrush compressor
Compact and lightweight
Auto-shut off for overheating
Moisture control
Cons
Difficult to find replacement parts
Badger Air-Brush Co. TC910 Aspire Pro Compressor
Badger is well-known for its completely reliable and durable products. Badger Air-Brush Co. TC910 Aspire Pro Compressor is known for providing a long service time and delivering optimal results.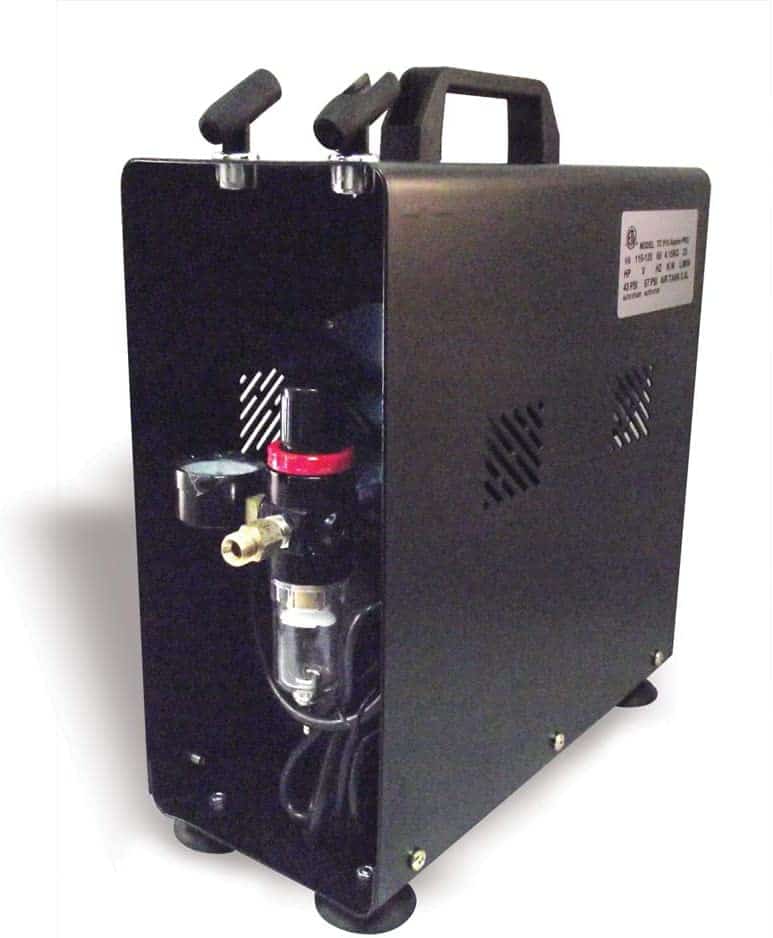 Specs
20 PSI steady operating pressure
1/8 gallon air tank
Maximum 57 PSI
Auto shut off for Thermal protection
ETL certification
Auto-shut off for overheating
Moisture control
Robust and durable
This airbrush compressor from Badger is made out of the most durable materials for air compressors. The built has a compact and sturdy design that features stable base legs, a strong external cover, and a durable handle. Users can rest assured that this product is meant to provide its service for years.
The model also has an all-black finish that adds a sleek and professional look to your work operations. The compressor is also lightweight compact, which makes it easy to move around and work. A downside of this design is that some users report having difficulties adjusting the valves and knobs due to restricted hand movement.
User-friendly and reliable
This airbrush compressor features a ⅛ gallon air tank, a generous capacity for beginner to moderate airbrush operators. The compressor has a steady operating pressure of 20 PSI and a maximum pressure of 57 PSI. These are enough to get most airbrush work done efficiently without the fuss.
Users love this model by Badger because of its ease-of-use. The product comes with a comprehensive manual to accompany its straightforward design and applications. Users also appreciate the silent work this compressor does, a plus for newbie DIYers sensitive to distractions and disturbances.
Pros
User-friendly and straightforward features
Compact and lightweigh
Robust and durable design
Convenient auto-shut off for overheating and Moisture control
Cons
Difficult to adjust knobs and valves
[table "lt5gt" not found /]
Shopping considerations for Best Airbrush compressor
Before we get into detail about the key factors to look for in an airbrush compressor, we need to understand how the tool works!
May hobbyists and professionals rely on a quality airbrush compressor to get their meticulous airbrush work down. Airbrush compressors work to provide enough air pressure to spray paint, ink, foundation, make-up, stains, and dyes!
Airbrush compressors contain one to two pistons that work hard to compress air in the tank and create enough pressure to spray paints and dyes. High pressure turns liquid medium into tiny droplets can create a smooth and clean finish when sprayed.
Types of Airbrush compressors
The best airbrush compressor for you will depend on the type of airbrush work you need to get done. The most common airbrush compressors in the market are available as:
Diaphragm compressors are best for hobbyists and DIYers. These compressors work without an air tank to move a diaphragm up and down using a motor.Air flows in through an inlet and out through the outlet. These types of compressors are oil-free and easy to maintain. The only downsides are that airflow may not be too consistent, and plastic diaphragms may have a short lifespan.
Oil-free piston compressors use lubricants instead of oil to prevent wear of the piston and compressor. These compressors are safe to come in contact with skin, and they can be consumed for food and cake decoration.Oil-free pistons are also eco-friendly and require less maintenance. On the other hand, they can be noisy to operate.
Oil piston compressors require oil to run the motor. These are more powerful than diaphragm models, and they are the perfect tool for large-scale painting projects.Oil piston compressors are harder to maintain and require an oil filter to protect the medium, the air hose, and the air filter.
Key Features of Best Airbrush compressor
There are several key considerations to read up on to ensure that you choose the best airbrush compressor for your needs. It can get complicated to find the best product for your projects. Different compressors will have their own strengths and applications.
When reviewing airbrush compressors, make sure to consider these key factors:
Weight, size, and portability
Take into account the weight and size of your compressor of choice. Not only is it convenient to travel with a lightweight and compact compressor, getting a smaller-sized compressor will ensure that it doesn't interfere with your work while in a cramped studio or workstation.
Horsepower
The horsepower (HP) of your airbrush compressor will determine the efficiency of the device. The higher the horsepower of any motor, the faster it will be to get a job done.
A compressor with high HP can efficiently and evenly pump air, resulting in perfect coverage of paint and ink. Most compressors will have horsepower ranging from 0.5HP to 2HP.
Pistons
Air compressors are available as either single or dual piston motors. Single piston motors are a good choice for small DIY projects that don't require a long running time. They're also much quieter than dual-piston motors. Dual-piston motors are your best bet for larger projects where the noise level isn't an issue.
Air pressure level
Air pressure is another important factor to consider when buying a compressor. A generous air pressure level will ensure that the medium is efficiently sprayed onto a surface. A high-pressure airbrush compressor will ensure that paint, dye, or ink can evenly and smoothly cover your canvas.
Auto start and stop
While some clients won't look much into this feature, a compressor with an auto start-stop feature makes the tool energy-efficient and safe for use. Motors have a tendency to overheating, and auto-off technology will ensure that no key components are burned due to excessive use.
Conclusion
Investing in a high-quality airbrush compressor guarantees smooth and clean results on your DIY projects. Make sure to get an airbrush compressor that is specific to your needs.