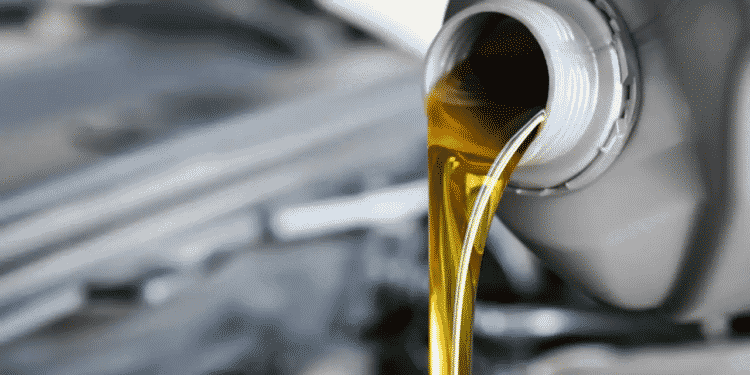 Have you been having trouble picking the right air compressor oil for your machine? Well, this review should not only give you the best options, but also give you a comprehensive guide on how to choose the best one in a sea of options.
When it comes to maintaining air compressors, one vital component is choosing the best air compressor lubricant that will ensure more efficient performance and increased maintenance of the device. Air compressor lubricants are available in a variety of places, both online and offline.
However, whether you buy it in person or through the internet, there are a number of factors that need to be considered. There are quite a few brands that offer air compressor oils of different types and specifications, it is all about picking the right one that ticks all your requirement boxes.
Best air compressor oil – Comparison table
| Air compressor oil | Synthetic Vs. Standard | Check on Amazon |
| --- | --- | --- |
| Royal Purple 01513 Synfilm Recip 100 | Synthetic | |
| OEM All Season Select Synthetic Lubricant | Synthetic | |
| DEWALT Compressor Oil, 1-Quart (D55001) | Synthetic | |
| Powermate PX P018-0084SP | Synthetic | |
| Porter Cable PXCM018-0080 | Synthetic | |
| Campbell Hausfeld Oil Compressor | Standard | |
| Pro Silent High Performance Compressor Oil | Synthetic | |
This is one of the most popular brands and selections when it comes to air compressor oils. The royal purple brand is known for delivering great performance and reliability.
Specs
Fully synthetic
Has additives that increase engine life and performance
Synerlec additive that increases viscosity
Suited for use in warm temperatures
The best aspect of this air compressor oil is that it contains the Synerlec additive that is signature to the Royal purple brand. This additive is designed to increase the viscosity of the lubricant making it very suitable for use in warm temperatures.
This air compressor oil eliminates annoying sounds from the engine and enables the compressor to have a cooler and quitter running. It is also designed to have a rather long shelf life which ensures that you get the chance to use every drop of it at your own leisure.
The downside to this lubricant is that due to its high viscosity, it is ill suited for use in areas with low temperatures. It may cause clogs, and will not be very effective compared to a lubricant of a lower viscosity
Pros
Is from a trusted brand
Has a very long shelf life
It has additives that increase engine life
Quiets the engine and makes it run cooler.
Cons
It does not work well in cold temperatures
Verdict
This would be the best pick for a user who requires an oil compressor to use in a warm climate area. It is proven to not just make the air compressor engine more efficient, but increase its longevity and make it cooler and quieter.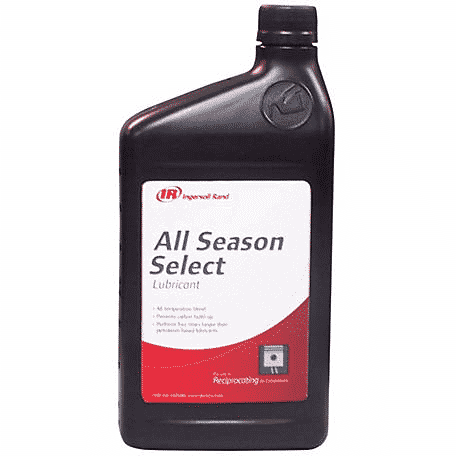 This all season's lubricant is said to ensure a superior performance rate of most air compressors, and not without reason. It has a great blend of oil components:
Specs
Fully synthetic
Designed for use at all temperature
This OEM all seasons select synthetic lubricant is a highly preferred choice because it is suitable to use on your air compressor engine at all temperatures, which makes it very flexible to use, and it can even be used on the road.
It is also known to help greatly in reducing carbon build ups in the engine as well as reducing the wear and tear of the compression engine. It is also incredibly easy to switch to this lubricant from your old one, which is not the case for most synthetic air compressor oils, where a slight mixing of two different ones could damage your air compressor.
This air compressor oil is a little pricey for a quart of oil compared to other similar lubricants, probably because it is all season.
Pros
It can be used at all temperatures
Reduces wear and tear
Prevents a build-up of carbon in the engine
Cons
Verdict
This all season's pick is the best air compressor oil for a user who either lives in an area where the temperature varies greatly or for use on the road.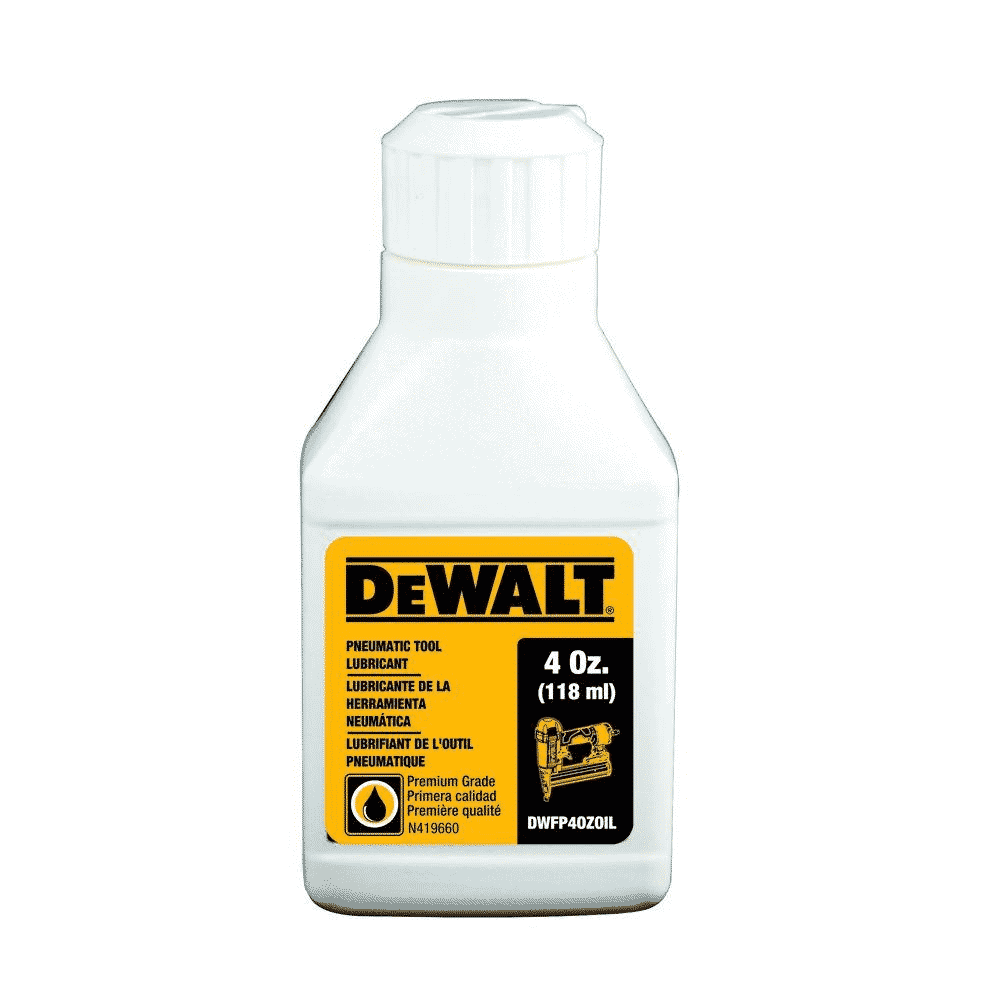 DEWALT is another very trusted brand for both air compressors and their accompanying lubricants.
Specs
Fully synthetic
Up to 200 hours of use between oil changes
Provides air pump and valve protection
This synthetic air compressor oil is a top pick for quite a number of reasons. First, it is a big help in reducing wear and tear on movable air compressor parts as well as providing pump protection and increasing their efficiency in overall performance. It also greatly reduces carbon build up in the engine and requires an oil change after around 200 hours of use, which is very convenient. It is also recommended for users with start-up problems
DEWALT is very specific to their air compressor users about buying this specific air compressor oil. This makes it very good for DEWALT air compressors because it is tailor made for them, but the benefits may not directly translate on other brands. It is still great, but not as perfect as on its specific brand.
Pros
It reduces carbon build up
Comes from a trusted brand
It reduces machine wear and tear and increases efficiency
Requires few oil changes for efficiency
Cons
It may not be as efficient for different brands of air compressors
Verdict
This is a great pick for a user who may be having issues with stating up their air compressor or who seeks to reduce the wear and tear on it.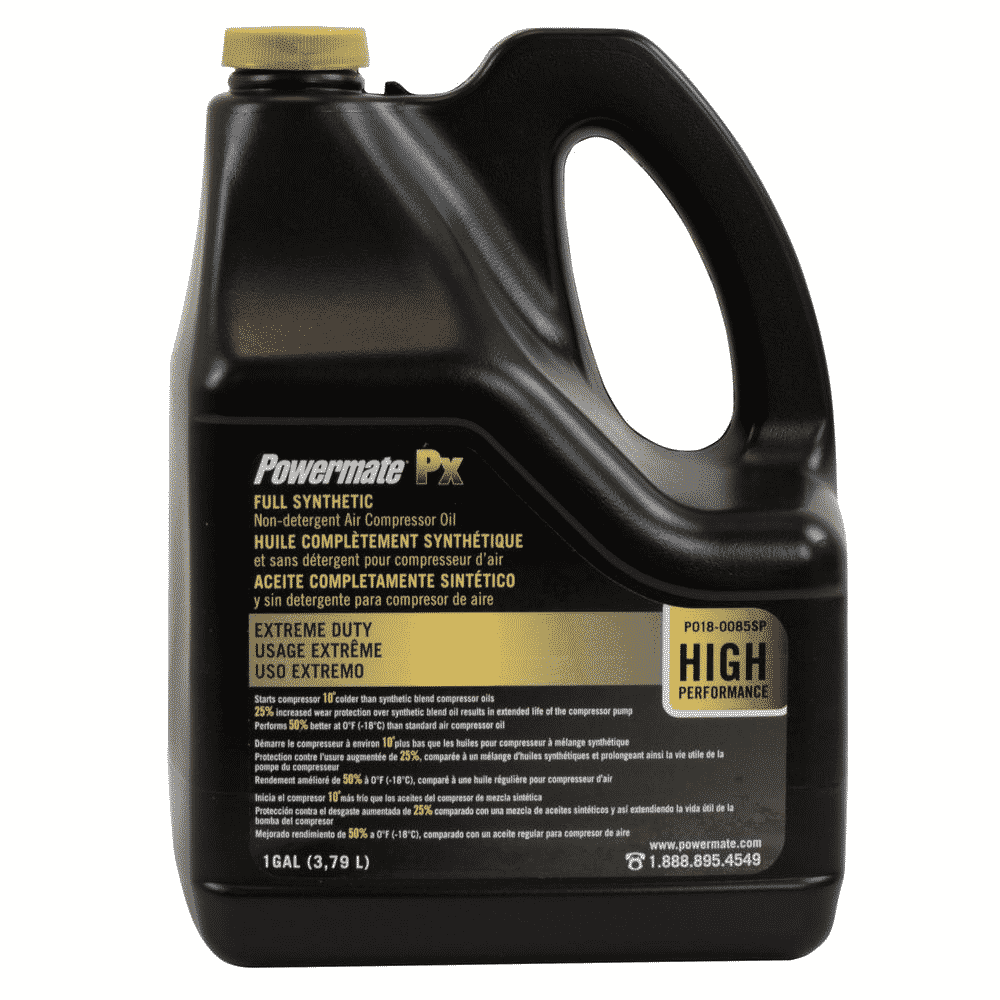 This air compressor oil is specifically designed for use in cool temperatures, although it is also suitable for use in warmer temperatures
Specs
20 weight
Fully synthetic
No additives or detergents
Suitable for cool temperatures
Air compressor specific
This is the top pick for cold temperatures because it has and 20 weight viscosity and no additional detergents or other additives. It is also a compressor specific lubricant which means that it is tailor made to meet all the oiling requirements of the average air compressor.
The powermate greatly reduces the wear and tear as well as protecting the discharge valves in your air compressor from carbon deposits. It can also be used on a wide range of temperatures compared to the average air compressor oil.
The con to this lubricant is that it is not suitable for use on older machine units. This is because it will slip right past the piston rings and result in excess oil in the hoes. There is a 30 weight version of the same product which would be ideal for use on older machines.
Pros
Suitable to use for cool temperatures as well as warm ones
It reduces wear and tear
Prevents carbon build up
Cons
It is not suitable for use on old compressors (8+ years)
Verdict
This would be a great pick for a user in an area with low temperatures, or prone to extreme low temperatures because it works for a wide range of temperature from the extreme low of 0 Fahrenheit.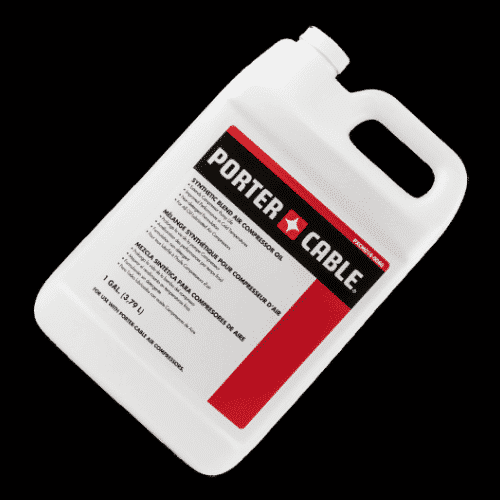 Porter Cable has proven to be a very reliable brand when it comes to air compressor oils, and this particular PXCM018-0080 version is no different.
Specs
1 gallon
Completely synthetic
No detergents or other additives
This is one of the best picks for synthetic oils because it is good for all seasonal use as well as both old and new air compressors. It comes in a large 1 gallon package which is quite economical and works right after being used on the machine. It also enhances the efficiency of performance for any air compressor as well as increasing the maintenance of the moving parts like the pumps and air valves.
This air compressor oil is good to use for a wide range of temperatures, but does not fare well in extremes, either hot or cold. In extremely cold temperatures, it may cause clogs while in extremely hot temperatures, it may require frequent oil changes.
Pros
It can be used for any age of device
Suitable for all seasonal use
good for maintenance and efficiency
Cons
It is not suitable for extreme temperatures
Verdict
This would be a great overall solution for all air compressor oil needs since it works for all ages of air compressors as well as a wide range of temperature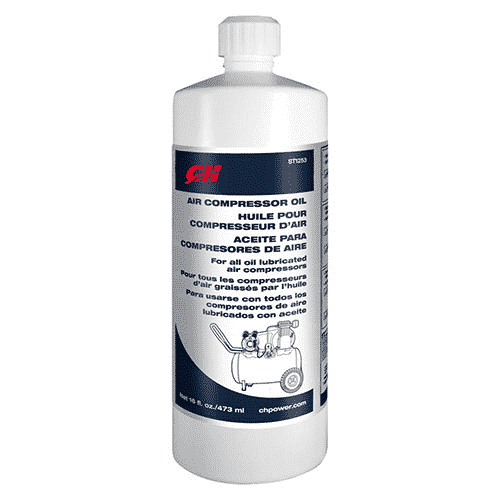 This Campbell Hausfeld oil compressor is one of the few standard oils that can be recommended for use on an air compressor.
Specs
30 Weight
Fully standard
No detergents or other additives
This lubricant is especially recommended for older air compressor units where a synthetic lubricant would be used up more rapidly. It is also increases pump life by reducing carbon build up in the working engine as well as making the entire pump system smoother and more efficient. the Campbell Hausfeld  is extremely dependable.
It is not for use in extremely low temperatures because it may cause the system to clog and reduce functionality
Pros
Can be used on older air compressor models
Is from a well-known brand
Reduces carbon build up in the engine
Cons
It is not suitable for extremely low temperature
Verdict
This air compressor oil would be a great pick for a user with an old air compressor unit or with a temperature controlled environment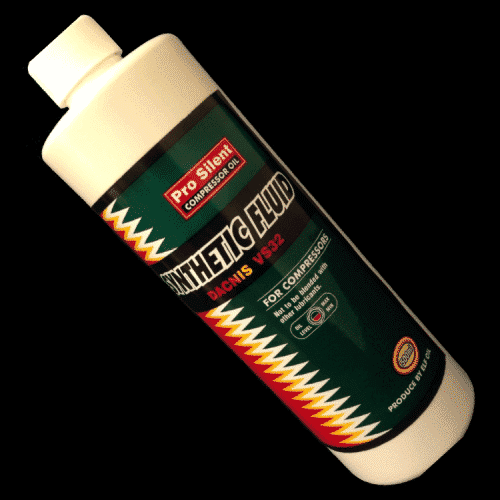 This brand is well known for its diversity in uses; from industrial to home use which is why this high performance compressor oil is the top pneumatic oil brand pick.
Specs
Non-detergent
Fully synthetic
30 weight
No other additives
It has a very high self-ignition temperature which is at about 770 degrees Fahrenheit, which makes it suitable for high temperatures. It also has great anti-foam and anti-corrosion properties which allow it to work without foaming which would slow down the system as well as protecting the air compressor against hydrolysis and rust which should ensure that your air compressor maintains the best possible physical condition and functionality.
Its biggest drawback is it gas a high consumption for use. This implies that the user would need to buy a lot more of it than the average air compressor oil.
Pros
Has anti-foam and anti-corrosion properties
Protects against rust and hydrolysis
Can be used for extremely high temperatures
Cons
It has a high substance consumption
Verdict
This would be the best pick for a user who is looking for pneumatic oil that can be used for extreme temperatures while maintaining the best performance
What should you consider when buying an oil air compressor?
When choosing the right oil for your air compressor, it would be most wise to follow the guidelines in the user manual to come up with the basic requirements when choosing the right one. However, there are other basic characteristics that you should keep an eye out for when choosing the right air compressor oil:
This is the thickness or weight of any given oil. The thicker the oil is the more viscous it is and the more watery it is, the less viscous it is considered to be. It is the most important factor to consider when choosing an air compressor oil because if it is too thin or thick, the machine may shut down or get permanently damaged.
Air compressors typically require an oil with viscosity ranging between 20 and 30 viscosity or weight. However, you can confirm this by reading the user manual or checking online for your specific air compressor. Some lubricants in the market label their viscosity using the ISO scale, which can be a bit confusing. You can convert this to weight on the internet.
These refer to the additional components in lubricants that are often designed to give extra benefits to moving parts. Some lubricants have additives that would be great for certain engines, but terrible in others. An example would be detergent additives that are great for car engines because they clean it out and make it more efficient but would be very harmful to an air compressor.
When looking at additives, you should go for those that are proven to have elements that work to prevent rust and resist corrosion, while avoiding those that are designed to clean parts.
This is another vital factor that should be considered in relation to viscosity. An oil might have the right viscosity but not the correct temperature range for your use. This is because different lubricants behave differently in different temperature ranges, one may completely freeze in low temperatures or become too watery in high ones.
It is advised to go for a low viscosity lubricant for a cold work environment and a high viscosity lubricant for a warm work environment. This is because a low viscosity lubricant is not easily frozen, while a highly viscous one is not easily evaporated. Generally, 20 weight viscosity is sufficient for cool temperature while 30 weight viscosity would do for higher temperatures.
Synthetic oils Vs Standard oils
There are two basic types of oils; synthetic oils and standard oils. The synthetic air compressor lubricants are made with a mineral or synthetic base while standard air compressor lubricants are made using a natural mineral base. This implies that the synthetic based lubricants are far more refined and have gone through a more thorough engineering process to suit their specific uses than the mineral based ones.
Although both can be used, synthetic air compressor oils are preferred. This is because they are required to be used less frequently and don't create any build-up around the moving air compressor parts like the air valves faces and backs. They also promote longevity of the air compressor as well as efficiency and high performance
Final thoughts
It is very important to choose the best air compressor oil to meet the specific needs of your air compressor. Some experts' advice to buy the same brand of lubricant as the air compressor, but this is not completely necessary. It is safer to just go for the best quality synthetic lubricant within the correct temperature range and use it as specified in the air compressor user manual.