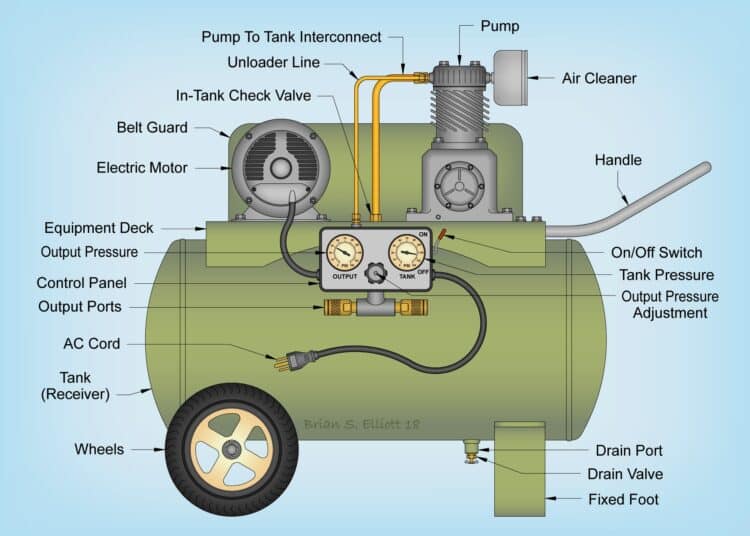 If you are a DIY hobbyist and need an air compressor to fulfill your many projects in your garage, why not get one in a compact and portable size? It will suit your needs and be cost-effective at the same time.
Then you will be curious to learn how to use a portable air compressor, which you will, in the next couple of segments. But first, you should know about a typical air compressor unit and what makes it tick.
Know your air compressor
What is an air compressor used for?
Firstly, an air compressor is a mechanical device used to enhance pressure in many compressible elements like gas or fluids, and air is the most prevalent.
Its chief purpose is to change electrical power to compressed air. Whenever air is pressurized, it becomes more powerful. Thus, making it practicable for many different kinds of applications, whether in workshops or large industrial complexes.
Yet the most compressor units are included in the positive displacement variety. You can see them in many shapes and sizes. From smaller tire inflator types that can fit inside a glovebox. Or humongous turbo or reciprocating ones used in massive pipelines.
Positive displacement types are further distributed into subtypes that include reciprocating, piston, rotary screw, rotary vane, etc.
Compressor components
A basic compressor unit has these:
Drive- There are two kinds of drives in a typical unit: direct driven and belt-drive.
Pump- The energy created from the drive is used by a pump to draw in and pressurize the air. It is then directed to tubing and ends up in a storage tank.
Storage tank- Its main function is to temporarily store the air, which you can then use for all sorts of operations while it is still not functioning. It also provides extra air to the system throughout periods of constant usage.
It is outfitted with a one-way check valve to halt pressurized air from adding compression to the pump. It acts as a buffer that does away with any potential wear and tears happening to the motor and pump for constantly operating.
Common compressor types
Sliding vane compressor
Piston compressor
Diaphragm compressor
Helical screw compressor
Rotary lobe compressor
Scroll compressor
Axial compressor
Centrifugal compressor
Types of displacement
There are many methods of pressurizing air, which is divided into two:
Positive displacement- It works by pushing air towards a chamber, whose quantity is then reduced to pressurize it. After reaching maximum pressure, a valve will open, and the air is directed into a pressurization chamber via an outlet system. The common types are the piston types and rotary screw types.
Dynamic displacement- Axial and centrifugal compressors utilize this method of displacement. This functions when a revolving part lends it kinetic energy that is exchanged to become pressure. Centrifugal force is utilized via a rotating impeller blade, which can speed up and slows down the captured air, thus compressing it for usage.
Life expectancy
One of your aims in buying an air compressor, or anything for that matter, is to get something reasonably inexpensive yet very durable and has the potential to last long.
Yet, some compressor brands are advertised and made to last ten times longer than the others of their type. Then you find out there is only a little difference in the pricing. It makes potential buyers like you more confused.
The compressor's life expectancy should be discussed by your dealer before purchase. If he does not know, then have him call its manufacturer.
As a principle, for every dollar you pay out to acquire a better unit, you ought to saves about three dollars in the longs haul.
Apart from buying a top-quality unit to get a longer lifespan, you get a larger compressor instead. A bigger one can function two-thirds more than smaller ones and remain cooler and last two times longer.
How to use a portable air compressor: tire inflator
One of the uses for a small air compressor is to inflate a tire. Here is a guide on how to do it.
Check the pressure on the tire
This application of air compressors is relatively the easiest. If you want to do a simple task that will make you understand how the entire contraption works, then you should inflate a tire.
First, you will have to check the tire's present pressure. You will need a pressure gauge to do this. You can buy one, and it is not expensive. You can put it in the glove compartment in the car.
Unscrew the tire's valve cap and slowly press the gauge into the valve. Just do this for a second for an exact measure. The tire will emit a hissing sound. Then check the pressure reading and take it down.
Also, make sure to do this when the car has been unused for a while and the tire is already cold. If you do this in a hot tire, the gauge will show a high pressure.
After you have found out the tire pressure, you will have to know how much pressure it needs. Most vehicle tires necessitate about one hundred PSI or pounds per square inch. However, it depends on a few factors not involving the compressor, like weather, the number of tires per axle, and axle load.
To get the precise pressure requirement, you can go through the tire manufacturer's manual and check.
After finding out the needed pressure, look at the present pressure it has. If the current one is below the required amount, you have to put air into the tire.
If you see that the present pressure is the same as the needed amount, you don't have to do anything.
Inflating the tire
The tire inflator might be the best beginner air compressor that you can use as a newcomer to the unit.
There are two ways to put air into your tires. The first is the easiest since you will not be doing anything except bringing your car to a garage mechanic and have him inflate your tire.
The second is to inflate it with a top-quality portable air compressor that also has a digital pressure gauge at the comfort of your home. Make sure that it is also small enough to fit the trunk of your car so you can inflate it whichever place you drive to.
The second alternative is your best option since you would not know where or when your tire will get busted and get it inflated. Also, don't buy an inexpensive portable unit since it is not appropriate for a quick tire inflating task. So spend more on it to ensure a better performing inflator.
Here is how you can put air into your tire:
Place the portable unit near the tire area so that the air hose can reach it. Also, make sure that before buying it, it also has a long power cord.
Switch on the unit by plugging it into the electrical socket. Some smaller types have two-prong plugs, while medium and large ones are three-pronged. Be sure the outlet is in the proper voltage.
Once you have plugged it the right way, you can hear a slight whirring sound that indicates it is operating correctly.
Remove the stem caps and press down the hose fastening on the valve stem. Press the lever.
Then fill the tire with air, which will depend on the necessary pressure. If your portable unit has a built-in pressure gauge, then you will know how much pressure it requires. Some newer models have an advanced alternative by automatically turn off when the target pressure is reached.
Hold the hose firmly on the valve stem. You will feel on your hands the air is released into the tire.
If your potable unit does not have an advanced automatic shut-off feature, keep an eye on the pressure gauge.
Once it reaches the needed pressure, turn off the unit. If you have used one that doesn't have a pressure gauge, the tire might overinflate. If that will happen, press down on the tire gauge and let the air out to get back to the right pressure.
Do the same process as the other tires so that all have the same pressures.
After all the tires have the right pressures, put the stem caps back on. You are done properly inflating the tires.
Preparing a portable compressor for other uses
Setting it up
A typical air compressor line setup and assembly are usually different from other models. So one brand's user's manual might not work with another brand of the same type.
One process that is virtually the same to all models is the portion where the air hose is connected to the regulator valve.
The manual will guide you to install it correctly. It is the most crucial step that no malfunctions will occur due to an incorrect connection.
If you're entirely new to this procedure and not mechanically inclined, then have a professional set it up or someone familiar with the process.
Check the level of the oil and fuel
This step is SOP or standard operating procedure for all machinery of this kind. Oil is for lubrication and cooling of the engine. If you operate any machinery piece with a low oil level will damage it and will be hard to repair and not covered by its warranty.
If the level is under the line, then top it up immediately. If you haven't used it for a while, then you have to change the oil. You also need to observe if there are oil leaks.
Shut off any open outlet while doing this process to halt any possible messes and increase the machine's effectiveness.
Then check on the fuel level to make sure it operates uninterruptedly. Fill it up if lacking so it can function properly.
Electricity, diesel, and gas are the most common sources of power for all compressor types. Each will have differences in pricing, effectiveness, ease of use, and eco-friendliness.
Shut off every outlet valve
You have to make sure that the air remains complete during the pressurization process by turning off every air outlet valve in the unit. It will stop any air leakages in keeping constant the varying compressed air.
You also have to be sure that all the valves are installed correctly, which might be different with various models. So you have to check on the user's manual for this before going to the next step.
Turn on the engine
If your portable compressor type is electrically powered, connect the power cord to the electrical outlet and turn it on. If it used a different power source, be sure it has enough fuel.
Once it starts, the engine speed will slowly increase until it arrives at maximum capacity. Wait for it to warm up before enabling the pressurization process of the air and goes into the tank for storage.
Shut off the tank's drain valve to halt any air escape and let it cool down for a while before turning it entirely off.
Ready for usage
There is enough pressurized air in the tank that you can now use to attach to pneumatic tools.
You only need to attach the air hose to the air inlet of the particular air-powered tool. You can adjust the pressure settings to the amount you require for your DIY project.
Here are a few of its uses:
Provide air to scuba divers
Enable HVAC units to function
Make high-powered tools like jackhammers to function
Provides power to petroleum and oxidation industrial process
Inflating sports balls, mattresses, and vehicle tires
Maintenance procedures
Check on the air filters, clean or replace if necessary.
Check on oil and air leakages, seal or repair if needed.
Regular oil changes and keep at the needed levels.
Check on its temperature to avoid overheating.
Check for any dents or breaks, that way you can fix or replace once it has.
Conclusion
Each portable compressor model has a different design and function and may have varying installation procedures. To get more comprehensive instructions, check on the user's manual.