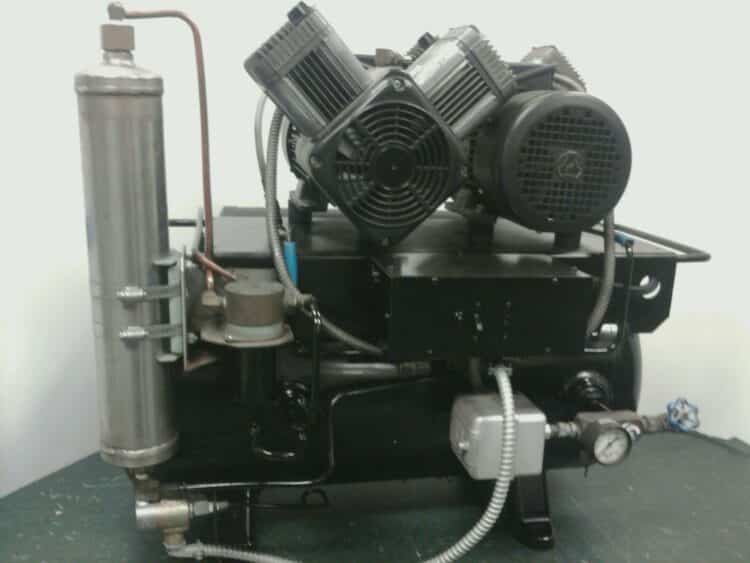 Are you thinking about buying a compressor unit but haven't decided yet on the type? 3 phase air compressors might be the best ones for you that might fit your needs.
Yet, you might still be uncertain and hesitant because you still lack knowledge about it.
It might sound a little complicated. However, with earnest and heedful attention, you can comprehend it.
To begin your quest of careful discernment, you should start at the root of the matter: introductory understanding about a typical air compressor.
Compressor basic info
First and foremost, a compressor is a mechanical device used to enhance pressure in many compressible elements like gas or fluids, and the air is the most prevalent.
Many of its types and subtypes are utilized throughout industrial, commercial, and even household environments. Examples include providing energy to air-powered tools like nail guns or paint sprayers. Another is refrigeration and air conditioning through phase changes, or to impel gas through pipework and many more.
Regarding compressors with pumps, they are divided into positive displacement and dynamic (also called centrifugal or kinetic). These types available are mostly included in the centrifugal variety.
Yet the most compressor units are included in the positive displacement variety. You can see them in many shapes and sizes. From smaller tire inflator types that can fit inside a glovebox. Or humongous turbo or reciprocating ones used in massive pipelines.
Positive displacement types are further distributed into subtypes, which include reciprocating, piston, rotary screw, rotary vane, etc.
Most common compressor types
Sliding vane compressor
Piston compressor
Diaphragm compressor
Helical screw compressor
Rotary lobe compressor
Scroll compressor
Axial compressor
Centrifugal compressor
Single phase
3 phase compressor
Single phase vs. three phase air compressor
What are 3 phase basic compressors?
This compressor type is mostly utilized in large industries because of its dependability and durability. Its application is usually found doing heavy-duty tasks in refrigeration, or cabinet-making, panel, or manufacturing shops.
It has a consistent output of steady energy and suitable for long periods of usage. It also has many other benefits equivalent to single-phase units regarding generating, transmitting, and distributing power. It is also energy-efficient.
Firstly, it is an air conditioning device that provides a compressor connection to HVAC systems, which drive the conditioned air process. It is also used in pneumatic tools and equipment like nail guns, grinders, or sandblasters. Inside its motor, there are various windings to provide a regular supply of power to the unit. It has a special kind of machine that does not utilize a simple winding motor.
It is provided with an AC or alternating current for its motor, which has the same power as a regular electrical wall socket. Yet, a 3 phase unit has three offset pulses directed to a particular alternating current supply.
Three power supply phases continually provide energy to the unit with three of the highest different pulses of electricity. Its machine has enough energy supply for the motor, which is a notch above its single-phase counterpart.
Its functionality has many similarities to a single-phase unit. Once the storage tank takes up enough air, the engine enables it to function. Pressurized air is added to render it to maximum motion.
Big businesses use this compressor type because of its compatibility with many air-powered tools and provide its employees additional instruments to use.
However, there is a stark difference between a single-phase vs. a two-phase air compressor. The main one is the voltage supplied by each of the wire forms.
The type of single-phase control pertains to split-phase power, and there are many ways to find out whether a three-phase or single-phase wirings is present.
There are many benefits of a three-phase wire connection, and its longevity is its main one. Since its motor has a steady flow of power going through its system, it does not have to be turned off and on, thus enabling it to last long.
Besides, the three winding systems provide less electrical current, which shields the functionality of windings from any damage, thus keeping any malfunctions and costly repairs from happening.
One disadvantage is its particular electrical power supply. Many households and small businesses have steady power that has one stage, and the electrical company provides pulses to each outlet.
But large industries have three-stage electrical power, which includes generators and welders.
If you are a DIY hobbyist that engages in small-scale projects and still prefer this particular compressor type, you will need to upgrade your facilities and set up a three-phase power supply at home.
One of its subtypes has three HP or horsepower and has more advanced machinery designed to satisfy all customers' requirements. It is also very adaptable and can be used in commercial and industrial operations.
Overall, it is a better performing compressor that provides steady power even after long and ceaseless usage, yet still able to withstand it.
Single phase compressors
Single-phase units are often mistaken for their three-phase counterparts. However, what they're for is starkly different and is usually utilized for home use and small-scale business, while the latter is for heavy-duty usage in large industries.
This compressor type is also less expensive that makes it suitable for users ranging from light to medium. Since it is seldom used, it consumes only minimal power and can save electrical energy costing.
It is available is in small, lightweight, and compact sizes. Thus there will be no difficulty in storing and moving it around.
Since it is in a compact framework, maintaining it will be easy and would not take as much time as its three-phase counterpart.
Since it is made for light to medium service only, it is not recommended for this kind of prolonged usage like others of its type do. It is not as strong as the 3 phase unit and can overheat if it remains on for too long.
From 3 phase air compressor to single phase
If your unit is currently functioning in a 3 phase capacity, you can switch it up to become a single-phase operation. There are a couple of ingenious ways to do that.
One way is using a rotary phase converter. It is easy to set up and can provide a three-phase power source when only one is functional. It should only be utilized sparingly because of a high-pressure demand once the unit is switched on.
If the unit is operating in smaller loads, VFDs or variable speed motor drives, are a good alternative. It has many features like dependability, high efficiency, low maintenance, all in compact packaging.
One of its disadvantages is its complex installation process, and another is its tendency to fail its cost-benefit whenever it goes above five HP.
After the 3 phase air compressor has been changed over to function in a single-phase capacity, its owners will find it reliable and save them a lot of money.
Yet in a few situations, three-phase units were able to save more money than their single-stage counterparts. But the low costs were only short-lived because extra costing will still incur due to the addition of either VFD or rotary phase converter to the system.
3 phase air compressor wiring diagram
The 3 phase compressor wiring diagram is unique and one of its kind. One of its requirements is to add a nameplate at the side end of each engine. It will include electric demands and a motor scale.
There should either be a three-phased two hundred thirty volts or a three-phased four hundred sixty volts on the electrical panel where the motor is mounted. The panel should also have a label that should be situated inside the threshold or on the cover.
The information in the label should have specific details about the voltage rating, production, and model. There should also be information about the circuit breaker's analysis, which will show the amperage rating. Similar to the breaker handle that is known for its amperage power.
A 3 phase compressor's electrical power goes through three different lines and is supplied by a service panel that has three phases. A typical one-phase panel has one hundred twenty or two hundred forty volts, which is most likely found in a small-scale workshop or household. These are only provided with two power lines, so they do not have pressure enough to power a 3 phase engine.
Control circuits and three-phase motor starters
As mentioned earlier, there are three different power lines. On the three-phase motor circuit, there will be ground wires installed. However, it does not require a neutral cable.
To sum it up, in a 3 phase power wiring in a compressor unit, identifying the amperage and voltage is required.
Also, the capacity of the amperage and voltage in the service panel is a requirement.
Lastly, an engine starter or motor controller is connected to the compressor motor, which is particularly designed to protect from thermal and head overload.
How would you know if the 3 phase compressor is defective?
Whenever summer season approaches, your HVAC units will be having all sorts of breakdowns, and the compressor system might be the culprit.
In the cold winter months before summer, your air conditioning systems might wasn't utilized and remained stagnant all that time. So when it is needed for cooling in the hot weather, it breaks down.
The air compressor unit is regarded as the heart in the AC system and usually has the 3 phase ones installed. Its main task is to pump refrigerant across the HVAC system, which propels the AC process.
Whenever the compressor has malfunctioned, only warm air comes out of the HVAC system. A defective 3 phase AC compressor is the likely perpetrator and has to look for ways to diagnose the problem.
You have to be very cautious in dealing with it since it is chiefly utilized in massive commercial facilities and usually operates in four hundred sixty volts. It has potential danger and might cause severe harm and even death.
If you do not have special training in handling it, do not even touch it or try anything written in this article. If there is something wrong with your HVAC system, call a professional technician to repair it.
Identifying the defect
Talk to the owner- The main issue can be narrowed down by simply conversing with the person who has intimate knowledge about the HVAC system.
Ask essential questions about a malfunctioning compressor like: were the electric breakers tipped? Did you hear any loud sounds emanating from it? Has it been cooling moderately or not? How long has it malfunctioned? Is this the first time it took place? What were its previous problems?
The more details you gather, the faster it will get fixed.
Distinguish the compressor type- An simple way to the information about the 3 phase unit is by looking at the manufacturer's tag found on the compressor itself.
Look for a PH notation, and if you find a number 3 below, it would mean a 3 phase compressor. The V will show a four hundred sixty note, which means it is for 460 v applications.
Check on the disconnect box- Look for the thermostat and turn it to cool. Then shut off the HVAC system. Take out the panels, which have the electrical parts, and look for loose or burnt wires or anything peculiar. Also, try to check if you can smell anything burning.
A common problem is loose, defective, or burnt wiring. Another is single phasing, which happens when the power legs have a zero rating and causes system malfunction.
Check the contactor- Look for the contactor and check if it is getting the correct voltage on each power leg.
If one leg has 474 volts and the other has 236, then it doesn't have proper voltage and might be faulty.
Observe the refrigerant pressure- Install refrigerant gauges on the top and bottom ports of the system, then turn it on. Let the pressure equalize for about ten minutes. If it remains still and doesn't fluctuate, then the compressor is not functioning.
Conclusion
Now you have learned the compressor basics and its particulars. It will give you indispensable knowledge about it, and specifically 3 phase units, which will invariably help you whenever anything relating to it arises.