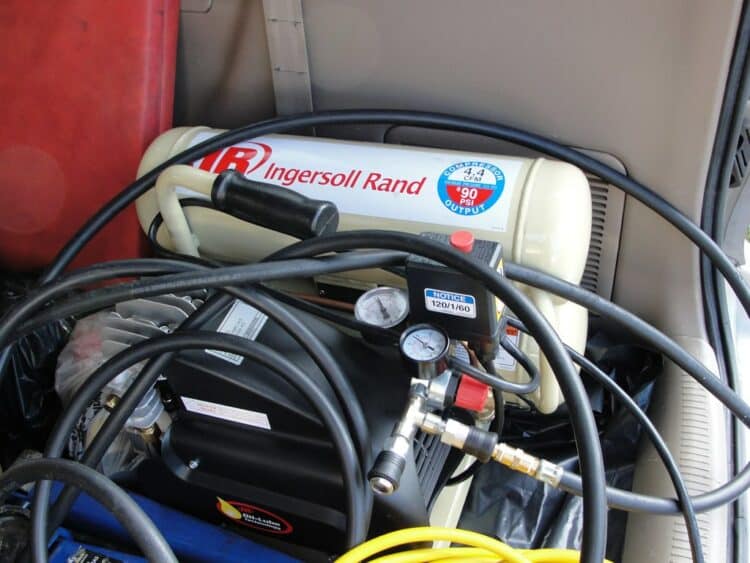 You are dreading the arrival of winter because you have recently bought an air compressor and do not know how cold temperature will affect it. You have many questions in your mind that you want to answer, like: "Why does compressed air get cold?" or "How do I keep my air compressor from freezing?" or "Can air compressors freeze?"
Do not worry, all of your pressurized air-related queries will soon be resolved. You can learn some helpful tips on upholding the robustness of your very essential device that you may need in the cold season.
The main issue that this device encounters when the temperature drops are the unfortunate problem is the formation of icicle-like condensation. On ordinary days, it normally produces condensate. But when the freezing weather comes, the moisture freezes and obstructs the system. In turn, the valves and control lines will freeze, the heat exchangers will fracture, and a lot more.
You will know the best ways of preparing your device for the frigid trials ahead and learn how to use them properly. Here are some questions concerning a frozen compressor and the answers to them:
How Can I Weather-Proof it?
Not only will you acclimatize yourself for the coming of the cold season, but you also need to prepare your equipment, which refers to your air compressor operating temperature. You have to shield it from the freezing elements like sleet, ice, and snow by scrutinizing everything about it. You only need to adopt these plan of actions to proof your device from the cold:
The lubricant plays a crucial part in its overall functionality, so that means you have to check often and make sure that its fluidity is still viable. The winter air compressor oil needs to be vicious and syrupy for it flows correctly in the system. If not, it will induce wear and tear within the engine.
The outside portion of the device will be left exposed. To fix that, you need to have a heating element within the vicinity or provide a type of insulation, so that the condensate would be hindered.
Try to give careful consideration in attaching a heater that the lubricant would not be hardened and to lessen the moisture from freezing and causing damage. Trace heating is another source of warmth for the device, which will keep the hoses and pipes unhampered from the hold.
Is an air dryer in winter needed? Yes, it does. You attach it within the system, which helps in managing the drastically changing temperatures. It will also hasten the buildup of condensation.
Can Air Compressors Freeze?
Yes, it will, so if you tend to leave the air compressor outside, you need to decide to transfer it. The best possible place in a room with proper insulation and heat. Here some ways to prepare the room and keep the air compressor running:
There should be an air compressor room ventilation design made. To achieve this, install proper ventilation like exhaust fans and parallel slats. It can be controlled by a thermostat, which only functions when the temperature goes over a predetermined level and would not turn on when it is still frigid.
A heater is an appropriate instrument to combat the cold weather and is required inside the room with the right air compressor operating temperature.
Keep the air compressor running by having the room temperature more than 45 degrees Fahrenheit, as advised by many experts. Do not turn it on if the temperature is under 40 degrees because it may run the risk of damage.
How Frequently Should I Maintain It?
If you want the device in good working condition for a long time, then you have to maintain it regularly, even in wintertime. If you are still using it in freezing conditions, then it necessitates more than the usual maintenance that it had in normal weather. Here are the immediate actions that you need to do:
Watch out for leaks that may cause the device to lose power slowly. It is vital to find it out and if you lack the know-how in finding it, hire a technician who can use ultrasonic equipment that can detect leaks.
Winter will keep the airlines frozen towards the drain, which will produce unwanted condensation that damages openings and valves. If the device does not have a system installed that automatically drains the water, then you have to empty it every day after usage so that freezing would not occur.
Check daily the lubricant's viscosity since the winter weather will cause it to become thicker and lose its effectiveness. Moreover, it will enable the engine to run more power, which causes stress and might overload. If it becomes too thick and would not flow properly to the necessary components, untimely wear and tear will occur.
Filters are used to screen out the liquid matter, so change it frequently so that freezing would not happen in that portion of the device.
How Can I Protect It?
Do not leave the air compressor outside in cold weather, but if you really need to then you have to winterize it for protection.
The winterization process starts about two months before the arrival of the cold season. Do a complete inspection of the device, including the fencing if it has one.
Evaluate the quality of the insulation and the weather-stripping material. If it is busted, then you have to replace it.
Also, check on the drainage and piping for any harm. You will need to make sure that it is as clean as it should be during winter and fix any breakage or bulges.
After all the inspection, then adopt these protocols:
Install new dryers, and if it has one already, then upgrade it.
Put in new filters.
Set up a heating cabinet for better temperature regulation.
Link up trace heating within the piping.
Has the device serviced by a professional compressor technician to fix any minor problems that will maybe worsen in frigid conditions?
Once you are confident that all of your questions have been answered, then you and your compressor are ready for the winter.