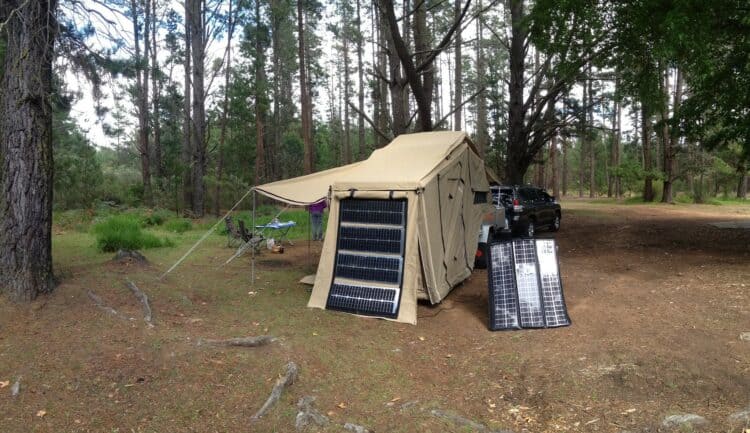 Whether you're planning an off-the-grid adventure or simply want to switch to clean energy, investing in a portable solar generator is a noble undertaking! Contrary to what others might think, green energy is reliable, user-friendly, and cost-efficient.
Solar energy can be particularly useful, especially in emergency situations where there is no fuel source access. Thanks to modern technology, solar generators are becoming more affordable in recent years. With the wide variety of portable solar generators in the market, it can be hard to find the best one for your trips or your home emergency plan.
Choose an efficient solar generator that can keep up with your needs and budget. We've compiled a list of the top 6 best portable solar generators on the market to help you find the right choice for your household or your adventures!
Best Portable Solar Generator
Goal Zero Yeti 1500x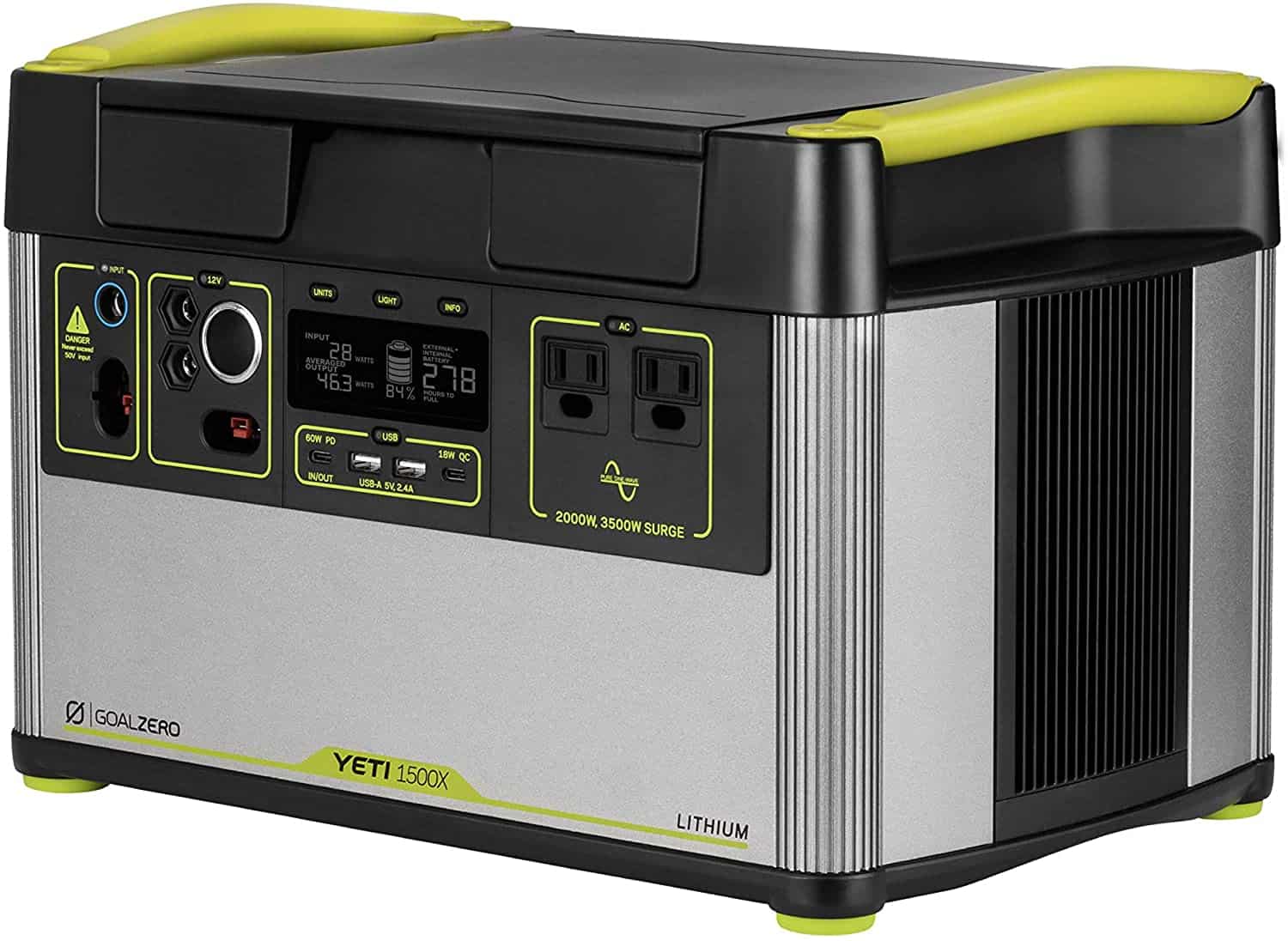 Specs
2000 watts
43 Pounds
7 output ports
2000W AC inverter
2-year warranty
19 x 14 x 14 inches
Waterproof design
This industry-leading portable solar generator from Yeti is guaranteed to keep all your important essentials and devices fully-charged wherever you go. The innovative Goal Zero Yeti 1500x can supply electricity with a simple touch of a button through the Yeti mobile application.
Life-saving solution
This portable solar generator from Yeti values the importance of a good memory with friends and family. The Goal Zero Yeti 1500x was specifically engineered with a purpose in mind for real-life use. The Goal Zero model was designed to aid people by providing the basic means to improve their lives even in the most difficult circumstances. The lightweight solar generator can keep up with campsites, outdoor events, fieldwork, and emergency situations at home.
The solar generator ensures the industry's most convenient and powerful method for providing all your energy needs, thanks to its industry-leading technology and dependable power. The Yeti 1500x boasts of the most powerful inverter on the market at 2000W AC. In fact, the Goal Zero generator generously increases charge efficiency by 30% compared to other solar generators!
The device is powerful enough to provide electricity to a wide range of devices such as power tools, refrigerators and other appliances, medical equipment, lights, phones, and laptops. Thanks to its powerful wattage, the generator can fully charge your phone at least 130 times and run a full-sized refrigerator for more than a day!
Robust and convenient
Thanks to this innovative device that strives to empower humans in whatever situation they may be in, users are provided with limitless possibilities. The Goal Zero portable solar generator can withstand a wide range of environment, from the arctic to the desert. This solar generator was constructed with premium-grade and user-friendly elements for optimal physical construction to the user interface.
The generator also offers seven different output ports for ultimate user convenience. Easily plug in the appliance or device to the generator and receive hours of service. Users will love the convenient Yeti App 3.0 that allows superior control over your solar generator.
Pros
Industry-grade technology and materials
Several outlets and USB ports for maximum convenience
Can withstand harsh environments and temperatures
Maximizes user control with convenient mobile application
Long warranty period
Cons
Expensive than most portable solar generators
BLUETTI MAXOAK Portable Power Station
If you're looking for an affordable yet powerful portable solar generator, this product from MAXOAK BLUETTI is the perfect solution. Get the energy you need for emergencies or adventures without hurting your budget.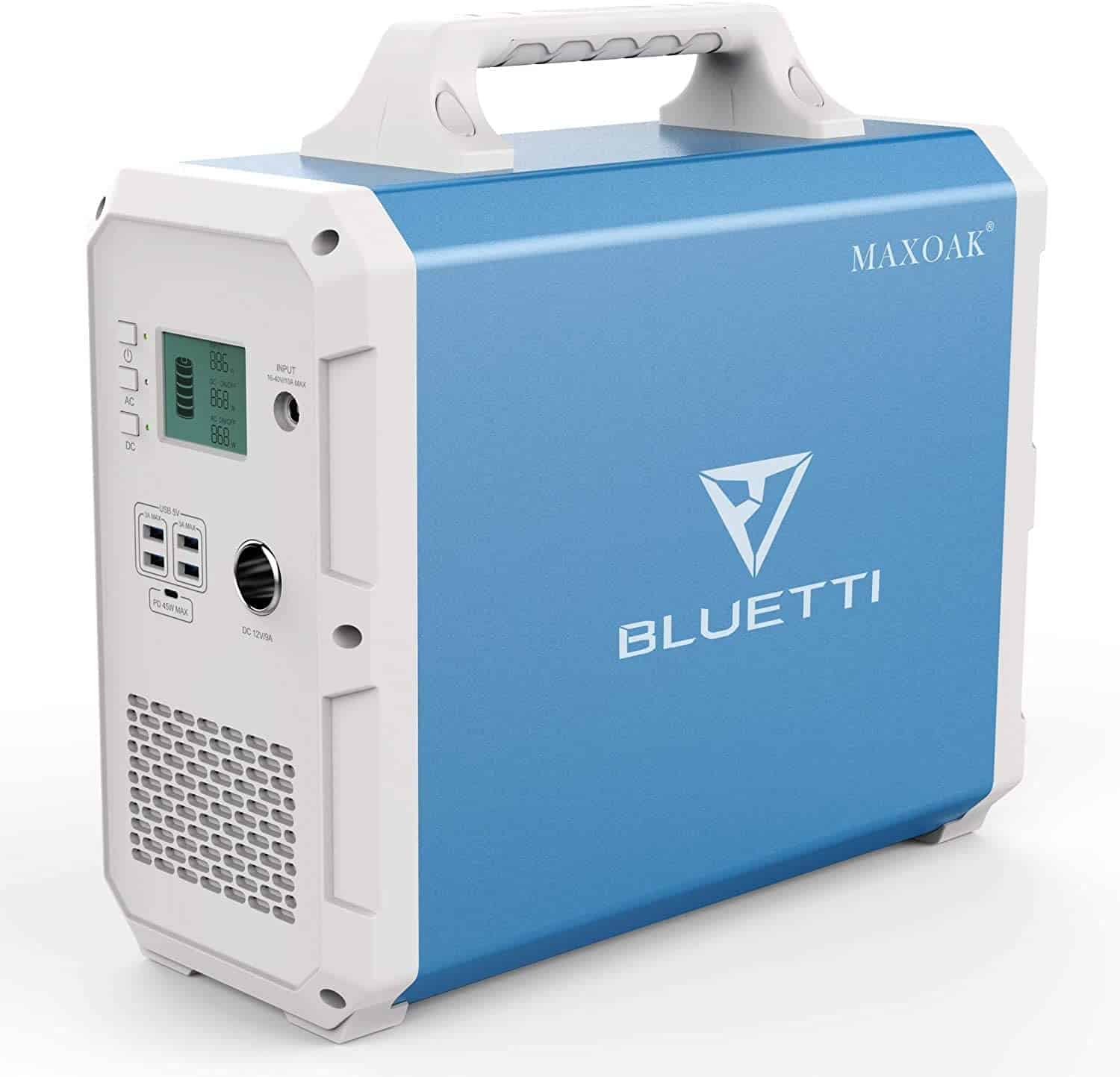 Specs
1500Wh
Lithium Polymer Battery Cell, 10,1351mAh/ 14.8V
Car Port: Constant 12V, DC 12V/9A
4 USB-A ports and 1 USB-C port
MPPT High Efficient Solar Charging
Battery Management System (BMS)
14.6×6.5×14.4 inches
37.9 pounds
Convenience and reliability
This product from MaxOak Bluetti prioritizes ease-of-use and convenience for all. The solar generator's design is lightweight and portable at only 38 pounds – perfect for an outdoor trip or an emergency situation.
The MaxOak Bluetti Portable power generator also boasts efficient solar charging. Users can fully charge the device in three hours by the solar panel and eight hours through a wall outlet. The model also comes with a reliable battery management system to protect against battery-related issues such as short-circuiting, overcurrent, and overvoltage. The BMS system is also equipped with temperature control and other health safeguards.
Users will also love the convenient LCD screen to allow for easy monitoring of the battery and charging status. The LCD will also display any error messages or malfunction alerts to allow for ample time to address any system issue. The solar generator also has automatic shut-off features for user and product safety.
Powerful solution
The MaxOak Bluetti Portable power station is the ideal solution for users who need long-lasting power. The product boasts 1500 watt-hours, one of the longest-lasting solar generators you can find on the market. Users can also rest assured that this product was specially engineered for high-powered purposes such as power tools and home appliances.
The system has two AC outlets that are compatible with most household appliances under 1000W. Users will also benefit from its multiple USB-C and USB ports for laptops, phones, tablets, cameras, and lighting fixtures. It also comes with a 12V DC for car-powered devices.
Pros
Affordable and powerful
Multiple AC and USB ports
Convenient LCD display for device performance
Extremely lightweight and portable
Reliable in case of emergencies
Cons
Some issues with customer service
Kalisaya KP401
One of the best options for travellers and outdoor enthusiasts is this solar panel from Kalisaya. The Kalisaya KP401 is a powerful, lightweight solar generator that can reliably keep up with your off-the-grid electrical needs.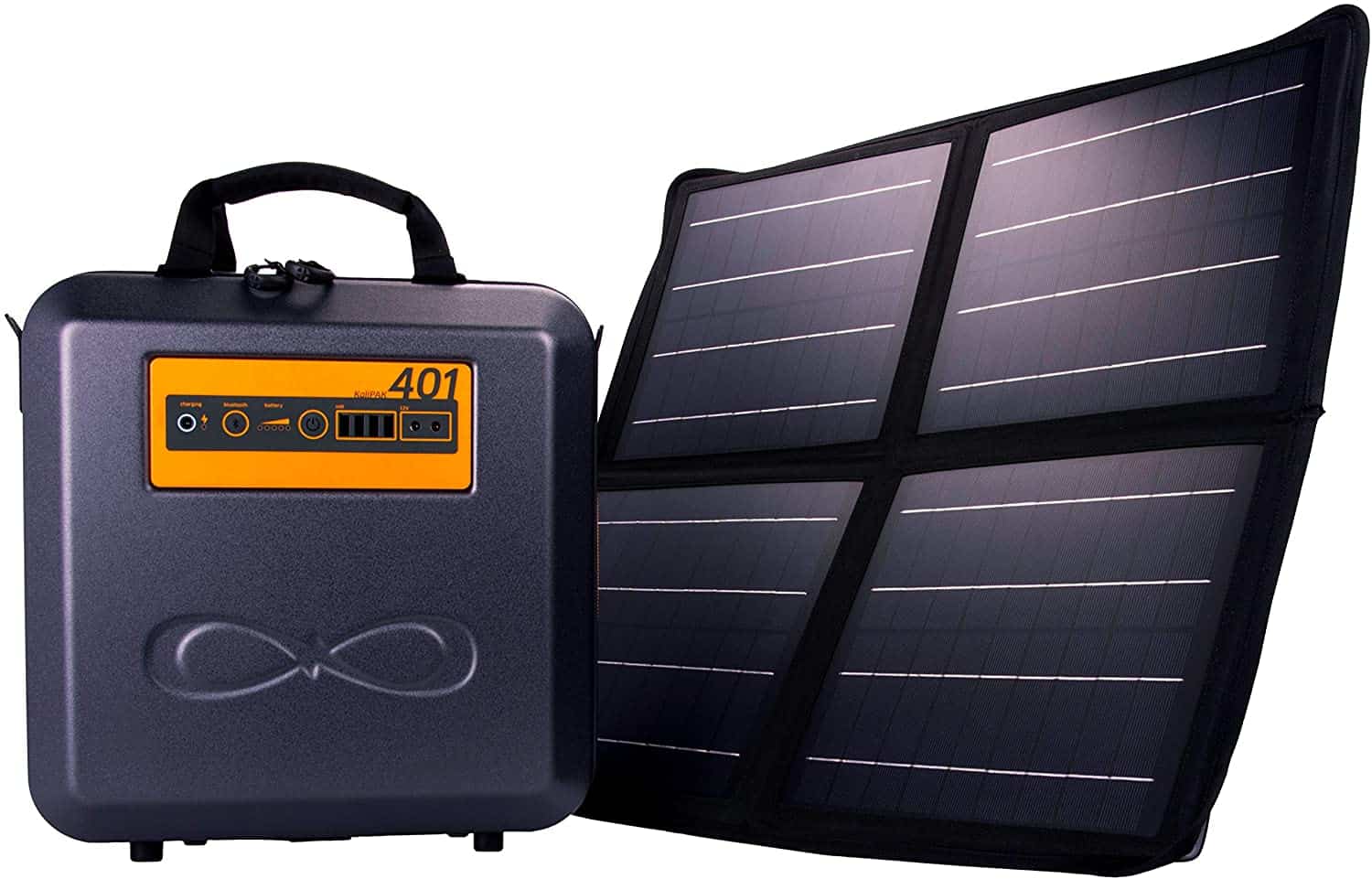 Specs
64,000-grain capacity or 1.5 cubic ft. high capacity 8% crosslinked resin
12-28 GPM service flow
Comes with a bypass valve and safety float
Meter-based regeneration process
Backlit LCD display with touchpad controls
48 hour-internal power backup
Convenient and lightweight
The system is compact and designed to be your best companion out on the open road! The Kalisaya KP401 is only 13 pounds, but don't underestimate its power. The device has an output of 40W and a capacity of 384Wh.
The solar generator can easily be charged with its reliable solar panel and battery power cable. Thanks to its Bluetooth transmitter, the KaliApp allows users to monitor its consumption level, which guarantees ultimate user control.
The solar kit comes complete with an AC/DC wall charger, a 40W solar panel, and a car-lighter adapter. The generator includes Grade A, high capacity lithium-ion cells meant to provide its service for years. Kalisaya loyalists will be happy to hear that this solar generator is compatible with all of the brand's accessories.
Innovative technology
This lightweight, a portable solar generator is packed with all the convenient innovations you could ask for. The power kit comes with a convenient remote system that permits monitoring and controlling with its mobile application for Android and iOS.
The solar generator is also equipped with four ultra-fast charging ports that can efficiently power-up laptops, cameras, and phones simultaneously and several times over!
The kit also comes with a convenient daisy chain connector that allows multiple solar panels to attach to the KaliPak. This set-up is ideal for dimly lit and overcast conditions to maximize the capture of solar energy.
Pros
User-friendly
Compact and lightweight
Comes with premium quality battery
Kit includes solar panel
Ultra-fast charging
Versatile applications
Cons
Built-in battery cannot be replaced
May not be enough for heavy-duty needs
Nature's Generator Gold System (Solar & Wind)
This portable solar generator from Nature's Generator is the ultimate power source! The system is absolutely the complete package – users can operate the device as soon as it's out of the packaging box, and no additional connections are needed.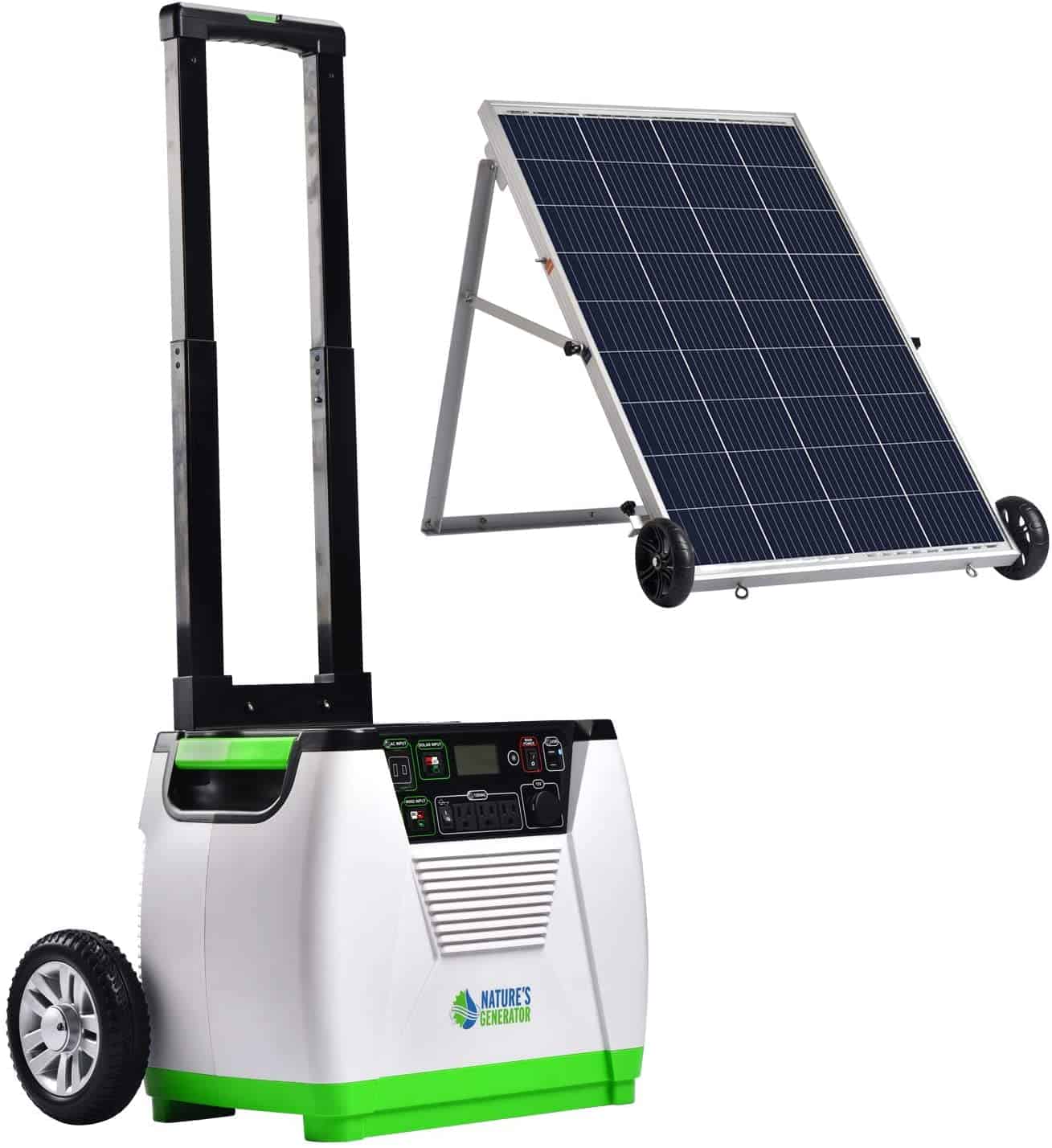 Specs
1800W Pure Sine Wave Inverter
720 watt hours of total output
Polycrystalline power panel with built-in wheels
3 120V AC outlets, 2 USB ports, 1 12V DC outlet, 1 Solar Input, and 1 wind Input
Light up LCD screen
Unparalleled performance
This portable solar generator provides all your electrical needs through the most eco-friendly and cost-effective solutions. The system has a built-in 1800 W pure sine wave inverter that has an Internal battery at 60 AH. The system can produce as much as 720-watt hours of electrical output on a single charge!
This compact portable solar generator has a generous amount of ports available. It has three 120V AC outlets, two USB ports, and one 12V DC outlet. The system also comes with 1 solar input at 200W charge controller built-in and a wind input with a 300W charge control built-in.
Adaptable and convenient
Nature's Generator Gold System's main attraction is that the system allows for ultimate user flexibility. Consumers can easily add solar panels and batteries to maximize power according to their specific needs. The solar panel has two additional terminals for convenient solar expansion if the need arises.
The system comes with a polycrystalline power panel with built-in wheels for ease of movement and transport. Users don't need to worry about connectivity since the kit comes with a 50-foot power cable. Nature's Generator Gold System also comes with a back panel with a built-in 600C expansion port for unlimited connection of Nature Generator Power Pods.
Pros
Extremely lightweight and compact
User-friendly and easy to maintain
Robust and reliable elements
Includes a cart for easy maneuverability and a frame for adjustments
Convenient Nature Pulse app to track battery and system use
Cons
Uses nylon fittings instead of brass, but replacement parts are easy to find
Peppermint Energy Forty 2
TThis solar generator from Peppermint might give the other products on this list a run for their money. The solar generator is the complete package when it comes to power and heavy-duty elements.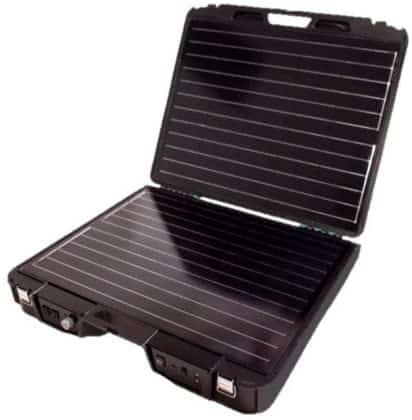 Specs
2000 Watt/hour
41x39x11 inches
2 AC outlet, 2 USB ports
85 pounds
maintenance-free
Heavy-duty performance
The Peppermint Energy Forty2 was meticulously designed and assembled in the USA will all-American high-quality and performance standards. Users can rest assured that Energy Forty2 has undergone comprehensive testing to guarantee its optimal performance in any situation.
The Peppermint Energy Forty2 is adaptable and can be used for RV adventures and tailgating. Easily set-up the solar generator during the day and enjoy the benefits of a generator that can keep up with your chores and recreation.
This solar generator is reliable enough for adventurers who are going off-the-grid. You don't need to sacrifice your work-life just to enjoy your vacation time – no matter where you are, the Peppermint Energy Forty2 can help you stay connected.
Most especially in times of need and natural disaster, this solar energy generator is your best bet to provide energy for vital rescue and medical operations. The generator is powerful enough to provide energy for the refrigeration of vaccines, communication centres, and water treatment systems.
Guaranteed money's worth
This powerful solar generator has an industry-grade capacity of 2000 watt-hours that can store power for up to six months! The model features a continuous 1000 sine wave energy that has the capacity to power-up your heavy-duty appliances like a refrigerator, TV, power tools, and other appliances. This solar generator can definitely keep up with its gas-powered counterparts!
The system is equipped with premium li-ion batteries that are light and safely charged to 100%. The generator has roughly ten times the lifespan of average lead batteries. Users can benefit from the full voltage level of the battery while protecting the generator and
Pros
Ideal for heavy-duty operations
Best for adventures, remote locations, and emergency operations
Complete with solar panels, power management, battery, inverter
Easy to carry kit in portable briefcase
Can efficiently charge in three hours
Made from premium-grade materials
Cons
EcoFlow DELTA Power Station
The EcoFlow DELTA Power Station is the ultimate choice when it comes to superior power and utility.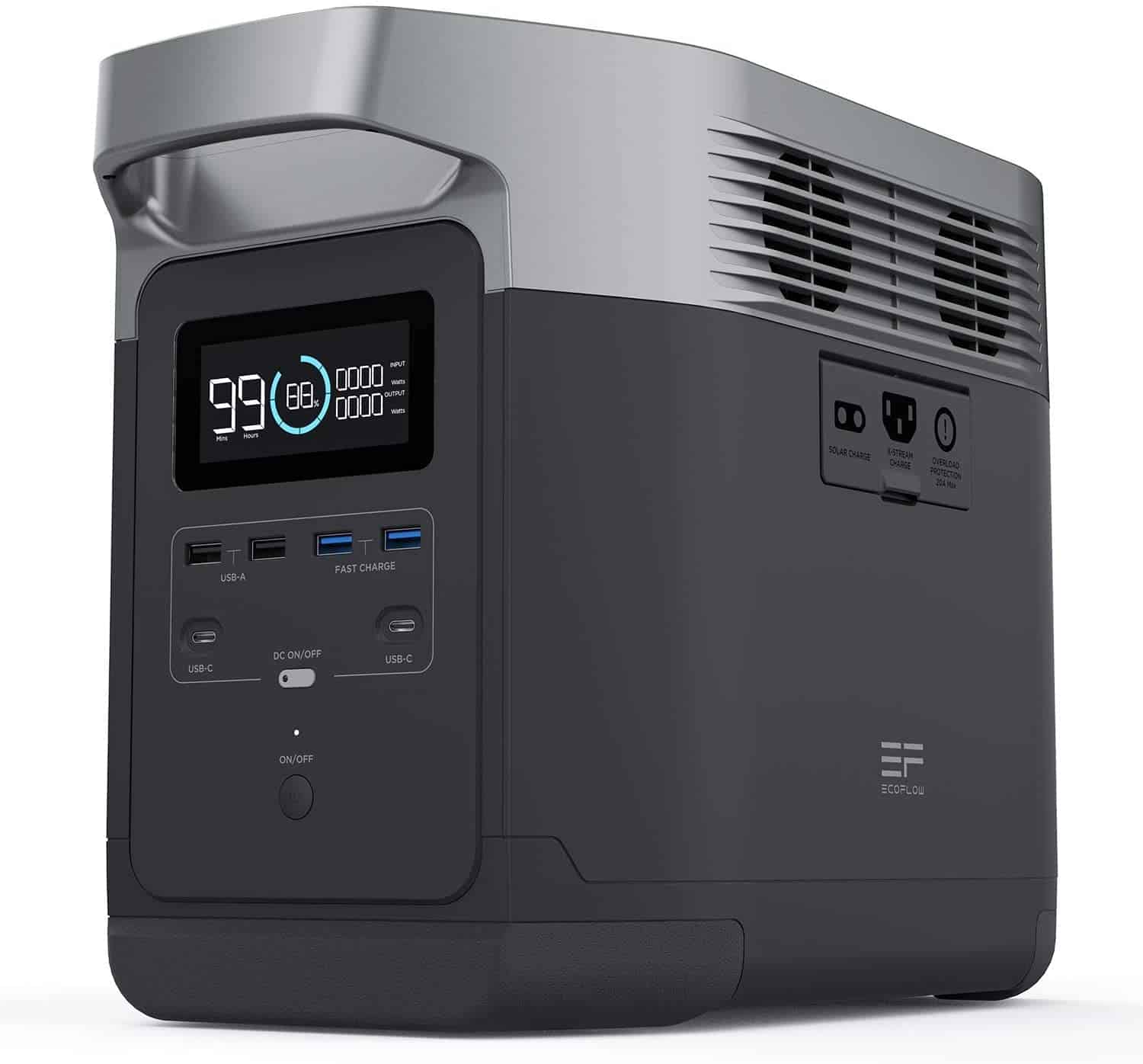 Specs
6 AC Outlet, 4 USB-A, 2 USB-C and 1 DC 12V car port
power up to 13 devices simultaneously
1260Wh
15.7 x 8.3 x 10.6 in.
30.9lbs
Ideal for long trips
Unrivaled performance
Thanks to its innovative X-stream Technology, the battery can be recharged at around 10 times the most portable solar generators' speed. The EcoFlow power station features a lithium battery pack charged with the 10-65 volt solar panel, an AC wall adapter, or a car charger. Fully charge the battery in less than two hours.
The system can efficiently charge your heavy-duty appliances and devices thanks to its many outlets. The DELTA is equipped with as much as six 1800W AC outlets, 2 USB-C ports, 4 USB-A ports (two of which are ultra-fast charging), and one DC 13.6V.
Superior investment
While this portable solar generator might not be the cheapest on the market, we can guarantee that you will get every cent's worth. The EF ECOFLOW DELTA was designed for passionate outdoor enthusiasts. Users can rest assured that the system was made with only the best materials.
The device is also powerful enough to power a whopping 13 devices simultaneously. The DELTA boasts a 1260Wh capacity that can meet heavy-duty demands for the home, camping, and travels. Users can benefit from the 1800W surge AC outlets with pure sine wave output. This solar generator is your most reliable companion when you're out on the open road.
Pros
Ideal for long trips and large boats/RVs
Premium quality performance and construction
Many outlets and USB ports
Convenient LCD display
Innovative and reliable system
Recharges 10 times faster than the speed of most power stations
Cons
More expensive than most solar power generators
[table "lt7gt" not found /]
Shopping considerations for Best Portable Solar Generator
Choosing the Best Portable Solar Generator is more than just comparing reviews, specifications, and prices. The important factor to consider is that everyone's needs are different. So the best solar generator for you is one that provides enough power to keep up with your plans and activities.
If you're choosing the best portable solar generator for you, the first thing you need to consider is how much power the generator will need to supply. Whether you're preparing for a power outage or plan to go on a long trip, consider what appliances and devices will need to run on electricity. From there, you can decide how many watts you'll need and if you'd like any additional features like a USB port or rechargeable batteries.
A portable solar generator is the best choice when you plan to go off-the-grid without losing connection. It's also the perfect back-up plan in times of emergencies and natural disasters. Now that you've read through our comprehensive reviews, you should have realized that the best portable solar generator for your travels will depend on several factors:
Solar panels
Solar energy production is measured in watts – multiplying the watt rating by the number of hours of sun exposure will give you the total number of watts produced in a day.
Monocrystalline panels are slightly more efficient yet more expensive than polycrystalline cells that are made from silicon fragments. Amorphous crystal panels are a new discovery in solar panel technology – they're affordable and durable. Still, they provide only half the power of the monocrystalline and polycrystalline panels.
Battery
Lithium-ion batteries are more commonly used in portable solar generators since they're lightweight and have a longer lifespan than lead-acid batteries. When reviewing batteries, make sure to go for a model that has a generous power rating.
Conclusion
Looking into different types and models of portable solar generators may seem daunting with all the features and specifications you need to think about! When you're out on the open road, you need to take all necessary precautions to ensure your group's safety and convenience.
Review our comprehensive guide to find out how you can safely enjoy your travels with a reliable and powerful portable solar generator.