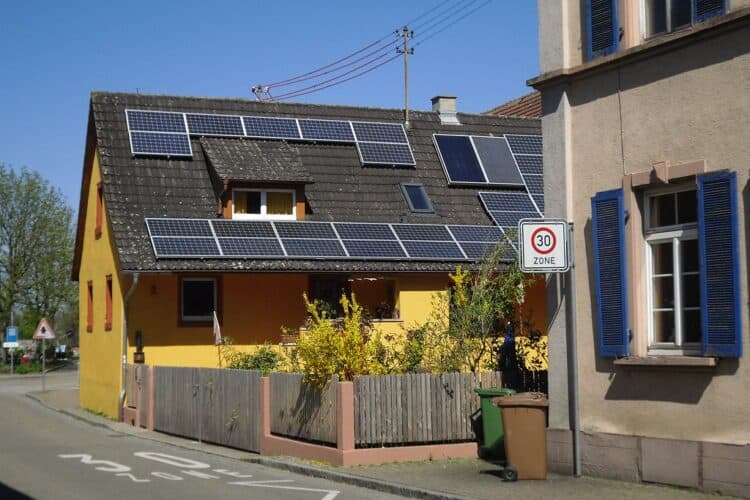 A solar air conditioner is a great alternative to your conventional AC system. It keeps you comfortable and relaxed while staying at home. If you are living in a state with humid and hot weather, investing in a green air solar aircon is a wise move.
This post will talk about the advantages and demerits of solar air conditioners.
Advantages of solar cooling system
If you are remodeling or building a new home, you must consider investing in a quality AC system. You can find different models of air conditioners on the market. But, solar-powered HVAC units could give you multiple advantages, such as:
Clean energy
A solar power system is well-known for producing the cleanest type of energy. Investing in a solar-powered AC is your first step to green living. It also helps you to save the planet Earth. Compared to conventional AC systems, this one is popular for reducing greenhouse emissions.
The solar-powered air conditioner is also ideal if you plan to live off the grid. This is a simple step you can do to preserve the environment. Also, solar energy is beneficial in reducing carbon footprint.
Save more than half of your utility costs
Over time, you will notice that solar and air conditioning helps you to save tons of money. Although it has a high initial cost, you will end up decreasing your utility cost over time.
It requires minimal maintenance
After installing your solar air conditioner, you will not have to worry about its maintenance. Plus, you can install it by yourself. Since it is low maintenance, you don't need to buy replacement materials frequently. Also, most manufacturers of solar aircon offer good warranties. So, you can ask the manufacturer to repair or even replace your air conditioner as long as it is still covered by the warranty.
It reduces your electricity consumption
One of the advantages of solar air conditioning is reduced electricity consumption. Five percent of the overall electricity used in the US belongs to cooling. This means that it releases approximately 140 million batches of CO2 into the air.
Technically, electricity is made using non-renewable resources. This results in the constant release of air contaminants, such as carbon dioxide. Solar air conditioning demands for lower carbon footprint or non-renewable power. Thus, it is not dependent on non-renewable resources. In connection, solar power does not lead to climate change. In fact, it has a great contribution to conserving the environment.
It uses lesser materials
When you use a solar aircon, you can maintain a well-functioning system using lesser materials. For instance, the solar panels you use for water heating can be used to maintain your aircon.
Solar air conditioners are worth to invest because they do not use any moving parts and materials. Also, you can maintain it seamlessly all by yourself.
Demerits of AC
There is no perfect system. Although solar-powered aircons give you many benefits, it also comes with some drawbacks. The demerits of solar air con are the following:
Possible collapse of your solar panels
Since solar panels are exposed to the extreme sun, they might collapse over time. When that happens, it will cause your AC system to malfunction. But, if you will invest in top-rated solar panels, you won't have to worry about the possible deterioration of solar panels.
Solar air conditioner relies on weather
You cannot predict the weather pattern in your area. In fact, you may still experience rainy days even during the summer months. This might affect how your solar aircon works. But, you can prevent this by investing in a hybrid solar air conditioner.
High initial cost
If you will install solar with ac, you need to spend a huge amount of money. Solar air conditioners have expensive initial costs because of reasonable reasons. These include the payment for wiring, batteries, inverter, solar panels, and installation.
These days, solar technologies have gone through a lot of developments and innovations. With that in mind, you may presume a decline in their price range in the future.
Solar central air conditioner price
As time goes on, many consumers are becoming more energy conscious. Each year, more than hundreds of individuals prefer having an off-the-grid life. Are you one of them?
To save energy costs, you may already be using energy-efficient appliances, such as mobile phones, HVAC systems, and other power-friendly equipment.
Since the summer season is already here, you don't want to soak in sweat throughout the day. That's why investing in an AC system is a must. But, what if you don't have the money to maintain a conventional air con? What are the other solutions you can do? Well, one of them is to invest in a solar-powered AC system.
If you plan to buy your own solar AC, you may probably be asking about its price. As mentioned earlier, solar aircons have a higher initial cost than conventional ones.
For example, the cost of solar air conditioning Florida ranges at least 2.00 to 2.50 Dollars per watt. In other words, if your Lennox solar air conditioner uses 6,000 watts, you may need to spend around 15,000 Dollars. This cost covers the wiring, inverter, battery, and solar panels. But take note that this system size can power not only your AC system but also the other appliances in your home.
But, if you will only invest in a solar AC system, you may not need to spend that amount of money. For instance, the Lennox solar-powered HVAC cost is only around 6,000 to 10,000 Dollars.
Remember, only some solar air conditioners need an inverter or battery to function. Some of them require only direct sunlight.
Can you run an air conditioner on solar power
"Can a solar power run an air conditioner?" Yes. Solar power and air conditioning is a powerful combination to live off the grid. You can do this using a converter system and solar panels.
But, you may still need either an off-grid or grid-tied connectivity. The good thing is that both of them can run your air conditioner using solar power. This means that you are also cutting down your electricity cost.
A grid-tied system is perfect for you if you plan to use your AC throughout the day and night. Since there is no sunlight during the night, this system can still power your air-con. Fortunately, it does not require a battery to function.
Compared to a grid-tied system, an off-grid system needs a battery. It uses a battery to give you further power backup. It also helps you to use your air-con during the nighttime. What's more, it enables you to achieve a cooling experience even during a power outage.
How solar air conditioner works
Solar panels have a lot to offer. They help you to preserve the environment while reducing your energy cost. As the population grows, you may need more energy. If people would use conventional appliances, the carbon dioxide emission will destroy the Earth as time goes on. That's why you should start using solar-powered appliances for greener living.
How air conditioner working on solar energy
There are lots of methods for how solar energy powers an AC system. One of these is through the use of solar (photovoltaic) panels. These panels can produce electric power. The electricity produced by these panels is what your AC unit will use to work.
There are many other methods that solar power can do to power your air conditioner. These include using closed-loop solar, solar open loop, and passive solar. Each method could give you unique sets of benefits.
Solar panels to power your air conditioner
Using solar panels is a simple and easy way to power your aircon. All you need is to place them on your property's roof. Make sure that the area receives direct sunlight.
You can use the solar panels to run your AC unit and other home appliances you have. This means that with solar panels, there's a high chance for you to disconnect from the grid. But, there are still some considerations you need to remember. You need to have an extra power source or battery for nighttime use.
Additionally, you can also get rebates by installing solar panels to run your AC unit. This will help you to cancel your installation cost. Also, it will help you to save loads of money over time.
Depending on the fee you pay for electricity, you can use other ways to boost your savings by using solar panels. For instance, you can use solar panels to run your aircon during the day. To stay cool at night, you can close the windows and switch off the AC.
There are other benefits you can get by using solar panels. It could decrease the heat inside your home. This is because they absorb the sun's energy and converting it into electricity. To keep yourself comfortable, investing in solar panels is a great choice.
Why you should invest in high-quality solar panels
For the past years, climate change happens more frequently. It is related to multiple natural disasters, including hurricanes and mega-fires.
In connection, solar panels are increasingly becoming more popular. Both businesses and homeowners are investing in it. Buying and installing a solar panel on your home's roof won't require you to spend a lot. Aside from powering up your AC unit, solar panels can do other things for you.
These include the following:
Cut down your electricity bills
After spending quite an amount of money on the installation of solar panels, you don't have to pay for all the energy you use throughout a quarter. But, this does not mean you need to disconnect from the grid. Of course, a small-sized solar panel cannot power all your appliances. That's why you still need conventional electricity. Even though you are using conventional electricity, you can still notice a big reduction in your electricity bills.
Solar panels are more popular in sunny countries or states. The Philippines, Australia, and Brisbane are some of the countries with sunny weather. That's why the solar panels there are cheap. These countries have approximately 261 sunny days a year. This means solar panels can produce lots of electricity.
Electricity costs will continuously rise over time. So, it would be better if you will invest in solar panels today. You cannot predict when your electricity bill will rise.
Solar panels are also ideal for companies with fluctuating incomes.
Boost your home value
Solar panels could help you to increase your house value. This would be beneficial if you plan to sell your house in the future. Solar panels are another factor needed to be taken into consideration by home buyers. If you will install solar panels now, you can turn your house into the greatest form of investment.
Cut down your carbon footprint
As humans, it is your responsibility to take care of the environment. One easiest and simplest step you can do is to cut down your carbon footprint.
It is impossible to save the environment if you are the only one who will install solar panels. That's why people around the world are encouraged to use solar electricity instead of conventional electricity. By doing so, you are allowing Mother Earth to recover from the damages caused by carbon dioxide emissions.
Also, introducing green energy to your company can give you better benefits. You can get more customers if they see your business as sustainable and eco-conscious. Solar panels can also help you achieve bigger income. This is possible by expanding your customer range and cutting down electricity bills.
Conclusion
Most of you have an air conditioning system in each house. It helps you to keep cool throughout the summer months. The problem with conventional aircon is that it uses much electricity. Note that the more electricity you consume, the higher your electricity bills will be.
That's why today is the right time to invest in a solar-powered generator. It keeps you relax and comfortable even during the hottest time of the day. Plus, it helps you to save money over time.