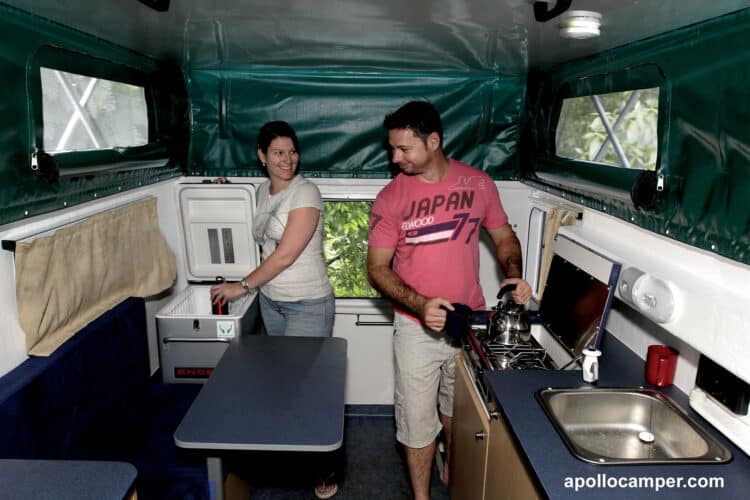 Summer heat can make even the jolliest of RV Campers cranky. Traveling in such conditions becomes difficult.
And running for a shade is anyone's best bet. It's easy to imagine that the nights can get better and you could sleep well.
But heat waves at night can get worse. That makes it impossible to have a goodnight's sleep.
If only you had an air conditioner, then everything would be 100 times better. But, it's problematic to power an a/c unit when you are miles away from the nearest electrical outlet.
Indeed, it is challenging but not impossible. Here are some ways you can power your RV a/c;
Using built-in units
Have you ever heard of built-in RV generators? Well, that knowledge would come in handy right about now. But if not, don't fret.
A built-in RV generator is a generator designed to power a mobile air conditioning unit.
The generator is small enough to fit in the compartment of your RV. But it has a big enough output range to power more appliances you may have.
Anytime it gets too hot, you can turn the generator on and get your a/c going. Most built-in generators have an output of between four and twelve thousand watts. But you only need an average of 2800 watts for the job.
Transportable generators
Not all camper vehicles have an inbuilt generator compartment.
And that makes built-in generators, not an option. But there is hope yet. Portable generators are the solution you have been looking for to deal with the summer heat.
These kinds of generators are perfect for pop up campers and travel trailers. And there are two types of portable generators that you can choose from to tune up you're a/c unit.
The first type is a medium transportable emergency generator. The only downside to this option is the weight.
These types of generators are heavy. But even bulkier when filled with gas.
And you may need at least two well-built people to unpack and set up the generator for use.
If you feel that that is a deal-breaker for you, then first look at the second portable generator option you have.
You can use the medium-sized inverter generator. It is not only light but also producer cleaner power.
You can use it to power your sensitive electronics like phones and laptops. But that's not all.
You can use it to power you're a/c and get the cold fresh air you need when traveling.
Parallel inverter generators
What makes these generators perfect is that you get two separate inverter generators.
That way, you don't have to carry around a big bulky generator.
Instead, you can combine small inverter generators. All you need to do is use a parallel cable.
There are two advantages to using this type of generator over a single medium generator.
One is that it is more robust than the former. And, it costs less.
The bottom line
Staying cool in summer is a comfort that you can afford with an excellent a/c unit. With a perfect generator, you can power up your a/c unit and other appliances