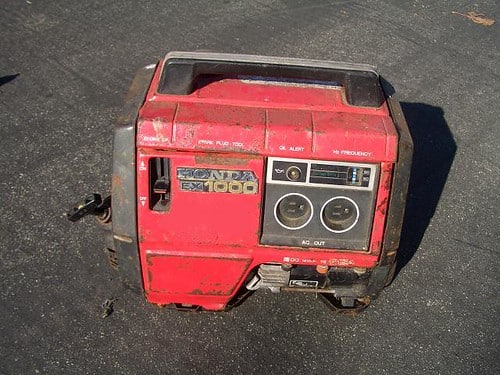 Many people believe that simple generators are luxury tools. I am here to convince you that they are much more than that. A simple generator is a necessary piece of equipment. We should all have one in our homes, especially since there are types available for every budget.
This article discusses the importance of having a generator in two parts:
During a power outage
For recreational purposes
Back up Power during a Blackout
Most of us feel we cannot survive an hour of a scheduled electricity outage. Depending on the time of year or where we live, the weather gets either too hot or too cold. Plus, things get boring and downright uncomfortable pretty fast.
Now picture those intolerable hours multiplied by a few hundred. Imagine seven days, or two weeks, or more living without electricity. A few hours with no power seems like a walk in the park by comparison.
If you cannot imagine the severity of that situation, allow me to paint you a picture.
How do we use electricity in our daily lives? Almost everything we do at our homes involves electricity. We turn on our lights, work our fans when it is hot, and keep ourselves warm during the winter months. We power our home appliances and charge our electronics. Some of you own electric cars.
The use of electricity in our daily lives is boundless. This is why, when the power is out, it feels like we've lost a limb.
In a long-term power disaster, simple generators are not luxuries. They are necessary tools. Simple generators continue to provide the electricity that enhances our standard of living.
With a simple generator, you do not have to lose any of the home comforts you love. You won't need to rely on flashlights or worry about always replacing batteries.
And do we not all hate the loss of our electronic devices that keep us connected to the rest of the world? With a simple generator, there is no reason to be concerned about it. There is also no need to stand in long lines to charge your phone. Running electronics on a generator is possible.
Powers your Home even if you live in a High Risk Area
Do you live in an area where electrical outages happen all the time? It is not wise to depend on the utility company for all your electricity needs if you do. You can't get mad at them about the frequent power outages. They are doing their job to keep you, your home, and your community safe. What you can do is prepare for them.
And what about your home security system during these regular outages? With a generator, you will not have to worry about a disarmed home security system. All you have to do is program your generator. It will come on a few seconds after the power goes out.
Having a generator gives you some independence from the grid. Owning a generator means those power outages will not have much of an effect on how your home functions.
Generates Power for Life-saving Medical Equipment
Power outages are one of the primary reasons we need generators. They can happen at any time. Sometimes, they occur without warning. Power outages become dangerous for those who rely on life-saving equipment at home.
If you have a dependent who relies on medical equipment, you need a backup plan. A simple generator is a solid backup plan.
We are not talking about a heavy-duty, industrial-sized generator for farm use. Nor the types of standby generators you can get from generators are us. These cost upwards of $4,000. If you have the money to afford one, then nothing should stop you.
But, if cost is a problem, a simple generator from home depot or Powerall generators will do. Those are more affordable. They will supply the power you need to keep your medical devices working until help arrives. Or until you find a permanent solution.
You can buy one such generator for less than $1,000.
Investing in a portable generator for life-saving equipment is not a luxury splurge. It is a necessity. That should motivate you to go out and get a simple generator today.
Keeps your Sump Pump Going
In areas prone to flooding, houses have sump pumps in basements to siphon unwanted water away. They protect your home from floodwaters and water damage.
During floods, power outages are real possibilities, and sump pumps work on electricity. Without backup power, your sump pump will stop pumping water away from your home. What happens if the power goes out for any amount of time? What happens to your home when all that water has no place else to go?
Rising water levels can damage your home and destroy your personal belongings. Think about all the things you will have to repair or throw away. Think about the expense. In the long run, it will cost you less to invest in a simple generator.
What simple generators do is pick up the slack when the power grid fails. So, with a generator, your sump pump never has to stop functioning. Your home never has to suffer flood damage.
Keeps Well Water Running
For those who live in the city, this particular use of a generator may not affect your water supply. But if your dwelling place is in the countryside, you rely on cistern water.
The pumps that bring water to your homes work on electricity. I am sure you have noticed that when the power goes out, you have no running water. Again, think of a power outage that lasts a long time with no water in the taps.
You might say, but I do not drink pipe-born water. What about all the other functions for which you need it? Like, personal hygiene and keeping your bathroom clean, for example.
You could go out and lug water by the buckets. But why go through all that hassle when a simple generator brings the water straight to you. Having a generator ensures that when the power shuts down, you still have electricity. Because you still have electricity, your pump keeps working. Your supply of water never gets interrupted.
Enables You to Work from Home
It does not matter what type of home operation you run. If you work from home, as I do, a power outage is frustrating. It is one of the worst things that can happen in the middle of a project. When you have a deadline or deadlines to meet, this is especially true.
When you run a business from your home, the duration of a power outage makes no difference. The littlest disruption may have dire consequences. Hence the reason it is good to have a backup power source.
Having a simple generator eliminates the setbacks created by power shortages.
Charging Electric Cars
The world is heading the way of electric cars. And a power outage has the potential to leave electric car owners in dire straits. You can't drive to work. You can't use your car to go to the store or the doctor. Imagine having a toothache in the middle of the night with no vehicle to get some relief. If you have your simple generator, this becomes a non-issue. There are simple generators with wattage to charge your electric car.
Not any generator will do. What you need is a big, real power generator to produce the power you need. You want to get one that is at least 4000 watts. They are still in the affordable range. Getting a full charge may take up to 24 hours. But you will not be stranded.
Keep Food in your Fridge Fresh
The food in your fridge is one thing that you have to worry about during a power outage. But not if you have a simple generator. You can use a simple generator to power all the appliances at your home. At the same time too. The best part is that you can program your generator to come on, even when you are not home. So, when the power goes out, the generator kick-in is automatic.
You do not have to worry about the items in your fridge going bad. It would be such a waste to throw away all that food.
You might as well be tossing the money you spent on groceries out the window. In more good news, a generator saves you from having to clean up the mess and get rid of the stench of spoiled food.
The Importance of Having a Generator for other Daily Generator Uses
The most obvious reason to invest in simple generators is preparing for disaster. I am sure you see why you need to invest in one. But outside the seriousness of life, we all need a pass time. If you do not believe in my death day generator talk, keep reading. There are other reasons you should invest in these top class generators. So, let's veer away from the death day generator speech. It is time to discuss other uses for generators in your everyday life.
Home DIY Projects
Do-it-yourselfers own a lot of power tools and target all kinds of projects around their homes. If you are a DIYer, then you know about what I speak. But what if your latest project takes you out of the reach of the electricity supply at your house? A generator will come in handy then.
Having a generator means no interruption of your work during an electricity outage. It means that you do not need to change batteries on portable tools. You will not have to leave your project to return home to charge those batteries either. All you have to do is plug your equipment into your simple generator.
As a DIYer, completing your home projects matters to you. Keep doing what you love without interruption by using a simple generator.
Set Up Displays for the Holidays
During the winter months, space heaters and electric blankets take the place of AC units and fans. We pull out all the stops to stay warm, including taking more hot baths. We spend more time indoors as well. Because of that, the cost of the electricity bill jumps. When you add in holiday displays, things get expensive. But your simple generator comes in to save the day. Large or small, it is more cost-effective to power your Christmas lights using a generator.
Using a generator, you can go as big as you want with your holiday decoration ideas. You will not have to worry about the bottom line. The money you save on electricity might be the extra you need to make the holidays even more special.
Enhances Your Camping Experience
Your RV is a home away from home. It comes with just about everything you need. The majority of RVs even have generators built-in. If you have one of those, you will not have to lug a large generator to your campsite.
If you are going tent camping, you can take your simple generator along to camp in comfort. There is nothing wrong with doing that. Set up the lights for your campsite to feel safe if you need to. Plug in your fan to sleep beneath the stars. Use your simple generator to make your camping ground feel like a home away from home.
Provides Some Outdoor Entertainment
With summer comes sunny summer activities. But, to host a successful outdoor party, you may need a generator. Your event could be a wedding or a cookout. Generators are necessary to perform certain tasks. One thing you are sure to need is entertainment. Use a simple generator to power your music system. You can also set up your videos and television/projector.
If you are close to home, it is possible to draw on power from your house. What is the problem with this? You run the risk of putting too much load on your extension cords. And, the extension cords may not be long enough to stretch all the way. Having a simple generator takes care of all these issues. If you have taken the party on the road, there is no doubt that you will need a simple generator.
As a side note, if you hire outside entertainment, you may need a generator for Dj equipment. The two of you can work together to figure out how to make your generator safe for the equipment he/she has.
Conclusion
I sat here thinking, what should I write about generator use. What can I say to convince anyone that simple generators are worth the investment?
2017 taught me a hard lesson after a category five hurricane ransacked where I lived. My family, two small girls, would spend two excruciating weeks with no electricity. I still wish I had then the insight I have now. I would have been better equipped.
You do not want to wait for a reality check to hit before getting your simple generator. By then, it might be too late.